Sachin Kundalkar is known for narrating modern stories rooted in traditionalism. He has, especially, maintained this balance in his last three efforts, Happy Journey (2014), Rajwade And Sons (2015) and Vazandar (2016).
He has done the same with Gulabjaam. But this time, he has also bettered his own recipe (which was already pretty good) several notches higher resulting in one of the most delicious dishes one would taste in a long time.
Gulabjaam is about Aditya Naik's (Siddharth Chandekar) struggle to learn Marathi cuisine in order to open a restaurant in London, where he is settled. He quits his high paying job and secretly visits Pune for his mission. After tasting food from a lunch box, especially gulabjaam, he deeply gets reminded of the food cooked by his mother.
After learning that the lunch box was prepared by Radha Agarkar (Sonali Kulkarni), he instantly decides to learn cooking from her. However, he realizes that the lady is not only a recluse but also rude who doesn't like anybody's presence around her. Will Aditya succeed in his mission? Why is Radha the way she is?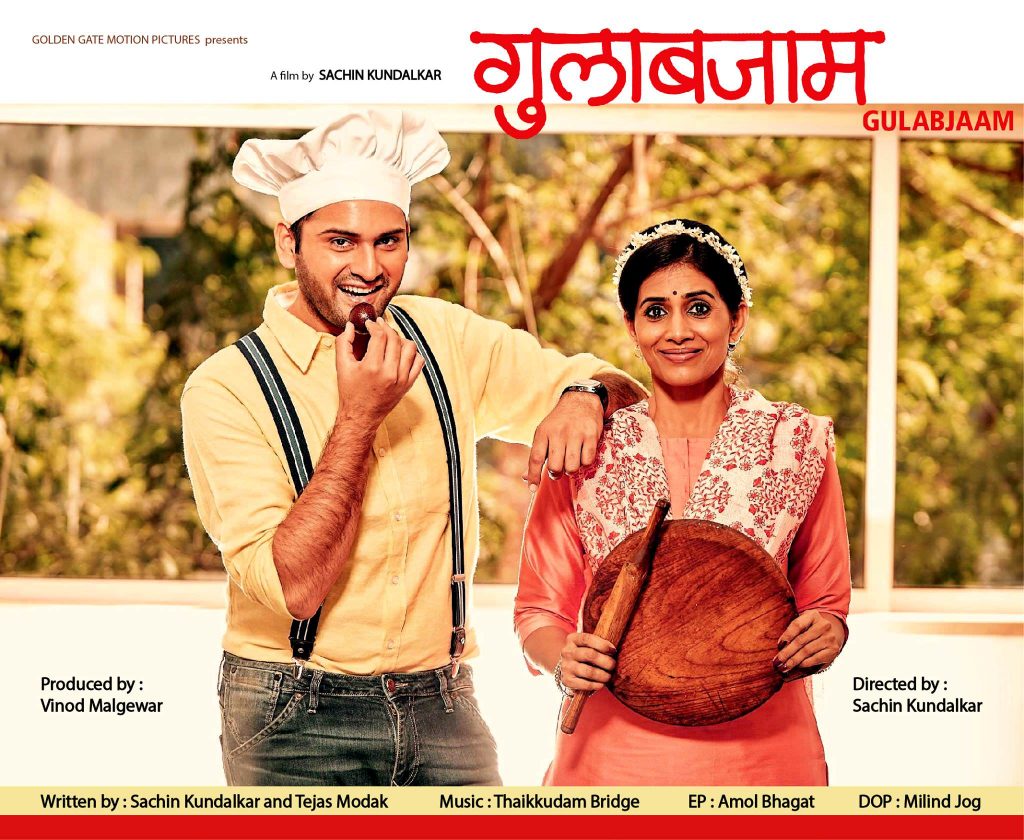 It is rare to see food or cooking being a catalyst to connect two characters in an Indian film.  But it is one of the most unusual and complex relationship to deal with for the writer and director. This is not just because Radha and Aditya are from different age groups and worlds. Their personal journey and diverse natures makes it all the more unlikely for them to form a bond.
To achieve this convincingly and that too with constant humour is the biggest masterstroke here. Plus, throughout the film their relationship remains undefined, which makes it more charming. We don't often get to see strong and deep relationships that are kept unnamed.
Like Kundalkar's previous works, Gulabjaam is more like a smooth journey rather than merely a story. You don't realize when a quirky encounter of two diverse human beings transforms into a tale of deep personal sufferings inspite of the funny and light-hearted mood. The climax might not be ideal for some. But it is certainly garnished with the hope of inner wounds getting healed someday.
The only flaw is the incident of Radha realizing that Aditya has stealthily sneaked into her house and stolen food. One would expect her to scream but she doesn't. However, the effect of the consequence of this scene makes you ignore it.
Kundalkar has also continued his legacy of getting the technical aspects right. There are numerous moments where one can notice cinematographer Milind Jog's craft. The background score is unconventional and effective. It follows the important rule of not making the audience realize about its arrival and departure in a scene. The editing also deserves similar praise.
The nature of Radha's character demanded her home to appear as if it is stuck in a period long gone by. This is achieved perfectly by the art director Poorva Pandit Bhujbal. It would be unfair not to mention food stylists Sayali Rajadhyaksha and Shweta Bapat for their work plays a big role in adding visual quality to the subject.
Sonali Kulkarni and Siddharth Chandekar's characters are deep and vulnerable, which makes them realistic. But they appear deeply relatable only because of their respective performances. Kulkarni's act can only be called masterful. She gets the diverse facets like agony and homour with utmost perfection.
With her constant presence, Chandekar might not appear as impressive. But he certainly gets his act of a boyish man constantly trying to move out of his trapped world quite right. Madhura Deshpande, the actors playing Popat and the old lady also impress in the opportunity they get.
Rating: 4.5/5
Review by: Keyur Seta
Director: Sachin Kundalkar
Writers: Sachin Kundalkar and Tejas Modak
Producers: Zee Studios and Golden Gate Motion Pictures
Cast: Sonali Kulkarni, Siddharth Chandekar
Genre: Drama
Runtime: 126 minutes
Release date: 16 February 2018