Supernatural stories contain at least one of the following elements – ghosts, souls, miracles beyond human explanation and occultism. Some of these are also present in author Sanjai Velayudhan's novel, Dance Of The Spirits.
But it follows the route of a normal, simple story. This makes it appealing and intriguing even for those who don't believe in the supernatural and just wish to feast on a normal mystery book.
Dance Of The Spirits revolves around Krish, a consultant working in Dubai. He lives with his dominating wife Lakshmi and daughter. Circumstances compel him to visit his native place Kerala to write a book revolving around the dance form, Theyyam. Once home, he reunites with his school friend Ajay, a chauvinistic cassanova.
Krish comes across a foreign tourist Maria and gets fascinated by her. He finds himself drawn to the beautiful lady and slowly becomes her companion. She too is here to study Theyyam for her thesis. What is this association meant to be?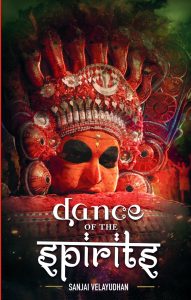 This is one book that makes an excellent use of flashback. Before the story goes back few months, we are told right at the start about a passionate extra-marital affair and who dies in the end. But instead of being a spoiler, this makes the narrative more interesting and gripping as you eagerly wait for the event.
Velayudhan ensures that the wait turns out to be a pleasant one. This well-structured story is developed smoothly with some well-etched characters. We are given lots of in-depth knowledge on the art of Theyyam along with the culture, history and socio-political situation of Kerala. In other words, Kerala becomes a familiar character even if you haven't visited it. But nowhere does it make it sound like a documentary.
The author has achieved high standards in writing despite using simple language. Like I have said quite a few times before, the key is to make it friendly for anyone from a literary expert to someone hailing from vernacular medium. The editing too needs to be lauded here for no major errors.
But what takes the cake is the supernatural connection to the story. It is not something that is done in a straightforward manner. We are told a supernatural tale and are asked to draw conclusions on the incident in this story. But at the same time, this is a rare supernatural story that gives you an option of not believing it if you wish to.
However, regardless of you believing it or not, you would surely go back to the start and few other portions to join the dots. Doing this increases the effect.
The only kind of negative point here is that the narrative becomes too descriptive when it comes to describing a person or a place. Similarly, the entire chapter on the character of Lakshmi could have been shortened to get on with the story. These aren't major put offs though, thankfully.
Overall: Dance Of The Spirits is a fascinating novel that gives a new dimension to supernatural stories.
Rating: 4/5
Review by: Keyur Seta
Author: Sanjai Velayudhan
Publishers: Leadstart publishing
Cover: A picture of the Theyyam performer. The sight is pretty but at the same time gives a mysterious feel about the story.
Pages: 268
Price: Rs 299