A small town character wanting to be famous through an art he or she is passionate. Sounds familiar? Of course, it does.But debutant filmmaker Advait Chandan's Secret Superstar ensues that you won't even think of films with similar themes due to quite a few reasons. This also includes the special touch of Aamir Khan. The actor-cum-producer has delivered another winner!
The story revolves around Insia aka Insu (Zaira Wasim) who stays in Baroda with her parents, younger brother and granny. She dreams of becoming a singer. However, she knows that her super conservative and patriarchal father won't allow that. In fact, her father is so ruthless that he beats up his wife at the drop of her hat. Later on, the eccentric music composer, Shakti Kumar (Aamir Khan) enters her life. But will her dream ever be fulfilled?
Secret Superstar includes a superstar as part of the cast. But it's primarily a content oriented film. Every such film needs top notch writing if it needs to appeal and this is exactly what is seen here. Chandan has provided a well-structured screenplay that has the right balance of funny and emotional moments. He has brought in the various turns at the right time and in a matured way.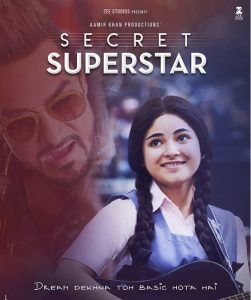 Secret Superstar isn't all about a teenage girl's dream. The film actually makes a powerful social statement on the lives women silently go through even in 2017. It does make you sad at the ruthless patriarchy, which was the intention. Another good thing is that it does that without saying anything about the issue. This is a major reason why the film manages to stand apart from other films of similar themes. Secondly, you gradually realize that the phrase 'Secret Superstar' can also be used for the character of the mother.
Films of this genre tend to go downhill post-interval. But in the case of Secret Superstar, it's the opposite. The film, which was already appealing in the first half, goes onto the top gear in the second when Aamir's character gets more screenspace. Later on, the all-important climax becomes the trump card. The main point of the finale is delightfully appealing despite the absence of melodrama.
The film has a flaw at one point related to the humongous views received on YouTube. Another act of rebellion in the second half is also a bit far-fetched. These are not big issues though.
A film about music has to have impressive songs. The ones over here might not appear like hit materials but they certainly serve the purpose and enhance the narrative. Singer Meghna Mishra, who is Zaira's voice, is another secret superstar here. She plays a large role in bringing in the effect.
Secret Superstar is laced with brilliant performances. If Zaira Wasim was impressive in Dangal (2016), she is incredible here. You just can't stop being impressed as she brings in various shades of her character with finesse. Meher Vij, as the mother, deserves equal praise. She too succeeds in moving you no ends. Needless to say, she should be seen more.
As the ruthless and psychotic husband and father, Raj Arjun generates fear every time he appears. His single expression is enough to frighten you. Aamir Khan brings in his talent on display once again. He scores high in the transformation from an energetic cassanova to a caring individual, as is expected from him. During one sequence in the car, he tries a bit hard though.
Kabir Sajid, as Insu's brother, is adorable. Farrokh Jaffer, as the old lady, and Mona Ambegaonkar, as the lawyer, also create impact.
Overall: Secret Superstar is a delightfully moving saga about fulfilling one's dream. But the film is not limited to that. As far as box office is concerned, it relies heavily on word-of-mouth since it is pitted against the commercial caper Golmaal Again.
Rating: 4/5
Review by: Keyur Seta
Director: Advait Chandan
Producers: Aamir Khan Productions
Cast: Zaira Wasim, Meher Vij, Aamir Khan, Raj Arjun, Kabir Sajid
Music: Amit Trivedi
Genre: Drama
Release date: October 19, 2017
When I saw director Makaran Mane's Ringan: The Quest, which released earlier this year, I felt it would be almost impossible for any Marathi movie to match up to this film in 2017, considering the kind of Marathi films made this year.
But I am too glad to have been proved wrong by Sumitra Bhave and Sunil Sukthankar's Kaasav. Although the subject deals with psychological disorders, the film provides a thoroughly beautiful feeling through various deep meanings.
Kaasav revolves around a depressed and disturbed youngster (Alok Rajwade), who is literally loitering on the streets of Mumbai. He attempts ending his life but is saved by concerned people. He then aimlessly boards a tempo that is going to Konkan. Janaki (Iravati Harshe), a social worker and a kind soul, finds him in a semi-conscious and ill state at a shop on the highway.
She decides to look after him at her sea facing apartment despite him being a complete stranger. Janaki works for the welfare of sea turtles. Despite her constant efforts, the young guy doesn't co-operate and throws tantrums. In fact, he doesn't even reveal his name. Who is he and what is him aim in life? Janaki calls him Niche.
The director duo succeeded in narrating a heartwarming tale out of a story based on a mental condition in their last film Astu: So Be It (2016). They raise their bar even higher through Kaasav.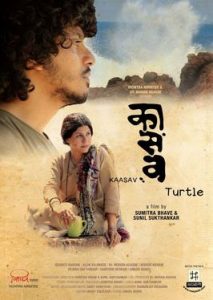 The film starts off as a serious or somewhat disturbing tale of a person's psychotic behavior. But the narrative gradually brings in newer layers about various human aspects without making it sound preachy. To put it simply, it says a lot without saying much.
The film's portrayal of loneliness is completely relatable to people from today's era. For example, a character states that, these days, despite having hundreds of contacts in their phones, some people are still lonely.
What makes the film reach bigger heights is the deep meaning behind the title. The character of Niche resembles land and sea turtle on different occasions. The manner in which the sea turtle analogy is established makes you applaud the creativity and its execution.
In addition to the top-notch content, the icing on the cake is the beautiful location of Konkan, which is artistically captured by DoP Dhananjay Kulkarni, and the two soulful songs.
A slight drawback here is that the back story of Janaki is hardly narrated. This would have helped in knowing her more and having sympathy for her. But, as mentioned before, it is only a slight drawback.
Kaasav is blessed with utterly realistic performances. Alok Rajwade plays the suicidal and disturbed character of Niche with flawlessness. His slow transformation also displays his raw talent.
Iravati Harshe makes terrific use of the opportunity to play a deeply caring individual who is battling her own demons. It is difficult to find people in Janaki in today's era. But her act provides hope that it is certainly not impossible.
Kishor Kadam, as Harshe's servant, once again displays his dedication. In the role of Harshe's mentor, Mohan Agashe does what was required. Devika Daftardar, who is a favourite of these filmmakers, leaves a mark despite playing a cameo. The boy who played Rajwade's friend and the one who donned the role of the helper at Harshe's place are also praiseworthy.
Overall: Kaasav is a deeply moving saga that leaves you super impressed. This one is easily one of the best Marathi films of the last few years. Director duo of Sumitra Bhave and Sunil Sukthankar has once again given a winner.
Special note: It is shocking that a film of this caliber has got just ONE show in the entire city of Mumbai. More so since it has won the National Award for Best Film. The makers have assured that the shows would be increased in the coming days. Fingers crossed!
Rating: 4.5/5
Review by: Keyur Seta
Directors: Sumitra Bhave and Sunil Sukthankar
Producers: Mohan Agashe, Sumitra Bhave and Sunil Sukthankar
Writers: Sumitra Bhave
Cast: Alok Rajwade, Iravati Harshe, Kishor Kadam, Mohan Agashe, Devika Daftardar
Music: Saket Kanetkar
Genre: Drama
Runtime: 104 minutes