Good children's films are the ones that also appeal to the grown-ups. The same goes for children's books too. Indrani Sinha's Renee's Treasure falls in this category. It is a novel that goes beyond the target audience. Apart from narrating an interesting tale, it is filled with nostalgic moments.
The story is set in 1960 and it revolves around the 11-year-old girl Renee. She is smart and adventurous. She stays with her mother, whom she fondly addresses as Mamoni, father, two younger brothers, Jatin and Sonu and grandfather. Renee's father, who is a junior engineer with railways, has been recently transferred to Varanasi from Bareilly.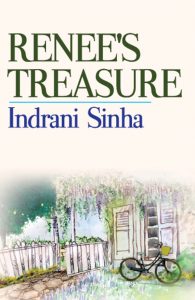 Like every child, Renee is excited for her upcoming birthday. But this year, it's even special since her grandfather aka Dadaji has hidden a secret gift for her, which she needs to uncover. He has strictly urged her not to disclose this to anyone, including her parents. Unfortunately, Dadaji passes away on her birthday. Now, Renee is left all by herself to search the gift. She finds help in the form of her new friends, Anil aka Sacchu and his sister Anita.
The basic plot of Renee's Treasure itself is exciting as well as intriguing. It keeps you guessing about the gift. This coupled with a free-flowing narration with regular twists make sure you are hooked. Sinha has also smartly women thriller elements. This makes you recall the method used by Satyajit Say in his Feluda series, where there is thrill but at the same time, the mood is completely light-hearted.
The most vital aspect in such stories is the uncovering of the treasure in the end. Sinha has thankfully kept this part simple, which goes with the nature of the entire book.
The author's language and use of words plays a large role in making the book appealing to both kids and grown-ups. The little ones would enjoy the story and mystery. But adults would also find high doses of nostalgia. The children's antics in school and home would surely bring back memories of their younger days. The book indirectly gives a message that life was indeed simple and more pleasurable for children back then.
There are few issues that limit the book's greatness. The long bygone era of 1960 isn't felt much. It rather looks like the book is based in the early 1990s. On few occasions, the narration gets too descriptive. There is a romantic angle between two teachers in the school. Although it is cute, we wonder about its relevance with the main story.
Overall: Renee's Treasure is an intriguing as well as light-hearted nostalgic saga. It has the potential of impressing both children and grown-ups.
Author: Indrani Sinha
Rating: 3.5/5
Review by: Keyur Seta
Pages: 145
Publishers: Leadstart Publishing
Price: Rs 150
Cover: Beautiful painting that induces nostalgia and the joys of simple life