It is believed that technical aspects like haunting and loud background score, editing effects and fast camerawork are a must for edge-of-the-seat thrillers. But Asghar Farhadi's Oscar winning Iranian film, The Salesman manages to create an enormously thrilling effect just through the use of the script and presentation and leaves you super impressed.
The film tells the story of a married couple, Emad (Shahab Hosseini) and Rana (Taraneh Alidoosti), who are staying in Iran. They work together in a theatre group. Emad also teaches theatre and performing arts in a college. Suddenly, the building they are staying in starts collapsing. They manage to flee along with other residents.
Obviously, they are frantically searching for a new apartment to shift in. Babak (Babak Karimi), their theatre colleague, helps them find a new place, which was earlier occupied by a mysterious woman. One night, Rana goes to take a shower. When Emad returns home, he is shocked to find her badly wounded on her head. Was it an accident or assault?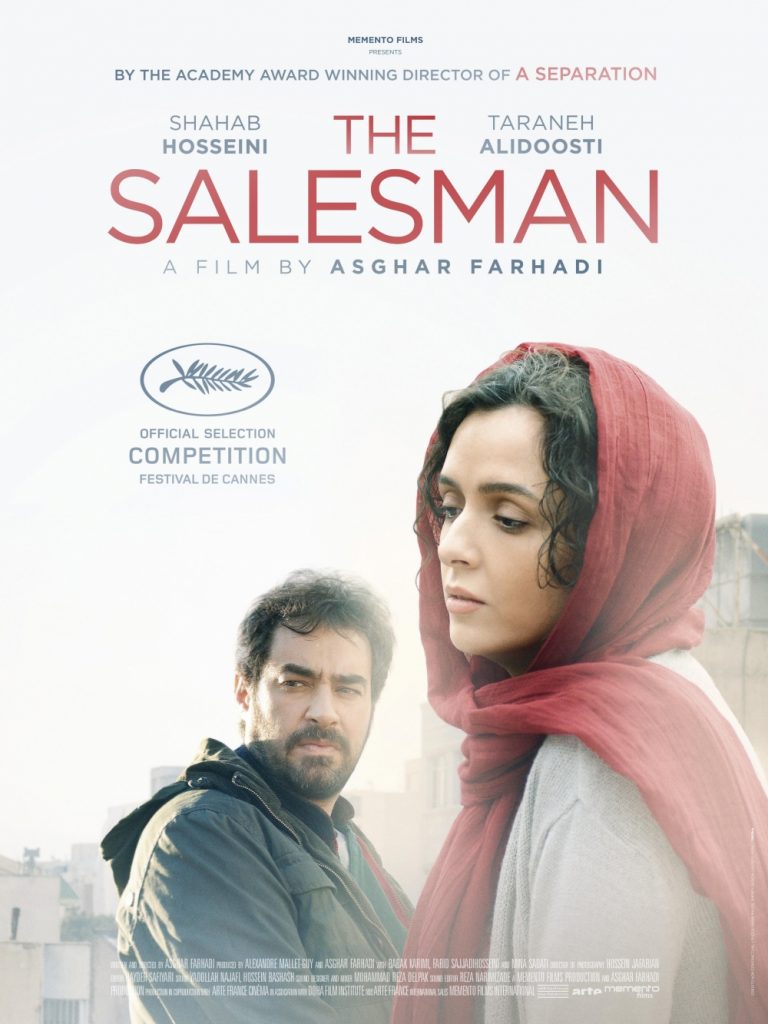 The Salesman is an ideal example of getting your basics right. It proves that if you get your basic prerequisites bang on, you don't need anything else to hook the audience. Not even a background score. In fact, not having any sound in the background is Farhadi's trademark. Yet he manages to thrill through an ideal combination of an interesting story, watertight screenplay and brilliant execution.
The film doesn't start off as a thriller by any means. It seems like a simple drama. But Farhadi has brought in the thriller effect slowly as the story progresses without you even noticing it. The effect keeps on increasing with the passing time. In other words, you don't realize when you shift to the edge of the seat. Along with providing thrill, the climax also says a lot without saying anything.
Like the content and treatment, the characters too are simple, everyday people faced with extraordinary circumstances. The film shows that even the most ordinary and random person in a large crowd can be living a complicated tale.
The film does have few areas of concern though. The incident of building collapse doesn't get with the rest of the film. Its magnanimity makes you think about it long after it has passed, which wasn't needed. There is also one questionable moment in the last 20 minutes or so.
Hossein Jafarian's camerawork gels with the nature of the film. It's simple yet effective.
The performances match up to the numerous plus points. Shahab Hosseini beautifully succeeds in playing man possessed with a lot of questions. But he also manages to underplay himself, which was needed and would have been very difficult for most actors. Taraneh Alidoosti portrays various emotions with precision. She too wonderfully succeeds in speaking through expressions.
Farid Sajjadi Hosseini enters only in the last 30 minutes or so but leaves a terrific impact with his brilliance. Babak Karimi, Mina Sadati, as Sanam, Maral Bani Adam, as Kati, and the rest of the supporting actors leave no scope for complain.
Overall: The Salesman is an outstanding thrilling drama. The film is a must watch for anyone who wishes to enjoy something meaningful as well as riveting. Its appeal is universal. It's releasing in India on 31 March 2017. The positive word-of-mouth might help the film earn decent collections at the box office.
Rating: 4/5
Review by: Keyur Seta
Director: Asghar Farhadi
Producers: Memento Films Production, Asghar Farhadi Produdction and Arte France Cinema
Cast: Shahab Hosseini, Taraneh Alidoosti, Farid Sajjadi Hosseini, Mina Sadati, Maral Bani Adam
Music: Sattar Oraki
Genre: Drama/ Thriller
Runtime: 125 minutes
India release: 31 March 2017