By: Keyur Seta
Rating: * * * *
Director: Sachin Kundalkar
Producers: Everest Entertainment
Writer: Sachin Kundalkar
Cast: Atul Kulkarni, Priya Bapat, Pallavi Subhash
Music: Karan Kulkarni
The title of Sachin Kundalkar's Happy Journey is misleading, but in a good way. The film actually is a very happy journey; one which forces you to introspect and question yourself while you are filled with delight. It is yet another contemporary Marathi film with an international appeal.
Happy Journey revolves around the 35-year-old Niranjan (Atul Kulkarni) and his younger sister Janaki (Priya Bapat) and their unexpected and life-changing journey. Later on, Alice (Pallavi Subhash), Niranjan's school friend, also becomes a part of the voyage.
After the initial few minutes, anybody's obvious guess would be to see the film head into an obvious, particular direction. However, not only are we proved wrong but we are also dished out a huge surprise or a pleasant shock, if we can call it, in terms of the basic plot. The subject is way different form what we have seen in the promos, where the makers have smartly hidden it.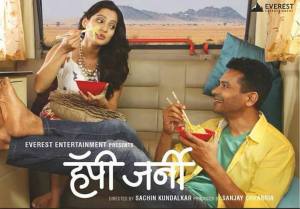 To simply put it, the storyline is unique. This itself is the biggest plus point. But the end result was possible due to Kundalkar's mature handling of a sensitive subject. As the journey moves ahead, various layers are unveiled, which make you think a lot by just the visual medium. In other words, the film says a lot without saying much. Of course, there are emotional and, on few occasions, tear-jerking moments but they are in no way depressing.
The subject is such that it also has its share of flaws. There are few other questionable moments too, especially in the second half, where the pace also dips a bit. Thankfully, these issues don't play spoilsport.
DoP Rangarajan Ramabadran has spectacularly captured the beautiful locations of the Konkan region. His work plays a large role in creating the desired effect. Karan Kulkarni composed tracks are soulful and they go perfectly with the situations.
Atul Kulkarni is easily one of the finest artists of the era. So it doesn't come as a surprise that he delivers yet another outstandingly believable act while playing a complex character. But the scene-stealer is Priya Bapat. You just can't stop adoring her due to the manner in which she gets her act right. Pallavi Subhash once again shows signs of talent. There is some issue with her Marathi pronunciation but it might be deliberate to go with her Catholic background.
Veteran artist Chitra Palekar returns as an actor after 32 years with this film. Despite having just a couple of scenes, we can say she has made a terrific comeback. Shiv Subramaniam too leaves behind a mark in just a single scene. Suhita Thatte, Madhav Abhyankar and Siddharth Menon play their respective characters perfectly.
Overall: Happy Journey is an example of a modern tale, which is high on content. Given the end result and the presence of big names, the film will score well at the box office.

By: Keyur Seta
We are well aware that well-known lyricist and script writer Prasoon Joshi has penned a heartwarming song/ slogan for the ongoing Swachha Bharat Abhiyan by India's Prime Minister Narendra Modi. Sung by Kailash Kher, the song is called 'Swachh Bharat Ka Irada'.
But he didn't want his contribution to be limited to this. He was keen to contribute physically too by literally cleaning up a locality. So he took up the task of cleaning the garbage laden compound of Sofi Mahal Building in Mumbai's Lalbaug. He was joined by bloggers - myself and Heena Shah Dedhi and few volunteers. This particular event was called Clean Sweep and it was in association with IndiBlogger.
Children in Lalbaug's Sofi Mahal building were unable to play cricket in their compound since long due to the presence of huge amount of garbage being dumped there. But after Joshi's initiative, the kids were finally able to resume play much to their joy. The occasion was celebrated with a professional cricket match between the two teams of the locality.
"This initiative has induced consciousness in the country regarding cleanliness. It's not that people didn't know what cleanliness is. But in spite of that, there was this inertia regarding this issue. Even in this locality, it wasn't that people were unaware about keeping their surroundings clean, which would also enable these kids to play. But I am glad that our PM's initiative has spread awareness about this," says Joshi.
An interesting thing about the Swachh Bharat Abhiyan is that the celebrity, who cleans up a locality, should nominate 9 people for the same task. "I was nominated by Anil Ambani. I have nominated Kiran Rao (producer and Aamir Khan's wife), Venu Srinivasan (CMD of TVS Motors), Mr Birla, Shankar Mahadevan (composer and singer), Sadhguru Jaggi Vasudev (spiritual guru), Irrfan Khan (actor), Jeev Milkha Singh (golfer), Nitish Kapoor (CEO Reckitt Benckiser [Dettol]) and Aman and Ayan Ali (music composers)."
There is always a section of the public that is cynical for every social movement. The Swachh Bharat Abhiyan is no different. Joshi has a message for people with such a mindset. "To those who keep saying that we will gain nothing from this, I would like to assert that if I am asked to choose between doing something and not doing anything, I will always choose the former. Of course, there won't be change overnight. But there will definitely be some difference. In our culture, we are asked to keep our hearts clean. But now it is high time we clean up our country too."
Obviously, the success of this initiative largely depends on whether the masses would stop littering the roads. Like many others, Joshi too feels they should be penalized. "There is a need for a law. If there is fear of getting caught and fined, people will stop doing it. Plus, they also need to be taught the difference between dry and wet waste and how to separate it."
Even the most humongous task starts with a single step. Here's hoping that this single step is followed by million more.
By: Keyur Seta
Rating: * * *
The mention of Indian freedom fighters instantly brings to our minds those famous names that we have been studying since our school days. But there were lakhs of unknown individuals who made enormous sacrifices for our nation by happily bearing the atrocities of the British. Director Ganesh Kadam's Marathi movie Vitti Dandu pays tribute to such unknown freedom fighters in a heartwarming manner. However, some obvious issues hamper the film from being more impressive.
The story takes place in 1947 in Morgaon, a remote village in Maharashtra. The place is so out of touch with the neighboring areas that it takes around a week for any news to reach there. Among the few hundred inhibitors of the village are Daji (Dilip Prabhavalkar) and his grandson Govind (Nishant Bhavsar). In spite of his son and daughter-in-law being killed by the British, Daji continues to respect them and, in fact, hates those who wish for an independent India.
In the midst of bearing insults and bullying from his fellow villagers, all of a sudden there comes a moment of huge threat for Daji and Govind. The twist is triggered by the 'Vitti' that is used in the game Vitti Dandu (Gilli Danda in Hindi). The story of Daji and Govind is narrated in 2014 by a grandfather (Ravindra Mankani) to his techno-savvy grandson (Shubhankar Atre) while highlighting the importance of being in touch with nature.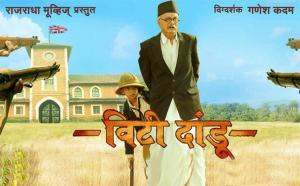 Vitti Dandu has a solid foundation of an interesting and intriguing storyline that consist a smart mixture of a grandfather-grandson relationship, freedom struggle and the dying sport of Vitti Dandu. The narration flow and the biggest twist in the tale are also handled maturely.
Kadam has succeeded in bringing alive the pre-independence era of freedom struggle with the scenes depicting patriotic vigor filling you with pride. It is after a long time that patriotism in a film has steered away from appearing fake. The bonding between the people of the village deserves special mention. The dig taken at technology-obsessed individuals who are out of touch with nature is also laudable.
However, the film stops itself from earning more brownie points due to some issues that cannot be ignored. Firstly, there is a big question mark in the main twist. There are logical errors in the second half too. But what hurts the film the most is the last ten minutes. The idea was to induce applause from the audience but that doesn't happen due to silliness and over-ambition. They should have exploited the important plot twist of the finale in a more mature manner.
The cinematographer has succeeded in artistically capturing the beautiful locations. The background score is as per the need. From the songs, the theme 'Vande Mataram' is a powerful rendition which also suits the subject.
The performance area is a plus point. Dilip Prabhavalkar once again succeeds in perfectly getting into the skin of his character and getting every aspect of the character right. Considering he is doing it consistently since last few years shows the brilliance of this artist. Nishant Bhavsar provides a fine act in a difficult role.
Yatin Karyekar, as an elderly Muslim, and Mrunal Thakur are impressive too. The film is also well supported by Ashok Samarth, Vikas Kadam, Uday Deshmukh, Ravindra Mankani and Shubhankar Atre. The actors playing British officers don't get much scope and appear out of place.
Overall: Despite few issues, Vitti Dandu succeeds in being a moving saga that pays tribute to the many unknown freedom fighters.
Director: Ganesh Kadam
Producers: Raj Radha Movies
Writers: Vikas Kadam and Ganesh Kadam
Cast: Dilip Prabhavalkar, Nishant Bhavsar, Yatin Karyekar, Mrunal Thakur, Ashok Samarth
Genre: Period Drama/ Patriotism
By: Keyur Seta
I am going to #BlogToFeedAChild with Akshaya Patra and BlogAdda.
According to Business Standard, 100 of the 2325 billionaires are from India. In this way, our country ranks sixth in the list of most number of billionaires in a country. This sounds as an achievement, doesn't it? Not for me though because daily millions of people in India face starvation; of which many are children.
Hence, I have no qualms in saying that there is nothing delightful in the fact that India has 100 billionaires when millions of kids are struggling to overcome a necessity as basic as food. As per 2014, India ranks 55th in Global Hunger Index.
So obviously, these kids are forced to skip education in order to make ways to feed their stomachs. Looking at such a tragic scenario, the question that lurks in our hearts is whether it is possible for these kids to get proper education and at the same time feed their stomachs at least two square meals per day. The answer to this, according to me, is a big YES!
In fact, I am sure that India has enough wealth to completely wipe out poverty. This might sound too fairytale-ish. But this is possible if all the rich, super-rich and few above them contribute few percentage of their income towards eliminating poverty. Considering the number of such people we have, this contribution will count to a humongous amount. In this way, I am also trying to indicate that poverty is just a consequence of unequal distribution of national income.
When eliminating poverty is a reality, making sure that every child in India gets access to both education and food isn't a big deal. There are various ways to achieve this goal. These are few of them:-
Government: Both State and Central Governments have enough funds to make sure no child needs to skip education to feed himself. They can start various schemes or plans for the same. The best idea is to start a free canteen in government run schools that would enable kids to have a proper lunch. Of course, getting them to do something so useful is very difficult. So it is necessary for various NGOs and social organizations to keep pressurizing them.
Surplus: This idea is inspired from Amole Gupte's movie Stanley Ka Dabba. There are hundreds of buffet restaurants in all Indian cities. Naturally, they face a situation of surplus food almost daily. Most of the times, this food is simply wasted. Instead, this food can easily be used to feed a large number of underprivileged kids. The same can be done by normal restaurants and wedding venues. The latter always has a large amount of surplus. Last year, some social organization had started a similar campaign from the surplus food from tiffins supplied by Mumbai's dabbawalas.
Special Caterers: Government or NGOs can start a catering service with the sole motto of feeding underprivileged kids. People like us can sponsor meal or foodstuffs online or by visiting them. This is how it works – You visit their website and select the number of meals you wish to sponsor with one meal costing as low as Rs 20. So even if we sponsor one or two meals daily, it will help feed lakhs of children.
Recently, The Mind Unleashed shared a message on Facebook – Small acts, when multiplied by millions of people, can transform the world. Let us all believe in it.
By: Keyur Seta
Rating: * * * ½
After his magnificent debut with the classic Harishchandrachi Factory, India's official entry to the Oscars, there was naturally a keen wait for Paresh Mokashi's next. The wait is finally over as the maker is back with Elizabeth Ekadashi. Looking at the overall product, we can say that the close to five-year wait is worth. The film turns out to be another simple heart-warming tale that leaves a wide smile on your face.
The story takes place in the holy village of Pandharpur (Maharashtra) where the adolescent Dnyanesh (Shrirang Mahajan) lives with his mother (Nandita Dhuri), younger sister Mukta (Sayali Bhandarkavathekar) and grandmother, after his father passed away few years back. His father had built a unique bicycle named Elizabeth. Dnyanesh and Mukta are literally in love with it.
With his father no more, his family is facing severe financial crisis. His mother needs to pay five thousand rupees to the bank to get her sweater machine back. For this purpose, she considers selling Elizabeth as that would greatly help the cause. But naturally, the kids oppose to the idea. Will Elizabeth be saved?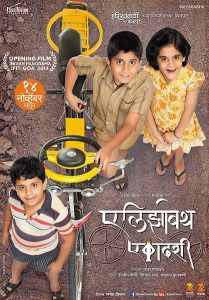 Over the last few years, Marathi cinema has been regularly churning out simple and realistic rural flicks with strong emotional storyline and characters you easily fall in love with. Elizabeth Ekadashi also falls in this category. However, it manages to stand apart from most of such flicks due to the utter realism it oozes in literally every frame. The real, everyday scenes of Pandharpur are simply a delight. Therefore, it is difficult to accept that the characters are fictitious.
The film follows a contemporary mode of storytelling wherein the tale is narrated through real, everyday scenarios, which makes it smooth flowing and natural. What is further impressive is that Mokashi clearly steers away from melodrama, for which there was a lot of scope. Hence, there are countless moments where a scene says a lot without saying much.
Coming to the negative points, there is one questionable aspect, which cannot be revealed to avoid spoilers. The entire plot also becomes predictable after a while. But thankfully, you tend to enjoy the predictability as it fills you with delight as you leave the hall.
The only song 'Dagad Dagad' by the late Anand Modak is used as the theme and it suits the subject perfectly. There is some fine display of art by the cinematographer (Amol Gole) while the background score too is impressive.
The film is also blessed with excellent performances. In the role of Dnyanesh, Shrirang Mahajan simply wins you over with an outstanding act. Considering his age, he has carried the responsibility with amazing ease. Nandita Dhuri too puts forth a brilliantly believable portrayal of the mother.
Sayali Bhandarkavathekar, as Dnyanesh's sister, is amazingly cute. The lady playing the grandmother doesn't lag behind at all. As Dnyanesh's friend, Pushkar Lonkar is hilarious! At the same time, he scores well during emotional scenes too. The rest of the actors offer perfect support.
Overall: Elizabeth Ekadashi is yet another heartwarming rural tale from Marathi cinema. The film stands a good chance of garnering impressive collections at the box office.
Director: Paresh Mokashi
Producers: Mayasabha Productions and Essel Vision
Writers: Madhugandha Kulkarni and Paresh Mokashi
Cast: Shrirang Mahajan, Nandita Dhuri, Sayali Bhandarkavathekar, Pushkar Lonkar
Music: Anand Modak
Genre: Drama
By: Keyur Seta
Rating: * * ½
There is no point comparing a remake with the original if the new movie is made in a different time zone and era with fresh characters. Since Abhishek Sharma's The Shaukeens is also one such film, it would be unfair to compare it with the Hrishikesh Mukherjee's original Shaukeen (1982).
But even if we debar the comparison, The Shaukeens turns out to be just an above-average effort that is helped largely by Akshay Kumar. The plusses don't succeed in overtaking the minuses. But more about it later.
The story takes place in Delhi and it focuses on three best friends into their 60s – footwear store owner Lali (Anupam Kher), spices business tycoon Pinky (Piyush Mishra) and the rich social worker KD (Annu Kapoor). The three of them have everything in life except one thing – sex.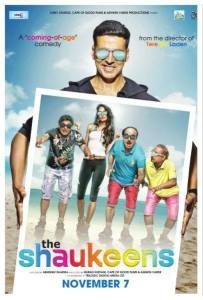 Their sexual frustration takes them to Mauritius, where they meet the young and attractive Ahana (Lisa Haydon). This starts a competition between the three friends to impress and woo her. Somehow, actor Akshay Kumar also becomes an important part of the game.
What works largely for The Shaukeens is the light-hearted feel during its entire duration, including the parts where the tale becomes a bit serious. The terrific acting skills of the three veteran actors (Kher, Mishra and Kapoor) and their tuning is a treat at times. However, the script starts doing downhill in the second half.
This is where Akshay comes in more than handy as he saves the film from falling apart. His scenes with a Bengali art film director and his act in the climax win your heart. It was also good to see him making fun of himself and his filmography.
But, as stated earlier, the film only rises till an above-average level. This has largely to do with the immature and dumb character of Ahana, who doesn't realize the obvious lustful advances of the three men and the way they hog on to every opportunity to touch and embrace her. Of course, this gives rise to a lot of cheapness and objectification of women. Ahana's obsession with Facebook 'likes' makes things worse.
Unfortunately, there are more questionable aspects in songs 'Alcoholic' and 'Manali Trance', where alcoholism and, worse, smoking is freely endorsed.
Coming to the performances, Anupam Kher, Piyush Mishra and Annu Kapoor prove once again that they are the masters of the art of acting. Lisa Haydon is hampered by her characterization. Not just that, she also plays the same character she played in Queen.
Overall: The Shaukeens is a one-time watch entertainer that could have been better. Its chances appear bleak at the box office.
Director: Abhishek Sharma
Producers: Akshay Kumar, Ashvin Varde and Murad Khetani
Writers: Tigmanshu Dhulia and Sai Kabir
Cast: Anupam Kher, Annu Kapoor, Piyush Mishra, Lisa Haydon, Akshay Kumar
Music: Yo Yo Honey Singh, Hard Kaur, Vikram Nagi and Arko Mukherjee
Genre: Comedy/ Drama
By: Keyur Seta
When you imagine a movie based on the infamous Aarushi Murder Case, you subconsciously expect its first teaser or trailer to be on the clichéd hard-hitting and loud lines. But the first teaser of Manish Gupta's Rahasya, based on the said murder, takes you by a pleasant surprise.
The teaser is one of its kinds for the very reason of its realistic camerawork. In fact, the entire footage is hand-held from the view of the girl who gets murdered. But that doesn't mean it goes to irritating levels like some of Ram Gopal Varma's films. The only concern is that there shouldn't be an overdose of it in the actual movie.
All in all, the teaser of Rahasya succeeds in building curiosity for the film. Let's hope Gupta brings another serious, intense thriller like The Stoneman Murders (2009).
Director: Manish Gupta
Producers: Viacom 18 Motion Pictures
Cast: Kay Kay Menon, Tisca Chopra, Ashish Vidyarthi, Mita Vashisht and Ashwini Kalsekar
Teaser/ trailer of Rahasya:

By: Keyur Seta
When asked about Mahabharata, many of us would describe it as the war between the Pandavas and Kauravas after the latter snatched away the kingdom from the former and tricked them into exile. And when quizzed about Ramayana, mostly people would say it is the story of Sita being kidnapped by Raavan and Ram, her husband, rescuing her by waging a war against the kidnapper with the help of Hanuman.
By knowing this much, many might feel they are well-versed with these great epics. However, one can be called an expert in such subjects only after doing some great in-depth study of these epics through many sources. This was felt by the large group of audience that attended the 'Revisiting Our Epics' session by author Devdutt Pattanaik, media veteran Mahesh Samat, filmmaker and writer Paromita Vohra at the literary festival Tata Literature Live in Mumbai.
"During my television stint, I came across writers who think they know everything about these epics. They are overconfident. When I ask them how they know, they say we saw in the TV serial. Arre that is only 0.1%," said Pattanaik and continued, "There are also people who keep saying 'Humare shastron mein likha hai'. These people have never read any shastras."
The discussion also went on to the technique of telling stories of these epics. Samat explained, "The problem is that people like jumping to the moral of the story. They don't visit the various interesting layers of the story, which are as important." Pattanaik agrees with him. "They like telling parables; stories with moral ending. But the main objective of mythology is to show that this is how life is and its consequences."
By taking the discussion onto right and wrong, he continued, "Action should not be judged as right or wrong. Different people have different interpretations. Those who benefit from war or violence will say it was necessary while those who are violated will say it was bad. Also, God is not a judge in these epics. One shouldn't think why Ram did this. Ram did it; that's it! Let the audience decide."
Pattanaik, who has written more than 20 books on Mythology, also pointed out the limitations of the TV versions. "There are six chapters after the war of Mahabharata. There is also an instance of Bheem eating the flesh in the bones of the enemy. But you can only show things on TV that appear right, which is dangerous." He elaborated this. "My friend lied to her niece or nephew that Kunti was taking bath in the river and by mistake the basket containing her child floated into the river. The kid knew the real story so he asked, why are you lying? So the audience has no problem, only the Censor Board has."
He also stressed how these epics are hailed as revenge sagas on TV. "After the war, Draupadi's maid points out how she lost her five sons in the war. How feasible is revenge at the cost of five sons? B R Chopra doesn't discuss this because revenge sells. Also both Mahabharata and Ramayana have tragic endings but this is also not shown. Why tragic? In the end, Ram walks into the river alone and the Pandavas walk into heaven where the villain is already present."
Our great epics are so vast that discussing them is a never-ending exercise. The same was felt during this discussion. Hence, it was ended due to time constraints. But it was a memorable enough to generate more interest in the subject of mythology for the full house present there.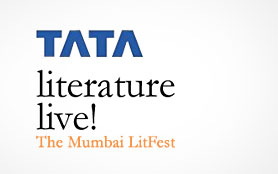 By: Keyur Seta
Art goes beyond boundaries. In other words, the geographical difference between two people ceases to exist if they share the same passion towards the same art. This was proved right once again yesterday at the literature festival Tata Literature Live when the well-known Israeli thriller author Liad Shoham shared useful tips for writing a thriller/ mystery story to a group of aspiring authors.
Shoham is an advocate who got into writing accidentally. Hence, he has no qualms in labeling himself as 'The Accidental Writer'. It was his wife who encouraged him to pursue writing by meeting people and editors when he was hesitant. So, naturally, he gives a good amount of credit to his wife and advises, "You should keep talking to people and if your wife asks you to do something, just do it."
Likewise, Shoham displayed his sense of humor throughout the session. These are the important advises he had for budding thriller writers in his own words:-
Follow your heart: Write about things you are interested in. Other people will care about your story only if you care. In my last three books, I have described social problems through thrillers.
Enlighten: It is very important to know everything about your subject. Of course, you should entertain the audience, as that is the motto of thrillers, but at the same time you can also teach or enlighten your readers. For one of my novels, I went to places in Israel were African immigrants live. I also met police officers and UN officials.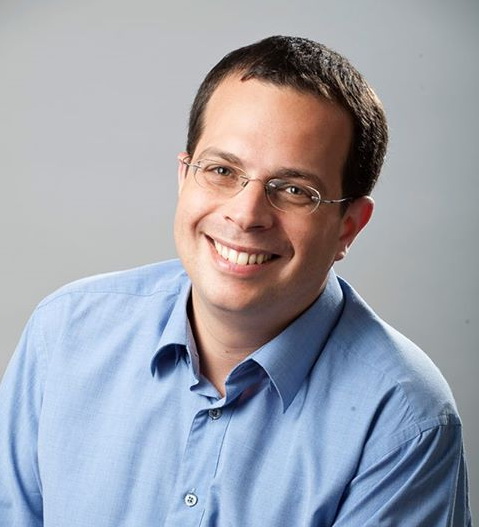 Authenticity: I once wanted to kill a person at the start of my novel. I came to know from someone that a person in some hospital knows this. So I met that guy and straightaway said, "I want your help in killing somebody." Naturally he was shocked!
Just listen: It is not necessary to do extensive research. Just listening to people is enough. So my family members and relatives go away from me when they speak because they know I will steal from their talks. I have stolen stories that way (laughs). One close friend told me how he proposed his wife. He made me promise that I won't use it in my novel. But later I used it. He didn't mind as he is my close friend. But once his wife called me up at 3 am expressing her displeasure for it.
Characters: After research, the most important thing is to shape your characters. Characters evolve the story by themselves.
All important climax: I don't always know the end of my story. Sometimes, the general idea of the story becomes different due to the characters. You wish to advance the plot in certain way but your characters take it elsewhere due to their nature. So you don't need to know the ending always. I use real characters but I don't copy them. They go through a lot of changes.
Minimizing errors: Thrillers are bound to have loopholes. So you should give your book to people you trust before getting it published so that they can point out errors.
Don't fear: Don't be afraid to be bold thinking what if someone gets upset. Once my editor told me, "When people write about sex, they think of their mother." (confused laughter followed this). "They think, what will our mother and aunt think while reading this?" My mother said she skips the sex part in my novels. So I asked her, how she knows when it ends? She answered, "Your father tells me that."
Be original: Some authors re-write American novels into Israeli. But that doesn't work as there is a huge difference between both countries. Our detectives don't drink whisky and people don't disappear here as it is a small country. Due to the second reason, we also can't show a character travelling from one city to another.
Be domestic: When your story is more domestic, it becomes more international. People will understand you are more attached to your story and there is more realism. For example, we can't show bank robberies in Israel because it seldom happens and the robbers would be stuck in traffic. Similarly, there are also no serial killers.
Believability: Write stories people can believe. In Israel, there was a President who used to rape girls in his office. Although this is real, you can't show it as it sounds unbelievable.
Surprise element: You should surprise the readers by showing them possibilities they thought could never happen. So I feel being a thriller writer is like being an engineer; you should know the start and ending but work your way in between.