Born as Narendranath Datta, Swami Vivekananda is known as the monk who inculcated strength and determination in the youth of India through his powerful words and deeds. He was instrumental in spreading Indian spirituality and changing the image of India in the west, largely through his speech at the Parliament of Religions in Chicago in 1893.
Vivekananda received enlightenment from his beloved spiritual guru Ramakrishna Paramhansa and his wife Sri Sarada Devi. He is also credited to have started Ramakrishna Mission and Ramakrishna Math after his guru. He came to known as Swami Vivekananda after becoming a monk.
But despite Vivekananda being a monk and a spiritual guru, he gave high importance to physical activities like sports. He himself was actively involved in sports right from his school days. Along with football, a popular sport in West Bengal, he also played cricket.
It is one of Vivekananda's heroics in cricket that is highlighted in this article. Something not many would know and would come as an exciting surprise.
Kolkata's world renowned stadium Eden Gardens was built in the 19th century and was one of the few epicentres of cricket in India back then. Among the many cricket enthusiasts who played cricket there also includes Swami Vivekananda, who was the young Narendranath Datta back then.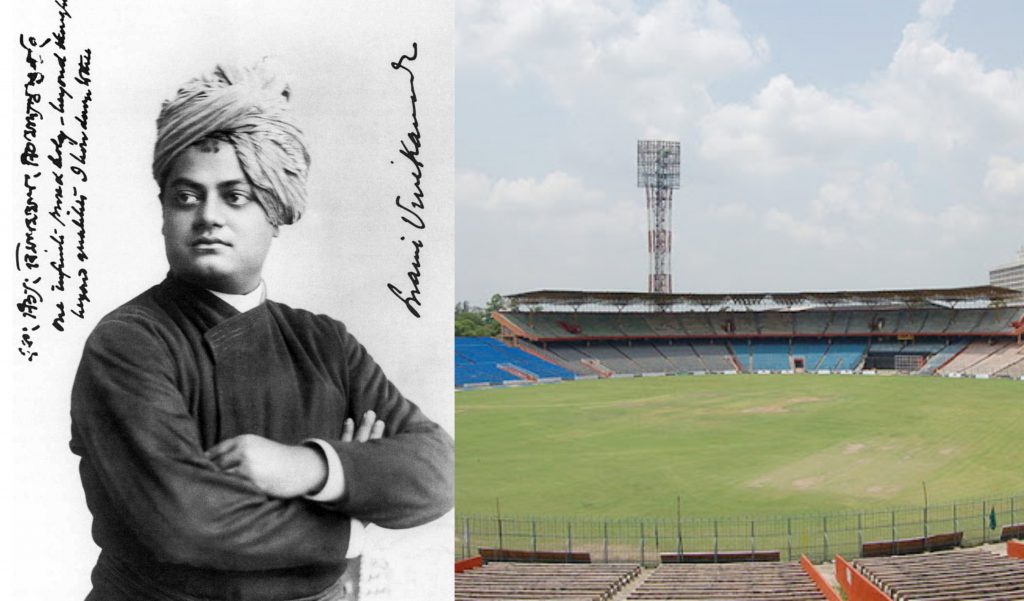 Author and former cricketer Raju Mukherji in his book Eden Gardens: Legend & Romance has written that Datta, in his 20s, played cricket at the stadium in the mid-1880s for Town Club, one of the earliest local clubs in Kolkata back then.
The Calcutta Cricket Club (CCC, which later went onto become Calcutta Cricket and Football Club) team was a formidable side back then. It largely contained British cricketers since it was formed by the British.
It was during a match against CCC that Datta took as many as 7 wickets in an innings.
Mukherjee has credited the April 2004 edition of the Bengali magazine Udbodhan for this startling piece of information.
Vivekananda has a large number of followers around the world. But this trivia is expected to amaze almost all of them as they wouldn't be knowing it.
Also read: One of Wasim Akram's biggest achievements is forgotten
There are also other unconfirmed reports stating that the CCC side was bowled out for just 20 runs because of Datta's exploits and that the match took place 136 years ago. The reports also mention that it was coach Hema Chandra Ghosh's words that encouraged the young Datta to give his best.
Vivekananda's exploits on the field don't come as a surprise though. He was an ambassador of sports even after he became a monk. One of his famous sayings goes like, "You will be nearer to God more through football than through the study of the Gita."
What he meant was that merely following spirituality through reading is useless unless you give importance to physical fitness, which, in turn, helps in developing your mind. On various occasions, Swami Vivekananda has also spoken about treating your body as a temple.
Also read:
Only time Tendulkar was NOT selected in team India, neither injured nor rested
Forgotten spells: When Srinath was on a hattrick THRICE in one innings