Anti-corruption crusader Anna Hazare apologized to the media after the Broadcast Editors' Association (BEA) demanded an apology after few incidents of violence and abuse by Anna supporters. Anna did the right thing as such acts are uncalled for in a peaceful movement. However, the way the BEA went up in arms against Anna and the movement, shows the media body's filthy double standards.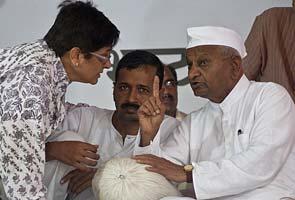 Over the years, there have been numerous incidents where goons of rowdy political parties have smashed offices of various news channels. Apart from the huge monetary losses, their acts also caused injuries to the people working with the channel. Despite such criminal or even terrorizing acts, BEA has never ever till date demanded an apology from any of the political parties. A shining example of their double standards or bias towards a movement, which is trying to save India from corruption.
Just because we (team Anna) are harmless, they condemn our minor acts and demand an apology but when it comes to dealing with the powerful political outfits, they become scary bones! In this way, BEA is indirectly stating that you can't misbehave or abuse the media but it is perfectly fine if you walk into a media office, destroy its property and injure its employees. Worse, the BEA doesn't even blink an eyelid when the heads of these political parties laud their acts of violence!
I am sure anyone from the BEA doesn't have an answer to this.
And this is what we get by apologizing to the media – From the live coverage of Jantar Mantar (on the internet); it was noticeable that the venue was flocked with thousands of supporters. However, when 'The' Arnab Goswami saw the same scene, he announced on his channel that there are hardly 400-500 people at Jantar Mantar! Need more examples of how media is trying to sabotage the movement? Watch these news channels continuously. Coming back to Arnab, the pictures below reveal the truth.
Excerpts from this article have been sent to the BEA. I know this will not have any effect on their attitude but at least they would know that the people of India won't take anything lying down! You can mail them too on - broadcast.editors@gmail.com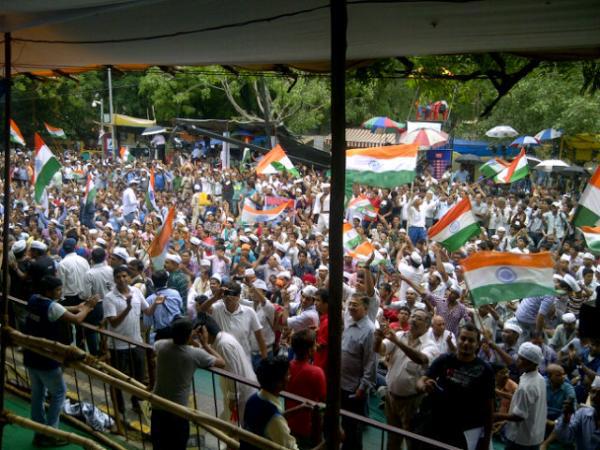 People indulging in harmful activities or habits doesn't shock me anymore. What shocks me is when they raise their eyebrows after knowing that I have always kept away from a harmful habit. The habit I am referring to is drinking alcohol. People give strange reactions when they come to know that I have never tasted alcohol or any type of liquor ever in my life. In fact, some even feel offended! At times, this makes me speechless but since my beliefs and morals are super strong, it never affected me.
Yesterday's (July 1) episode of Satyameva Jayate threw light on the terrible effects of alcoholism. After listening to the shockingly tragic tales of the victims of alcoholism, I am proud to have never tasted that thing and my belief has become even stronger. Let's look at the experiences shared in the episode.
A youngster Vijay Simha ventured into journalism and tasted enormous success in no time. Nothing could have brought him down but yet he had to spend nine months on the roads of Delhi. His body deteriorated in such a way that he should consider himself lucky that he didn't die! A journalist at the peak of success was reduced to a mere beggar! Reason for such a devastating downfall? Alcohol!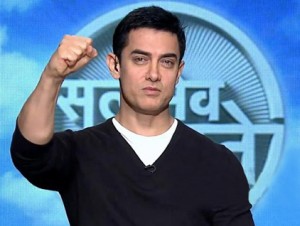 In another case, a man from a poor family, Lakshman spent Rs 20 lakh in consuming alcohol and another Rs 20 lakh in getting treated for alcoholism for which he was admitted 80-100 times! If he hadn't tasted liquor ever, his life would have been completely different.
But the case of the death of Curran Anand at the age of just 15 turned out to be the most heart-wrenching one. Just sitting in a car driven by a reckless drunkard cost him his life and his parents, a non-curable grief! Such is the cruel effect of alcohol that it can be fatal even for those who don't drink!
People can argue they drink only a small quantity but as Javed Akhtar, the guest on the show, pointed out liquor has a tendency to be addictive which can prove terrible.
Therefore, what is so strange in me totally avoiding something which can be fatal for me and devastating for my whole family? I know there is no harm in trying it just sometimes but my point is, if something has the potential to ruin everything I have, why should I try it even once? By the way, according to psychiatrist Dr Vivek Benegal, 50% of liquor-drinking population of India, drink more than what is considered normal (four pegs)! More reasons to stay away from the bottle!
Few youngsters proudly revealed on the show the reason why they drink. A guy said he drinks as it helps him forget everything and enjoy due to the sensation it creates in the brain. According to a girl, drinking helps her dance properly while another one said it is 'cool' to drink.
All I can say is I feel terribly sorry for them. Have they become so weak that they need alcohol to forget problems instead of facing and solving them? If drinking helps you dance properly, all great dancers of India should have finished thousands of bottles in their lives! And what is so 'cool' in spending your parents' hard earned money in something that can mess up your life and ruin your family's image?
A rather sensible reason given by a guy was that he has to oblige his seniors and colleagues by giving them company to drink. Well, I have been in such situations where people have even been adamant in making me drink. However, if you are totally firm as I have been, nobody can put that bloody thing in your mouth!
Watch the July 1 episode of Satyameva Jayate below and if the discussions in the show don't shake you against alcoholism, nothing else would!
For the first time ever in India, audience was bestowed upon with a chance of watching the first episode of a television serial along with its cast and crew. This happened when the makers of the Marathi serial Eka Lagnachi Dusri Goshta organized a special screening of the first episode of the series for the public which was attended by its actors Swapnil Joshi, Mukta Barve, Rekha Kamat, Asavari Joshi, Ila Bhate, Spruha Joshi, along with director Satish Rajawade and producer Shrirang Godbole.
A large number of spectators had gathered at Amar Hind Mandal at Dadar (West), Mumbai to witness the first-of-its-kind event. Efforts were put in to create a marriage-like atmosphere; right from the sets and decorations to the ladies presenting flowers and til gul to guests.
The unusual event amazed not just the audience but also the actors. Said Swapnil, "To watch my serial with the audience is a memorable experience for me." But Mukta's excitement knew no bounds. "I feel as if I have come for the premiere of my movie," said the actress.
The pair of Swapnil and Mukta was hugely appreciated in the movie Mumbai Pune Mumbai. The actors revealed they were excited to share the screen with each other once more. The fact that she is also a close friend of Swapnil helped Mukta a lot, she said.
(Article continued after picture.)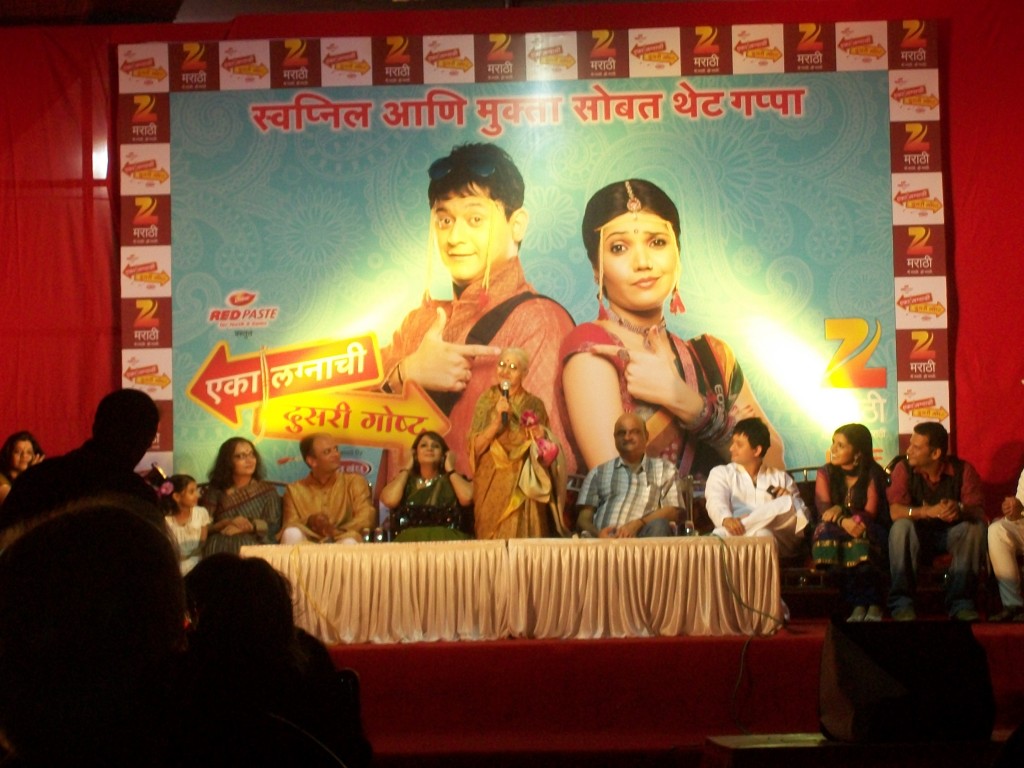 Veteran actress Rekha Kamat gets candid about her character in the serial.
Producer Godbole, who had earlier made a play named Eka Lagnachi Goshta, said, "Earlier, I wanted to make a play on this story. Later on, we thought of making a movie. We also fixed a release date for it. However, after going through the story again, we thought it will be best if a serial is made on this movie."
Since Eka Lagnachi Dusri Goshta is sprinkled with laughter, there was plenty of humour during the launch. Some unintentional hilarity took place as well when the coconut flew backwards from Swapnil's hand while he was trying to break it.
But what got the audience in splits for a long time was the question by an aged uncle from the crowd. He asked Swapnil, "Is there a lady character in your serial who likes to poison other people's tea?" This also took the actor by surprise but he kindly answered in the negative.
During the screening, both Swapnil and Mukta's entry was followed by loud applause and whistles. Judging by audience's response, the first episode of Eka Lagnachi Dusri Goshta provided good entertainment. If the same is continued in the forthcoming episodes, the serial should enjoy very good TRPs. (Timings: Monday to Friday at 8:30pm)
More pictures from the event:
In India, pornography is considered a crime while porn is considered a disgrace. Obviously due to this, pornstars and looked down as one of the biggest social evils and are also considered worse than prostitutes. But our so-called reality show makers of Bigg Boss 5 have signed pornstar Sunny Leone in their desperation to earn TRPs!
Now suddenly, a pornstar is welcomed with open arms! In fact, she was given a superstar welcome! They are making it appear as if acting in porn movies is a respectable profession! Those who considered the profession the most shameful are now watching someone from the same profession with their families!
I wonder whether one can stoop so low? How can they become so blind to earn viewership and publicity that they can portray a pornstar as a respectable celebrity in a place like India? More importantly, where are those political parties and groups who are always up in arms against anything that harms Indian culture?
Prostitutes and bar dancers enter their profession not out of choice but due to financial woes. By reading Leone's interview published in Bombay Times, it is certain she comes from a well off family. She has revealed she entered the profession out of choice (obviously to earn quick bucks). So, if we can respect her, why look down upon on sex workers and bar dancers, who are victims of circumstances?
These are some of the other things shown in the so-called reality show: -
* Shakti Kapoor indulging in all kinds of cheap behavior. He even pressed the a** of a female contestant! No objections raised by anyone!!!
* Even a pregnant woman Sonika Kaliraman locked in the house!!!
* Mehak Chahal, Pooja Misra, Shanali Nagrani, Rageshwari, Lakshmi, Siddharth (Sid),  Aakashdeep Saigal, etc fighting and cribbing against each other in a manner which will make kids appear grownups.
* Skin show especially in those pool parties! Regular vulgar moves!
* Imagine all this being shown on primetime!
It's shuddering to think how further low the makers of Bigg Boss will fall to generate hype and TRPs! Looks like if the makers don't get the desired TRPs, they might even try to bring Kasab in the house! They will justify their proposal saying, "What difference will it make since he is already locked up as our guest since years?"
P.S – I am not at all sorry to say that the makers of the show are no different than pimps!