Shah Rukh Khan is not only one of the biggest stars in India but also world over. But the actor has had to work his way up through hard-work from scratch. After doing theatre in Delhi, he migrated to Mumbai to continue the profession.
During his initial days, he was seen in quite a few Doordarshan shows like Dil Dariya (1988), Fauji (1988), Intezaar (1989), Adhuri Zindagi (1989), etc.
One notable work Shah Rukh Khan did during those days for the same channel was in the show Ummeed in 1989. The serial featured different stories that used to run for two episodes. In one such segment, Khan featured in the role of a young bank employee.
A noble soul with the channel name of 'Super Tuber' uploaded the two episodes of the show on YouTube three years ago.
As soon as I started watching the first episode, I was instantly reminded of TVF's Amazon Prime Video show Panchayat. The web-series saw Jitendra Kumar play Abhishek Tripathi, an engineering graduate forced to take up the position of a secretary at the panchayat office in the small village Phulera, Uttar Pradesh.
The city-bred Abhishek gets a culture shock by the life in the village. But there were ruder surprises in store for him when he takes a look at the panchayat office. It turns out to be a basic office which, must to his dismay, also doubled up as his residence. Abhishek also finds it difficult to adjust to the workings of the village due to the politics and age-old attitudes.
Coming back to Ummeed, Shah Rukh Khan plays the character of Anand Gupta who is 'promoted' as the branch manager to the bank's newly-opened branch at Bhingri. In reality, Anand's superior was under tremendous pressure from his senior to send someone at the said branch since nobody was willing to relocate to the place.
Anand's happiness turns sour as soon as he lands at the bank's branch in Bhingri. The place is located in a no-man's land and is completely empty; no staff and just one helper. In fact, the helper and Anand are the only members of the staff.
This is similar to Abhishek's situation in Panchayat. And just like that web-series, Anand's personal room is also inside the office, just a few steps away, and this one too has a set-up for making tea near the window.
That's not all though. Just like in Panchayat, Shah Rukh Khan's character in Ummeed too forms a bond with the people of the village after, initially, going through a nightmare.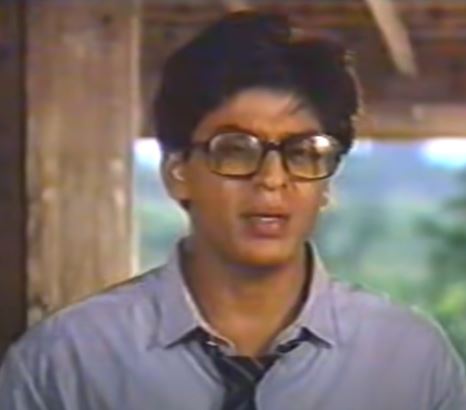 This is in no way stating that Panchayat was lifted from Ummeed. A city-based officer facing challenges after being transferred to a rural area is a common theme around the world.
Ummeed featured a very innocent and raw version of Shah Rukh Khan. He perfectly fitted the role of a common man from a middle-class family required to work hard to rise in his career. In other words, he made a clear announcement of his acting talent very early in his career; something we got to know in the following years.
Also read: Exploring Gehraiyaan's selfish character in James Hadley Chase manner
Ummeed was written by Mukesh Sharma. I couldn't find any other work by him after doing a Google search. Vikas Desai, as per IMDB.com, before directing this show, had acted in quite a few parallel films like Arvind Desai Ki Ajeeb Dastaan (1978), Giddh: The Vulture (1984), Andhi Gali (1984) and Anantyatra (1985). There is no record of what he did after that, except that he acted in Ketan Mehta's Aar Ya Paar (1997).
Rajat Kapoor is named as one of the assistant directors on the show. It is not known whether he is the same one of Bheja Fry (2007) fame.
Ummeed was produced by Joint Publicity Committee, Public Sector Banks. It is interesting to see a show produced by the banking sector showing the sorry state of banks in rural areas.
Watch both the episodes of Ummeed below: