Ashutosh Gowariker's Lagaan (2001) remains of the most iconic and exciting films to have come out of not just Hindi but Indian cinema. Even after more than 15 years, the Aamir Khan and Gracy Singh-starrer still gets you in extreme tension when Bhuvan is required to hit a six off the last ball, despite you knowing the climax.
Needless to say, the atmosphere inside the theatre was similar to the one we see in cricket stadiums. So one can only imagine what would have happened when the entire Lagaan team played a real cricket match at the iconic Brabourne Stadium in Mumbai.
There is a major chance that you might not be aware of this match because, somehow, it never got publicized. More so for those who have recently turned adults or are in their early 20s.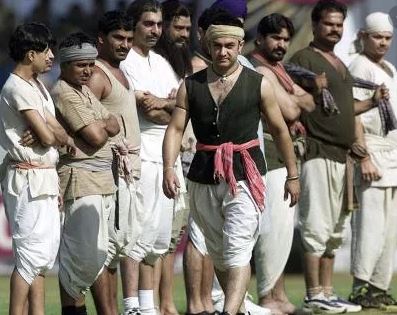 So, Britannia had organized a match between the Lagaan team versus the team of winners of a contest they had run. Hence, the other team was called simply Britannia. I had also taken part but didn't win. But that didn't stop me from watching the match in the stadium.
Surprisingly, you didn't need to spend a rupee for the tickets. All you needed was to submit four packets of their biscuits in exchange for a ticket. I and a friend went to watch after submitting eight. Well, frankly speaking, we wouldn't have mind to even pay to see the Lagaan team in action.
Interestingly, the match was played on Christmas, a festival which few years down the line was acquired by Aamir to release his films.
Like the on-screen match, the Lagaan team fielded first. I don't remember who won the toss but it wouldn't have been exciting if they had batted first. It was a 25-over match where the boundaries were brought in considerably and understandingly so since none of them were professional players. By the way, the entire Lagaan team played in the same costume they had worn in the film.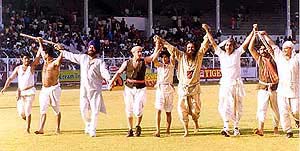 But instead of 11, both teams had 13 players. The Lagaan team included Gowariker himself and actor Amin Gazi, who played Tipu in the film, to complete a 13-member side.
Team Britannia was bowled out for 96 inside their stipulated 25 overs. We all thought that this would be a cakewalk for team Lagaan but Britannia bowlers had other plans. Team Lagaan kept losing wickets and at one point were seven down with the team still being some way away from the target.
In the end, it was Gowariker and Aamir who saw the team through by scoring 18 and 19 runs respectively. The entire crowd, including me and my friend, was overjoyed and dancing to the song 'Mitwa.'
Other interesting bit about this match was the star Indian players like Rahul Dravid, Sourav Ganguly and Virendra Sehwag switched roles as commentators and umpires. Navjot Singh Sidhu and Maninder Singh were permanent commentators. The commentary played a big role in keeping us entertained.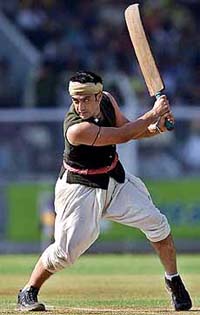 But there was another unprecedented excitement after the match. After some great encouragement by my friend, I agreed to climb and jump a wall and land right where the Lagaan team was standing after the match [I still don't know how he knew the way]. It was a sheer delight to shake hands with few team members, including Aamir. It was also nice to know that he was shorter than me.
But today when I look back at the match after 19 years I wonder if it was staged [read: fixed]. Even if it was, I don't blame the organizers. Just imagine what a waste it would have been if Lagaan team had lost the match.
Unfortunately, there is no way we can revisit the match to determine that as there is not a single video available. In fact, there are very few news articles as well.
Amitabh Bachchan's voiceover in the film describes the story as – Yeh kahani itihaas ke panno mein kahin kho gayi [This story has got lost in history].
The same can be said about the real Lagaan match.
Read more about the match HERE.
Update on 29 September 2020: A short video of this match is now available. Thanks Mainak Sinha for this:
More articles:
He was selected for 1983 WC, but had to wait till '99 to play for India
Only time Tendulkar was NOT selected in team India, neither injured nor rested
When Australia played against Australia in this World Series