Australia has been a powerful force in ODIs over the decades, more so in world tournaments. They have won five World Cups so far while no other team has lifted the cup more than twice. Not to forget that they have reached the finals seven times in the 11 World Finals that have taken place till now.
In the mid-1990s the world witnessed Australia's tour de force in the 1994-1995 World Series in the most unexpected way. Four teams took part in the tournament – Australia, England, Zimbabwe and, guess who, Australia A!
Yes, you read it right. Australia fielded two teams in the series. This is something that took the cricketing world with a jolt. Such a thing had never happened before and has never happen after that till date.
Sending two teams in a series, obviously, spoke volumes about the strength of the team. It meant that the cricket scenario in the country was such that all talented cricketers couldn't fit in one team.
The series turned out to be very interesting. Zimbabwe was the weakest team of all and was out of the race for the finals. But surprisingly as well as interestingly, England also couldn't make it to the finals. This meant that the final was between Australia and Australia A. [See results of all matches HERE]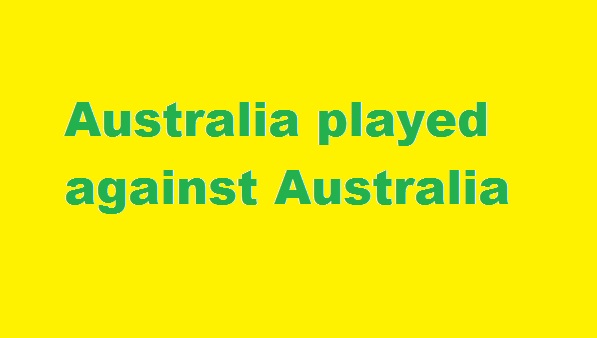 The last match of the league stage was like a semi-final between Australia A and England. The former managed to thump the latter and entered the final to play against their own countrymen.
It was quite amusing to see two teams of the same country battling against each other in the tournament called World Series.
This World Series, like other ODI tournaments in Australia, followed the format of the best of three finals. Australia won the first one easily whereas they had to struggle to win the second since Australia A put on a good fight.
Also read: When hearing issues stopped India from winning against England
Although both teams represented the same country, they played with the same spirit that they would if the opposing team was from another country. This can be seen from the highlights videos carried with the article.
I had seen the highlights of one of the two finals few years later on TV. I have a vague memory of watching a heated exchange of words between the bowler and the batsman, despite both being from the same country.
For this World Series, Australia consisted of players like Mark Taylor, Michael Slater, Mark Wagh, Steve Waugh, David Boon, Shane Warne, Glenn McGrath, Ian Healy, Craig McDermott, etc.
On the other hand, Australia A had the likes of Matthew Hayden, Ricky Ponting, Michael Bevan, Damien Martyn, Justin Langer, Greg Blewett, etc.
Needless to say, these players from Australia A later went onto become heroes for their country in tests and ODIs, including World Cups.
By: Keyur Seta
Additional reading:
He was selected for 1983 WC, but had to wait till '99 to play for India
Yuvraj Singh's 3 heroic TEST innings that have been forgotten: See videos