Director: Kabir Khan
Writers: S Hussain Zaidi (novel), Kabir Khan and Parveez Shaikh
Producers: Nadiadwala Grandson and UTV Motion Pictures
Cast: Saif Ali Khan, Katrina Kaif, Sabyasachi Chakrabarty, Mohammed Zeeshan Ayyub,
Music: Pritam
Genre: Action
Release Date: August 28, 2015
Rating: * * * ½
Review By: Keyur Seta
Neeraj Pandey's Baby created a new benchmark for action thrillers in Hindi cinema. Now, Kabir Khan's Phantom continues the legacy. Although it doesn't turn out to be as great as Baby, it surely carries off the torch of quality action thrillers.
The film centers on the infamous and deadly 26/11 terrorist attack of 2008. It has been seven years since the attack, but its masterminds, including Haaris Saeed (based on Hafiz Saeed), are still not punished; not even arrested. India's Research and Analysis Wing (RAW) team, headed by Roy (Sabyasachi Chakrabarty), is concerned about this.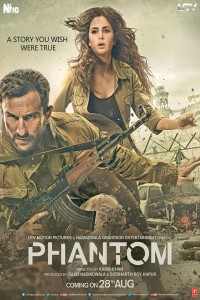 Roy's subordinate (Mohammed Zeeshan Ayyub) suggests a dangerously risky operation to kill the perpetrators of the 26/11 attack. They zero-in on Daniyal Khan (Saif Ali Khan), an ex-army man living a life of solitude. Nawaz (Katrina Kaif), a security consultant, becomes a part of Daniyal's mission. The film is based on author S Hussain Zaidi's novel Mumbai Avengers.
Phantom has all the necessary elements needed to satisfy fans of the action genre – a fearless protagonist on a super dangerous mission, witty antics, twists and lots of chase and action sequences. The new-age or international level of technicalities (stunts, cinematography and editing) is also largely responsible for the result achieved.
But the film is not limited to being a bang-bang ride. It also works on an emotional level with the 26/11 angle, which makes it relatable to not only Mumbaikars but also Indians. Watch out Ayyub's monologue on the attack. Plus, Kabir Khan's special touch is clearly noticeable in the writing as well as presentation. His manner of using flashback at the start was a smart move.
The film, however, could have achieved a lot more but for some weak points. At times, the cinematic liberty is taken too far, apart from the usual flaws one finds in action flicks. But what affects Phantom the most is the climax. It was vital for the film to end on a more overwhelming and exciting note.
Surprisingly, few songs like 'Afghan Jalebi' and 'Nachda' can boast of being impressive. It is surprising as to why the makers didn't promote the latter.
The performances aren't consistent. Saif Ali Khan pulls off the character, although he isn't as good as he should be. What to say about Katrina Kaif? She keeps irritating film after film with her poor acting skills. Mohammed Zeeshan Ayyub and Sabyasachi Chakrabarty offer good support. Sohaila Kapur is very appealing in a limited role and so is the actor playing Haaris Saeed.
Overall: Phantom is an impressive ride for action lovers. The film has a decent chance of earning well at the box office.
Director: Ketan Mehta
Producers: Viacom 18, Maya Movies and NFDC
Writer: Ketan Mehta
Cast: Nawazuddin Siddiqui, Radhika Apte, Tigmanshu Dhulia, Pankaj Tripathi, Ashraful Haque
Music: Sandesh Shandilya
Genre: Drama
Release Date: August 21, 2015
Rating: * * *
Review By: Keyur Seta
Dashrath Manjhi was an ordinary poor man who undertook the extraordinary and impossible task of breaking a hard-rocked mountain to make road for the needy, and even succeeded in it. This became the single mission of his life after his wife succumbed to injury as she couldn't be taken to a hospital on time due to the presence of a mountain in front of their village in Bihar.
To make a movie on such a subject is a herculean task. Director Ketan Mehta's Manjhi – The Mountain Man does justice to the real Manjhi. But the credit should go more to Nawazuddin Siddiqui for his mind-blowingly dedicated act. The film as a whole turns out to be just a one-time watch due to some problem areas. It doesn't quite match the expectations.
Manjhi – The Mountain Man is filled with moments that are not only appealing but also heart-wrenching. Manjhi's dedication for his unthinkable mission even during the most inhuman of conditions moves you. It makes you wonder about the inner-strength of the real Manjhi.
As the character continuously broke the mountain for 22 long years, there was a danger that mountain-breaking scenes might become repetitive. Thankfully, it doesn't happen. The script has taken care of it by the smart use of flashback.
But, as aforementioned, the film doesn't rise as high as it should. Firstly, the subject doesn't need two-hour duration. The high length is felt during various instances, mostly in the second half. Moreover, Mehta has Bollywood-ized the narrative regularly. This doesn't go well when the tale becomes a lot tragic. Such inconsistency should have been avoided.
The mountain is not only an important part of the story but it is also a character, especially since Manjhi keeps talking to it regularly. But the process of the breaking of the mountain and building the road aren't explained properly. After all, this is the main aim of the story.
The film achieves high quality standards when it comes to technical aspects like camerawork, background score and editing. The track 'Phagunia' goes with the theme.
It is Nawazuddin Siddiqui's greatness here that will be remembered for a long time. He has masterfully pulled off a role that can be emotionally and physically draining for any actor. So, it won't be an overstatement that Manjhi will always remain as one of his top three performances ever in his filmography. As per the words of his character, his act was 'Shandaar Zabardast Zindabad'.
Radhika Apte once again impresses as a performer. Tigmanshu Dhulia and Pankaj Tripathi shine as baddies although their characters are carried forward from Gangs Of Wasseypur. Gaurav Dwivedi is likable as the journalist while the late Ashfaqul Haque does well too. Prashant Nayaran makes his presence felt despite playing a cameo. Deepa Sahi is decent in the role of Indira Gandhi.
Overall: Manjhi – The Mountain Man is worth watching once for Nawazuddin's killer act. The film has a chance of earning well at the box office in the metros.
Director: Ananth Mahadevan
Producers: Bindiya Khanolkar and Sachin Khanolkar
Writers: Surendran
Cast: Vinay Pathak, Konkana Sen Sharma, Ranvir Shorey, Tannishtha Chatterjee, Vikram Gokhale
Music: Dr L Subramaniam
Genre: Drama
Release Date: August 14, 2015
Rating: * * * *
Review By: Keyur Seta
Ananth Mahadevan is a seriously underrated filmmaker. A person having made some content-oriented gems like Red Alert – The War Within, Mee Sindhutai Sakpal, and Staying Alive in last few years deserves more recognition.
With Gaur Hari Dastan, he further asserts that he is a name to reckon with when it comes to sensible, realistic subjects. The film is an honest and dedicated effort that asks you a lot of uncomfortable questions, but at the same time provides a heartwarming feeling.
It is a biopic on a person named Gaur Hari Das, who is a freedom fighter. His character is played by Vinay Pathak. The film portrays his struggle from pillar to post to prove that he did take part in India's freedom struggle, since nobody believes his claims.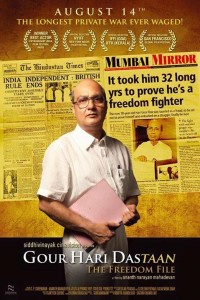 His wife (Konkana Sen Sharma) is his support system, but his son doesn't think much about his father and his achievement. Two journalists (Ranvir Shorey and Tannishtha Chatterjee) slowly get involved in Das' journey.
There are two methods of narrating such biopics. One is to keep the basic story intact and add a lot of dramatizations to make it massy. The other is the difficult way of keeping it as realistic as possible without giving a damn about being mass-friendly.
Mahadevan takes the more difficult route. The film a smooth-flowing journey of the octogenarian freedom fighter filled with moments that stay etched in your memory. There isn't any conventional or fast-paced story development. The idea is to uncompromisingly present the irony of Das and get the audience involved in his bitter experiences, which the film does successfully.
As unusual as it may sound, Mahadevan, with some amazing work from DoP Alphonse Roy, has made such a subject appear as a visual treat. In fact, even a shoddy government office with millions of piles of age old papers appears beautiful. Add to this, some brilliant sound design by Resul Pookutty. It is a pleasure to even hear the sound of the strums of the cotton weaver once.
Some memorable moments include:-
- The climax scene followed by visuals of the real Gaur Hari Das, who is still alive and stays in Mumbai.
- Scenes of the reflection of the Indian flag in water.
- A dialogue from the protagonist – "The British were better. We at least knew who our enemies are."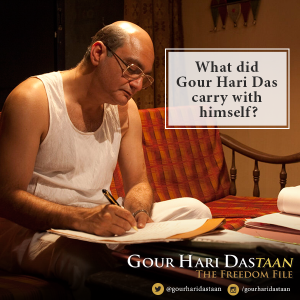 - The protagonist's conversation with the security guard of an MLA. His incident with the same guard later on.
- The protagonist's scene with Siddharth Jadhav.
The pace does drop on few occasions in the second half. But the real problem is with the make-up department. Pathak doesn't look old when he should have. This should have been taken care of.
The casting of includes a chunk of quality artists. Vinay Pathak lives the character of Das while displaying his ample versatile talent. Ranvir Shorey, Tannishtha Chatterjee and Konkana Sen Sharma too play their respective characters with finesse.
The film has a series of dedicated supporting acts and cameos from Rajit Kapur, Vikram Gokhale, Siddharth Jadhav, Vipin Sharma, Saurabh Shukla, Murli Sharma, the late Vinay Apte, Viju Khote, Mohan Kapoor, Neena Kulkarni, Neha Pendse, and few others.
Overall: Gaur Hari Dastaan is a story worth experiencing and knowing for every Indian. The film needs some massive word-of-mouth to create some impact at the box office, which it truly deserves.
Inputs: Payal Kapadia
Compilation: Keyur Seta
As we all know, the students of the Film & Television Institute of India (FTII) are on a strike since over two months in opposition to the appointment of Gajendra Chauhan as the Chairman of the institute. His close links with the BJP is considered the reason of his appointment.
An RTI query has also revealed that only Chauhan was approached for the role and there was no proper selection as mentioned by the government earlier. Read about it HERE.
But, along with Chauhan, few others are appointed as Society Members of FTII. Just like Chauhan, all of them are staunch supporters or close aides of BJP.
But what is alarming is that their record and past work is, in simple terms, highly questionable to say the least. Have a look at their work:-
Gajendra Chauhan
His only claim to fame is his role as Yudhishthir in the timeless classic TV series, Mahabharat. He is slightly known as a part of few well-known TV serials. Apart from this, his filmography shows a series of B-grade films. Of course, he has acted in prominent, hit films, but his contribution in them has been inconsequential. For example, his one-scene appearance in Baghban. See his full filmography HERE. He is a member of the BJP and has worked for the party.
FTII Society Members:
Anagha Ghaisas
She has no body of work to show in feature films or TV. But what is more shocking is that she has made a documentary titled Ram Mandir Adalat Aur Aastha, where she has not only hailed the Babri Masjid Demolition but also described it as the 'biggest independence battle'. See the short film here - https://www.youtube.com/watch?v=Y_MSXoWBiMs
But this is not her only 'achievement'. There is also a court order against her for not paying remuneration to Nandan Kudhiyadi for a documentary he was asked to direct.
Narendra Pathak
He is said to be a writer. But he has no notable work in films or TV. He is the ex-president of the ABVP (Akhil Bharatiya Vidyarthi Parishad), which is linked to BJP. The members of this group had beaten up FTII students in 2013 for showing Anand Patwardhan's film Jai Bhim Comrade. ABVP has a long history of violence.
Rahul Solapurkar
He has played supporting roles in well-known films, Dr Babasaheb Ambedkar and Balgandharva. He was in contention for a ticket from BJP for last year's Lok Sabha Elections. No other information is available about him.
Shailesh Gupta
He is a cinematographer credited with 'Additional Photography' in Aamir Khan's classic, Sarfarosh. However, barring this, he has only served as 'Assistant Cinematographer' in well-known films like Ishq and Vaastav. But here comes the most interesting part. He has made a film on India's Prime Minister Narendra Modi titled Shapath Modi Ki. The shocker is not the subject but the content. It is an unintentionally hilarious film, which can even offend Modi supporters.
How can it be a co-incidence that all of them are associated with BJP? How come Gajendra is selected for such a position despite his record when legends like Gulzar, Saeed Akhtar Mirza, Shyam Benegal and Adoor Gopalakrishnan are available for the job?
Ask yourself and decide whether Chauhan and his aides deserve to run India's most prestigious filmmaking institute. Since earlier this year, the government appointed its close aides as Censor Board Members. We are already witnessing its terrible consequences.
Director: Nishikant Kamat
Writers: Jithu Joseph
Producers: Viacom 18 Motion Pictures and Panorama Studios
Cast: Ajay Devgn, Shriya Sharan, Tabu
Genre: Thriller
Rating: * * * ½
Review By: Keyur Seta
Bollywood isn't known for producing high quality edge-of-the-seat thrillers. Nishikant Kamat's Drishyam becomes one of the very few engrossing fares produced in this genre in the modern age. But it falls much short of Jeethu Joseph's original Malayalam film of the same name starring Mohanlal in the lead.
The film focuses on Vijay Salgaonkar (Ajay Devgn), who is a fourth standard failed. He is a cable operator staying with his wife (Shriya Saran) and daughters Anju (Ishita Dutta) and Anu (Mrinal Jadhav) in Goa. He lives an honest, simple and happy-go-lucky life, except for his tussles with the cop Gaitonde (Kamlesh Sawant).
But his routine life takes an ugly turn after a crime is committed inside his residential premises. This brings his whole family into direct confrontation of the intelligent and, at times, ruthless IG officer Meera Deshmukh (Tabu).
The original and Tamil versions of Drishyam became synonymous with excellence because of the content. As Kamat has retained exactly the same story and the screenplay, the Hindi version becomes an enjoyable fare. The turn of events after the story is established keep you gripped throughout. But there is lot to be desired for.
Kamat has unnecessarily used a hurried narration in the first half. This hampers in character development, getting the audience involved in the world of Vijay Salgaonkar and, most importantly, adding conviction. The dialogues are just literal translations from the original. But the biggest issue is that some key incidents aren't presented skillfully by the director, due to which they lack the desired impact.
Another major issue is that the makers have tried to present a sensible and meaningful subject in a commercial manner. This is largely felt in the overuse of background music. You don't need such loud, jarring background noises when a particular incident itself is thrilling. It appears as a forced way of adding thrill. Ironically and funnily, in the film, the protagonist himself speaks against loud use of background music while watching a film.
The subject doesn't have scope for music. From Vishal Bhardwaj's compositions, only 'Dum Ghutta Hai', is likable as it suits the situation.
Ajay Devgn is one of the finest performers. Although he succeeds in carrying the film on his shoulders, he doesn't quite manage to impress. On numerous occasions, he tries too hard. This is also a major reason for the film not rising as high as it should. Don't think of comparing his act with that of Mohanlal's. Tabu isn't at her best but she does pull off the role of a tough IG officer. Debutant Ishita Dutta (Tanushree Dutta's sister) shows confidence and talent.
Surprisingly, Kamlesh Sawant is the best of all. He is very realistic as the ruthless Gaitonde. He is known in Marathi cinema but with this act, he will finally get noticed in the Hindi arena. Mrinal Jadhav does well as the younger sibling of Salgaonkar. Shriya Saran and Rajat Kapoor are average. The latter becomes unintentionally funny later on. Prathamesh Parab, making his Bollywood debut, is fine.
Overall: Drishyam doesn't live-up to the standards of the original. But it certainly is a gripping ride, more so if you haven't seen the original. It will earn decent collections at the box office.