Director: Kabir Khan
Writers: S Hussain Zaidi (novel), Kabir Khan and Parveez Shaikh
Producers: Nadiadwala Grandson and UTV Motion Pictures
Cast: Saif Ali Khan, Katrina Kaif, Sabyasachi Chakrabarty, Mohammed Zeeshan Ayyub,
Music: Pritam
Genre: Action
Release Date: August 28, 2015
Rating: * * * ½
Review By: Keyur Seta
Neeraj Pandey's Baby created a new benchmark for action thrillers in Hindi cinema. Now, Kabir Khan's Phantom continues the legacy. Although it doesn't turn out to be as great as Baby, it surely carries off the torch of quality action thrillers.
The film centers on the infamous and deadly 26/11 terrorist attack of 2008. It has been seven years since the attack, but its masterminds, including Haaris Saeed (based on Hafiz Saeed), are still not punished; not even arrested. India's Research and Analysis Wing (RAW) team, headed by Roy (Sabyasachi Chakrabarty), is concerned about this.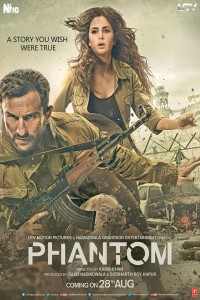 Roy's subordinate (Mohammed Zeeshan Ayyub) suggests a dangerously risky operation to kill the perpetrators of the 26/11 attack. They zero-in on Daniyal Khan (Saif Ali Khan), an ex-army man living a life of solitude. Nawaz (Katrina Kaif), a security consultant, becomes a part of Daniyal's mission. The film is based on author S Hussain Zaidi's novel Mumbai Avengers.
Phantom has all the necessary elements needed to satisfy fans of the action genre – a fearless protagonist on a super dangerous mission, witty antics, twists and lots of chase and action sequences. The new-age or international level of technicalities (stunts, cinematography and editing) is also largely responsible for the result achieved.
But the film is not limited to being a bang-bang ride. It also works on an emotional level with the 26/11 angle, which makes it relatable to not only Mumbaikars but also Indians. Watch out Ayyub's monologue on the attack. Plus, Kabir Khan's special touch is clearly noticeable in the writing as well as presentation. His manner of using flashback at the start was a smart move.
The film, however, could have achieved a lot more but for some weak points. At times, the cinematic liberty is taken too far, apart from the usual flaws one finds in action flicks. But what affects Phantom the most is the climax. It was vital for the film to end on a more overwhelming and exciting note.
Surprisingly, few songs like 'Afghan Jalebi' and 'Nachda' can boast of being impressive. It is surprising as to why the makers didn't promote the latter.
The performances aren't consistent. Saif Ali Khan pulls off the character, although he isn't as good as he should be. What to say about Katrina Kaif? She keeps irritating film after film with her poor acting skills. Mohammed Zeeshan Ayyub and Sabyasachi Chakrabarty offer good support. Sohaila Kapur is very appealing in a limited role and so is the actor playing Haaris Saeed.
Overall: Phantom is an impressive ride for action lovers. The film has a decent chance of earning well at the box office.