Director: Swapna Waghmare Joshi
Producer: Sanjay Leela Bhansali
Writers: Shirish Latkar
Cast: Swapnil Joshi, Anjana Sukhani, Sneha Chavan, Jayant Wadkar
Music: Amitraaj and Nilesh Moharir
Genre: Murder mystery
Release date: May 27, 2016
Rating: * *
Review by: Keyur Seta
Director Swapna Waghmare Joshi's Laal Ishq is a murder mystery. But the biggest mystery lies in Sanjay Leela Bhansali's decision of venturing into Marathi cinema with this film, which is more like a stretched episode of the serial CID with a dash of lust sugarcoated as romance.
The film revolves around a theatre group. Yash Patwardhan (Swapnil Joshi), film and theatre superstar, and the rest of the crew arrives at a resort to rehearse for their upcoming play. The lead actress (Sneha Chavan) is obsessed and possessive with Yash. But Yash instantly falls for Janhavi (Anjana Sukhani), who works at the resort. She too develops the same feelings for him. But amid their romance, a murder takes place. Senior cop Randive (Kamlesh Sawant) arrives to investigate the case.
Laal Ishq is quite fast paced on most occasions. It was a good idea to keep the length restricted to less than two hours. But what makes the film watchable is Kamlesh Sawant's witty and sarcastic act as a cunning investigating officer. His confrontational scenes with Swapnil Joshi keep the film watchable. But apart from these points, the film has nothing working for itself.
So, let's have a look at the fallacies, which are aplenty:-
--The film is well shot. But that doesn't help much as it is basically remains a murder mystery in an age old setting – group of people assembling at a venue and one of the gets killed. Doesn't this instantly remind you of CID? Unfortunately, the film is handled in the same way as the Hindi serial.
-- The entire investigation is quite unintentionally hilarious. The two investigating officers aren't even aware that the prime evidence material from the murder site isn't to be picked up with bare hands. Never heard of gloves?
-- The absurdity of the investigation isn't limited to this. It is seen the most with the way the mystery is solved. To say that it is unconvincing will be an understatement.
-- Yash looks at the girl and instantly falls for her without knowing her. That's not love. That's lust or infatuation at the most. The entire romance angle, if it can be called one, doesn't gel with the film.
-- The guy doesn't love his irritating co-star. But never tells her clearly. Why oh why?
-- Which sane theatre group would continue with the rehearsals even after their director is brutally murdered? In fact, they don't even take a day to mourn his death. To add to this, the deceased was a mentor for Yash. Well, they just redefined professionalism!
-- The title is half justified. There is no ishq but there is a lot of laal, constantly reminding us about Bhansali's association with the film.
-- A supporting character is constantly audio searching something on Google in almost each and every frame, even while having meals. Even primary school kids don't behave this way.
-- The final mystery in the end, which is the most crucial part in a whodunit, completely lacks conviction. I can't reveal more to avoid spoilers.
Swapnil Joshi's performance is somewhat of a saving grace, although he is far from his best. Anjana Sukhani's act just rises to an average level. Sneha Chavan is irritating to the core. Her poor characterization is to be blamed for this. The rest of the actors just fit the bill. The music is quite decent but the songs appear forced.
Overall: Laal Ishq is an immature murder mystery. Despite Swapnil Joshi's presence, the film stands no chance at the box-office. The amazing run of Sairaat too will affect its collections.
Director: Anu Menon
Producers: Ishka Films and Drishyam Films
Writers: Anu Menon, James Ruzicka and Atika Chohan
Cast: Naseeruddin Shah, Kalki Koechlin, Rajat Kapoor, Suhasini Maniratnam, Ratnabali Bhattacharjee
Genre: Drama
Release date: May 27, 2016
Rating: * * * *
Review By: Keyur Seta
Director Anu Menon's Waiting brings back memories of Ananth Narayan Mahadevan's Staying Alive. While the latter showcases friendship between two patients on either side of the law, the former is about an unusual bond between two starkly opposite characters whose dear ones are battling for their lives in the ICU.
Thankfully, both films are poles apart in terms of storyline and treatment. Perhaps, the one similarity that Waiting shares with Mahadevan's film is that it succeeds in moving you with its honest approach, skilled storytelling and dedicated performances. It's an example of how a new-age content oriented film should be.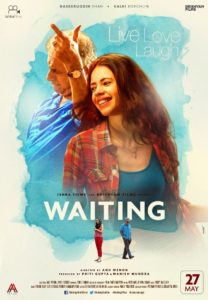 Coming to the storyline, Shiv (Naseeruddin Shah) and Tara (Kalki Koechlin) are waiting anxiously and nervously in the waiting room of a hospital in Cochin. The former's wife and latter's husband are battling for their lives in the ICU; both in a state of coma. The common tragedy creates an unusual bond between Shiv and Tara, two starkly opposite personalities.
Waiting is not story driven. It's more of a situational based film, which gets its crucial areas right. The unusual bond between Shiv and Tara is delightful and heartwarming. Their situations and dilemmas are realistic but that doesn't take the film on a depressing path even a bit. In fact, there is humour galore. What works further is the unconventional climax that goes so well with the genre.
The only negative area here is the behavior of the two characters on few occasions. It is not possible to elaborate on this point further to avoid spoilers.
The technical aspects perfectly gel with the theme and genre. The camerawork is real as well as creative. There is minimal use of background score, which was a smart idea. The editing too deserves similar praise.
Despite such high amounts of plus points, it is vital for such films to score very high on performances and that is exactly what the actors deliver. As expected from a stalwart like him, Naseeruddin Shah is thoroughly brilliant. He once again succeeds in portraying various emotions and various shades of his character with remarkable ease.
Kalki Koechlin isn't far behind though. She pulls off a difficult and complex character of Tara with sincerity. It is inspiring to see her display varied emotions like sadness, excitement and anxiety so effortlessly. She matches up to Shah and that is certainly not easy to achieve. The film has fine supporting acts from Rajat Kapoor, Ratnabali Bhattacharjee, Suhasini Maniratnam and Arjun Mathur.
Overall: Waiting is a well-crafted slice-of-life saga that surely deserves a watch if you prefer films with strong content. It relies heavily on strong word-of-mouth to create any impact at the box-office.
By: Keyur Seta
Mr Valerian Santos' struggle for justice finally ended after four and a half years on May 5 when the four killers of his son, Keenan Santos and his friend, Reuben Fernandez were given life imprisonment by a Sessions Court in Mumbai. Keenan and Reuben were stabbed to death for rescuing their female friends from getting sexually harassed.
Losing a young son in a gruesome murder can be a nightmare beyond words for any parent and Mr Santos isn't any less human. However, Keenan's shocking and untimely death hasn't deterred Mr Santos from encouraging his younger son from rescuing the oppressed.
"This will not deter me. I still believe that if you see somebody in trouble, you should help. I tell my younger soon too, 'You should always stand up against wrongdoing, even if it means you becoming another Keenan,'" said Mr Santos. He was speaking at a special interaction organized by the Loksatta Party in Mumbai.
When the incident was taking place, people turned out to be mute spectators. But what troubles Mr Santos even more is that nobody came forward to help or console their female friends even after the killers had vanished.
"People were just standing in a circle and watching the tamasha. At least console them. As the criminals had fled, nobody was going to harm them. I told the crowd, 'Bandar naach rahe hain aur tum tamasha dekh rahe ho?' This hits me even till today," he said.
He added, "Even animals stand up for each other. We are humans. We depend on each other. Try doing something good and leave the world by leaving behind a mark. If we don't raise our voice against such incidents on road, tomorrow they will come to your house. Remember, every bhai was once a petty thief. Somewhere this should come to an end."
But one shouldn't forget the contribution of Investigating Officer (IO), Dnyanesh Devade, who put in a lot of efforts to make sure the perpetrators are sentenced. Mr Santos was all praise for him. "He has never taken anything from me. Rarely do we get to see such police officers."
Devade, who was also present there, responded with, "I have not helped. I have just carried out my duty as a police officer." The IO also revealed how a Pan wala, one of the key witnesses, was pressurized to not testify in the court against the culprits. "But he had faith in me. He said he will still go to court. He did and identified the offenders."
Devade urged people to come forward and help the victims in such situations by citing Delhi's infamous Nirbhaya case. "People have to come forward. We don't live in jungles. If they (Keenan and Reuben) hadn't come to the girls' rescue, Nirbhaya would have occurred in Mumbai."
May 19 marks the Death Anniversary of the great Marathi playwright and author, Vijay Tendulkar. Since last few years, a group of theatre lovers have been paying tribute to the celebrated artist on this day through a theatre festival that provides a glimpse into his work. The same will be the case this year too on May 19, which will mark his 8th Death Anniversary.
As the festival is named, 'Te Diwas' it tries to bring back memories or provide nostalgia of Tendulkar's era of glory. As it is not possible to showcase his vast body of work in a single evening, the festival will showcase important scenes of his memorable plays like Sakharam Binder, Gidhade and others. But his one-act monologue, Olakh will be presented in its entirety. The participants include some well-known names from Marathi TV and film fraternity.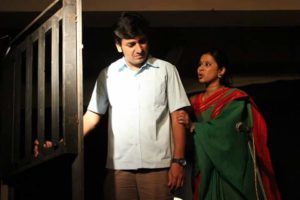 Here is the complete schedule of the festival:-
Sakharam Binder (3 scenes)
Cast: Ajay Mayekar (Dir. Kahe Diya pardes zee Marathi), Dipti Ketkar and Ashwini Kasar (Kamala Colors Marathi)
Katha Vachan
Cast: Nandita Dhuri (Mati Majhe Saubhagyavati and Elizabeth Ekadashi)
Director: Ashitosh Datar
Gidhade (monologue)
Cast: Shreya Budge (Chala Hava Yeu Dya)
Director: Aniket Sane
Pahije Jatiche (3 scenes)
Cast: Ajay Kamble and Omkar Raut
Director: Abhijit Khade (Executive Producer at Colors Marathi)
Olakh (one act play)
Cast: Sachin Deshpande (Honar Sun Mee Hya Gharchi)
Zala Anant Hanumant
Cast: Shilpa Sane and Ankit Mhatre
Date: May 19, 2016
Venue: Bhavans Chwopatty
Time: 7 pm
Entry FREE for all!