The last decade has seen a number of Marathi films that can be relished by a PAN India audience. But there have also been some with international appeal. Director Samit Kakkad's Half Ticket clearly belongs to the latter category. It has the potential of bringing a smile to anyone who has a heart.
Half Ticket is the official remake of the Tamil film, Kakka Muttai. It follows the story of two kids (Shubham More and Vinayak Potdar) from Dharavi, Mumbai's slum hub. With their father languishing in jail and mother (Priyanka Bose) earning a paltry sum from her sewing job, they literally live from hand-to-mouth.
As the kids get their nourishment from eating crow eggs, they are nicknamed, Motha Kawlyacha Anda and Chhota Kawlyacha Anda. They try to make ends meet by selling coal from railway tracks. An incident introduces them with pizza, a variety they were unaware of before. Besotted by its look and smell, relishing pizza becomes the sole aim of their life. But how will they afford a dish which is luxurious by their standards?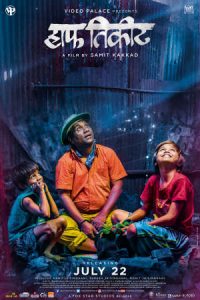 A large number of Mumbai population lives in slums. The living condition over their will give a sad shock to people from the outside world. The film provides this feeling by bringing a truly realistic depiction of the life in slum. This is an enormous achievement for the director since shooting a feature film in such conditions can be a nightmare for those not accustomed to it.
But for a film to work it is mandatory for it to be high on storytelling and this is exactly what Half Ticket achieves. As the kids go about their daily activities and chasing their desires, you can't help but root for them. This was also possible since the screenplay doesn't go off-track whatsoever. This ensures that the film says a lot without saying much, more so during the heart-warming climax.
Half Ticket does come with a few issues. A couple of incidents don't seem completely convincing and the length could have been a bit shorter. On few occasions in the first half, the roadside noise in the background overpowers the dialogues. Thankfully, these points are overshadowed by the plusses.
The technical has department played a large role in making the final product of international caliber. It is difficult to ignore Sanjay Memame's (DoP) creative shots. The songs, used in the background, go well with the theme. But it is the pleasurable background score that stays with you for long.
The film rides high on performances, which is vital for such subjects. Shubham More and Vinayak Potdar have surrendered to their characters with utmost dedication. Lest not forget the conditions in which they shot.
Priyanka Bose, who makes her Marathi film debut, also gets into the skin of her character. Despite being a non-Marathi, she shows conviction while speaking the language. Usha Naik, as the grandmother, Bhalchandra Kadam, as the kids' friend, also chip in with earnest performances.
Overall:Half Ticket is an honestly made film about kids, which will appeal to grown-ups as well. It has a chance of doing well at the box-office provided it receives word-of-mouth. The only danger it faces is Rajinikanth's Kabali.
Director: Samit Kakkad
Producers: Video Palace
Writers: M Manikandan (original story), Dnyanesh Zoting,
Cast: Shubham More, Vinayak Potdar, Priyanka Bose, Usha Naik, Bhalchandra Kadam
Music: G V Prakash Kumar
Genre: Drama
Release date: July 22, 2016
Runtime: 114 minutes
Rating: * * * ½
By: Keyur Seta