The deadly Coronavirus has put the entire world into turmoil, including India. The cases and deaths are increasing every day as the country enters the third stage of Covid-19.
But along with those who are affected by Coronavirus, there are lakhs of migrant workers all across India who have lost their jobs overnight after the country went into a lockdown.
Worse, they are forced to migrate to their native places without any means of transport. What is more dangerous is that thousands of people are forced to walk in huge crowds. This has put them under direct threat of being in touch with Coronavirus since social distancing is out of question.
These workers or daily wagers have taken upon themselves to walk hundreds of kilometers to their native. They are short of food supply too.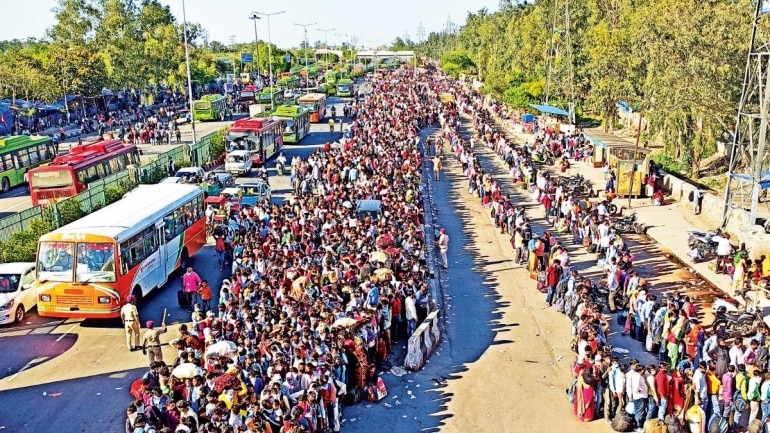 As per latest updates, 21 deaths have taken place among the workers who have been travelling on foot. In such a situation, it is of utmost importance to provide them with food and shelter, so that they at least stay alive, along with ensuring that they don't get exposed to Coronavirus.
Which government or party is to be blamed for this can be thought later. Right now they need immediate relief.
Here is the list of NGOs and organizations who are providing help to the daily wagers:
Delhi Sikh Gurudwara Management Committee (Delhi)
Contact: 011 2371 2580
Youth for Unity and Voluntary Action (YUVA) (Mumbai)
Contact: 091520 51717
Safa NGO (Hyderabad, Chennai, Mumbai and Delhi)
Contact: 9866174665
International Association for Human Values (IAHV) (Delhi, Mumbai and Bengaluru)
Contact: 9818150404, 9886660006
Hasiru Dala NGO (Bengaluru)
Contact: 097421 12362
Janta Rasoi (Mumbai)
Contact: 093243 71989
Janta Meals (Gurugram)
Contact: 088000 00358
Uday Foundation (Delhi)
Contact: 011 2656 1333
Goonj Foundation (Delhi)
Click HERE to help the daily wagers
Delhi Youth Welfare Assocation (Delhi)
Contact: 011 2702 8090
Ramesh Raman, CEO of IAHV, which is listed above, spoke to us about their efforts. "We are giving away packets of 5 kilo rice, 4 kilo wheat flour, 2 kilo dal, half litre oil and various condiments like pepper, salt, etc," he said.
He added, "Ten thousand packets have arrived already. We are doing it while tying up with local municipal corporations and other NGOs. We also have ground level volunteers. They will identify the people and take responsibility for the distribution. We did a similar thing during Chennai floods."