By: Keyur Seta
I had taken part in BlogAdda's Zest Up Your Life (organized by Tata Motor's Zest car) contest just for time pass. Since they were giving FlipKart vouchers for all entries, I thought there is nothing to lose. So I wrote a post in just about 20 minutes and after few days, I got a mail from them saying I am selected for a trip to Goa! A real-life experience of "Kahani mein twist!" On Tuesday July 22, none was knew we would be in Goa for the weekend. Read my winning entry HERE.
(Click on picture to enlarge.)
Before this trip, I had been on a flight just once. That was back in 2001 and, unfortunately, it was a terribly scary experience due to some issue with the flight or the weather; I don't remember much as I was almost a kid then. So, obviously I was a lot jumpy before the take off. I found some assurance from the person sitting next to me as she was also as Anari as me when it came to flying.
As the flight took off from Mumbai, I could only recall the scene from Pyar Toh Hona Hi Tha, where a truly petrified Kajol forced the pilot to return to the airport abruptly just after the take off. (Now while I am writing this, I wonder why I didn't recall the scene from 3 Idiots since that was more recent; probably because R Madhavan's character wasn't scared.)
Coming back to the present day from flashback, I felt a jolt on my nerves when the flight went airborne. This was followed by a jhatka of a more intensity when it went further upwards. I saw the serene expressions of people around me and I wondered, "Are they in some other world?" However, that was the end as far as my nervousness was concerned. There wasn't any 'ooh aah ouch' experience when the plane landed. So now was the time to indulge in the paradise called Goa!
The welcome by the staff from the Zuri Hotel was more than overwhelming. Who would have expected to be welcomed royally with a teeka on our forehead? I almost told them, "I think you are mistaken. I am not representing any international or IPL cricket team." At least, I can now say I had an off field experience as a Cricketer, if not on field.
As expected, the rooms were luxurious and the view of green lawns was incredible for someone like me who is always eager to experience any part of nature. Although the bathrooms were super luxurious, I have a big request to the hotel authorities to provide (don't you dare laugh) a bucket and a tumbler (okay, you can laugh).
A bloggers meet or trip is surely incomplete if one doesn't find interesting bloggers to interact with. I had my doubts whether I would find fellow Common Men (that also includes women). Thankfully, I did! The people I met, interacted and roamed with not only shared the wave length with me but also became thick friends.
My only suggestion to the organizers and BlogAdda is that they should allow more free time to the bloggers to roam around Goa. After all, people don't visit this part of the country often, especially those coming from as far away as Kolkata. I can fully understand the tight schedule and the need to promote the sponsors. So just 2-3 hours should be enough.
Overall though, it was a welcome break on a weekend due to the serenity provided by the place. Contrary to what others say, I have always found Goa to be one of the best places to experience peace. Read more about it in my post on my first experience in Goa HERE.
The fact that it was completely unexpected made it more valuable. All thanks to BlogAdda and Tata Motors.
More photos from the trip:
(Click on picture to enlarge.)
By: Keyur Seta
Firstly, I have absolutely no experience about driving a car and I also possess no knowledge about cars or automobiles whatsoever. The reason for this, honestly, is my complete lack of interest in the subject. This is also seen from the fact that I hardly even know the names of cars except, Fiat, Ambassador, Maruti, Zen, Santro, etc. However, I do possess lots of experience of traveling in cars. So I am presenting the view of a traveler of Tata Motors' Zest Car.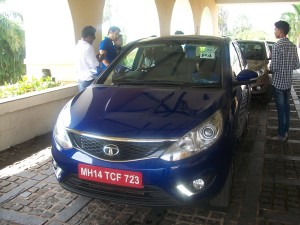 Here it goes:-
Smoothness: As soon as the Zest started, I felt the quality of roads of Goa suddenly improved. In other words, the drive was absolutely smooth. In fact, I have hardly experienced such a smooth ride ever, so much so that we almost didn't feel the bumpiness of the roads.
Spacious: The car scores high marks in spaciousness too as three medium sized people can easily fit in the back seat without feeling crammed for space. Considering the high rates of obesity among today's children and youngsters, this point is a big advantage.
Digital: The digital features as far as synchronizing your phone with the car is concerned, are very user friendly indeed. The process of answering the call and sending messages is very friendly and simple.
Seat: On dreary long drives, the big disadvantage that can irritate people traveling in it is the discomfort due to the seats. Thankfully, nothing of that sort happened while traveling in Zest. I hardly felt the tiredness that we usually feel after a long drive.
Shape: Again, I have no knowledge as to what the ideal shape and design of the car should be and how it can be judged. But I found the shape of the Zest very much to my liking. It is simple yet pleasing.
So here was a complete layman's point of view of experiencing Tata's Zest.
P.S: The above review features both the diesel and petrol versions of the car. The diesel car appeared smoother than the petrol one. Apart from this, the rest of the points are applicable to both. The important factors of price and mileage aren't disclosed yet by the makers.
More photos of the Zest: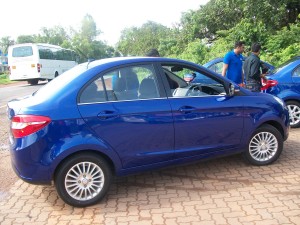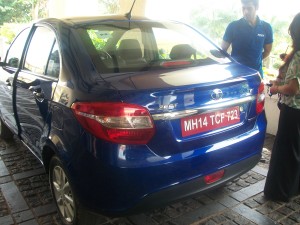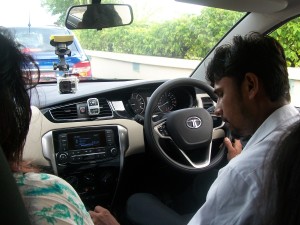 By: Keyur Seta
Only true cricket lovers can understand the meaning of winning a Test Match at the famous Lord's Cricket Ground, the home of Cricket. This reason is enough for India's 95 run victory in the second test against England in the ongoing 2014 test series to be labeled as historic. The last time when India won there was way back in 1986 when Kapil Dev led the team.
Since India didn't win a single test at Lord's in 28 years, it brings to light a startling fact that none of India's most celebrated players – Sachin Tendulkar, Rahul Dravid, Saurav Ganguly, V V S Laxman and Anil Kumble – ever experienced a test victory at Lord's ever in their career! This statistic alone proves the magnanimity of the victory. Before this win, very few of us would have realized that this feather is missing from the caps of these legends.
There is one reason, however, why this victory should be described as something more than historic. This has to do with the way India batted on such testing and unfriendly or, rather, alien conditions. For anyone who has been following Indian cricket since very long would know how our team surrenders whenever faced with green-tops or bouncy wickets. On most of the occasions while playing on such pitches, only two results were possible: defeat or draw; winning was something too much to ask for.
But circa 2014 and we see a big turnaround in our batsmen's response to such dangerous conditions. To see the manner in which people like Ajinkya Rahane, Murli Vijay, Cheteshwar Pujara and Bhuvaneshwar Kumar adapted to such conditions was heartening to say the least. Not taking anything away from Ishant Sharma's fiery spell of 7 for 74, the batters showed patience by leaving a lot of balls and didn't appear vulnerable against some deadly fast bowling. And to see such patience from a generation of cricketers that are involved in the T20 overdose and that too on flat wickets speaks volumes about their achievement.
Needless to say, this effort will give our batsmen a confidence booster like never before. This can be explained in a simple way – if they can adapt so well in such bowler-friendly wickets, one can imagine the ease they would feel on pitches and conditions much better for batsmen. Add to this, the solid batting performance by Bhuvaneshwar that has increased the strength of our lower order.
But despite such heroics, it is too early to predict India's series victory as there is still a lot of cricket to be played in the remaining three test matches. Hence, there is no reason for India to be complacent.
For the complete scoreboard of the second test between India and England played at Lord's, click HERE.
This post is a part of the #ZestUpYourLife activity in association with TATA Zest and BlogAdda.com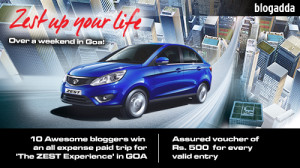 By: Keyur Seta
There is a huge difference between living life and merely surviving through it. So in the midst of a hectic professional life, it is necessary to have people, things and situations that add Zest to your life by making it worth living. I am fortunate to have many sources of Zest in my life.
Here's listing five of them:-
Nature: Whenever you are stressed out, disturbed, tensed or angry over something, just surrender yourself to nature – be it mountains, shade of a huge tree, landscape, river, lake or sea – and see the difference within minutes. I can say this from many personal experiences. I can stay in the company of nature for hours alone as if I am having a conversation with the surroundings. Needless to say, something that provides you with immense peace has to be labeled as a Zest! It can also be described as 'Nature Therapy'.
Roadside food: If I am given a choice between a luxurious five star restaurant and a roadside rekdi, I will choose the latter 10 out of 10 times. I personally feel that the taste of roadside food (be it any cuisine) is unmatchable to any of those big sophisticated restaurants. Just think about it – Can you ever compare the experience of eating a spicy Vada Pav during heavy rains to that of eating mannerly in those luxurious air-conditioned restaurants?
Cinema: This is the biggest passion in my life. Although I watch many films, each of my movie experience is special as it takes me to a different world altogether thereby making it more like a spiritual activity, irrespective of its quality or genre. Hence, I address it as 'cinema' instead of just 'movies'. Over the years, I have realized there is a big difference between both. The term 'movies' refers to those who watch films just for fun while munching tubs of popcorn. On the other hand, 'cinema' refers to people like me who just don't need anything as we are completely focused on our spiritual exercise.
Company of a cinema buff: When I am in the company of someone who considers watching films a spiritual exercise, I can literally speak with him or her for hours without a moment's pause. Hence, such a cinema buff is also a Zest for me. And speaking about films doesn't necessarily mean a serious discussion on great films. It also includes making fun of a lot of bad films and the various ham scenes in it. If you are lucky, you might even witness me acting out some ham scenes.
Company of a Common Man: Just like the company of a cinema buff, having a down-to-earth chat with a simple Common Man (ideally with a cutting chai) provides me with immense peace, irrespective on what topic the discussion is, ranging from movies, politics, cricket to even laughing at a silly PJ. Through my personal experience, I have wholeheartedly started believing that simple joys of life are the most pleasurable and long lasting.
By: Keyur Seta
Director: Nishikant Kamat
Producers: Mumbai Film Company and Zee Talkies
Writers: Sajid Nadiadwala, Nishikant Kamat and Sanjay Pawar
Cast: Riteish Deshmukh, Sharad Kelkar, Radhika Apte
Music: Ajay-Atul
Genre: Action/ Family Drama
Rating: * * ½
Story Outline: Mauli (Riteish Deshmukh) is a carefree youngster living in the holy village of Pandharpur. As his parents are unknown, he considers Vitthal-Rakumai as his parents. He is in love with his childhood sweetheart (Radhika Apte). His free-flowing life comes to a halt when he gets to know a shocking truth about his past. This revelation also brings him at loggerheads with the evil Sangram (Sharad Kelkar).
Review: From the trailers, Nishikant Kamat's Lai Bhaari looked like a typical hero-oriented masala film. While it surely is one, the film in totality is much, much more than what is revealed by the promotional material. This doesn't ensure a quality product though due to an age-old storyline, done-to-death narration and few other issues. However, there are enough paisa-vasool moments due to Riteish Deshmukh's heroics that make the film a one-time watch for the lovers of this genre.
The surprise element is surely refreshing but it gives you a feeling that the film is a complete remake of a Hindi blockbuster released in 2000 (mentioning the name will be an obvious spoiler). It also makes us feel as if we are watching two different movies in two halves. The first half is quite non-happening since nothing substantial happens until its end. A lot of screen time is given to elements that make the film appear like a high on culture family drama.
The turnaround at interval point takes the film to a different level but one is able to guess the plot twist long back. Nevertheless, the genre comes alive in the second half with many cheering and whistling moments born out of Riteish's antics.
But barring this, there is nothing much to keep the entertainment quotient high due to some tried and tested situations that we have been witnessing in Hindi films since 1970s. One might argue that such things haven't been seen in Marathi films before. Although this is true, one can't deny that the Marathi audience has been watching such genre of Hindi films since decades, more so since last few years. And to tell such a tale in over 2 hours 30 minutes is also not a good idea. Plus, mentioning Vitthal-Rakumai after every few minutes post interval becomes an overdose after a while.
The theme track 'Mauli Mauli' becomes one of the plus points of the film due to the overwhelming effect it provides. Apart from this song, 'Aala Holicha San' is noteworthy. The camerawork is impressive, especially during the aerial shots. The background score is as per the need.
Talking about the performances, it is Riteish Deshmukh all the way, especially in the second half. The actor packs a punch through a powerful act that is sure to delight his fans. After a terrific act in the recently released Hindi movie Ek Villain, he is going through the form of his life. But despite his towering performance, Sharad Kelkar makes his presence felt through a convincing portrayal of the bad guy.
Tanvi Azmi plays Riteish's mother with conviction. Radhika Apte, as the protagonist's love interest, is decent. The actor in the role of a kid girl displays plenty of cuteness. Aaditi Pohankar and the rest of the actors play the parts as per the requirement. Salman Khan is super-impressive in a cameo. Genelia D'Souza too provides the surprise element in another cameo.
Overall: Riteish Deshmukh's powerful act makes Lai Bhaari is a one-time watch. With the terrific hype and the main lead's heroics, the film will surely turn out to be a blockbuster at the box office.

By: Keyur Seta
Traditionalists keep asserting that marriage is a 'sacred bond' and a huge decision so it shouldn't be taken lightly. Although there is no denying this, ironically most of these traditionalists around me not only take marriage lightly but also make it a cruel joke with regards to the marriage of a girl by promoting different versions of patriarchy.
Right from selecting a groom till the last stages of her life, a woman is forced to bear a lot of evils in the name of 'tradition', 'culture' and 'religious beliefs'. People might argue that such things don't happen in the 21st century but that is far from the truth. I have been regularly witnessing such weird practices even in 2014 and that too in Mumbai, which is known as the most modern city of India.
I would like to explain myself using the following points:
Age Factor: Age should be taken into consideration while planning your academic life and career because one needs to enter into a profession at the right time in order to stop depending on your parents. But to force someone to marry just because of age is senseless and that too when she is just 22 or 23. It is absolutely fine if the girl is ready for it but if she wishes to build a career before tying the knot, it is against human rights to not allow her to do so. After all, marriage is not about age; it is about finding the right person.

Beauty Contest: A couple is said to be happily married if there is love and proper understanding between them. For this, it is necessary for the girl and the boy to spend time with each other in order to understand each other's nature and psyche. But the first criterion a boy's family's considers is beauty by looking at the girl's photograph. If she is good looking or 'fair', only then they select her to meet their son. Such a practice reinforces the terrible belief that looking good, beautiful or 'fair' is the most important thing for a girl. No wonder these appalling fairness creams and their advertisements are so hit in India!
Only Money Matters: I regularly witness or hear stories of parents pestering a girl to get married to a complete stranger just because he is rich. I have heard first-hand accounts of how parents start having a grudge against their daughter if she turns down the marriage proposal of a wealthy stranger due to logical reasons like thoughts not matching, not being understanding, not willing to give freedom, etc. Parents' worry for their girl's future is completely understandable, but forcing her to marry someone just because of his bank balance is more than silly. This will surely take care of her financial needs but not getting a loving, understand and caring husband will make her feel practically poor.
Divisive Politics: We are told that marriages are made in heaven (whatever that means). But we are made to search our soul mate not just in our own religion but also our so-called caste and language. Now how can you assume that God or nature has selected someone for us from our own religion, caste and language? Do you really think God or nature believes in such man-made divisions?  So a girl opting for love marriage outside the so-called caste is grudged; if it is outside their religion, she is labeled disgraceful, even in 2014. Many a times, children agree to search in their own caste or community just to respect their parents' sentiments. But how logical is respecting your parents' sentiments when it helps in spreading something as evil as casteism? This respect has played a large role in spreading casteist feelings. Just look at the matrimonial column in newspapers. The same people who accuse politicians of playing caste politics are more than willing to do the same in matrimonial ads. At the end of the day, happiness of your child should always be above your divisive demand.

Invisible Dowry: Dowry has been banned in India long ago but that is only on paper. Even today in a lot of cases the girl's family is compelled to give a lot of items as shagun disguised as dowry and also bear the cost of the entire wedding. This gives a feeling that the boy is doing some ehsaan (favor) on the girl by marrying her. Isn't he also in need of a wife as much as she is in need of a husband? One should not forget that it is she who is leaving her family to live with someone else's family till the end of her life.
Husband Worship: Even today a wife is forced to consider her husband as bhagwan or God. This is justified by the ridiculous and horrible statement – Patni ki jagah pati ke charanon mein hoti hai. This is not only weird but also hilarious. Just imagine – a boy enters the world just like others. He lives like any other human being as he has the same capabilities that fellow humans have. So how is it that after marriage he suddenly becomes God? A lot of times, this 'God' is not even able to make a cup of tea for himself. Although this sounds funny, it is not because it promotes high level patriarchy.
Double Standards: An invisible version of patriarchy is promoted through Karva Chauth. No, I am not against the festival. I am just against the message it gives: the festival is celebrated to pray for husband's long life. Why is it that only the husband deserves to live long? Why can't the husband fast for his wife too so that there is equality?
Curse in Blessing: People consider the blessing 'Sada Suhagan Raho' (may you be a married woman throughout your life) as the most auspicious for a woman but if you think deep, you will realize it is not. In fact, it is a curse in disguise since it is indirectly hoping that the woman dies before her husband. It endorses the ghastly theory that women are just not capable of living life without a husband so it is better they die before him. How can this insult be tolerated in an era when single women and single mothers are leading a professional life just like their male counterparts? Why can't it be left to God or nature to decide someone's lifespan?
Until and unless something revolutionary is done about the above-mentioned points, it will be hypocritical to label marriage as something sacred. Instead of the girl's parents convincing her to adjust according to these so-called traditions, it is high time the boy's parents encourage him against such creative patriarchy.

This is written as a part of I am Mardaani activity exclusively at BlogAdda.com for Indian Bloggers.
By: Keyur Seta
Indians have grown up watching mainstream Hindi films. Most of these films have a common theme – a man (known as 'hero') fighting a lone battle against evil forces and emerging victorious. Although we all have seen innumerable films with this theme, we hardly (or never) come across such a hero in real life. Very, very few of us do.
I am glad to have known one such a brave fighter very well. I am more fortunate since that person is also a good friend. She (not 'he') is Dr Rita Pal. She is a doctor and a medical journalist. But the reason why I feel she is an ideal Mardaani is because she dared to be a whistleblower against malpractices and corruption in the medical field and refused to give up despite the fact that she was all alone.
This is her story that she narrated to me:-
Originally from Bengal, Rita has been staying and working in the United Kingdom since long. Her story started in 1999 when she was working in the Midlands with the National Health Service (NHS). After realizing the substandard methods of patient care over there, she complained about it. However, the authorities not only ignored her concerns but also labeled them as baseless.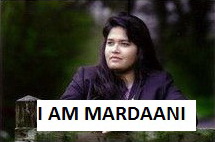 But Rita didn't give up. She continued her fight by approaching the Department of Health, General Medical Council and the media. But these organizations, however, didn't take any actions and, worse, started assassinating her character. The scheme of things also ensured that Rita didn't find other employment; she was able to work with NHS on short contracts in order to conceal her 'past'.
Sadly, this wasn't all. The worst was yet to come. It came when once Rita came to know that false rumors about her 'mental state' are been circulated on a website. This obviously affected her professional life so much that she had to carry a doctor's certificate to prove her normalcy. When she tried to find the source of these rumors, she came to know that the General Medical Council (GMC) came to the conclusion after doing a secret inquiry about her mental condition and that too without contacting her or having a look at any of her medical reports.
When the GMC refused to remove the notes of the secret inquiries, Rita approached lawyers but none were ready to help as they felt it is impossible to take legal action against the GMC. She decided to become a litigant and wrote a claim with the help of a friend by going through those thick legal books. Finally, she found a lawyer, a colleague's friend. This route also wasn't easy as we all know these lawyers charge a bomb.
After a lot of hardships, Rita finally won the case. The GMC had to remove the notes citing her so-called mental illness. They were also compelled to provide her with a letter stating that there was nothing wrong with her mental condition.
Her story is indeed similar to the theme of a lot of Hindi films. But what she went through was not a film shoot but an actual life struggle that would demoralize many of us, who would have given up when pitted alone against such powerful forces. Unfortunately, the media didn't cover this case much. But that doesn't take away anything from Rita's act of bravery.
I believe fighting a lone battle against such forces and emerging victorious is an ideal example of Mardaani.
P.S: Dr Rita Pal regularly takes part in a number other social causes too.
This is a personal message sent by Rani Mukerji after reading this post:-