By: Keyur Seta
Memorable matches are the ones that witness an extraordinary feat by a player, a team or both teams. So naturally, a match becomes memorable after it's over; in the past tense. Even a World Cup Final becomes unforgettable only if something great happens in it. But a match to be played on July 5 has already achieved a title of 'memorable' or 'unforgettable', although it is very much in the future tense right now.
The said match is between MCC (Marylebone Cricket Club) and Rest of the World on July 5 at Lords, the home of Cricket. It is the presence of some legends in both teams that is responsible for the match to be terribly awaited.
Just imagine, Sachin Tendulkar, Shane Warne, Brian Lara, Rahul Dravid, Adam Gilchrist, Mutiah Muralitharan, Yuvraj Singh, Kevin Petersen, Virender Sehwag, Brett Lee and Shivnarine Chanderpaul together on the field! It doesn't get bigger than this, can it? Plus, this might even be the last time we would be able to see the likes Tendulkar, Warne, Lara, Dravid, Muralitharan and Gilchrist on a Cricket field. And if we are lucky enough to see a battle between Tendulkar and Warne or Lara and Warne, what more can a Cricket fan ask for?
So the occasion will not only be memorable but also highly emotional for anyone who has grown up watching these great ambassadors of the game. Needless to say, one player that would be looked forward to the most is Tendulkar, not only by Indians but fans from around the globe. After the legendary farewell he received last November, watching him bat again will be a heavenly feeling.
But even if some of these great names fail to live up to the expectations, their mere presence is enough to generate tons of excitement, like it happened in 1998 when a similar match was played at the same venue in memory of Lady Diana. If you grew up in the 90s, I am sure you would remember that contest. Tendulkar and Chanderpaul are the only two out of the 22 players that had played the 1998 match. Interestingly, they both scored centuries in it.
So July 5 is our date with history!
Teams:-
MCC: Sachin Tendulkar (Captain), Shivnarine Chanderpaul, Rahul Dravid, Aaron Finch, Brian Lara, Brett Lee, Chris Read, Saeed Ajmal, Shaun Tait, Umar Gul and Daniel Vettori
ROI: Shane Warne (Captain), Tino Best, Paul Collingwood, Adam Gilchrist, Muttiah Muralitharan, Kevin Petersen, Virender Sehwag, Shahid Afridi, Peter Siddle, Tamim Iqbal and Yuvraj Singh
Venue: Lords Cricket Ground, London
Date: Saturday July 5, 2014
Time: 10:45 am local time; 3: 15 pm India time
Highlights of Tendulkar's innings from the 1998 Diana Memorial Match:
Tomorrow's 2014 Lok Sabha Election result is like a match between AUSTRALIA and ZIMBABWE. People supporting the former are sure of victory and have already started celebrating. They will tune in to see the margin of victory. Those supporting the other team will tune it with some hope of miracle. Neutrals like me will only ask from time to time - Oye SCORE kya hua?
But still, let's look at the chances of major political parties:-
Congress: The question shouldn't be whether Congress will win or lose. The question is - by what margin will it lose? Due to the abysmal performance in 10 years, especially the last term, this might well be the party's biggest defeat ever.
BJP: The only party that is sure of winning. The anti-Congress feel, the popularity of Narendra Modi and the crazy marketing campaign will surely work in their favor. It doesn't look as if there will be an upset. But if the party win's only around 200 seats on their own, it will surely be an upset of sorts as it will surely raise a big question on the presence of a 'Modi Wave'.
AAP: They are getting a place in this write-up because of their sudden popularity since December 2013. The Aam Aadmi Party aren't looking to form the government as this is their first Lok Sabha election.  So anything over 4-5 seats will be a great achievement for them. Of course, things would have been different for them had their rule in Delhi wouldn't have turned controversial.
All in all, the winner of the 2014 Lok Sabha Elections seems to have been declared already. Let's see whether it turns out to be that way or if there will be a twist in the climax.
Keep watching this space for the results.
Director: Sujay S. Dahake
Producers: Supreme Motion Pictures Pvt. Ltd and Illusion Ethereal Film Company
Writers: Sujay S. Dahake and Gauri Bapat
Cast: Urmila Matondkar, Hrishikesh Joshi, Dilip Prabhavalkar, Shashank Shende,s Shrikant Yadav, Om Bhutkar, Neha Mahajan
Genre: Adventure/ Drama
Rating: * * * *
By: Keyur Seta
Story Outline: Ajoba is based on true events experienced by wildlife conservationist Vidya Athreya between the years 2009 and 2011. A leopard is found in a well in Junnar village in Maharashtra. Wildlife Biologist Purva Rao (Urmila Matondkar) gets the animal rescued with the help of forest department workers.
She fits an electronic chip at its tale and, as per the procedure, frees it. She names the animal Ajoba. The whole idea is to trace Ajoba's journey in order to learn more about it and its thinking. Although the leopard is on a journey, Purva and his team are experiencing the adventure out of it.
Review: When a leopard enters a city and kills a man, naturally, the wild animal is labeled as the devil. But this is far from the actual fact. Such incidents have a much deeper meaning, which is explored by Sujay S. Dahake in Ajoba in a manner that would compel you to applaud not only his end product but also his act of bravery towards creating such bold genre of cinema.
Firstly, it can be a stressful nightmare for anyone to make a film on this subject. To create such an experience on screen not only requires painstaking patient efforts but also some great talent. As Dahake manages to go through the grind, half the battle is won.
The second half is won by a gripping narrative that either thrills or moves you throughout the duration. Soon you realize that the film is not story-based but treatment-based. The journey of the leopard and the subsequent twists keeps you glued. The smart characterization and the internal drama between characters also play their parts in making sure the film doesn't go into the docu-drama mode whatsoever.
But there does come a period in the second half where the narration slows down thereby making you a bit impatient. Thankfully, this period doesn't last long due to what follows. The closing moments and the climax deserve special mention for the soul-stirring effect it produces and the questions it raises about the indirect dangers and hypocrisy of 'human nature'.
Apart from the above-mentioned point, what can go against the film is that the Indian audience isn't friendly with such genre of films. Needless to say, those wishing for conventional entertainment might be disappointed.
Shooting such a film can also be a hell of a task for the cinematographer. Diego Romero has shot the entire movie using a hand-held camera. For getting his craft right, creating a visual treat and keeping the frame un-shaky, his work should be described as brilliant. The haunting background score suits the flick perfectly and stays with you. There is also some smart display of visual effects, especially the CGI image of the leopard.
Urmila Matondkar's thoroughly dedicated performance too is one of the biggest plus points. Her Marathi film debut can move anyone due to the way she gets into the psyche of Purva Rao. It's nothing short of excellent! After Yellow, Hrishikesh Joshi ones again turns up with an adorable act. Om Bhutkar, Shashank Shende and Shrikant Yadav give earnest support. Dilip Prabhavalkar and Yashpal Sharma create strong impact in cameos. Neha Mahajan and Anita Date are good in their cameos.
Overall: Ajoba is a spectacular cinematic treat; something that you haven't experienced before. The film surely has a chance of making a good impact at the box office through positive word-of-mouth.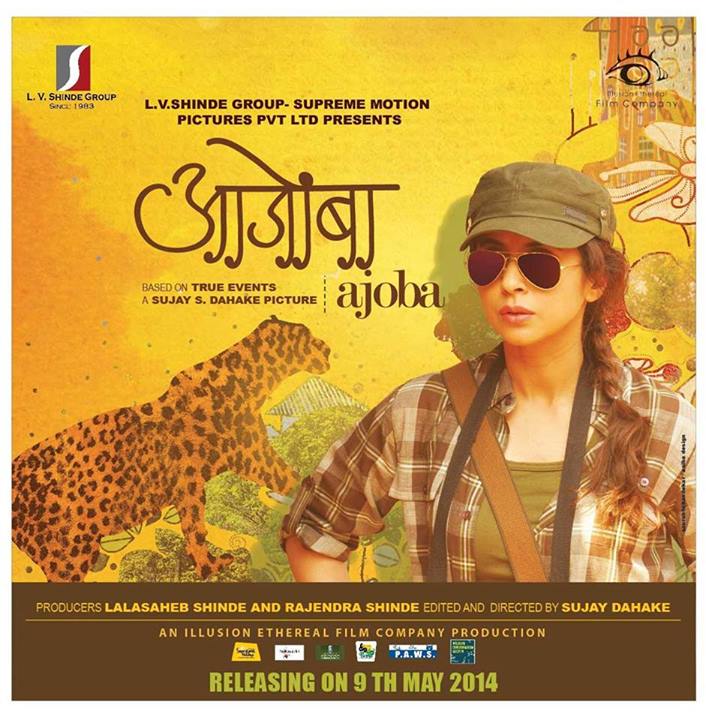 Director: Kiran Yadnyopavit
Producer: Calyx Media and Entertainment
Writer: Kiran Yadnyopavit
Cast: Vivek Chabukswar, Abhishek Bharate, Girish Kulkarni, Kishore Kadam, Atisha Naik, Jyoti Chandekar
Music: Rahul Ranade
Genre: Drama
Rating: * * * ½
By: Keyur Seta
Story Outline: In a picturesque village in Maharashtra lives Raghunath aka Raghya (Vivek Chabukswar), studying in seventh standard. His father (Girish Kulkarni) works with Mumbai police as a constable; he visits his family in between. Shankar aka Sada (Abhishek Bharate) is Raghya's classmate and close friend. His father is an officer with the Indian Army.
Sada believes his father's profession is more prestigious than Raghya's father while Raghya feels vice-versa. Once, their school teacher (Kishore Kadam) hands over a voluntary task of collecting funds for a noble cause to the students. This exercise becomes the turning point in the friendship of Raghya and Sada.
Review: Kiran Yadnyopavit's Taryanche Bait was about an obsessive desire of a child and his relation with his father. Although the storyline of his latest offering Salaam is entirely different, it also focuses on a fixated longing of a kid and his relation with someone, this time a friend. The similarities don't end here as Salaam, just like Taryanche Bait, turns out to be a delightfully moving experience.
The film doesn't follow a conventional storytelling method. Through the experiences and routine lives of the character, a plot emerges in the background. But this doesn't test your patience whatsoever. Instead, you are treated to a series of pleasurable moments as the characters go about their business. The beautiful and utterly peaceful locations add to the delight. The effort to pay tribute to army officer and policemen is also laudable.
In the latter part of the second half, however, there comes a point when not only is your patience is tested but you are also left a bit confused by the turn of events. Thankfully, all your doubts are cleared by a soul-stirring climax that pleases you no ends! The simple manner in which Yadnyopavit has presented a pleasing message by just using the visual medium proves he is here to stay for long.
The scenic locations appear more beautiful through cinematographer Abhijit Abde's lens. From Rahul Ranade's music, the song 'Timbacktoo' is worth mentioning. His background score too goes well with the proceedings. But repeating a particular background tune too many times could have been avoided.
The performances of two kids play a large role in creating an impact. Vivek Chabukswar is excellent as Raghya! It is incredible how he can display such varied emotions at such a young age. Abhishek Bharate, as Sada, isn't far behind either in a supporting role. Girish Kulkarni leaves a mark in a lovable cameo. Kishore Kadam too deserves a similar praise.
Atisha Naik, as Raghya's mother, and Jyoti Chandekar, as his grandmother, also chip in with good performances. There are some well-enacted cameos also from Pravin Tarde, Shashank Shende, Savita Prabhune, Suhas Shirsat, Sanjay Khapre and few others.
Overall: Salaam is a gem of a film that deserves a salaam. But it is sad to see such lack of proper hype for such a good effort. Hence, it will struggle at the box office.