(This is the first episode of the series 'Lessons from Mahabharata'. The sole aim of this series is to highlight that the many messages given in the greatest epic are completely relevant even today and will be forever... For Episode 2 click HERE.)
By: Keyur Seta
Yada Yada Hi Dharmasya,
Glanir Bhavati Bhaavat,
Abhyutthanam Adharmasya,
Tadatmanam Srujamy Aham
Through the above Sanskrit Mantra, Lord Krishna has assured that whenever and wherever evil or adharma will threaten to take over good or dharma, he will manifest or arrive on earth to ensure that evil is destroyed.
Although this is one of the most scared mantras, it is also making people ask this question again and again – If the mantra is true, why hasn't God arrived on earth considering the numerous ghastly evils on earth? I too have asked this innumerable times. However, I have stopped asking it in recent times. In fact, I have also started believing that it is futile to ask such a question.
Before I explain the reason for this, I would like to clearly state that this is just my way of looking at an episode of Mahabharata and I don't possess any concrete proof to support my theory.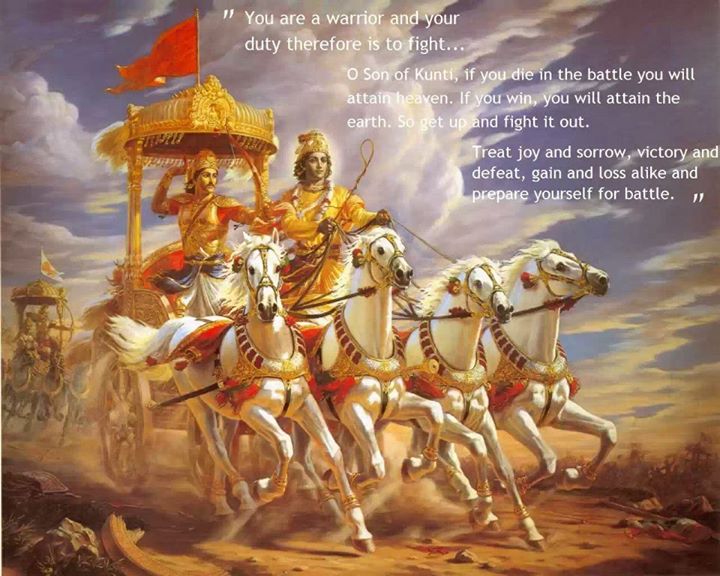 It is well-known that Lord Krishna helped Arjuna and other Pandava brothers to win the great war of Kurukshetra against the evil Kauravas. Looking at this incident, one would ask then why isn't he helping the world right now to fight these many evils. But the analogy is not as simple as it appears. A deeper perception is required.
Just before the start of the war, Arjuna straightaway refused to fight as he wasn't ready to kill his own kinsmen, grandfather Bheeshma and his teacher Dronacharya. So Krishna encouraged him to fight through a long conversation, which later came to be known as the Bhagavad Gita. It is only after he agrees to fight that Krishna helps him by his various tactics.
So if Krishna is God, why he didn't use his powers to eliminate the Kauravas right at the start of the war? He had the power to end the war in a matter of seconds so why didn't he do that? Well, this incident gives a clear message that God helps us in our fight against any evil only if we are ready to fight against it with all our might. Until and unless we, in huge numbers, are determined to put in all our efforts in battling against various evils, God is not going to help us.
We humans have enough power and strength to wage a war against adharma. By fearing and underestimating ourselves and overestimating the evil forces, we are falling prey to negativity. And where there is negativity, there is no God. History is full of examples of ordinary human beings fearlessly battling against oppressors. So it is not right to blame Him of not doing anything to alleviate us if we are not willing to determine ourselves to wage a war against evil forces.
So, according to me, as a large majority of us (including me) aren't doing anything to wipe out the corrupt and wicked forces, God isn't using his powers to free us from various evils. Until and unless we don't pull up our socks (mind you, in huge numbers) for the task, we shouldn't expect God to perform any miracles.
No doubt, there are a lot of people selflessly working for the upliftment of the downtrodden but the number isn't enough. We can expect some miracle only if a large majority of us enter the battlefield of the various Kurukshetras of the world.
Maybe the Lord is already present on earth just waiting for us to unanimously enter the battlefield. Maybe he is present in small quantities in many of us and just wants us to unite ourselves and Him. Either ways, the need is the same – stand up and fight!
By: Keyur Seta
Director: Abhijit Panse
Producers: The Art Beat Productions
Writer: Abhijit Panse
Cast: Mahesh Manjrekar, Aroh Welankar, Pushkar Shrotri, Santosh Juvekar
Music: Avadhoot Gupte
Genre: Underworld Drama
Rating: * * * ½
Story Outline: Rege is inspired from the real-life story of the encounter specialist Pradeep Sharma. The film revolves around the final year M.B.B.S student Aniruddha Rege (Aroh Welankar). By being in the company of the ruffian Pakya, he gets introduced to the gangster Manohar Bhai (Santosh Juvekar). Impressed by the style and aura of Manohar, Rege starts idolizing him. But being in the bad company proves costly for Rege as he, along with other gangsters, gets involved in a murder. This brings Pradeep Sharma and his men on Rege's trail.
Review: When we think about films on the underworld, we instantly visualize bullets flying and dead bodies collapsing either through gang wars or battles between gangsters and police. This is exactly what we are fed by films of this genre, mostly by Bollywood. But in his very first film Rege, director Abhijit Panse brings in a completely fresh approach while narrating a tale about the underworld resulting in a compelling, intense drama that is thoroughly impressive.
The entire is film is filled with realistic situations that are narrated with some brilliant creativity leaving you completely gripped. You just can't help but applaud the intelligent use of non-linear screenplay and the manner in which some vital events are revealed indirectly just through the visual medium. This is also seen in the manner in which Panse has used such minimal use of violence despite the film being about ruthless gangsters and encounter specialists.
Through the events of the film, the audience is also given a message without anyone uttering it. However, the very last scene is a bit questionable. There is also some issue in the placing of events in the latter part of the second half.
Nevertheless, these are minor issues that don't kill your satisfaction. All in all, Panse becomes yet another debutant to excel in his very first film after Mahesh Limaye did in the brilliant Yellow. Co-incidentally, Limaye has handled the film's cinematography by displaying his artistic skills.
From Avadhoot Gupte's music, 'Aswasth Sare' leaves a big impact. It not only goes well with the theme but is also rich in lyrics. The lavani song is average. Due to some reason, the 'Dishkyaoon' track isn't used.
Every actor has given quality performances, which was the need of the subject. Debutant Aroh Welankar is outstanding! To play such a difficult and emotionally draining character so convincingly and that too in your first film is a huge achievement. Mahesh Manjrekar gives a mature act as Pradeep Sharma. But on few occasions, he is unable to hide his Marathi accent.
Santosh Juvekar is simply amusing as he gets into the skin of Manohar Bhai with ease. Pushkar Shrotri is perfect as Sharma's subordinate. The actor playing the character of Pakya and the rest of the actors offer good support.
Overall: Rege is a creatively mature take on the underworld. The film is receiving positive word of mouth which could help its box office prospects. But it will be affected by the super success of the Hindi film Singham Returns.
By: Keyur Seta
Director: Rohit Shetty
Producers: Reliance Entertainment
Writers: Yunus Sajawal and Sajid-Farhad
Cast: Ajay Devgn, Amole Gupte, Kareena Kapoor, Dayanand Shetty
Music: Jeet Ganguli, Ankit Tiwari, Meet Bros and Yo Yo Honey Singh
Genre: Action Drama
Rating: * * ½
Story Outline: After eliminating the evil gangster politician Jaykant Shikre in Goa, the brave-heart Police Inspector Singham (Ajay Devgn) is now posted in Mumbai. He is close to the head of a political party (Anupam Kher) and considers him his guru. One day, a police constable from Singham's team is killed in an accident. He was driving an ambulance that contained crores of black money. The ambulance belongs to Swamiji (Amole Gupte), the thug and corrupt spiritual guru. As the constable was driving a vehicle full of black money, he is labeled corrupt.
Review: Singham (2011) is one of the greatest masala entertainers as it gained acceptance even from the section of the audience that doesn't prefer such genre of films. This was simply because it managed to strike an emotional chord so well. As such films don't arrive regularly; it won't be fair to expect the same magic from Singham Returns.
But one would surely expect the film to provide a good amount of satisfaction through a similar effect. Unfortunately, that doesn't happen. No doubt Singham Returns does provide plenty of seeti bajao moments, but the end product is nowhere close to the first film thereby making it just a one-time watch and that too strictly for the lovers of the genre. It is yet another Hindi film sequel that is made just for the sake of making it.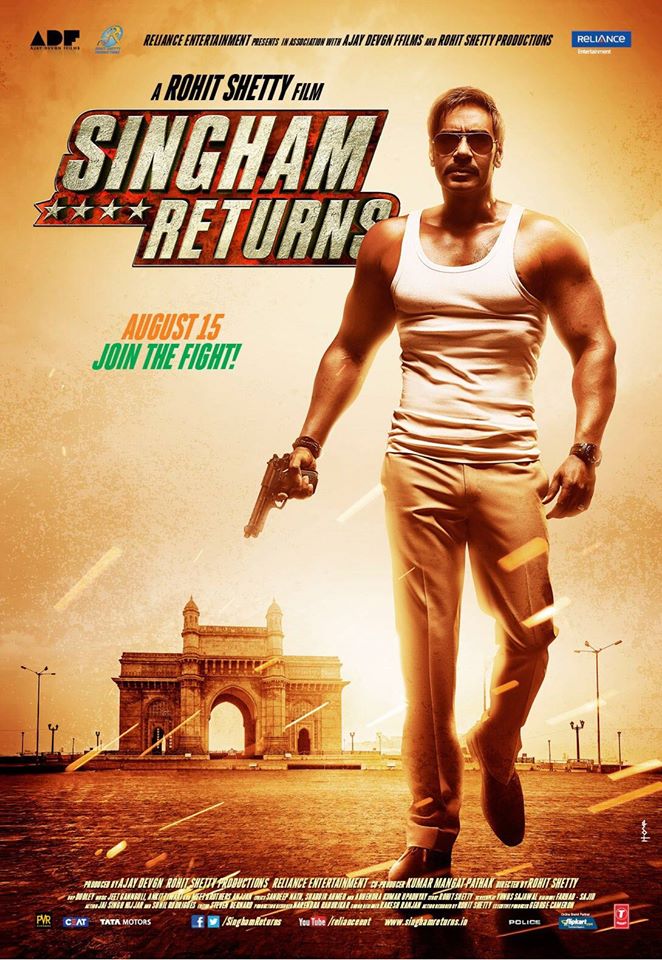 The big reason why the sequel lags way behind the film is the flow of events. Despite being a commercial potboiler about good versus evil, Singham was well narrated. This also ensured that the punch lines became an integral part of the content, making them so appealing.
The sequel, however, lacks proper flow, becomes completely predictable and follows a typical tried and tested road of the many cop dramas of the 90s. So the many punch-lines and hero-giri moments hardly offer any impact as they appear forceful, barring few instances. It is also quite funny to see a good duration of the first half being exactly like the TV series C.I.D.
Shetty has also given too much importance to fights, bullet firing and explosions. It not only becomes an overdose but is also unconvincing and limits the film's reach, especially due to some tragic violent scenes. And as per his habit, he overdoes the car demolishing act too!
Along with few impressive moments, the saving grace is the overwhelming and applaud-worthy climax. But still it doesn't do much to derive the overall satisfaction that one expects from the sequel of Singham. Plus, the torturous Honey Singh number 'Aata Maji Satakli' during the ending credits further adds to the woes. The rest of the songs too are nothing much to speak about.
The other plus point is surely the skillful camerawork. A couple of long aerial shots are brilliant! The background score complements the situations. It is similar to the first film and rightly so.
Ajay Devgn's macho act stops the film from going more downhill. Although he doesn't provide the punch like he did before, he manages to keep the interest alive even when the script is going downhill. Amole Gupte gets into the skin of the character of a thug spiritual guru with ease. It is just that on few occasions he overdoes it.
Kareena Kapoor is just above-average. Zakir Hussain is effective as another bad guy. Dayanand Shetty is made to do the same thing that he has been doing in C.I.D since 17 years! Anupam Kher and Ganesh Yadav excel in extended cameos. The rest of the actors are alright.
Overall: Singham Returns doesn't live up to the expectations and turns out to be just a clichéd cop drama. The brand name and some great hype will help it garner great collections at the box office.
P.S: The story of Singham Returns is continued from the first film. So what happened to Kajal Agarwal's character and her love story with Singham?
This review is a part of the biggest Book Review Program for Indian Bloggers. Participate now to get free books!
By: Keyur Seta
Ramayana is one of the oldest Indian epics that is popular world over. So, obviously, the people of India have been hearing the greatness of the tale and its legendary characters from elders, teachers and various books, if not from a television series or a movie. Since we already have acquired so much of information about the epic, do we really need another book to retell us the same story?
As far as author Shubha Vilas' latest book on Ramayana is concerned, the answer is in the affirmative since it throws light on numerous incidents that most of us, especially the youngsters, won't be aware about. The book Rise Of The Sun Prince is the first in the series of six books under the title Ramayana: The Game Of Life.
Talking about its story, it portrays the chapter Bala Kanda from Valmiki's Ramayana. It begins before the birth of Lord Rama and covers the events until his marriage with Sita. It extensively throws light on the life of the great Sage Vishamitra.
The purpose of the book, as stated by the author, is to retell the glorious epic to the modern audience of today's era. The writer succeeds in the task fairly well largely due to his language that is rich but at the same time simple and easy to grasp, even for people from vernacular mediums and across age groups. His smart use of the conflict element further helps in creating a number of intensely dramatic moments. The words of wisdom at the end of almost every page further enhance the content. This section along with the entire book is full of lessons and messages that are relevant today and will be forever.
But, as stated above, the novelty in content with regards to various events is a much bigger plus point. Along with incidents related to a number of characters, this is because of the importance given to the story of Sage Vishwamitra. In fact, he is the central character of the book instead of Lord Rama. This might come as a complete surprise but it is fully justified due to the fascinating, inspirational and soul-stirring story of one of the greatest sages.
A number of incidents related to the life of Vishwamitra become the high point of the book. Some of these include:-
1)      His conflict with King Dasaratha over taking Rama with him to defeat demons Maricha and Subahu.
2)      Him being mesmerized by the expression on Rama's face.
3)      His grave enmity with Sage Vasistha and its dire consequences.
4)      His painstaking efforts to achieve the title of Brahmarishi.
5)      The final outcome of his enmity with Vasistha.
But along with numerous plus points, the book also has its share of few minuses. These are:-
1)      Epics like Ramayana and Mahabharata are full of miraculous events, some of which are difficult to accept by the modern rational audience. Since the book is meant for them, few incidents should have been toned down. For instance, a group of armies being thrown out of the various parts of the cow's body and even from her cow dung becomes a bit too much.
2)      Rama and Sita are shown to be impressed only by each other's looks. In fact, the writer has again and again emphasized only on the physical aspects of both the characters instead of the numerous great qualities they possess. This makes it appear as if they share mutual lust for each other rather than love.
3)      I don't quite agree with the idea of bringing out as many as six books to tell the story of Ramayana. Three or four would have been enough. However, I would be glad if the author manages to bring out the remaining five books with similar engaging content and proves me wrong.
Overall, Shubha Vilas' Rise Of The Sun Prince is an enjoyable and intriguing read for the lovers of Indian mythology.
Rating: * * * *
Author: Shubha Vilas
Publisher: Jaico Publishers
Genre: Indian Mythology
Pages: 211
Price: Rs 250
Additional Feature: 32 page preview of the next book in the series titled Shattered Dreams and 5 page Appendix about '24 Qualities That Make A True Hero'.
By: Keyur Seta
Director: Mrinal Kulkarni
Producers: Shivam-Jemin Enterprises
Writers: Mrinal Kulkarni and Manaswini L R
Cast: Parna Pethe, Alok Rajwade, Mrinal Kulkarni, Prasad Oak, Sonalee Kulkarni, Shruti Marathe, Ravindra Mankani, Dr Amol Kolhe
Genre: Drama
Rating: * * *
Story Outline: A bubbly and naughty Rama (Shruti Kalselar and later Parna Pethe) hailing from a middle-class background is married to Madhavrao Peshwa (Alok Rajwade), the prince of the royal Peshwa dynasty, during her childhood. As the two grow up, the political scenario lands the couple in some serious challenges that also affect their personal life. Madhavrao's evil and scheming uncle Raghunathrao (Prasad Oak) makes things worse.
Review: The mention of the word 'Peshwa' instantly brings to our mind the glory of the Maratha Empire and the fearless battles of honor the Peshwas fought and won with style. But amidst such acts of bravery and fearlessness, the era also saw an episode of pure selfless love that is successfully portrayed in Mrinal Kulkarni's Rama Madhav.
The film takes the viewer back to the bygone era very successfully through some convincing set and costume designing (Poornima Oak) and finely sketched characters. But, obviously, the bigger reason why the film works is the honest approach while presenting a lesser known story.
This happens due to two reasons. Firstly, to see the spirit of the Peshwas in terms of the administration of the state and bravery in wars is sheer delight! Secondly, the love track between Rama and Madhav is smartly interwoven in between various political issues. The writers have also made sure the proceedings don't become depressing even during tragic situations.
The only big problem here is the length of 147 minutes. There are times in the second half when the narrative loses the grip it had provided earlier. It is also unlikely for people of today's era to accept the regressive-ness of that era, especially during the starting moments.
Rajiv Jain's excellent camerawork adds more delight. You just can't fail to notice the artistic touch in almost every frame, mostly during the scenes inside Shanwar Wada. Anand Modak, who passed away earlier this year, composed tunes are melodious and they go well with the genre. The Ganpati aarti song, 'Loot Liyo' and 'Swapnihi Navhte Disle' stand out.
Such a film needs to score high in performances and that is exactly what is provided by the actors. Parna Pethe is thoroughly convincing as the elder Rama. Shruti Kalsekar, as the younger one, is super cute. She displays great acting skills too. Alok Rajwade, as Madhavrao, shines with a thoroughly dedicated act.
Prasad Oak gets into the skin of the antagonist Raghunathrao with ease. Mrinal Kulkarni displays her utmost mature skills while playing Gopikabai. Ravindra Mankani and Dr. Amol Kolhe make sure they perfectly suit Nanasaheb and Sadashivrao. Sonalee Kulkarni and Shruti Marathe provide decent support as Anandibai and Parvatibai.
Overall: Rama Madhav is an honest effort that deserves to be seen. The film needs rapid word-of-mouth to have a big impact at the box office.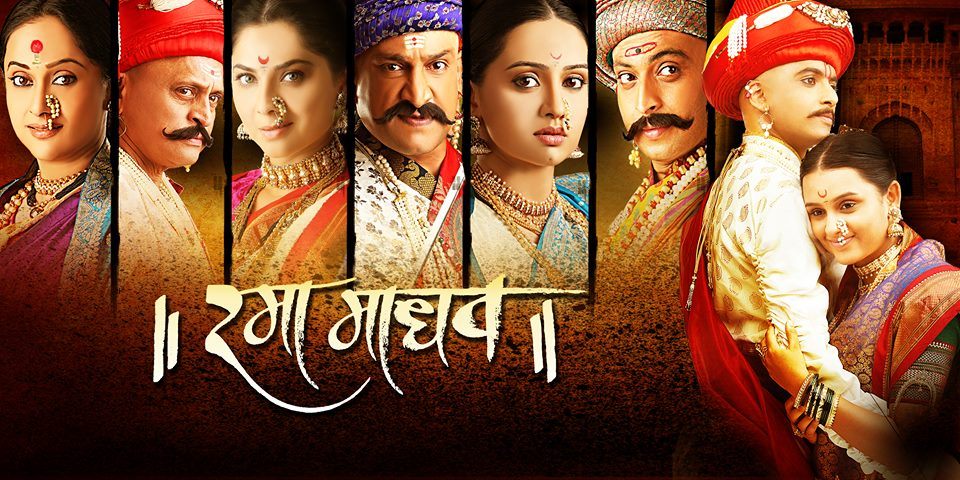 By: Keyur Seta
Director: Sameer Patil
Producers: Shreyas Talpade and Deepti Talpade under Affluence Movies Pvt. Ltd.
Writers: Sameer Patil and Charudutt Bhagwat
Cast: Dilip Prabhavalkar, Hrishikesh Joshi, Aniket Vishwasrao, Neha Joshi, Pooja Sawant
Music: Leslie Lewis
Genre: Comedy/ Drama
Rating: * * * ½
Story Outline: In Vadaner village, the lives of the aged, highly respected Jagan Deshmukh (Dilip Prabhavalkar), school teacher Sadanand Kulkarni (Hrishikesh Joshi) and youngster Arjun (Aniket Vishwasrao) come crashing down after their photos are printed on a poster encouraging Vasectomy (Nasbandi) without their knowledge. Now the trio must find the culprit responsible for printing their photos before it is too late.
Review: Most of the times, when comedy is born out of a serious issue, the humor takes a backseat at some point in the film, mostly the latter part of the second half. But debutant Sameer Patil's Poshter Boyz doesn't fall in that category. The film achieves a rare feat of being a laugh-riot for the entire duration despite the fact that it also raises few important social issues.
Confusion comedies are not novel by any means but Poshter Boyz manages to stand apart due to the subject of Vasectomy, which is unheard of, and the smart manner in which it arrives at the main point. From here on, the fun just doesn't end.
Generally, we associate a laugh-riot falls with mindless or slapstick comedy. But this is a rare example of a non-stop laugh-riot only using sensible situational humor. And when your laughter doesn't fade even long after the joke, you know it is a huge achievement for the writing, more so when the humor is maintained even during serious situations.
This is not the only reason why Poshter Boyz works. Just like Satish Rajwade's Popat, this film also manages to present a sex-related social issue in a manner that not a single family member of any age group would feel awkward. The only drawback here is that it treads on the tried and tested route in the closing moments.
Composer Leslie Lewis makes a successful Marathi film debut with this film. The song 'Deva Deva' is a sheer pleasure as it skillfully mixes three different genres – spiritual, romance and lawani – in one song. The title track and 'Kshan' also score high marks. Pushpank Gawde makes a mark with his artistic camerawork even during simple situations. The background score is effective, although unnecessarily loud at times.
A film of this genre requires skillful comic timing and that is exactly what the actors present. The ever-reliable veteran Dilip Prabhavalkar once again gives a thoroughly mature and sensible act. He underplays himself during the comic moments, which works well. Hrishikesh Joshi continues from where he left in Yellow with another terrific performance. He portrays humor born out of frustration brilliantly. Aniket Vishwasrao is perfect as the hot-headed youngster.
Neha Joshi, as Kulkarni's wife, is first-rate as an angry, frustrated wife. Pooja Sawant does what was asked from her and looks mesmerizing. The rest of the actors provide decent support.
Overall: Poshter Boyz is a rib-tickling laugh-riot with a timely message. The positive word-of-mouth coupled with a good promotional strategy will make it a winner at the box office.