Director: Rajendra Talak
Producers: Rajendra Talak Creations, Iris Productions and M. B. Creations
Writers: Rajendra Talak and Abhiram Bhadkamkar
Cast: Subodh Bhave, Mrinal Kulkarni, Ajinkya Deo, Neha Pendse
Music: Ashok Patki
Genre: Thrilling Drama
Rating: * * *
By: Keyur Seta
Story Outline: Aniket is a successful executive in a big company. A project on which he has been working since long gets a go ahead. Not just that, he also gets promoted. Co-incidentally, he receives the news of his wife Mugdha's (Mrinal Kulkarni) pregnancy too on the same day. But Aniket's overjoyed mood suffers a jolt when he slowly realizes that Mugdha is getting to know a number of dark secrets related to his professional and personal life. Who is revealing those secrets to Mugdha? What will be its consequences?
Review: Director Rajendra Talak's A Rainy Day has a lot of things working for itself – an intriguing story, crafty narration, intense presentation, good performances and a friendly length of just 89 minutes. But in a suspense thriller, it is absolutely vital for the final twist to be convincing. Unfortunately, that doesn't happen here else the film could have been so much more satisfying. Nevertheless, the aforementioned points make sure it is surely a one-time watch.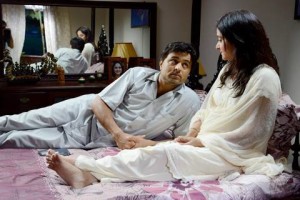 The opening credits of the film are smartly presented. Soon, you realize that was just the tip of the iceberg as a simple story is narrated in the most creative manner possible. For this a large part of the credit should be given to Sanjay Jadhav's camerawork, which is simply outstanding. In fact, his work matches international level! Well-shot rain scenes almost throughout the film is also a sheer pleasure.
Oscar winning Resul Pookotty and Amrit Pritam Dutta too deserve equal praise for creating an intense feeling through their sound designing. Ashok Patki's soulful compositions add to the effect.
Talking about the writing, the development of Mugdha getting to know Aniket's secrets is brought and handled smartly, especially the manner in which flashback is used. Due to this, one is constantly glued to the proceedings. The pace does dip a bit in the second half though. But the biggest problem is the last five minutes. The all-important climax is incomplete and confusing as the biggest and the only mystery of the story isn't solved. I didn't feel like leaving the hall after the film was over, unable to believe that it was ended this way.
Subodh Bhave displays his acting prowess while playing a character with different shades with ease. Mrinal Kulkarni puts on a very convincing act of a disturbed woman. She deserves to be seen more. The film has some decent supporting acts from Neha Pendse and Ajinkya Deo and some good cameos by Manoj Joshi, Harsh Chhaya, Kiran Karmakar, Sulabha Arya, Sanjay Mone and few others.
Overall: Despite a big issue, A Rainy Day is a thriller worth watching once. It needs some rapid word-of-mouth to make a mark at the box office.
Director: Abhishek Chaubey
Producer: Vishal Bhardwaj Pictures and Shemaroo Entertainment
Writers: Vishal Bhardwaj, Abhishek Chaubey and Sanjeev Datta
Cast: Naseeruddin Shah, Arshad Warsi, Madhuri Dixit, Huma Qureshi, Vijay Raaz, Manoj Pahwa
Music: Vishal Bhardwaj
Genre: Drama
Rating: * * * *
By: Keyur Seta
Story Outline: Khalu (Naseeruddin Shah) and Babban (Arshad Warsi) continue their con activities, this time in Lucknow. They get separated after their heist goes wrong. Khalu lands in Begum Para's (Madhuri Dixit) palatial palace and gets awestruck by her. Begum stays with her helper Muniya (Huma Qureshi). She has organized a swayamwar competition among nawabs.
A desperate Khalu, who is impersonating as a Nawab, takes part in the swayamwar. Soon, Babban too lands at the palace and instantly falls for Muniya. Khalu and Babban start dreaming of marrying Para and Muniya and spending the rest of their lives in the comfort of the palace. But they are oblivious to the fact that the notorious Italvi (Vijay Raaz), another fake Nawab, and some unpleasant surprises can shatter their dreams.
Review: Amidst the overdose of some silly and cheap content in the current mainstream Hindi cinema, director Abhishek Chaubey and producer Vishal Bhardwaj bring a rare gem in the form of Dedh Ishqiya, a sequel to their 2010 hit Ishqiya. It's a well-crafted dark comic thriller that just doesn't cease to impress you. The content also makes sure you don't feel the 150 plus minutes length of the film.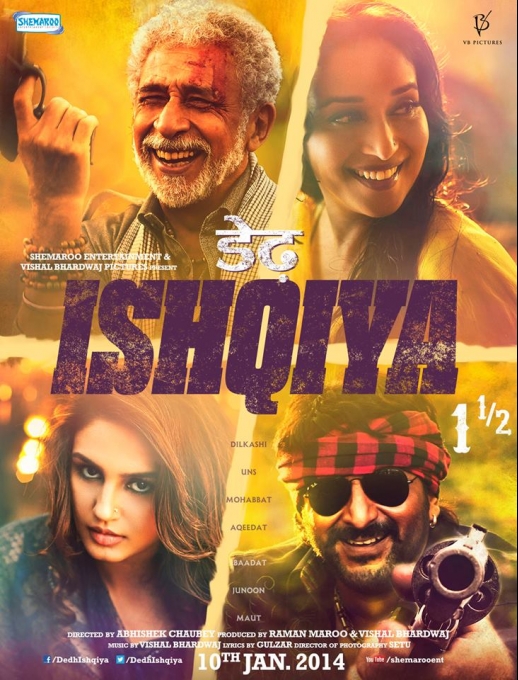 As for all quality films, this was possible due to some high degree of richness in the writing. The story in this second installment too is intriguing and interesting. The writers have rightfully revealed some amount of suspense at regular intervals thereby making the viewer more and more interested. The final twist in the pre-climax too plays a large role in providing overall satisfaction. Apart from this, one can regularly notice the artistic screenplay during a number of scenes.
But apart from the aforementioned points, what keeps you thoroughly entertained is the super impressive dialogues. The manner in which the writers have presented pleasurable Urdu words with a mixture of some witty and crazy one-liners deserves high applause. In fact, there is non-stop humor even during serious sequences. It is a good idea to include subtitles as a large majority of audience isn't well-versed with chaste Urdu. With his second handling too being impressive, Chaubey has proved he is here to stay.
The only negative aspect here is some logical flaws in the tale. It's not possible to reveal them to avoid spoilers. But you don't mind them much due to various other plus points.
Bhardwaj's music too is rich and it suits the situations perfectly. All songs score high marks but 'Dil Ka Mizaaj Ishqiya' is the best of all. It is sad that the songs haven't got the due from the audience. On the other hand, some ghastly tracks from other films are receiving applause. Setu's camerawork is outstanding! It is a pleasure to see the palace and other outdoor locations through his lens. The background score too suits the various moods of the film.
The film is also blessed with impressive performances. With a brilliant act, Naseeruddin Shah once again proves himself as one of the greatest artists from the country. It is good to see his effort going towards a good film after years. Although we have seen Arshad Warsi perform such roles quite a few times before, it is a pleasure to see him due to his wonderful comic timing. Nobody else could have essayed the role better than him.
Madhuri Dixit's fans might miss the legendary actress in full flow. But we should remember she is playing a disturbed and depressed character. She does very well while being restrained and speaking through expressions. Huma Qureshi is incredible, both in her looks and performance. She is easily the best female actor currently. Vijay Raaz too is brilliant with his comic timing. Manoj Pahwa is a surprise package with a first rate performance. The film is also well supported by Salman Shahid and Ravi Gosain.
Overall: Dedh Ishqiya is a fine work of art but at the same time highly entertaining. It is sad to see the film not doing well at the box office. It looks like our youngsters only prefer trash like Grand Masti and Yaariyan. So if you like Dedh Ishqiya, please spread the word as the film fully deserves it.
Director: Ravi Jadhav
Producer: Ravi Jadhav
Cast: Prathamesh Parab, Ketaki Mategaonkar, Vaibhav Mangale, Bhalchandra Kadam
Music: Chinar-Mahesh
Genre: Romance/ Comedy
Rating: * *
By: Keyur Seta
Story Outline: Dagadu (Prathamesh Parab) is thrown out of the house by his angry father after he fails in the 10th standard yet again. To support himself, he becomes a newspaper boy. Meanwhile, his friends urge him to get a girlfriend as they believe such 'time pass' is a must in life. Just then, Dagadu's eyes fall on the innocent Prajakta (Ketaki Mategaonkar) and he falls head over heels for her. But Prajakta's father hates Dagadu to the core after an ugly encounter with him. Will Dagadu succeed in the very first love story of his life?
Review: The two main characters in Ravi Jadhav's Timepass are just repeated from two successful films – the guy from his own Balak Palak and the girl from Sujay Dahake's Shala. One won't mind this if the film turns out to be enjoyable. And surely, there is hilarity aplenty in Timepass.
But the basic aim of every movie is to tell a story and this is where it falters. In the end, it turns out to be just a poor remake of Shala. This comes as an unpleasant surprise since there are high expectations from the film, which is seen from the tremendous opening it has taken in the first weekend.
The high point of Timepass is obviously the character Dagdu and his crazy antics, born out of his funny act and witty dialogues. As he goes about trying to win Prajakta's heart, the audience is treated to a laugh-riot, especially in the first half. Dagadu's scenes with his friends and Prajakta's cuteness at various occasions also deserve special mention.
But in the post-interval portions, Dagdu's antics start becoming too repetitive. This is felt more because there isn't any major development in the story. Later on, an illogical self-destructive incident involving a character (not possible to reveal much) just takes away much of your interest. Even if we ignore that moment, the pre-climax and climax don't satisfy. You just feel watching Shala or Balak Palak again is a much better option.
From Chinar-Mahesh's music, 'Fulpakharu' and 'Mala Ved Laagle' are impressive tracks. The camerawork and background score suit the subject perfectly. The editor should have used his scissors more. The length of 142 minutes is too high for the film. A dream sequence between the lead pair should have surely been shortened.
Although Prathamesh Parab and Ketaki Mategaonkar repeat their performances from Balak Palak and Shala, it is a joy to see them perform. Parab is once again very impressive as Dagdu. His comic timing is superb. Mategaonkar too is notable while playing a shy character. Vaibhav Mangale is brilliant as Prajakta's angry father! He too shines in the comic scenes.
Bhalchandra Kadam does well in the role of Dagadu's father. Urmila Kanitkar provides good support. Although Bhushan Pradhan has a narrow screen time, he is decent as Prajakta's brother and so are the rest of the supporting actors.
Overall: Despite a whole lot of funny moments, Timepass doesn't rise up to the expectations. Due to the hype and a great opening, the film will succeed at the box office.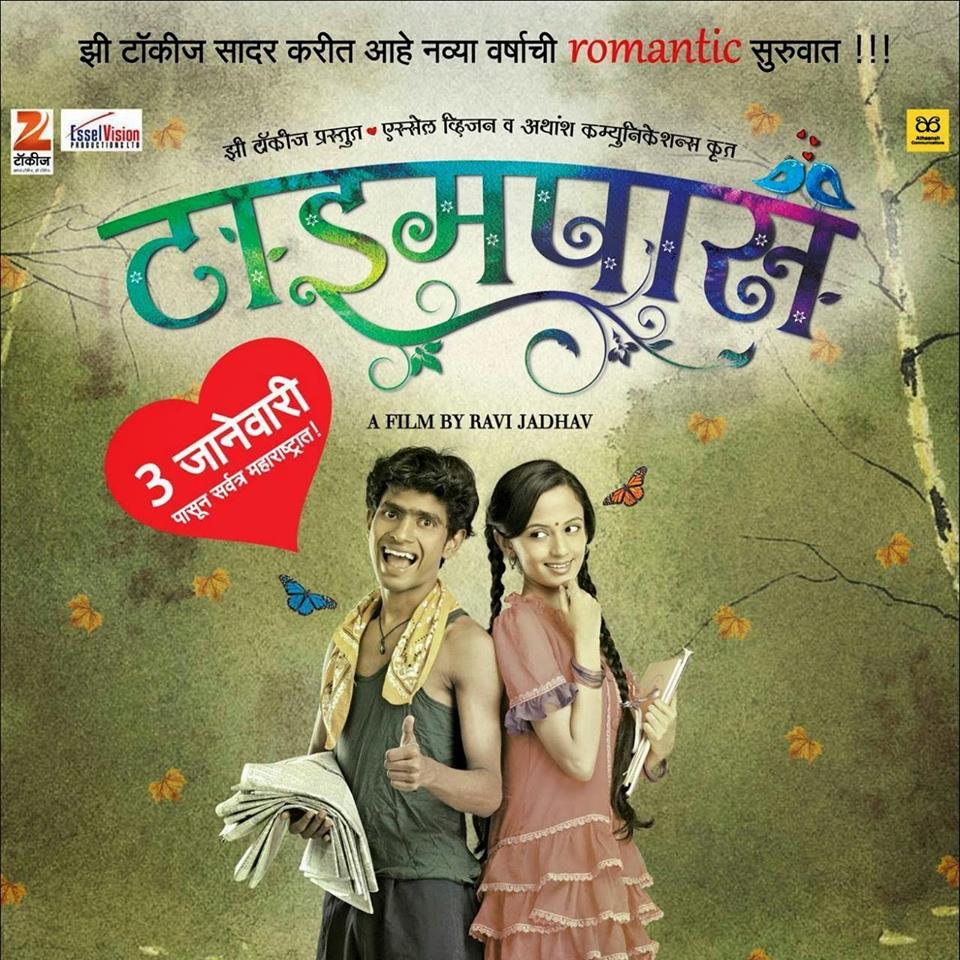 .