Director: Ravi Jadhav
Producer: Ravi Jadhav
Cast: Prathamesh Parab, Ketaki Mategaonkar, Vaibhav Mangale, Bhalchandra Kadam
Music: Chinar-Mahesh
Genre: Romance/ Comedy
Rating: * *
By: Keyur Seta
Story Outline: Dagadu (Prathamesh Parab) is thrown out of the house by his angry father after he fails in the 10th standard yet again. To support himself, he becomes a newspaper boy. Meanwhile, his friends urge him to get a girlfriend as they believe such 'time pass' is a must in life. Just then, Dagadu's eyes fall on the innocent Prajakta (Ketaki Mategaonkar) and he falls head over heels for her. But Prajakta's father hates Dagadu to the core after an ugly encounter with him. Will Dagadu succeed in the very first love story of his life?
Review: The two main characters in Ravi Jadhav's Timepass are just repeated from two successful films – the guy from his own Balak Palak and the girl from Sujay Dahake's Shala. One won't mind this if the film turns out to be enjoyable. And surely, there is hilarity aplenty in Timepass.
But the basic aim of every movie is to tell a story and this is where it falters. In the end, it turns out to be just a poor remake of Shala. This comes as an unpleasant surprise since there are high expectations from the film, which is seen from the tremendous opening it has taken in the first weekend.
The high point of Timepass is obviously the character Dagdu and his crazy antics, born out of his funny act and witty dialogues. As he goes about trying to win Prajakta's heart, the audience is treated to a laugh-riot, especially in the first half. Dagadu's scenes with his friends and Prajakta's cuteness at various occasions also deserve special mention.
But in the post-interval portions, Dagdu's antics start becoming too repetitive. This is felt more because there isn't any major development in the story. Later on, an illogical self-destructive incident involving a character (not possible to reveal much) just takes away much of your interest. Even if we ignore that moment, the pre-climax and climax don't satisfy. You just feel watching Shala or Balak Palak again is a much better option.
From Chinar-Mahesh's music, 'Fulpakharu' and 'Mala Ved Laagle' are impressive tracks. The camerawork and background score suit the subject perfectly. The editor should have used his scissors more. The length of 142 minutes is too high for the film. A dream sequence between the lead pair should have surely been shortened.
Although Prathamesh Parab and Ketaki Mategaonkar repeat their performances from Balak Palak and Shala, it is a joy to see them perform. Parab is once again very impressive as Dagdu. His comic timing is superb. Mategaonkar too is notable while playing a shy character. Vaibhav Mangale is brilliant as Prajakta's angry father! He too shines in the comic scenes.
Bhalchandra Kadam does well in the role of Dagadu's father. Urmila Kanitkar provides good support. Although Bhushan Pradhan has a narrow screen time, he is decent as Prajakta's brother and so are the rest of the supporting actors.
Overall: Despite a whole lot of funny moments, Timepass doesn't rise up to the expectations. Due to the hype and a great opening, the film will succeed at the box office.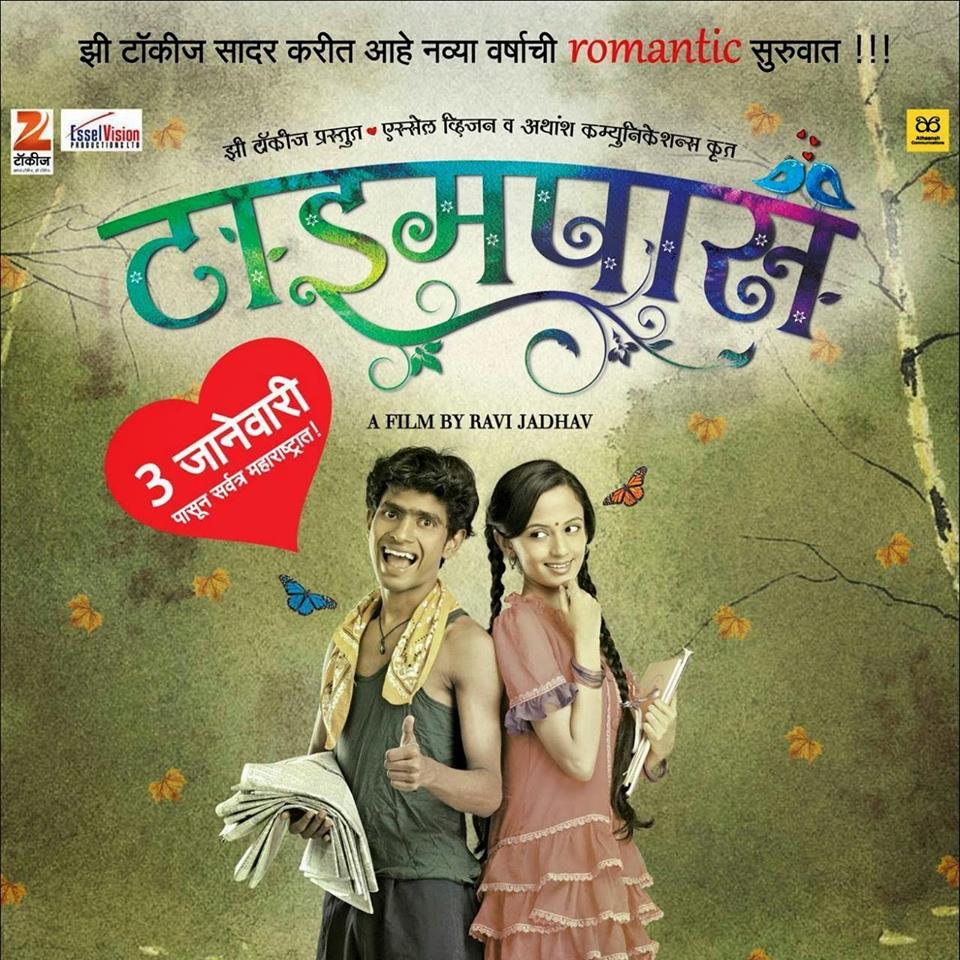 .