The terrible floods in Tamil Nadu, especially Chennai, have taken everyone by a rude surprise. The floods were expected in the region but nobody thought they would be so devastating. So far, close to 300 people are head and lakhs are homeless or stranded.
While there is no harm in praying for the victims and dedicating numerous social media posts to them, what they practically need it help… and lots of it!
So this is how you can help them:
1) Spiritual leader Sadhguru's Isha Foundation has organized a donation drive. To donate in kind or doctors who can support the disaster relief work can contact: +918300011111, +918300051000, +918300052000
Helpline for donation via bank transfers: +919442139000
Online donations: http://www.ishafoundation.org/Donate
2) Donate via APP:
Click HERE to download an app to donate clothes, food and other items.
3) Check available shelter:
To know about places where shelter is available, click HERE.
4) Donate via AISC Flood Relief by clicking HERE.
5) People form 60 NGOs have come together to help Chennai flood victims. Those willing to contribute contact Prasanna: 96777-00081 or Ganesh 99442-77721.
6) Willing to accomodate?
If you are in Chennai and willing to accommodate people who are stranded, click HERE.
7) To donate food items, see the image below (click to enlarge):-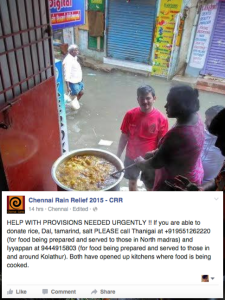 8) Chennai flood relief HELPLINE numbers: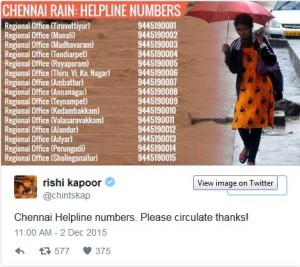 OTHER IMPORTANT INFORMATION:
People who are stuck near Valasaravakkam, Megamart area, pls contact Vignesh Mailappan at +918122829693.
People who are stuck near Camp Road areas can contact Bala- +918056096733.
People who are stuck near Keezhkattalai area can contact Santha- +919042122271.
People who are stuck near Tambaram area can contact
Prasanna – 9994816896
People who are stuck near Mogapair areas can contact aswin – 7299518047
People who are stuck near Pallikaranai, Narayanapuram areas can contact Gayathri – 8220738092
Message from a kind-hearted person:
Anyone stuck in Annanagar, Arumbakkam, Aminjikarai, MMDA Colony, Choolaimadu or any other area are welcome to my house, please be my guest. Can pick up people from nungambakkan station, arumbakkam metro station or anna arch. No restriction on no as i have lots of Mats to sleep, power for essential and enough food, brijesh – 9962400760
SRM University is accommodating people in their buildings. Whoever stranded in GST, please go there.