"This post is a part of the book review program of at Saevus Wildlife India in association with The Hemchand Mahindra Foundation for the book Capturing Wildlife Moments in India" 
Photographer & Author: Ashok Mahindra
Presented By: Bombay Natural History Society (BNHS) and Oxford Publishers
Rating: * * * *
Review By: Keyur Seta
The main aim of Wildlife Photographers is to make the reader experience a wild safari inside a jungle while sitting miles away. Their task is difficult than video shooters due to the reliance only on still pictures. Ashok Mahindra's e-book 'Capturing Wildlife Moments In India' achieves this aim hands down. This is not the only achievement of the book though.
'Capturing Wildlife Moments In India' is a collection of wildlife images, which includes animals, birds, reptiles and also nature, clicked by Mahindra over a period of time at different national parks of India.
The book is a treat not only for wildlife lovers but also for city dwellers trapped in concrete jungles. The well-shot and well thought pictures transport you to the raw interiors of forests. But, as mentioned by Mahindra, wildlife is not only about wild animals. Therefore, he has also given importance to other aspects of jungles. Other impressive feature is the trivia about some species and the back story behind the capturing of a number of pictures.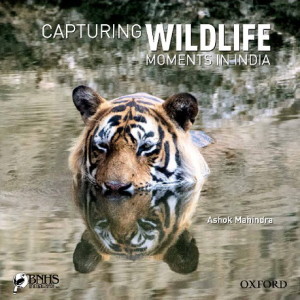 It is difficult to select few best among the 100 + pictures. But these are the ones that stand out:-
– Images of the Royal Bengal Tiger
– Asiatic Elephants spraying mud over their bodies to combat heat.
– Sal Trees at Kanha National Park, Madhya Pradesh.
– A spider trying hard to trap a butterfly
– A crocodile, deer and a bird appearing together.
– The picturesque Jogi Mahal below Ranthambhore Fort, Rajasthan.
– A mother elephant trying to convince her kid to get inside a lake.
– A Spotted Deer ready for mating.
But apart from presenting wildlife pictures, the deeper intent here is to encourage sustainability of wildlife habitats that are diminishing rapidly. It is like a wakeup call to the people of today's times. The photographer-cum-author has also provided a list of solutions for the same.
Coming to the minor negative points, the written matter on some occasions needs to be short since it is a pictorial book. This becomes more problematic due to the very small font as one is required to zoom in and out regularly.
Overall: 'Capturing Wildlife Moments In India' is a pleasurable jungle safari.
More pictures from the book:-
(Click to enlarge)