By: Keyur Seta
The controversy regarding the presence of high amount of lead and Monosodium Glutamate (MSG) in India's loved snack Maggi Noodles and its subsequent ban in various states (Tamil Nadu, Gujarat, Uttarakhand, Uttar Pradesh, Jammu & Kashmir and Assam soon all over India) has come as a rude shock to many, including me, for two reasons.
Let's face it, there are many around us who not just love Maggi but are also dependent on it. I know a lot of people (mostly men) who can cook just one dish – Maggi. The snack is also a messiah for people living in remote areas of Himalayas. Secondly, the controversy is completely out of the blue. Seriously, how many of us had expected something of this magnitude to happen with Maggi? None, actually!
As things stand out, we can't ignore the serious health hazards posed by the snack due to the enormous level of lead and MSG being found in it; lead is around 17 times more than permissible limit. And when the risk is as high as being attacked by Cancer, you really can't ignore it. Hence, ban on Maggi is the only way to deal with the situation, no matter how painful it is for many of us.
But the issue doesn't end here, at least for me. In fact, it starts here. The whole controversy surrounding Maggi has opened a can of worms as it has given rise to some very serious questions or pointers:-
1) Was FDA sleeping?: The presence of such high amounts of lead was found unknowingly or randomly by a person who got the noodles tested for something else. If he hadn't tested, we wouldn't have realized this incredibly serious issue with the snack. So, this completely exposes the functioning of Food & Drug Administration (FDA) with regards to clearing foodstuffs.
How did they allow such a big scam to ever take place right under their nose? What is the point of having FDA if they are unable to detect such enormously dangerous substances in a snack that is consumed by all, including children? Is their responsibility only limited to testing an item during license renewal that happens just once in 6 months or more?
Therefore, if there is anyone in the firing line due to the controversy it is the FDA. With the presence of lead in such high amounts in Maggi, their failure is proved, which calls for some stringent action against the officers responsible.
2) Celebrities' Responsibility: Celebrities (Amitabh Bachchan, Madhuri Dixit and Preity Zinta) endorsing Maggi shouldn't be held responsible for promoting such a product. All they need to do is check whether the product is legal and has approval from FDA or any such government body. You can't expect them to check the ingredients themselves in a laboratory when our authorities themselves have easily cleared the product.
However, this doesn't give a Clean Chit to our celebrities, at least from me, as they are still guilty of promoting lies in return for crores of rupees. For example, the packet of Maggi says it is high on Vitamins and Proteins. This is a blatant lie as it is junk food. This whole issue should be a wake-up call for our celebs when it comes to endorsing any product and everything that the makers claim.
3) What about other products?: Most importantly, this makes me doubt as to how safe are the thousands of other products that the masses are consuming, right from the time they wake up. As mentioned above, the entire Maggi fiasco came to the surface by fluke after a man got it tested for something else. Who knows? We might be consuming such or similar seriously hazardous products unknowingly.
The need of the hour for our authorities is to check as many products as possible for such dangerous contents and follow it up with regular surprise checks to ensure their safety. Considering the enormous number of products we consume, there is no doubt that this is an almost impossible task. But nothing is more important than the well-being of the citizens.
By: Keyur Seta
The ever-increasing medical cost is fast becoming a big reason for increasing number of deaths currently in India. Sundari Raju lost her husband due to the same reason. After being diagnosed with Multiple Sclerosis, his troubles started increasing and with that, his medical bills too. "There came a time when he was required to take four injections per month and each cost Rs 8,000. So it was impossible for us to afford it. I wish I could have afforded. He would have been alive then," she said.
She was speaking on the occasion of Patient Solidarity Day in Mumbai, where doctors, patients, members of patient groups, pharmacists, bloggers and laymen had assembled for a round table discussion on how to provide proper access to healthcare for all patients across India. The event was organized through the efforts of Dr Bejon Misra, Partnerships for Safe Medicines (PSM) India, Consumer Online Foundation and International Alliance of Patients' Organization (IAPO).
When it comes to the high cost of medicines and treatment, the mention of multinational companies, which manufactures medicines, shouldn't come as a surprise. "MNCs are here to make money. Philanthropy is not their goal; it will never be. Government wants to do something about this. But they won't unless we and various NGOs keep pushing. They also have to listen to courts so we should use that option too. Medical Council of India can also help," said Dr Salunke.
Another doctor present at the discussion raised the point of new doctors forced to recover the enormous amount they spent to study medicine. "People spend around Rs 1 crore in private medical colleges. So obviously they won't do any social service. Government also keeps spending more on private colleges rather than government run colleges. The ratio of both types of colleges is very high in favor of private colleges." He also stressed on the need for qualified nurses, who can take away half of the headache of the doctor.
India has also become home to diseases like Fibromyalgia. Anuradha Khanna Pentapalli, who is suffering from it, expressed the need to spread awareness about it as hardly anyone in India knows about it. Fibromyalgia is a chronic disorder characterized by widespread musculo-skeletal pain, stiffness and tenderness of muscles and joints and also psychological issues. "Today I am at this event. So tomorrow or day after I might have to take bed rest. There are cases where parents ask their daughters to be active despite being diagnosed with the disease and not disclose it to their prospective grooms. But the daughters don't wish to lie. There is an urgent need to include study of Fibromyalgia in medical curriculum," said Anuradha and her demand was agreed upon by Dr Misra.
Since recent times, there has been a constant demand of making generic medicines available to patients as their cost is much lower. "Generic medicines are available in Tamil Nadu. So if they can be made available in TN, why not in Maharashtra? Our ex-Health Minister Suresh Shetty also didn't do anything for this in 10 years," continued Salunke. Dr Jahangir also echoed his sentiments and expressed bewilderment at some doctors criticizing it. "I can't believe a doctor criticizing generic medicines. Rather than letting a patient die, let him get treatment."
The situation in rural areas was also described. Said Dr Ketan Parekh, "Twenty percent districts in Maharashtra don't have a pediatric surgeon, whereas 2% of all new born babies require immediate surgery. A list of 80 doctors, who were willing to volunteer, was given to the government. But there was no response." Salunke also added an incident he witnessed at a village. "A doctor was giving just 1 cc injection dose to patients. When I asked him the reason for giving such a tiny dose, he said they have just one bottle of dose and the number of patients is 35."
This wasn't one of those events where people would discuss and then just disperse. Dr Bejon Misra announced and assured that the discussion will be followed by action. "We will collect evidences and each one present in this room (for discussion) will come together to make sure our voice reaches to the people in power. If they don't listen, we will be compelled to go to courts. Universal healthcare should become a reality and not just remain a dream."
More pictures from the discussion: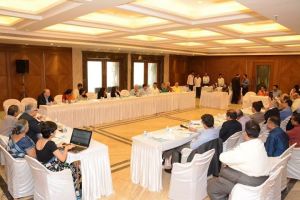 By: Keyur Seta
Rating: * * * * ½
The biggest challenge while portraying a tragedy is to make it look as realistic as possible. And when the disaster is as magnanimous as the Bhopal Gas Tragedy, it becomes all the more testing, not just for the filmmaker but for everyone involved. The same challenge awaited director Ravi Kumar and his team for Bhopal: A Prayer For Rain, which is based on the said tragedy in 1984.
To say that they have overcome the challenge will be an understatement. What they have achieved is nothing short of a benchmark for realistic cinema because it just can't get more realistic than this. But the reason why the film on the whole can be labeled as excellent is the fact that it scores high in every department.
The movie is English with partly Hindi. The story takes place in Bhopal in 1984. Dilip (Rajpal Yadav) is a rickshaw driver staying in a slum in the central area of the city with his wife (Tannishtha Chatterjee) and younger sister (Fagun Ivy Thakrar). His family struggles to live from hand-to-mouth from his earnings. Dilip gets a new lease of life when he lands a job at the newly-arrived Union Carbide's pesticide plant.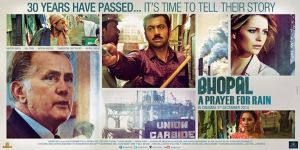 Although Dilip is happy to have found a source of earning despite uneasy conditions, he is worried to know that the safety standards at the plant are being ignored. Soon, this leads to a fatal leakage of the poisonous Methyl Isocyanide that kills thousands in a single night making it the worst man-made industrial disaster ever. Even 30 years after the incident, thousands continue to suffer from its consequences.
The base of all great films is writing and that is exactly the case here with a watertight screenplay and real yet dramatic dialogues. To top it up, Kumar has handled the subject with utmost precision. The manner in which he has added realism to such utterly difficult scenes, especially the tragic ones, is to be seen to be believed. As stated earlier, it can't get more realistic! To carry out such a task in just your second film is no mean achievement.
Naturally, this gives rise to a number of scenes that stay etched in your memory. From these, Dr Chandra (Manoj Joshi) trying to select one person from many whom he can administer an antidote deserves special mention.
Another reason why the film scores high marks is that it doesn't get depressing despite it being based on one of the greatest tragedies ever. This indicates that its motto is not to bring back terrible memories but to highlight the importance of human safety over profits.
It is difficult to choose a negative point here. Probably the number of characters could have been reduced and the life of the people of Bhopal, especially the slums, could have been portrayed more. This could have been possible as the film's length isn't much.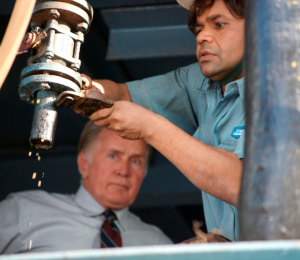 Coming to the technicalities, the VFX team should be lauded as they had their task cut out. Cinematographers Charlie Wuppermann and Anil Chandel have succeeded in displaying their skills. The background score is apt for the proceedings. The fast-paced classical tunes used at the start help a lot in generating interest instantly.
The performances are a top-draw too! Rajpal Yadav gives his best performance till date as far as his serious roles are concerned. Veteran Martin Sheen is excellent as the CEO of Union Carbide. Kal Penn is brilliant too in the role of the cunning journalist. Mischa Barton plays the journalist from US with perfection.
Tannishtha Chatterjee once again proves she is one of the most talented actors in the country. In the role of the doctor, Manoj Joshi is flawless! Akhil Mishra and Joy Sengupta also deserve praise. Satish Kaushik creates an impact in a cameo while Fagun Ivy Thakrar too provides good support.
Overall: Bhopal: A Prayer For Rain is an excellent piece of realistic cinema that shouldn't be missed. The film requires good word-of-mouth to succeed at the box office when it releases in India on December 5.
Director: Ravi Kumar
Producers: Sahara Movie Studios and Rising Star Entertainment
Writers: David Brooks and Ravi Kumar
Cast: Rajpal Yadav, Martin Sheen, Mischa Barton, Tannishtha Chatterjee, Manoj Joshi, Akhil Mishra, Fagun Ivy Thakrar
Music: Benjamin Wallfisch
Genre: Period Drama
Duration: 96 minutes
Release Date: December 5, 2014 (India)
By: Keyur Seta
Twelve years ago Sagarika Chakraborty, then in her teens, started suffering from a terrible headache which refused to subside even after undergoing medical treatment. Due to this, it was concluded she has Migraine. She started medication for that as well but to no avail. Later on, she developed a whole lot of other health issues that just wouldn't get cured. She underwent tests after tests without any conclusion. "In fact, there is not a single test I haven't undergone," she said at The World Arthritis Day meet in Mumbai recently. The event was an initiative by rheumatologist Dr Shashank Akerkar.
Since she was appearing absolutely normal with the tests showing no signs of any illness or disease, people started believing she is faking an illness just to stay away from studies. Worse, questions were even raised about her psychological wellbeing. Sagarika lived with such physical and emotional baggage for 12 years until she came to know from a doctor in Hyderabad that she is suffering from a rare condition called Fibromyalgia. And it was only a year back when she was able to start proper treatment for the disease from Dr Akerkar.
"For 12 years I suffered mis-diagnosis and took over 36 medical opinions. God forbid this should not even strike my worst enemy. I suffered but pledged that others around me shouldn't. So I am here to talk," she said.
There are only a handful of people in India who have heard about Fibromyalgia. In fact, people might take some time before even pronouncing or spelling it properly. Fibromyalgia is a chronic disorder characterized by widespread musculo-skeletal pain, stiffness and tenderness of muscles and joints without detectable inflammation. But that is not all. Patients suffering from Fibromyalgia also experience sleep disturbance, fatigue, irritable bowel movements, depression, anxiety, stress, hypersensitivity to light, sound, heat and cold, etc.
Some patients also show symptoms of Parethesia (feeling pins and needles), cognitive dysfunction and memory problems (known as Fibro Fog). Sadly, the symptoms are not reduced to these. While revealing few other symptoms, Sagarika says, "I can't move for a few seconds after I sit for long. Sometimes, a thousand pins prick my body and my eyes. It locks my jaws and dehydrates me. I have nerve pinch in seven parts of my body. There are mornings when my fingers won't move. My nostrils hurt and a certain nerve throbbing is almost visible through the skin."
Needless to say, emotional trauma goes hand in hand with Fibromyalgia. It is been found that a very high percentage of Fibromyalgia victims are females. In fact, the female to male ratio for this disease is 9:1.
What is worse is that there is no sure shot cure for Fibromyalgia. There is treatment available but it can only help in reducing the symptoms or controlling the disease. And since there are a wide range of symptoms, undergoing a single treatment doesn't work. A patient is prescribed medical drugs but at the same time, it is vital for him or her to undergo physical exercises as prescribed.
As patients suffering from Fibromyalgia appear totally normal, the disease is also known as 'Invisible Illness'. "If an employee is suffering from Fibromyalgia, he or she has to often take leave from work. This becomes difficult because the patient looks physically normal. Hence, most of the patients quit their jobs to work part time as working full time becomes extremely difficult," said Anuradha Khanna Pentapalli, another patient suffering from Fibromyalgia, at the meet.
It is due to total lack of awareness that Fibromyalgia has derived the nickname of 'Invisible Illness', especially in a country like India. This was enough to prompt Anuradha to launch an awareness campaign for the disease in the form of a website called – http://www.fibromyalgiaawareness.com/. The website provides complete information for a layman on Fibromyalgia including its meaning, symptoms, tips on how to live with it and most importantly, comments from patients. The website also has a Facebook page - http://www.facebook.com/fibromyalgiaawarenesspage.
Anuradha and Sagarika along with a group of individuals are also all set to start a non-profit organization called The Purple Pact which will aim at setting up centers with specialized facilities for chronic pain patients. But for that, one needs awareness.
"There are around 3-6 % of world population suffering from Fibromyalgia. But the percentage of patients in India is just unknown! Due to the lack of awareness, naturally people won't understand what a patient goes through."
Both Sagarika and Anuradha are thankful to their doctor Shashank Akerkar for creating awareness on Fibromyalgia through World Arthritis Day. "It is vital to create awareness. If people start accepting the disease and the problems associated with it, it will certainly make life better for us," sums up Anuradha.
By: Keyur Seta
The fact that Diwali is nearing was felt yesterday not because of the excitement for the festival but due to the irritation in breathing caused by the smoke that erupted from the firecrackers. The scene is the same in every locality in India. The presence of light in Diwali is overshadowed by the shoddy smell of the harmful smoke and the unbearable sound of crackers.
People in India are well aware of the terrible effects of firecrackers both to the environment and health. Yet, turning a blind eye, parents are encouraging their children to burst crackers by spending thousands on them.  Are they so unconcerned about the hazards of crackers or plain dumb? For people from both categories, here are the ill-effects of crackers: - (I know this is like school stuff but these people have left me with no other option!)
Air-Pollution: Even during non-Diwali time, pollution is on an all-time high with smog (smoke + fog) visible almost everywhere. So, it is shuddering to even imagine the level of pollution during Diwali with lakhs of people indulging in firecrackers! Global Warming is becoming a bigger threat day-by-day. If this still doesn't concern you, may God bless you!
Health Hazards: As it is, the health scenario in Mumbai is becoming poorer each year. Number of Asthama and cardiac (heart) patients are continuing to increase. Headache and cough have become a daily affair for many. Wouldn't such a high increase of harmful smoke during Diwali worsen the situation? Just imagine the state of cardiac and asthama patients when they are forced to inhale the poisonous smoke!
Noise Effect: What pleasure do people derive with the maddening noise of such high decibel crackers? I read about a man dying because of heart attack caused due to the ridiculously high noise of a cracker! There could be many more such cases!
Hell for Animals: For animals, the situation is even worse. The noise and pollution can be hell for them as it also creates high amount of panic amongst them. Spare a thought for the poor creatures!
If you are eager to burst crackers even after knowing the terrible consequences, please go ahead! You are a part of population so it will naturally affect you as well! Happy Diwali!