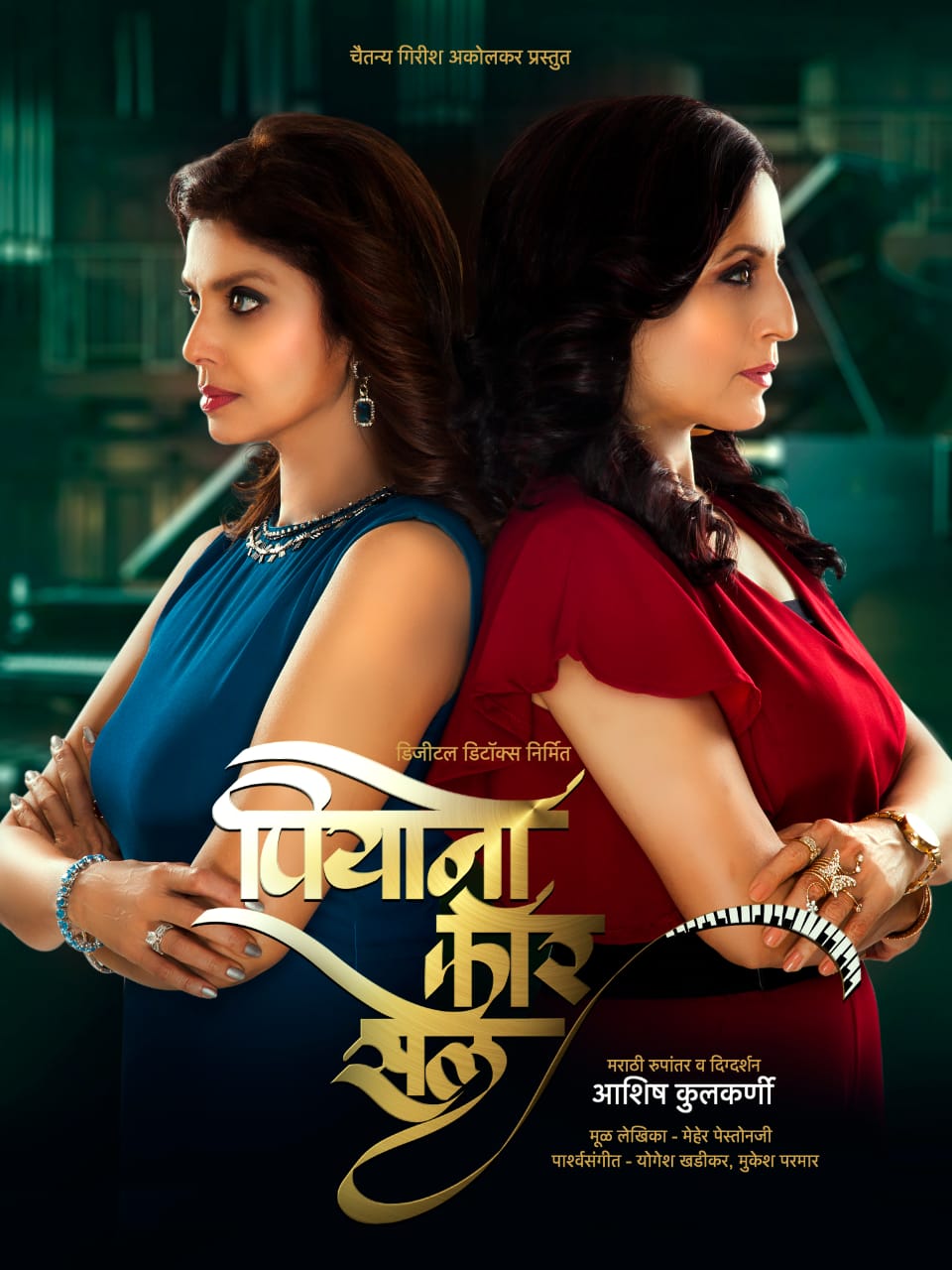 Director Aashish Kulkarni's Marathi play Piano For Sale features veteran actresses Kishori Shahane Vij and Varsha Usgaonkar. They were two big names and contemporaries in Marathi cinema of the 1990s.
This is the first occasion where Shahane and Usgaonkar have shared the stage together. As the play has no other characters apart from them, there is no need to say that one would get to see their jugalbandi on stage.
But for a play or any piece of performing art for that matter it is the end product that needs to be impressive. The cast comes later. Let's find out if Piano For Sale manages that.
The play is the Marathi adaptation of playwright Meher Pestonji's English play of the same name. Sheila (Shahane) stays alone in the middle-class Byculla area of Mumbai. She is a dance teacher for mute and deaf students. She is quite content with her simple lifestyle, although she does experience feelings of loneliness here and there.
Anita (Usgaonkar) is the opposite of Sheila. She is married and has a daughter. They belong to the upper class and she is proud of her status.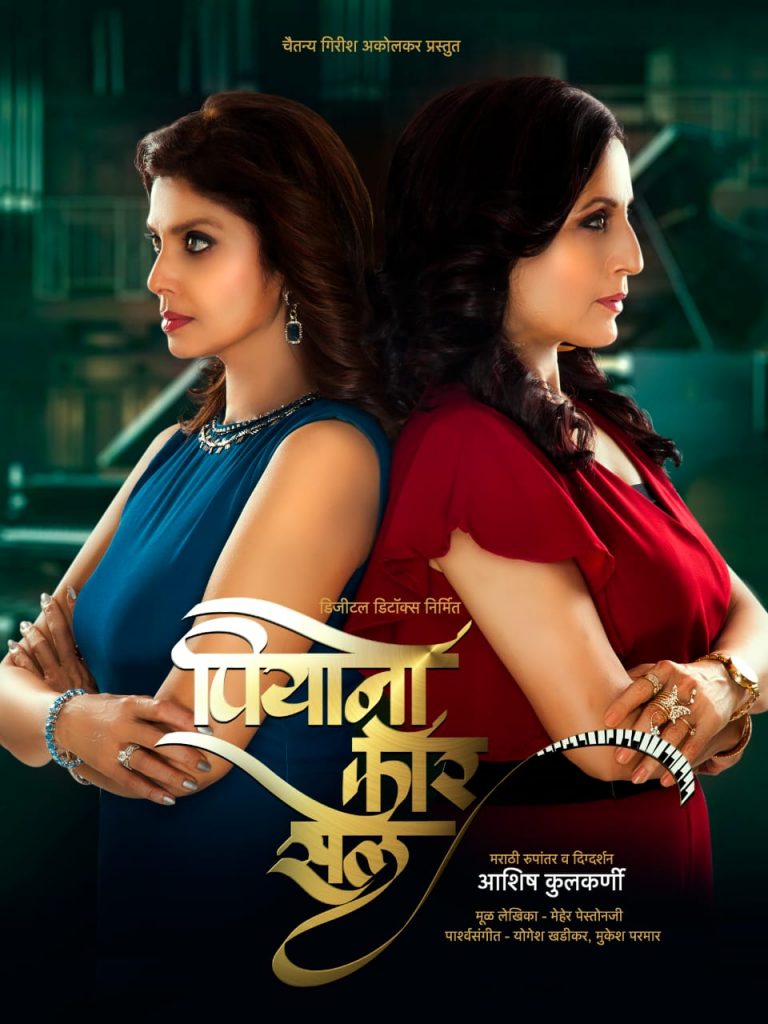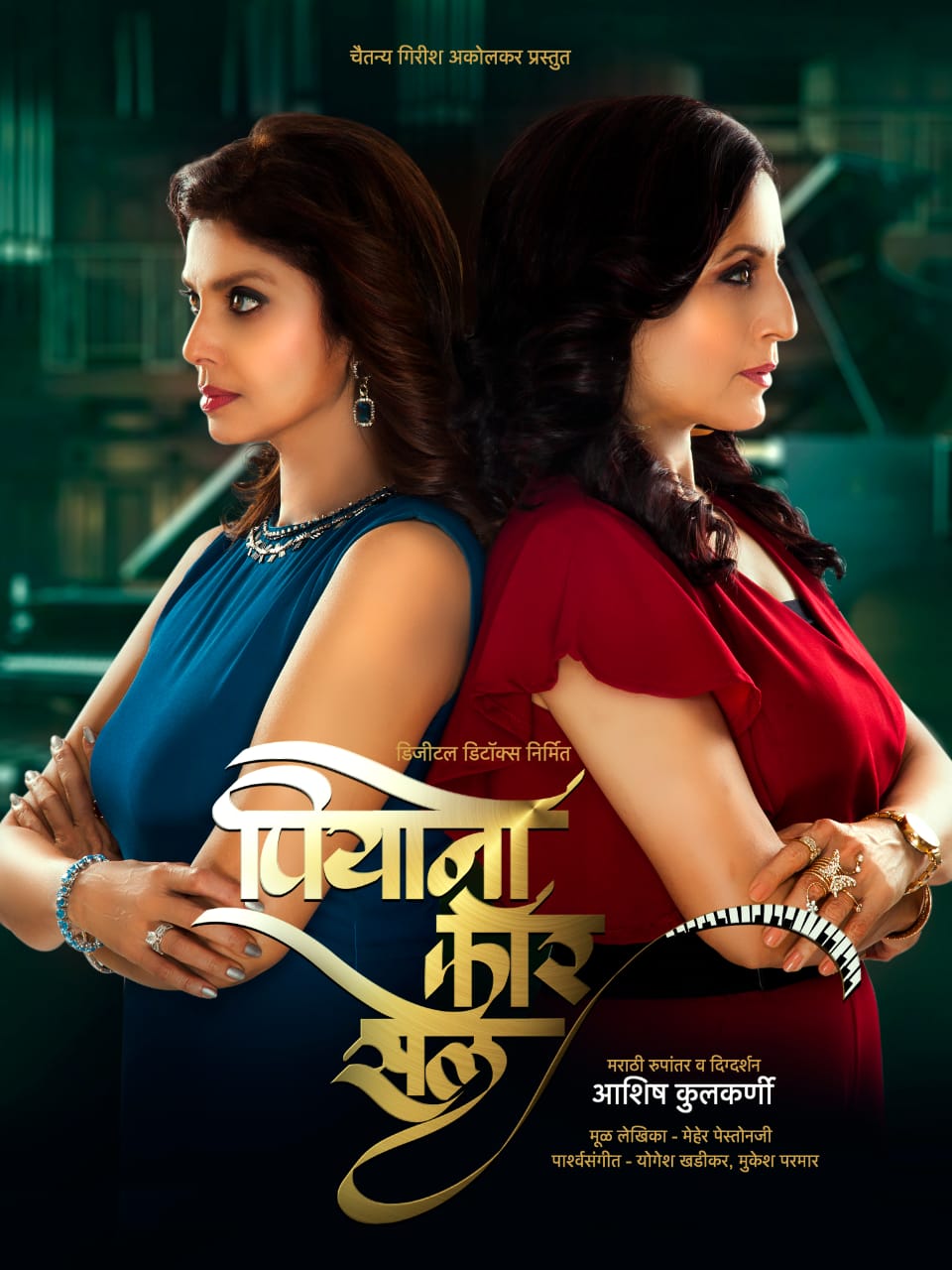 Sheila wants to sell off her old piano, for which she gives an advertisement. Anita gets interested in buying it and calls Sheila. While hanging up the call, Anita reveals her full name. This stuns Sheila since she and Anita have had a past and not a pleasant one at that.
Going by its interesting storyline, it is not surprising to see the reason for adapting the play from another language. Just when you think that the story will continue based on the conflict that was established early on, it takes you by surprise through a twist in the second act (post interval).
The end result turns out to be moving as it compels you to think on the idea of winners and losers in matters of love and life.
Needless to say, when the entire play is only about conversation between two characters, the script needs to be engaging and this is what happens for the majority of the duration. The dialogues and the subtle dark humour are enough to keep you engaged.
It is only on few occasions that the transition from one topic to another isn't entirely smooth though. Also, the massive transformation of one character later on is a bit questionable.
A lot of thought has gone into the rich set designing. The interiors of both the houses – of Sheila and Anita – are realistic. Coming to the lights, it was a smart idea to dim the brightness whenever the conversation became intense and conflicting. The sounds of piano go well with the subject and the title.
Needless to say, the play demanded both Shahane and Usgaonkar to be on top of their games. The two actresses have complemented each other well and, in doing so, have provided convincing performances.
Overall: Piano For Sale is an interesting and thought-provoking play.
Rating: 3.5 out of 5
Review by: Keyur Seta
Director and English adaptation: Aashish Kulkarni
Original playwright: Meher Pestonji
Producers: Digital Detoxx
Cast: Kishori Shahane Vij and Varsha Usgaonkar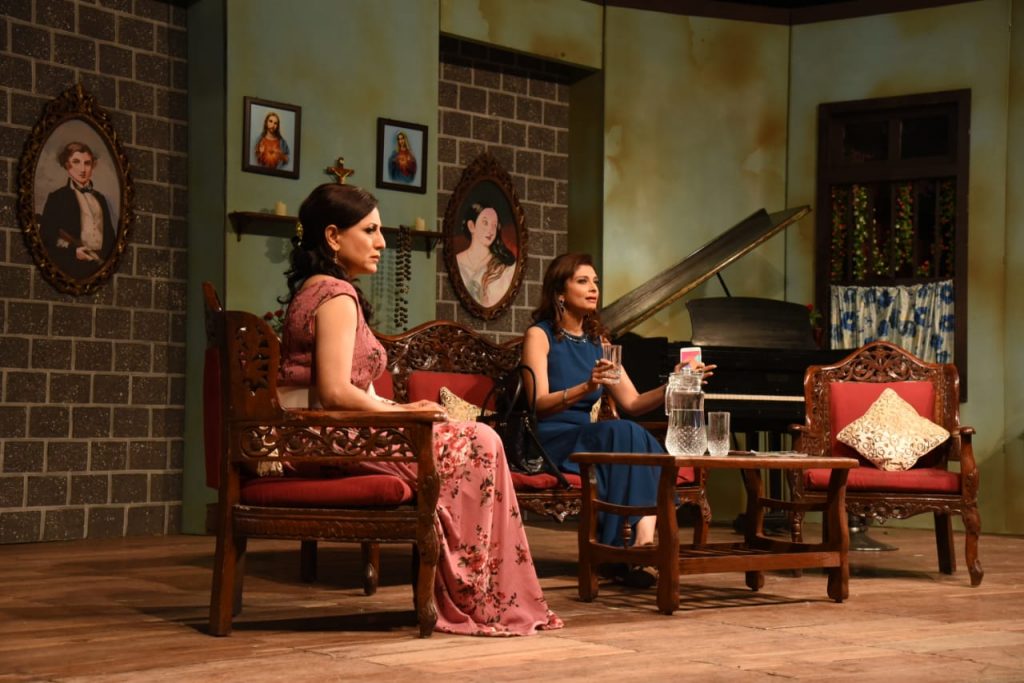 Zenobia Mansion is a mono act which is a part of the two mono act segments under the title Atke Bhatke Latke Sur (the other being Noor Mahal).
Zenobia Mansion stars Preeta Mathur, who plays a classical singer Susupta Gupta. She stays in an apartment in Zenobia Mansion in the Pali Hill locality of Bandra, Mumbai. She was born and brought up in Delhi and has recently shifted to Mumbai. Although she has now reached a stage where she is well-versed with the art, her life in Zenobia Mansion is anything but pleasant.
Just above her apartment stays a well-known Bollywood choreographer. His heavy frame coupled with ghungroo creates terrible noise when he practices; sometimes even late night. This doesn't allow Susupta to practice for her concert that could define her future. Sadly, he is not the only disturbance in the building. How will Susupta counter such distractions to prepare for her concert?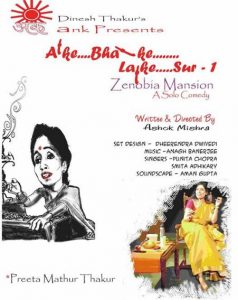 The first and foremost challenge in every mono act is to keep the audience gripped. This isn't easy whatsoever as the writing needs to be engaging and entertaining. This challenge is taken care of for a majority of the duration in Zenobia Mansion. Constantly something or the other keeps taking place.
Although this is a mono act, there are more than a handful of characters in the story. They, obviously, don't come on stage but their presence is felt throughout the duration. Therefore, this is a kind of a mono act that is not limited to the genre. It's just that a bigger punch in the end could have increased the overall impact to some extent.
But quality writing isn't enough by the way in such genre of plays. It needs to be complemented by a good acting performance else the goodness of the writing would not get noticed. Preeta Mathur lives up to the task and gives a fine act. She smartly creates humour out of worry that her character experiences.
The set designing is not too elaborate, which is as per the need. The properties used are simple that suit the middle-class household of the character. The lights are effectively used to produce the desired effect, although there could have been more experiment on this front.
Sound plays a big role here and this aspect is up to the mark. Punita Chopra's soulful vocals enhances the subject.
Overall: Zenobia Mansion is an enjoyable light-hearted monologue.
Review by: Keyur Seta
Writer and Director: Ashok Mishra
Presented by: Dinesh Thakur's ANK
About the venue:
Kreating Charakters is the latest theatre space inaugurated in Mumbai. Zenobia Mansion was the first public performance here that took place few weeks back. It's a nice little cosy place, which is ideal for mono acts and experimental plays. It's seating is much on the lines of Prithvi.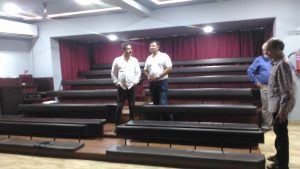 May 19 marks the Death Anniversary of the great Marathi playwright and author, Vijay Tendulkar. Since last few years, a group of theatre lovers have been paying tribute to the celebrated artist on this day through a theatre festival that provides a glimpse into his work. The same will be the case this year too on May 19, which will mark his 8th Death Anniversary.
As the festival is named, 'Te Diwas' it tries to bring back memories or provide nostalgia of Tendulkar's era of glory. As it is not possible to showcase his vast body of work in a single evening, the festival will showcase important scenes of his memorable plays like Sakharam Binder, Gidhade and others. But his one-act monologue, Olakh will be presented in its entirety. The participants include some well-known names from Marathi TV and film fraternity.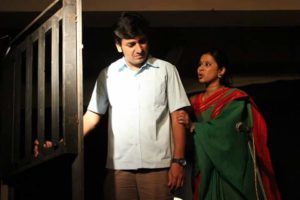 Here is the complete schedule of the festival:-
Sakharam Binder (3 scenes)
Cast: Ajay Mayekar (Dir. Kahe Diya pardes zee Marathi), Dipti Ketkar and Ashwini Kasar (Kamala Colors Marathi)
Katha Vachan
Cast: Nandita Dhuri (Mati Majhe Saubhagyavati and Elizabeth Ekadashi)
Director: Ashitosh Datar
Gidhade (monologue)
Cast: Shreya Budge (Chala Hava Yeu Dya)
Director: Aniket Sane
Pahije Jatiche (3 scenes)
Cast: Ajay Kamble and Omkar Raut
Director: Abhijit Khade (Executive Producer at Colors Marathi)
Olakh (one act play)
Cast: Sachin Deshpande (Honar Sun Mee Hya Gharchi)
Zala Anant Hanumant
Cast: Shilpa Sane and Ankit Mhatre
Date: May 19, 2016
Venue: Bhavans Chwopatty
Time: 7 pm
Entry FREE for all!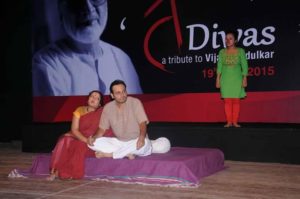 Nana Patekar is gaining tremendous applause for his act in and as Natsamrat and rightly so. But we can't deny the role of V V Shirvadka aka Kusumagraj (original play) Kiran Yadnyopavit and Abhijeet Deshpande's richly creative dialogues in helping this Mahesh Manjrekar film reach such a high level.
Here is a list of some applaud-worthy dialogues from Natsamrat:
- To be or not to be, that is the question. Jagava ki marava, ha ekach sawaal aahe.
- Pratishtha mhanje ek bhaakad oza. Kadhi yogyata nastana milta. Kadhi chook nastana nighun jaata.
- Kuni ghar deta ka? Ghar? Eka toofanala kuni ghar deta ka? Ek toofan bhinti vaachun, chhapra vaachun, manasachya maye vachun, devacha daye vachun, dongra-dongrat hindta aahe. Jithun kuni uthavnar naahin ashi jaga dhoondta aahe. Kuni ghar deta ka re? Ghar?
- Tu nat mhanun bhikarda aahesach. Pan tu maanus mhanun suddha salya neech aahes.
- I kissed him. You are jealous.
- Whisky? Oh that is phuski...
- Vidhata, tu itka kathor ka zalas? Eka bajula jyanna aamhi jamna dila tya aahmala visartaat. Aani dusrya bajula jyani aahmala janma dila toh tu hi aahmala visarto. Mag viskatlelya hadanche he saapde gheune karuna kara, aahmi  therdyani kunacha payavar doka aadhlaycha re?
- Naahin, raagavun kay faayda aahe? Aani radnaar suddha naahin. Mazya dolyat asva jama hovayla laagli tar khi... khi... khile maarun khacha karun taakin pan hya adhai samor mee radnaar naahi.
- Aahmala vaat ta aamhi aai zalo, baap zalo. Khara tar aamhi kunich zalelo nasto. Aamhi fakta jine asto jine.
- Sur mhanto saath de. Diva mhanto vaat de. Unhamadhlya mhataryala fakta tuza haath de.
- Door vha! Door vha, sagla nirarthak aahe. Jo aaplya jaagi thaam pane ubha aahe toh mee aahe. Julius Caesar. Mee aahe Prataprao. Mee Othello. Sudhakar aani Hamlet aani Ganpat Ramchandra Belvalkar, Natsamrat.
Director: Mangesh Kadam
Producers: Suyog Productions
Writer: Shekhar Dhavalikar
Cast: Vikram Gokhale, Reema Lagoo, Jayant Sawarkar and Bageshree Joshirao
Rating: * * * ½
Review By: Keyur Seta
An age old topic ceases to be one if treated in a fresh manner. There isn't anything novel in a tussle between married couple. It has been explored in every storytelling medium – films, plays and TV – since decades.
But writer Shekhar Dhavalikar and director Mangesh Kadam have provided a contemporary touch to the subject in the Marathi play Ke Dil Abhi Bhara Nahin. It's a hilarious saga despite the fact that it deals with an emotional theme.
The story revolves around an aged married couple, Arun (Vikram Gokhale) and Vandana (Reema Lagoo). They share a bittersweet relationship. Their daughter (Bageshree Joshirao) is married in the same city. But their son has migrated to Singapore with his wife and kid for a better opportunity. The daughter is very caring towards them whereas their son doesn't care for them at all.
Vandana isn't happy to stay home alone. So, Arun takes retirement to give her company and help her run the house. He decides to surprise her with the news. Instead, Vandana gives him a surprise by declaring that she has passed a priesthood course and will now be visiting people's houses to carry out priestly services. This incident changes the equation between the couple.
The script is a smart mixture of emotionalism and humor. Although the writer has induced humor throughout the duration, he has made sure the sensitivity isn't affected, even a bit. This is very difficult. The play wouldn't have turned out to be so moving if there was some fault in this aspect. The climax is anybody's guess in such stories. But you are taken by surprise by the creative manner of driving home the point.
The writing coupled with some intelligent direction results in a treat. There are numerous unsaid nuances and antics brought in by the director that play a major role in the end result.
The set designing is simple and realistic but at the same time, rich. With such content, a compromise on this area wouldn't have affected the overall result much. But there is no stone left unturned. As far as lights go, there could have been more creativity or experimentation. The background score is as per the need.
Watching two stalwarts like Vikram Gokhale and Reema Lagoo perform in front of you is a complete treat. It gets even better when they are at their best, which is the case here. Their complementation is terrific too. They score high not only during emotional scenes but also while doing comedy. Not many would have seen Gokhale do it. Seeing them together brings back memories of their pleasing act in the Marathi movie, Anumati.
Jayant Sawarkar, as Arun's friend, provides a lovable act while Bageshree Joshirao is decent.
But among so many positives, there is a downslide too. The play drags a bit in the second half. Probably, the length should have been shorter.
Overall: Ke Dil Abhi Bhara Nahin is an entertaining take on the relationship of an aged couple. With the content and the big names attached with it, it is sure to run for a long time.
Writing: Sanjivani Jadhav
Direction: Sanjivani Jadhav
Cast: Sanjivani Jadhav, Mangesh Kasekar, Manjusha Morgaonkar, Madhu Shinde, Mayur Pawar, Swapnil Sane, Sonal Bhanushali, Vishal Dhawle
Production: Sanjivani Jadhav
Sets: Pradip Rangankar
Rating: * *
Plot: Janai Malwankarin's (Sanjivani Jadhav) husband hasn't returned home after the train blasts that rocked Mumbai years back. However, she is sure her husband is alive and will return. She also continues to live as a married lady. People around her do everything to make her believe that her husband is no more but Malwankarin doesn't budge. So, will her husband return?
Review: Lost-and-found sagas can be entertaining if there are interesting dramatic moments to keep the audience glued. A bunch of unusual and crazy characters act as an added advantage. Although Sanjivani Jadhav's Aavashicha Gho deals with the above concept and also has crazy antics of supporting characters, it falls short due to a weak script.
The play scores in the initial moments when Malwankarin's belief is pitted against other characters. This provides good entertainment due to the constant humour. However, after a point of time, you realize there are a good number of scenes which have nothing much to do with the main plot. Plus, the majority of humour and gags that follow fall flat.
The important scenes where Mama tries to prove to Malwankarin that her husband is dead aren't too appealing and appear lengthy. The twist in the climax does come as a surprise but the explanation provided is far from convincing.
Fortunately, the performance area turns out to be a plus point. Sanjivani Jadhav carries the proceedings well on her shoulders. She is likable in emotional as well as comic scenes. Mangesh Kasekar shows confidence playing Sanjivani's son-in-law. Manjusha Morgaonkar's act as Kasekar's wife is commendable. Madhu Shinde shows maturity in his act. He had the difficult task of impersonating unusual characters.
The surprise package turns out to be Mayur Pawar. His antics provide a good dose of laughter. The rest of the actors Swapnil Sane, Sonal Bhanushali and Vishal Dhawle offer good support.
Overall, Aavashicho Gho is high in performance and direction but low when it comes to writing.
Writer: Madhusudan Kalelkar
Direction: Pradeep Pawar
Production: Rupali R Lakhan, Sanjay Nevrejar
Cast: Shashikant Bhobekar, Pradeep Pawar, Sandeepa Gujjar, Manjusha Morgaonkar, Sujata Tulsankar, Sachin Kadam, Tushar Namaye, Rajeshri Kale
Rating: * * *
Plot: Prabhakar (Shashikant Bhobekar) pretends to be loyal to his wife (Sandeepa Gujjar). His wife is unaware that he is having an affair with a number of girls. Sharmila (Manjusha Morgaonkar) and Mona (Sujata Tulsankar) are two such girls. Prabhakar's uncle, who is no more, has left Rs 50 lakh for him in his will. However, according to the condition put forth by his uncle, Prabhakar can lay his hands on the money only if he is loyal to his wife and living a happily married life.
All hell breaks loose for Prabhakar when one fine day both Sharmila and Mona land up at his house. Now, Prabhakar is in a fix as he has to hide his affairs from both his wife and the advocate. Will Prabhakar succeed or will he be forced to say good bye to his wife as well as the money?
Review: Themes on infidelity, where a husband tries hard to hide his affair, have become common over the years. So, when a comic play is based on such a story it is vital for the writing to be top-notch so as to deliver huge number of rib-tickling moments. Writer Madhusudan Kalelkar and director Pradeep Pawar's Darling Darling provides that for the majority of the duration which surely makes it a one-time watch.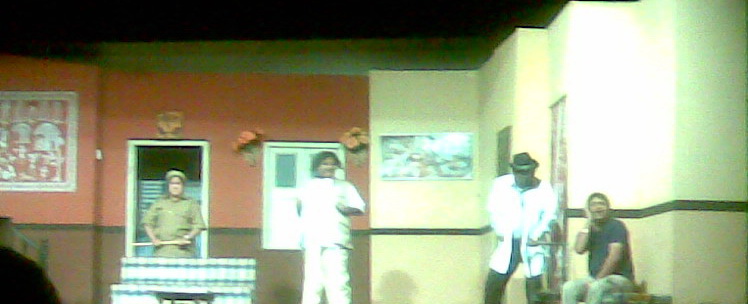 One of the good things about the writing is that the main plot is revealed soon. A large number of comic twists that follow manage to keep your interest alive. Both situational as well as crazy humour is used in abundance; almost in every line. A bunch of crazy characters and their weird traits are one of the major plus points.
Talking of flipsides, the duration should have been shorter, especially in the second half where the proceedings do appear tedious at few portions. Also, some of the lines and acts appear too over-the-top at certain post-interval portions. But since it's a keep-your-brain-aside kind of an entertainer, such points shouldn't be considered as crime.
The play scores high on performances. Shashikant Bhobekar perfectly carries the proceedings on his shoulders with a commendable act. His comic timing is up to the mark. He is aptly supported by Pradeep Pawar who also displays good comic skills. Sandeepa Gujjar as his wife shows maturity. Manjusha Morgaonkar gives a confident performance as Prabhakar's love affair.
Sujata Tulsankar does well too and so does Rajeshri Kale in the role of an overweight cop. But it is Sachin Kadam who turns out to be a surprise package. His crazy antics will have you in splits. Tushar Namaye and actors playing doctor and constable aren't bad either.
Overall, Darling Darling will be liked by those who prefer mindless, over-the-top comedies. It deserves more publicity and promotion.