Writer, director, lyricist and producer Akshay Mishra's Dhappa is a Hindi musical play based in the 1950s era of Hindi cinema. This description will make you expect the drama to play out in a certain way. However, it has a major surprise later on; something you don't expect from a play of this genre.
Produced by Aum Theatre Mumbai, Dhappa takes place in 1950s Mumbai (then Bombay). Kumar (Pavitra Sarkar) is passionate about acting but he is unable to make it big in the industry. Worse, his crass and rude behavior has made him infamous in the media, especially the tabloids.
Kumar stays with his elder sister Iravati (Sharon Chandra) in a bungalow. She is a gifted Kathak dancer but has been unable to fulfill her wish of becoming a professional artiste. She is much more mature than Kumar and is his guiding force as well as critic.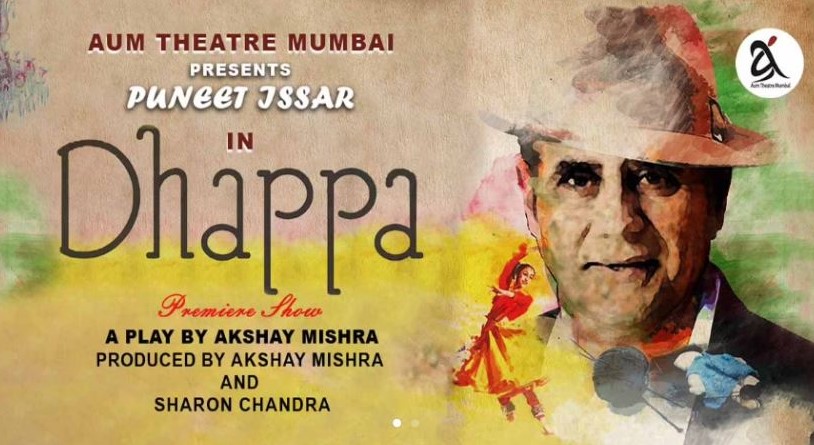 Meanwhile, the successful foreign-returned novelist Shyam (Puneet Issar) is eager to make his first feature film. Despite being obsessed with the idea of his first film, he doesn't like watching new Hindi films. He is introduced to Kumar in an unusual way.
Shyam's idea to make a film gains Kumar's interest as he feels he will cast him in the lead role. However, Kumar is actually interested in making a film based on Kathak with Iravati. But this doesn't go well with Kumar. He plainly declines the offer on behalf of Iravati without even asking her. Is it due to jealously, patriarchy or something else?
Dhappa takes you back to the golden right at the onset with Pankhuri Gangwal's introduction as an anchor.
The story is laced with a lot of drama and conflict and that is played out well on the stage on a majority of the times. Akshay Mishra's fine presentation of various situations as a director is noteworthy. The elaborated scenes between Kumar and Shyam are a mixture of drama and humour. Kumar's conversations with Iravati are more serious and deep.
Dhappa boasts of some rich set designing with minute detailing that brings back the bygone era. The use of lights is creative while the background score adapts to different emotions effortlessly. Ajit Kumar Srivastava, Amit Ranjan Srivastava and Radha Srivastava's musical performances elevate the play.
Pavitra Sarkar succeeds in adding life to the character of Kumar. Along with arrogance, he also displays an undercurrent of vulnerability, which the people outside are unaware of. Sharon Chandra scores well both in her Kathak performances and while playing Iravati. Anuradha Athlekar provides decent support in a role that has more potential later.
The veteran Puneet Issar lives up to his name and gives a mature act, including a long monologue. His character's comparison with Duryodhan in one scene is amusing and smart.
On the flipside, Dhappa needed to be lesser in duration, especially in the second half where the length is felt. The duration of the song performances could have been reduced in order to make it crisper.
This point, however, won't hurt you much when the aforementioned twist takes place. The way in which it is presented has the potential of giving you a shock, even if you manage to predict it.
Writer, director, lyricist and producer: Akshay Mishra
Cast: Puneet Issar, Sharon Chandra, Pavitra Sarkar and Anuradha Athlekar
Singers and musicians: Ajit Kumar Srivastava, Amit Ranjan Srivastava and Radha Srivastava
Background score: Amit Sagar
Lights: Shyam Chavan
Also read: Play Review: Subodh Bhave-starrer Ashrunchi Zali Phule