Writer-director Sanjay Chhel's Khoobsurat (1999) is a light-hearted saga that keeps you entertained. It was about a conman Sanju (Sanjay Dutt), who owes Rs 50 lakh to gangster Jogia Seth (Paresh Rawal), entering the Chaudhary household by faking to be their NRI (non-resident Indian) relative Sanjay Shastri in order to swindle money.
Sanju succeeds in gaining the confidence of the family members, including Shivani (Urmila Matondkar), the daughter of the head of the family Dilip (Om Puri). He solves a lot of their problems, thereby winning the family's hearts.
Like all mainstream Hindi movies, Khoobsurat also ends on a happy note with Sanju getting rid of Jogia and the family members forgiving him. He also finds love in Shivani.
You might have a different opinion on the film. But I am sure a lot of you would agree that the presence of Jatin Kanakia and Ashok Saraf together was a treat. It's the only movie where they acted together, playing Dilip's younger brothers.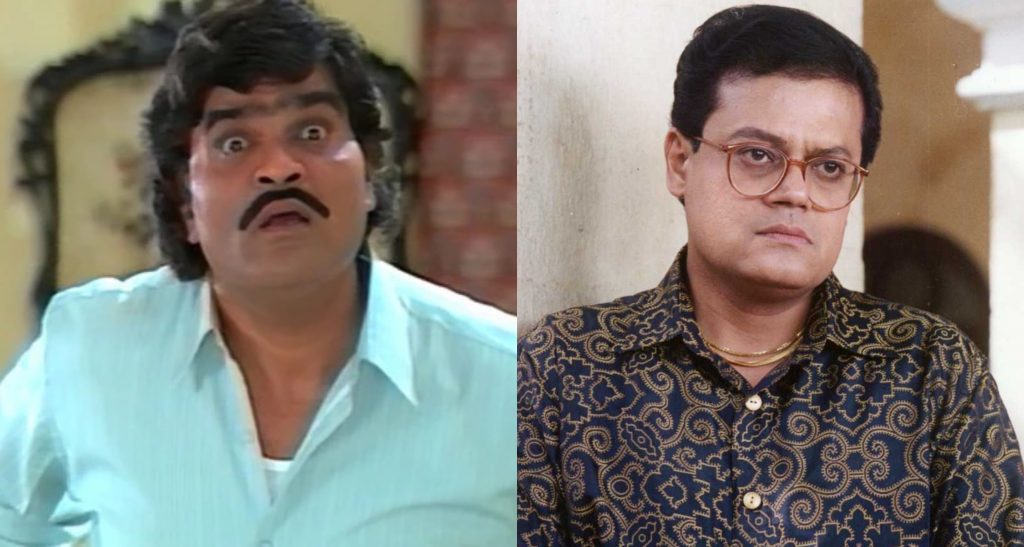 Known the most for his character Keshav Kulkarni in the serial Shrimaan Shrimati, Kanakia has made appearances in Saraf's TV shows Hum Paanch and Don't Worry Ho Jayega. But it's difficult to remember any memorable scene between them from these shows. The scenes where they would have acted together aren't available on YouTube or any other platform.
Plus, their characters weren't related to each other in both the shows like they are in Khoobsurat. Hence, they had a number of scenes together in which their respective comic timing was more than noticeable.
The one scene that takes the cake is when Dinesh Hingu's character visits the family. He expresses his displeasure at Saraf and Kanakia for delaying in coming up with the idea of an advertisement for his underwear product.
As soon as Dutt, Saraf and Kanakia start making out an idea out of thin air, what follows is one epic moment that can be savored repeatedly. Saraf and Kanakia's co-ordination is visible throughout. The humor is born out of Kanakia's habit of forgetting certain words [an idea later used on Suniel Shetty's character in Awara Paagal Deewana, 2002] and Saraf helping him remember while displaying his brand of comic timing.
Hingu's crazy character and its habits also adds to the humour in a large way, especially his performance on 'Thumba Thumba.' It is only recently that I realized that almost the entire scene is taken in a single take.  
Also read: SRK & Ashok SARAF's pair in Yes Boss deserves more appreciation
The scene is on the lines of Neeraj Vohra's memorable Chako scene in Ram Gopal Varma's Daud (1997), which, interestingly, was also written by Chhel and it also featured Dutt [that film also saw Matondkar play Dutt's love interest].
Khoobsurat is also known for bringing a long list of ensemble supporting cast together. Apart from Saraf and Kanakia, it included the likes of Om Puri, Paresh Rawal, Aanjjan Srivastav, Johnny Lever, Farida Jalal, Himani Shivpuri and Supriya Pilgaonkar.
Sadly, Kanakia passed away months before the release of Khoobsurat.
Watch the scene below:
Also read: Rann keeps getting more relevant and that's not a good sign