This year has seen big budget films being rejected by the audience, some even starring superstars like Shah Rukh Khan, Salman Khan and Hrithik Roshan. But at the same time, the audience has helped films with quality content succeed at the box office. Hindi Medium, Bareilly Ki Barfi and Shubh Mangal Saavdhan are some examples.
Now, we can add Amit V Masurkar's Newton in the list. In fact, it deserves a top place as it's by far the best Hindi film of 2017 so far. The makers have tackled a super serious issue of the relevance of voting in a severely naxal prone area in a humorous manner without taking away the main essence.
The film tells the story of Nutan aka Newton (Rajkummar Rao), who starts his government service in Chattisgarh. He is an epitome of honesty and idealism. He gets a chance to handle the voting process in an area deeply hit with Naxal activities. How Newton goes about forms the rest of the story. His biggest thorn in the path is a tough army officer (Pankaj Tripathi).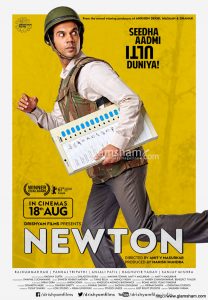 Newton doesn't follow a conventional story pattern. It just provides you a glimpse of an exercise of voting in an area where getting people to vote is almost impossible. We have heard numerous times as to how culture changes in India every 200 kilometers. However, very few of us would have got the opportunity to witness this reality so closely. For city dwellers, this wouldn't appear like our India.
The film presents the ghastly situation in the deeply naxalite areas without taking any sides. It doesn't take long for you to realize the messed up condition of the people living in these areas with hardly any hope of resurrection. It takes a dig at the notion of democracy in such areas of India but doesn't question its importance.
However, all these realistic attacks don't prove heavy whatsoever due to the humorous approach. The film is peppered with humour in almost every situation. It is extremely difficult in terms of the writing and presentation to make sure the main issue doesn't get lost in the laughs. Newton takes care of this perfectly.
The pace drops somewhat in the middle. An act by Tripathi's character is questionable later on. Thankfully, these are minor issues and they don't qualify as proper flaws.
The production design makes the scenario believable, especially the school where elections take place. The camerawork is up to the mark while the background score is as minimal as possible, which goes with the nature of the film.
Rajkummar Rao is going through a terrific phase. His utterly honest and dedicated performance here once again shows that he is one of the finest actors in the country currently. It will be an understatement that he makes Newton believable. You realize that there can't be a person more honest than Newton.
Pankaj Tripath makes his mark felt yet again this year. The actor once again forces you to notice him through his powerful act with shades of dark humour. Anjali Patil made a terrific debut with Prakash Jha's Chakravyuh (2012). She continues the goodness here as she actually appears like a local. Raghuvir Yadav is lovable, as one expects from a veteran artist like him.
Overall: Newton is an example of honest storytelling that makes it the best Hindi film of 2017. Personally, I feel its selection for the Oscars is just. The film saw a huge jump in its box office collections yesterday. With the very positive word-of-mouth, it is sure to turn a safe bet for the producers.
Rating: 4/5
Review by: Keyur Seta
Director: Amit V Masurkar
Producers: Drishyam Films
Writers: Amit V Masurkar and Mayank Tiwari
Cast: Rajkummar Rao, Pankaj Tripathi, Anjali Patil, Raghuvir Yadav
Genre: Drama
Runtime: 107 minutes
Zenobia Mansion is a mono act which is a part of the two mono act segments under the title Atke Bhatke Latke Sur (the other being Noor Mahal).
Zenobia Mansion stars Preeta Mathur, who plays a classical singer Susupta Gupta. She stays in an apartment in Zenobia Mansion in the Pali Hill locality of Bandra, Mumbai. She was born and brought up in Delhi and has recently shifted to Mumbai. Although she has now reached a stage where she is well-versed with the art, her life in Zenobia Mansion is anything but pleasant.
Just above her apartment stays a well-known Bollywood choreographer. His heavy frame coupled with ghungroo creates terrible noise when he practices; sometimes even late night. This doesn't allow Susupta to practice for her concert that could define her future. Sadly, he is not the only disturbance in the building. How will Susupta counter such distractions to prepare for her concert?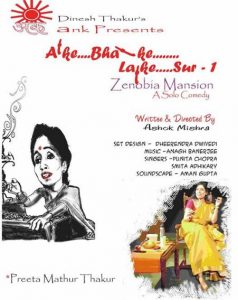 The first and foremost challenge in every mono act is to keep the audience gripped. This isn't easy whatsoever as the writing needs to be engaging and entertaining. This challenge is taken care of for a majority of the duration in Zenobia Mansion. Constantly something or the other keeps taking place.
Although this is a mono act, there are more than a handful of characters in the story. They, obviously, don't come on stage but their presence is felt throughout the duration. Therefore, this is a kind of a mono act that is not limited to the genre. It's just that a bigger punch in the end could have increased the overall impact to some extent.
But quality writing isn't enough by the way in such genre of plays. It needs to be complemented by a good acting performance else the goodness of the writing would not get noticed. Preeta Mathur lives up to the task and gives a fine act. She smartly creates humour out of worry that her character experiences.
The set designing is not too elaborate, which is as per the need. The properties used are simple that suit the middle-class household of the character. The lights are effectively used to produce the desired effect, although there could have been more experiment on this front.
Sound plays a big role here and this aspect is up to the mark. Punita Chopra's soulful vocals enhances the subject.
Overall: Zenobia Mansion is an enjoyable light-hearted monologue.
Review by: Keyur Seta
Writer and Director: Ashok Mishra
Presented by: Dinesh Thakur's ANK
About the venue:
Kreating Charakters is the latest theatre space inaugurated in Mumbai. Zenobia Mansion was the first public performance here that took place few weeks back. It's a nice little cosy place, which is ideal for mono acts and experimental plays. It's seating is much on the lines of Prithvi.