Zenobia Mansion is a mono act which is a part of the two mono act segments under the title Atke Bhatke Latke Sur (the other being Noor Mahal).
Zenobia Mansion stars Preeta Mathur, who plays a classical singer Susupta Gupta. She stays in an apartment in Zenobia Mansion in the Pali Hill locality of Bandra, Mumbai. She was born and brought up in Delhi and has recently shifted to Mumbai. Although she has now reached a stage where she is well-versed with the art, her life in Zenobia Mansion is anything but pleasant.
Just above her apartment stays a well-known Bollywood choreographer. His heavy frame coupled with ghungroo creates terrible noise when he practices; sometimes even late night. This doesn't allow Susupta to practice for her concert that could define her future. Sadly, he is not the only disturbance in the building. How will Susupta counter such distractions to prepare for her concert?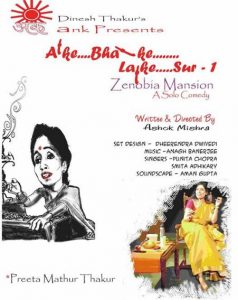 The first and foremost challenge in every mono act is to keep the audience gripped. This isn't easy whatsoever as the writing needs to be engaging and entertaining. This challenge is taken care of for a majority of the duration in Zenobia Mansion. Constantly something or the other keeps taking place.
Although this is a mono act, there are more than a handful of characters in the story. They, obviously, don't come on stage but their presence is felt throughout the duration. Therefore, this is a kind of a mono act that is not limited to the genre. It's just that a bigger punch in the end could have increased the overall impact to some extent.
But quality writing isn't enough by the way in such genre of plays. It needs to be complemented by a good acting performance else the goodness of the writing would not get noticed. Preeta Mathur lives up to the task and gives a fine act. She smartly creates humour out of worry that her character experiences.
The set designing is not too elaborate, which is as per the need. The properties used are simple that suit the middle-class household of the character. The lights are effectively used to produce the desired effect, although there could have been more experiment on this front.
Sound plays a big role here and this aspect is up to the mark. Punita Chopra's soulful vocals enhances the subject.
Overall: Zenobia Mansion is an enjoyable light-hearted monologue.
Review by: Keyur Seta
Writer and Director: Ashok Mishra
Presented by: Dinesh Thakur's ANK
About the venue:
Kreating Charakters is the latest theatre space inaugurated in Mumbai. Zenobia Mansion was the first public performance here that took place few weeks back. It's a nice little cosy place, which is ideal for mono acts and experimental plays. It's seating is much on the lines of Prithvi.