Yari Road in Andheri is a contradictory locality in Mumbai. On the one hand, you find some super-rich businessmen and senior-most employees living in their posh houses. At the same time, it is also home to some rank strugglers from the film industry. They arrive in the city from small towns in large numbers just to get that one big break in films. But only a handful of them get their dreams fulfilled.
Before they make it big, they live literally in poverty. Many stay in crowded rented flats; not knowing whether they would be able to pay next month's rent. They don't have meals. They only eat food. And this includes anything that's cheaply available or easy to make.
But despite living in such conditions and facing rejection time and again, these strugglers never lose hope. This was the mantra for Sumeet also, who finally has a glimmer of hope for making it big in Hindi cinema or Bollywood, as they call it. After years of struggling as an AD (assistant director), he somehow got a chance of directing his first movie at the age of 27 last year.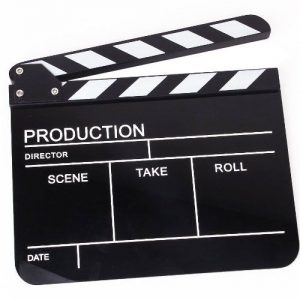 Titled Zameen, his film is based on the sad situation of farmers in Maharashtra and how they are forced to commit suicide due to drought, which increases their financial woes. With such a subject, naturally it was tough convince a producer. Shooting the film in Marathwada was a herculean task, especially with the shoestring budget provided to him since it was a 'non-commercial' subject.
After more than a year of making it, Zameen was just 10 days away from release. Even experienced director feel butterflies in their stomachs, so what to say about a debut filmmaker? Sumeet was someone who appeared calm from outside even if there was a storm inside him, like it was these days.
Such super low-budget films ensure that the makers are left with hardly any funds for proper marketing and promotions. At times, even a mere media screening proves to be harmful to the pockets. This burdens the director and the main cast to come up with cheap or no-cost promotional activities. Their situation is the same as those door-to-door salesmen, who are desperate to sell their product.
After continuously posting about his film on social media platforms, Sumeet somehow managed to organize a small promotional activity at a mall at Yari Road just two days before the release. It was the ideal place to attract the high society crowd, who could afford the abnormal ticket rates at multiplexes.
A handsome man who looked in his early 30s approached Sumeet out of nowhere along with his group of 5-6 friends. He displayed his status through his branded clothes, shoes and sun-glasses, which were tucked in his shirt. After introducing himself as Sunny, he told Sumeet how impressed he was with the trailer of his film.
"It is refreshing to see someone making a film on such important issues in today's times," added Sunny. Sumeet was obviously overjoyed. After an informal chat that lasted for few minutes, Sunny and his friends promised to see Zameen on the weekend. Sumeet urged them to share their honest view with him, to which they agreed.
The interaction with Sunny and his friends infused new hope in Sumeet. But on the day of the release, he became as anxious as he was before. Films falling in the parallel cinema genre with unknown actors hardly get an audience on the opening day. Sumeet knew this well, so he didn't check the online booking scenario on Friday.
But he kept logging in to an online booking website on Saturday morning to know if there is any advance booking for his film. He checked a nearby multiplex and could see only 2-3 seats booked. He encouraged himself by thinking that Sunny and his friends would surely see the film in any of these two days. And hopefully, they would spread the word if they like it.
On Saturday night, Sunny and company did decide to see the film, as promised. Few minutes into the film, Sunny told his friend seated besides him, "Thanks to the digital era, we get such good quality picture even in downloaded films."
By: Keyur Seta
When Alankrita Shrivastava's Lipstick Under My Burkha was refused certification by the Central Board of Film Certification (CBFC) (or popularly known as the censor board) for being 'lady oriented,' I felt this film might have frightened those who give a damn about various desires of women. Now, after watching the film, I am fully convinced about it.
Lipstick Under My Burkha is about the struggle of survival of four women in a highly patriarchal environment in Bhopal. Leela (Aahana Kumra) is in a relationship with a photographer (Vikrant Massey) but her mother has forced her to marry an 'ideal' guy (Vaibbhav Tatwawadi). Rehana (Plabita Borthakur) is from a highly conservative family and has to follow the tradition of burkha. But she is itching to break free from the traditions.
Shirin's (Konkona Sen Sharma) husband (Sushant Singh) works in Saudi Arabia. Whenever he returns home for a short break, he uses her as a sex toy. She has hidden from him the fact that she works as a saleswoman. Usha aka Buaji (Ratna Pathak Shah) is a widow and a landlady of an old building. Her sexual desire has resurfaced as she has started reading an erotic novel, Lipstick Wale Sapne.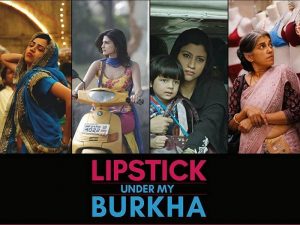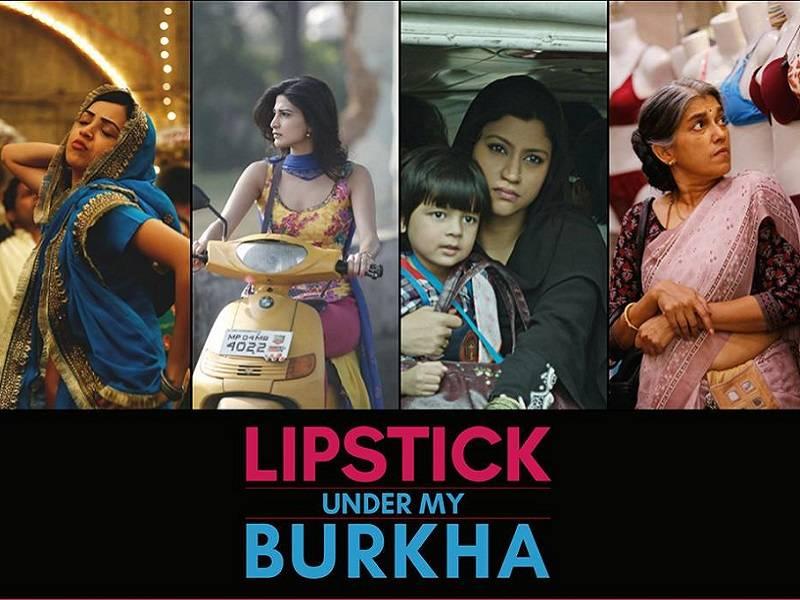 Here's a scene from the film. An engagement ceremony is going on and suddenly the electricity goes off. The girl, who is getting engaged, is found having a quickie with the photographer. This is how the frankness of LUMB can be summed up. Many of you might label her act blasphemous. But there is a deep meaning about not only what she but all the four main characters do in the film.
In other words, the bold sexual content is added not just to stand apart or get noticed. It is a natural part of the script. So, in a way, the film is more real than bold. The manner in which the sexual desire of a 50 plus year old widow is dealt with deserves special mention.
But LUMB is not just about its daring sexual content. It's also an example of an intelligent piece of cinema. The film achieves high standards in writing and presentation. This can be said for the way you get involved in the lives of the four characters. Moreover, their issues about lack of respect and dignity are presented convincingly with minimal use of dialogue and some witty humour.
The film, however, comes with a few hiccups. The criminal act of one character doesn't go with her nature. Although the open-ended climax suits here, it should have produced a bigger bang considering the hard-hitting nature of the film. There are some minor logical errors too.
The performances are a treat. Aahana Kumra packs a punch as someone who doesn't shy away flaunting her desires; be it any. It seems Plabita Borthakur was born to play this role. She is excellent and is a lookout for the future. Ratna Pathak Shah excels in a terribly difficult role. Her portrayal of an old woman feeling sexual hunger isn't cheap or vulgar whatsoever and this is a big achievement.
Konkona Sen Sharma is once again reliable. Vaibbhav Tatwawadi is completely believable as a shy and traditional fiancé. The film also has fine supporting acts from Vikrant Massey, Sonal Jha, Sushant Singh and Shashank Arora.
Overall: Lipstick Under My Burkha is a daring attack on patriarchy and regressive traditions. This is the reason why Pahlaj Nihalani and his friends didn't want you to see this film and this is exactly the reason why it should be seen.
Rating: 3.5/5
Review by: Keyur Seta
Director: Alankrita Shrivastava
Producer: Prakash Jha
Writers: Alankrita Shrivastava, Ghazal Dhaliwal and Suhani Kanwar
Actors: Aahana Kumra, Plabita Borthakur, Konkona Sen Sharma, Ratna Pathak Shah
Genre: Drama
Runtime: 117 minutes
The biggest aim of a horror film is simple. It has to scare the audience. But this simple aim has been hardly fulfilled by Marathi and Hindi cinema. The former hasn't been making horror films. Bollywood, on the other hand, regularly explores this genre but hardly provides a convincing film.
Debutant director Vishal Furia's Lapachhapi fills the much needed void not only through the content but also the technical departments. Finally, we have an impressive horror film!
Lapachhapi is about a couple, Tushar (Vikram Gaikwad) and his pregnant wife Neha (Pooja Sawant). They escape to their driver's native place after Tushar gets beaten up for not being able to repay his creditors. It's a secluded village scattered around sugarcane fields.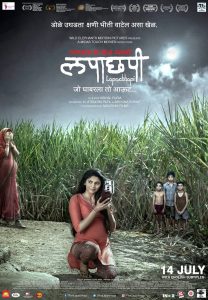 The scary atmosphere is enough to ring an alarm bell inside Neha's head. But Tushar assures her that there's nothing to worry. The driver's wife Tulsa's (Usha Naik) warm hospitality diverts her mind but not for long. At the same time, we are also told the story of a pregnant woman who was forced to abort her unborn child.
Lapachhapi succeeds in taking the audience to a world where creepiness exists in a natural way. The location over here is an altogether different character that brings in a scary feeling throughout. The film has a smooth-flowing screenplay that divulges the tale in a gradual way.
The major reason for the chills is the contemporary manner of filming. It is impressive to see how cinematography (Chandan Kowli) is used to create jump-scare moments which are simply pleasurable! The same purpose is achieved by the editing too. The blackening of the screen abruptly and the smart use of sounds add to the scariness. Thankfully, the film steers clear of using loud noises and screams to create forceful horror.
And who would have thought of using a lullaby to induce horror? The song, sung by Nandini Borkar, is a sweet number with no music. So, how it creates a frightening feeling is something that can be experienced than explained. Its use should have been limited in the second half though.
There are points, however, that stop the film from achieving bigger heights. The main issue here is the lack of proper conviction in the back story, although the message driven out of it is important. On some occasions in the second half, the narrative becomes overindulgent. A conversation between the lead couple in the first half is a slight giveaway of the hidden issue. The final scene, although impressive, is too convenient.
The performances also complement the genre. This act might be the turning point in Pooja Sawant's career. She got a chance to play a challenging lead character and she has made good use of it. But the effect wouldn't have been this high without Usha Naik's act. She shows sympathy and anger with remarkable ease.
Although Vikram Gaikwad isn't present throughout, he is appealing. Dhanashree Khandar gives a fine act without uttering a word.
Overall: Lapachhapi fills the void of horror movies in Marathi cinema and also for the audience in Maharashtra that has relied on Bollywood for this genre of films.
Rating: 3/5
Review by: Keyur Seta
Director: Vishal Furia
Producers: Wild Elephants Motion Picture and Midas Touch Movies Production
Writers: Vishal Furia and Vishal Kapoor
Cast: Pooja Sawant, Usha Naik, Vikram Gaikwad, Dhanashree Khandar
Genre: Horror
Runtime: 111 minutes
The basic plot of debutant director Ravi Udyawar's Mom is eerily similar to Raveena Tandon starrer Maatr: The Mother, which had released in April (read the review of Maatr HERE). Not just the storyline, even few characters are the same.
But as both films were in production at the same time, it would be unfair to accuse Mom of plagiarism (One can argue that Maatr itself was similar to Raveena's own Jaago [2004]).
But there is a huge dissimilarity in both films with regards to its content. The Sridevi starrer is miles ahead of the Raveena starrer. Such is the difference in the making that even if you have seen Maatr (like I have), it won't stop you from appreciating Udyawar's film.
Mom is about Devki Sabharwal (Sridevi), who is a school teacher in Delhi. She stays with her husband, elder daughter Arya (Sajal Ali), younger daughter and husband (Adnan Siddiqui). Arya is Devki's student in school. But she addresses her as 'Mam' even at home due to a reason. Devki tries hard to express her love for Arya but to no avail.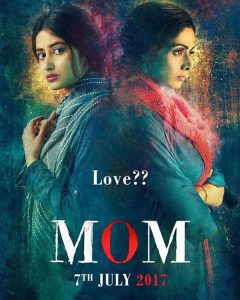 One day, a shocking incident that happens with Arya devastates the family. It also further increases the distance between her and Devki.
Revenge dramas are predictable and Mom is no different. As the audience has been exposed to such storylines since decades, the challenge lies in not making them think about the predictability. Mom does that exceedingly well. You are kept hooked thanks to some creative presentation, watertight script, short yet appealing dialogues, character depth and natural conflict.
Mom stays impressive even during the most important stage – the revenge. The methods of the protagonist don't appear unrealistic. In other words, it is as sensible as absurd Maatr was.
The film has some intelligent and effective use of background score. It is a lesson for those who believe that the only way to add thrill in such thrillers is to use loud sounds. The scene where the rape occurs deserves mention for using the background score to narrate the horrific incident. The camerawork adds to the technical brilliance here.
There was no need to rope in A R Rahman for a film that has no scope or use of songs.
Few points that stop the film from achieving greater heights are few situational errors and the way a simple film is turned complicated during the ending moments. The latter is taken care of by a moving climax though.
The performances are a treat. Sridevi lives the titular character while displaying diverse emotions with ease. She appears smart even during revenge sequences. But her south Indian accent is too noticeable on few occasions. It seems Nawazuddin Siddiqui has a divine power of not doing anything wrong, which goes here too. Adnan Siddiqui, as Sridevi's husband, is a good find.
It is refreshing to see Akshaye Khanna in an important role of which he makes the most. Sajal Ali, as Sridevi's daughter, possesses fine acting skills. Plus, to play a character that goes through such atrocities would have been mentally challenging. Abhimanyu Singh once again shows that he is too underrated and deserves more opportunities. The rest of the bad guys, Pitobash Tripathy and the other two actors are completely believable.
Overall: Mom is well-crafted emotional thriller. Director Ravi Udyawar has proved his tremendous potential in his very first film.
Rating: 3.5/5
Reviewed by: Keyur Seta
Director: Ravi Udyawar
Producers: Boney Kapoor
Writers: Girish Kohli, Ravi Udyawar and Kona Venkat Rao
Cast: Sridevi, Sajal Ali, Nawazuddin Siddiqui, Akshaye Khanna, Adnan Siddiqui
Music: A R Rahman
Genre: Revenge drama
Runtime: 147 minutes