The basic plot of debutant director Ravi Udyawar's Mom is eerily similar to Raveena Tandon starrer Maatr: The Mother, which had released in April (read the review of Maatr HERE). Not just the storyline, even few characters are the same.
But as both films were in production at the same time, it would be unfair to accuse Mom of plagiarism (One can argue that Maatr itself was similar to Raveena's own Jaago [2004]).
But there is a huge dissimilarity in both films with regards to its content. The Sridevi starrer is miles ahead of the Raveena starrer. Such is the difference in the making that even if you have seen Maatr (like I have), it won't stop you from appreciating Udyawar's film.
Mom is about Devki Sabharwal (Sridevi), who is a school teacher in Delhi. She stays with her husband, elder daughter Arya (Sajal Ali), younger daughter and husband (Adnan Siddiqui). Arya is Devki's student in school. But she addresses her as 'Mam' even at home due to a reason. Devki tries hard to express her love for Arya but to no avail.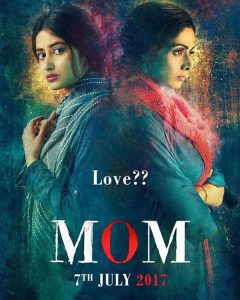 One day, a shocking incident that happens with Arya devastates the family. It also further increases the distance between her and Devki.
Revenge dramas are predictable and Mom is no different. As the audience has been exposed to such storylines since decades, the challenge lies in not making them think about the predictability. Mom does that exceedingly well. You are kept hooked thanks to some creative presentation, watertight script, short yet appealing dialogues, character depth and natural conflict.
Mom stays impressive even during the most important stage – the revenge. The methods of the protagonist don't appear unrealistic. In other words, it is as sensible as absurd Maatr was.
The film has some intelligent and effective use of background score. It is a lesson for those who believe that the only way to add thrill in such thrillers is to use loud sounds. The scene where the rape occurs deserves mention for using the background score to narrate the horrific incident. The camerawork adds to the technical brilliance here.
There was no need to rope in A R Rahman for a film that has no scope or use of songs.
Few points that stop the film from achieving greater heights are few situational errors and the way a simple film is turned complicated during the ending moments. The latter is taken care of by a moving climax though.
The performances are a treat. Sridevi lives the titular character while displaying diverse emotions with ease. She appears smart even during revenge sequences. But her south Indian accent is too noticeable on few occasions. It seems Nawazuddin Siddiqui has a divine power of not doing anything wrong, which goes here too. Adnan Siddiqui, as Sridevi's husband, is a good find.
It is refreshing to see Akshaye Khanna in an important role of which he makes the most. Sajal Ali, as Sridevi's daughter, possesses fine acting skills. Plus, to play a character that goes through such atrocities would have been mentally challenging. Abhimanyu Singh once again shows that he is too underrated and deserves more opportunities. The rest of the bad guys, Pitobash Tripathy and the other two actors are completely believable.
Overall: Mom is well-crafted emotional thriller. Director Ravi Udyawar has proved his tremendous potential in his very first film.
Rating: 3.5/5
Reviewed by: Keyur Seta
Director: Ravi Udyawar
Producers: Boney Kapoor
Writers: Girish Kohli, Ravi Udyawar and Kona Venkat Rao
Cast: Sridevi, Sajal Ali, Nawazuddin Siddiqui, Akshaye Khanna, Adnan Siddiqui
Music: A R Rahman
Genre: Revenge drama
Runtime: 147 minutes