After watching Kabir Khan's 83 and being mighty impressed with it, I felt there should be a sequel to the film based on India's test series victory in Australia in the 2020-21 tour. But 83's box office performance clearly indicated that a second film in the series is practically impossible. But Sony Sports' documentary on the same series Down Underdogs: India's GreaTEST Comeback has fulfilled my wish.
Despite it being a documentary, for cricket lovers this is nothing short of a well-made cricket feature film that makes you go through various emotions while celebrating India's greatest test cricket win overseas.
Choosing this test series as a subject is a fair amount of job already done. It has all the ingredients of a Bollywood movie script, although it's not fiction.
There is an embarrassing downfall right at the start as India gets all out for a paltry 36 in the first test at Adelaide. One can just imagine the team's morale at this point when the whole world spoke about it while the Australian media made merry.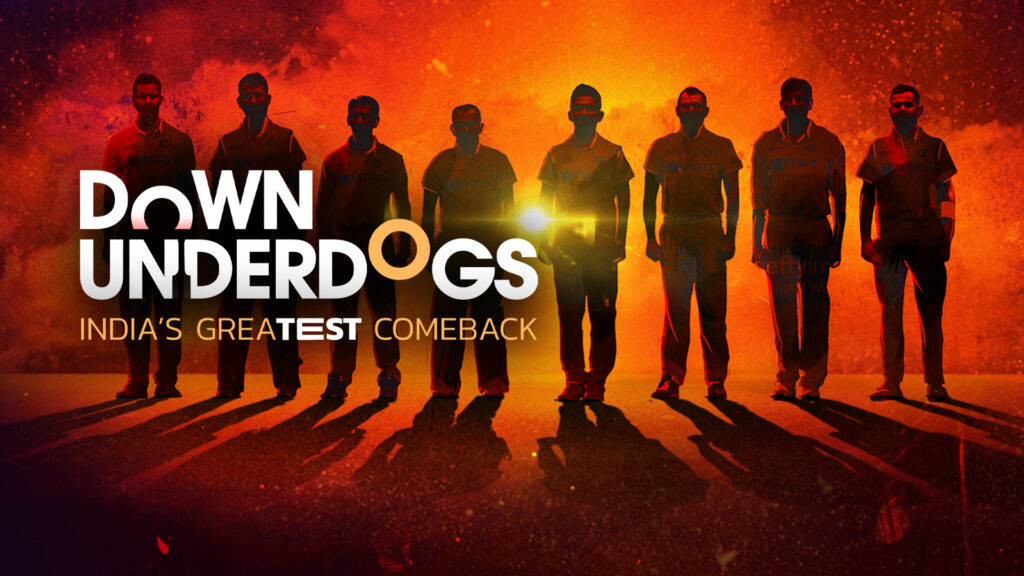 Before the decider fourth test, almost an entire team gets injured [captain Virat Kohli is already gone home after the first test]. The acting captain Ajinkya Rahane has to settle with whoever is available in the team! Debutant Mohammed Siraj's father passes away during the series and he has to play with a heavy heart. Then we have 'villains' in the form of Tim Paine with his taunts, the Australian media and the racial abuse by few Australian spectators.
Isn't this right out of a Bollywood potboiler? And like most of the dramatic movies, we get a tease of the ending part at the start in Down Underdogs as well and then the film then goes into the flashback mode.
Any sort of comeback in the series after being 36 all out would have been heroic but India did much more than that. What makes the experience even memorable is director Wrik Ganguly's narrative and presentation of the series in the four-episodic documentary.
Also read: 83 review – Near flawless recreation of India's cricketing triumph
There is no anchor presiding over in the background. The series is narrated by a long list of cricket experts – Sunil Gavaskar, Harsha Bhogale, Sanjay Manjrekar, Mohammed Siraj, Hanuma Vihari, Michael Clarke, Isa Guha, Nick Knight, Gaurav Kapur, Rajdeep Sardesai, Vivek Razdan, Ayaz Memon, Joy Bhattacharya etc – whose bytes are used in a simple manner that provides a smooth narrative.
A lot of these people are cricket commentators but what they speak in the film is not what they generally do in the commentary box during the matches. The conversation is more fruitful, insightful and exclusive to the film.
It is also noticeable how an atmosphere is created before every match or an important event through the visuals, especially of the particular city where the match is being played. In other words, you just forget that you are watching a documentary.
Also read: Can we stop giving unreal reasons for 83 box office failure?
Down Underdogs ends in an overwhelming and exciting manner when Rishabh Pant hits the winning runs in the fourth test at Gabba, Brisbane. That moment and the scenes that follow provide as much satisfaction as the final moments from feature films like MS Dhoni: The Untold Story and 83.
Rating: 4.5 out of 5
Director: Wrik Ganguly
Platform: Sony LIV