By: Keyur Seta
More than a week ago, we experienced a mix of tragedy and anger when 17 Indian soldiers were martyred at Uri in Jammu and Kashmir during a cross border attack by terrorists belonging to Pakistan. Needless to say, it is infuriating to see such news and the people behind this should be punished. It is high time Pakistan's government, especially Prime Minister Nawaz Sharif come out openly against these cowardly acts and stop giving shelter to 26/11 attack mastermind, Hafeez Saeed.
However, this has given rise to demands from the aam junta that range from weird to extremely outrageous. Here are 6 questions to these Deshbhakts who seem to know everything as to how to handle this situation.
How can you 'demand' war?
We have seen people demanding food, clothing, shelter, justice, elimination of corruption, etc. But these days there has been a rising demand for war. In fact, a lot of people have been threatening the government on the issue. I have also read posts where people are giving deadlines to Indian government to wage a war. Seriously? People should understand that waging a war against a nation is not as simple as Bichhoo gang attacking Eagles gang like they did in Josh (1998).
I remember how some leaders from the Bharatiya Janta Party (BJP), including Prime Minister Narendra Modi and Home Minister Rajnath Singh, went too far in making some sweeping statements of teaching Pakistan a lesson when they were in the opposition. But that doesn't mean you force them to attack Pakistan just because you are against BJP.
I don't have any knowledge on how to deal with the situation. But I personally feel that the way other countries, including Afghanistan and Russia, are openly backing India against Pakistan sponsored terrorists is a positive sign.
Will you join the army?
It is easy to sit in your air-conditioned homes and post messages on social media with hashtags like #AttackPakistan. I have only one question to these people – Will you or any of your family members be joining the army to stop bullets from the other side? Some of you would give daily soap reactions even if asked to take the local train to central suburbs during peak hours. The question also goes out to 'journalists' like Arnab Goswami.
Waging a war would also mean that thousands of our soldiers would lose their lives. A war victory is a result of such extreme sacrifices. If you love our army, why haven't you thought of this point?
Ever considered monetary factor?
Do you even know the amount of money we have spent in war? In 1971, it was Rs 200 crore. In the years to follow, the price of war artillery shot up to such an extent that the 1999 Kargil war cost us a staggering Rs 5000 crore PER WEEK. So, it is anybody's guess as to how much it would cost us in 2016. Are we in a position to spend such unthinkable amount on war? You can imagine the increase in taxes if this happens. See more info HERE.
Will war solve the problem?
We won the 1999 Kargil War. But did it stop cross-border terrorism? It resumed after the war and we are still suffering. So, how can you guarantee that waging a war against Pakistan will solve the problem? More importantly, if the war takes place, our army would be fighting against Pakistan Army. The terrorists won't take part, so finishing them off in the war is out of question. They would resume their activities once the war is over. What difference would it make to them if Pakistan loses the war? They are carrying out guerilla war, for God's sake.
How is Award Wapsi issue related to this?
A message has gone viral on social media and What's App asking where is the Award Wapsi Brigade. Why no awards are returned as a reaction to the Uri attack? Well, the question itself is laughable. People returned their awards to protest against the government for the intolerance by Right Wing and BJP members. Nobody is returning their awards right now because they don't believe our government has any hand in carrying out the attacks. Do you really feel they are behind Uri attacks? Funnily enough, the question is raised by BJP supporters.
How is Fawad Khan responsible?
Imagine this – We boycott Pakistani artists from performing in India to 'send across a message' to Pakistani government. Do you think they would even care? Would they rethink their strategy by this move? The artists are earning here through legal means and it is not against the law to employ Pakistani actors. If you have the guts, try changing the law if you are so sure that it would affect the anti-India forces.
There is a demand for the banning of Ae Dil Hai Mushkil and Raees since the film involves Pakistani actors. This is to remind all those people that Happy Bhag Jayegi is still playing in theatres. Nobody has demanded a ban on this film although it has a Pakistani playing one of the leads. This easily proves how they target only films with big stars to earn their 15 minutes of fame.
How different is your mind than that of the terrorists?
I am quite shocked to see well-educated people demanding to kill each and every Pakistani. What are you smoking these days? Terrorists kill innocents. And in reply, you wish to do the same. So, basically there is no difference in the content of your mind and that of the terrorists. I am not at all sorry to say that you aren't fit to be called human if you feel good to see innocents die. And if you believe each and every person in Pakistan is a terrorist, you seriously need a reality check.
By: Keyur Seta
When we think of biggest Bollywood superstars, we think of Aamir Khan, Shah Rukh Khan and Salman Khan. But now, it is slowly becoming evident that this elite list would be incomplete without the mention of Akshay Kumar. The Khiladi, as he is known, has slowly gained support even of the sensible audience through his choice of films and performances. While doing this, Akshay has also transformed into a versatile actor.
On his 49th Birthday, let's have a look at his road to versatility starting from the start of his career.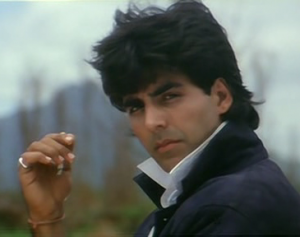 Arrival of Khiladi:
Akshay Kumar entered the Hindi film arena with Mahesh Bhatt's Aaj (1987), where he made an appearance as a Karate instructor. His full-fledged debut happened with Saugandh (1991). But he hasted success for the first time with Abbas-Mustan's Khiladi (1992). He wouldn't have expected then that the title would stay with him for the rest of his career. From here onwards, he came to be known as Bollywood's action hero. While Sunny Deol too shares this title, Akshay is much more than physical fight sequences. He is also known for performing dangerous stunts all by himself.
Funnily enough, after Khiladi, there has been only two occasions where a film with 'Khiladi' in the title has worked for him – Sameer Malkan's Main Khiladi Tu Anari (1994) and David Dhawan's Mr & Mrs Khiladi (1997). Even Khiladi 786, which released when he was an established superstar in 2012, didn't work at the box-office. But somehow, the Khiladi tag is always attached to him with respect.
The romantic phase:
During Akshay's Khiladi phase, very few would have related him with romantic characters. But he ventured in this territory with a considerable amount of success. It all started with Yash Chopra's production, Yeh Dillagi (1994). But nobody would have expected him to appear in Yash Chopra's romantic blockbuster, Dil Toh Pagal Hai (1997). In fact, he also got the honour of singing the title song of the film.
But it was in 2000 that his biggest success as a romantic hero came with Dharmesh Darshan's Dhadkan. His love affair (literally) continued with films like Ek Rishtaa – The Bond Of Love (2001), Haan Maine Bhi Pyaar Kiya (2002), Bewafa (2005), Waqt – The Race Against Time (2005), Jaan-E-Mann (2006), Namastey London (2007), etc.
Interest in conflict:
Akshay also kept getting opportunities to act in the drama genre. These are films about conflict basically, sometimes based on some social issue. He quietly made a mark in this genre in the late 1990s and early 2000s with, Angaaray (1998), Sangharsh (1999), Jaanwar (1999), Ek Rishtaa (2001), etc. But what can be considered a landmark film in this genre, not only for Akshay but for commercial Hindi cinema, was Abbas-Mustan's Aitraaz (2004). Films with such bold themes were unheard of in that era. Perhaps it would have done even better had it not released with Yash Chopra's directorial, Veer-Zaara.
King of comedy:
Although Akshay had displayed his comic timing in a large number of films, his first full-fledged comedy was Priyadarshan's Hera Pheri (2000). But his proper comedy phase began in 2007 when he did Heyy Baby and Welcome. This was followed with Singh Kinng (2008), Kambakkht Ishq (2009), De Dana Dan (2009) and Housefull (2010) in the coming years. Hence, he became the torch bearer of this whacky comedy genre that had emerged then.
Silent patriotism:
In the modern era, Sunny Deol became the king of patriotic films with his hardcore and loud actions films like Gadar – Ek Prem Katha (2001), Indian (2001) and Maa Tujhe Salaam (2002). In the last few years, he has been replaced by Akshay. But there is a huge difference between the patriotism of both actors. While Sunny replied on loud monologues and rhetoric, Akshay is a cool-minded patriot. He creates the effect through his mature acting skills and the content of his films.
This phase arrived simply out-of-the-blue. His hero-centric masala entertainers weren't scoring high at the box-office [(Joker, 2012), (Khiladi 786, 2012), (Once Upon A Time In Mumbai Dobaara, 2013) and (Boss, 2013)], although his thriller Special 26 (2013) succeeded. But A R Murugadoss' Holiday – A Soldier Is Never Off Duty (2014) brought a positive change for him. He acquired an image of patriotic star with, Baby (2015), Gabbar Is Back (2015), Airlift (2016) and last month's Rustom (2016).
These films also succeeded in overtaking some average box-office performers like, It's Entertainment (2014), The Shaukeens (2014), Brothers (2015) and Singh Is Bliing (2015).