By: Keyur Seta
The recently concluded first test match between India and Australia at Chennai will mostly be remembered for Indian captain Mahendra Singh Dhoni's unbelievable knock of 224. But taking nothing away from Dhoni, this feature focuses on India's batting maestro Sachin Tendulkar's 81 in the first innings that rescued India from a ghastly situation.
However, since last 24 years, Sachin's greatness has been described millions of times in so many ways that there are no words or adjectives left in the dictionary to write anything new about it. So I won't go into how wonderfully he played under pressure (like always) because that has been reported everywhere and we all have seen it. Instead, I will focus on the background of the innings which goes back to the start of January this year.
Sachin wasn't having a good run in test cricket during the latter part of 2012. Somehow he was not able to stay long at the crease and was getting bowled most of the times. Apart from the man himself, it was also heartbreaking for us, the fans. Naturally, his bad run also gave a free ticket to these silly news channel anchors to force him to retire. Such a thing can happen only in India where those who mustn't have held a bat in their lives can dictate terms to the best batsmen ever!
Any international player with such experience would have labeled this period as a bad patch without accepting that something is wrong with his game. At the most, he would have practiced in the nets for long hours or taken guidance from his coach.
But Sachin is not 'any international player'. Despite bagging the most number of batting achievements ever, he was humble enough to accept some error in his play. And instead of just resorting to basic techniques to improve his game, he went back to play domestic cricket for Mumbai in the Ranji Trophy. Despite having played at the biggest international platforms, there he was playing in the Ranji Trophy Quarterfinal against Baroda at Mumbai's Wankhede Stadium with the same determination.
Much to his and his admirers' delight and relief, the Master Blaster went on to score a hundred and drove his team out of trouble. This might appear as just a domestic level century but Sachin and his admirers, who had gathered to watch him despite India-Pakistan one dayer being played elsewhere, knew the worth of the innings. A couple of over-enthusiastic fans also ran to the field and, much to everyone's disbelief, touched their God's feet! I and my friends were hugely lucky to witness the scene in front of our eyes.
This was followed by a half century in the semifinal against Services. More than the innings what was more impressive was that a player of Sachin's caliber went to play at a venue which was as poor as a school playground! He was looking great in the final against Saurashtra as well but was run out by fellow batsman Wasim Jaffer. But instead of giving an angry look to Jaffer, Sachin gave him words of encouragement! Who would have done that considering the innings was so important for him and the team? This time, we witnessed the kindest side of a champion, again in front of our eyes. The pep talk helped Jaffer who made a valuable contribution to Mumbai's 40th Ranji triumph.
This isn't all though. Sachin slammed another ton in the Irani Trophy match next week, once again witnessed by us. Sadly, other batsmen threw their wickets which left him stranded on 140. What was noteworthy here was Sachin's disappointment to see Mumbai falling short of Rest Of India's total although he scored a hundred. This proves that even a domestic match means so much to him despite tasting World Cup glory and some memorable test victories!
In this way, he had a series of good scores before the first test against Australia. This helped him and India immensely for the Master Blaster was able to dig the team out of a hole after being 11 for 2!
The reason I find this story fascinating is because Sachin could have opted to rest instead of going back to domestic cricket since there wasn't a chance of him being dropped from the Indian squad. But his actions clearly showed his love for the game and his concern towards his own form despite being at the top of the world for more than 20 years! And his concern didn't deter him to accept his bad run in front of the world and improve his form by going a level below.
What makes Sachin Ramesh Tendulkar so great is not only his supreme talent but also his humble, down to earth nature which can be seen from the example above. It is this lovable human quality that is responsible for him winning hearts not just in India but world over and being an inspiration not just for upcoming cricketers but for people from all walks of life… including me!
By: Keyur Seta
People normally shudder at the mention of struggle. But actor Padmanabh Bind firmly considers struggle as something positive which should even be enjoyed. It is this enjoyment that has helped him taste success as a theatre actor and later gain accolades for his act in his Marathi film debut Shree Partner, based on Va Pu Kale's classic novel Partner. Apart from elaborating the phenomenon of struggle, the actor, in a friendly chat with Halti Chitre, speaks about the publicity scenario in Marathi film industry and the difference he experiences while acting in theatre and films.
(Interview taken from the website Halti Chitre.) (To join us on Facebook, click HERE.)
Tell us about your background and your journey towards your first movie Shree Partner.
Right from my childhood, I have been doing theatre with my father. So I knew I would enter this field. After passing HSC from my hometown Yavatmal, I joined Lalit Kala Kendra in Pune and did my graduation and post-graduation in theatre. Well-known personalities from Marathi theatre were our faculty with the famous playwright Satish Alekar being our HOD. Similarly, we also got guidance from the likes of Vijay Kenkre, Waman Kendra, Jabbar Patel, etc. Aniruddha Khutwad also taught us direction and acting, mostly method acting. He largely molded me as an actor. I have worked in few of his plays including Mahapur, Ek Rikami Baju and Mr Behram.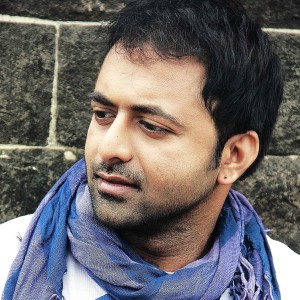 After passing out from LKA and doing an experimental play Enigma with Vibhavari Deshpande, I came to Mumbai and did plays with Manaswini Lata Ravindra. Talking about Shree Partner, the makers had kept auditions but I couldn't attend as I was having a theatre performance simultaneously. But I had mailed my photos and Sameer (Surve) sir knew about me being a theatre artist so he called me for an audition later. After few rounds, I was told I will be playing the character of Shree. What I found positive is that the main hero of a good Marathi movie is chosen through auditions. For that matter, even Shweta (Pagar) was chosen likewise.
How different is working in both mediums - theatre and films?
Apart from the basic difference that people have pointed out, I personally feel working in films is more difficult because you have to continuously be aware about your character's continuity. For example, after shooting the 42nd scene, you directly jump to the 53rd. Likewise; all scenes that need to be shot inside a house are shot together. Whereas, in theatre, you play your entire character at one go. In Shree Partner, we have shown a span of at least 5 years. In these years, a person's outlook and other things definitely change. So an actor needs to calculate this in cinema.
There is a general belief that people with no film background or godfather have to struggle a lot. What is your opinion on this?
I feel everybody has to struggle. You can't avoid it. I just can't understand why people consider struggle as negative. I believe there should be joy in making an effort to prove yourself as that is what struggle is. You have entered this profession because you like it. And if I have to take pains to achieve my goal, I can't consider it negative. That is the real joy! It can only be negative for those who have entered a field without interest. One friend wanted to become a guitarist but due to his father's wish, he did MBA and is now working in a company. For him, it is struggle. Frankly, everyone has to struggle with or without a godfather because it doesn't end at getting your first break. You have to prove yourself. Even Ranbir Kapoor has to. Only the level of struggle is different. Ranbir might get 10 opportunities to prove himself while Padmanabh Bind might get only one. Even Amitabh Bachchan faces struggle to sustain the level he has reached.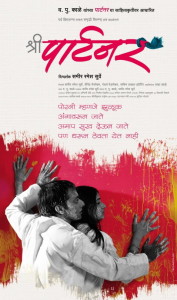 In recent years, a lot of Marathi films are receiving great critical acclaim but are not making it very big at the box office regularly. What according to you is the reason for this?
I personally feel we lag behind in publicity. I am not talking about innovative publicity and not the normal publicity. What is important is that if people are not reaching out to us, we should reach out to them in a different, creative manner. During Shree Partner, we created bookmarks and distributed them in libraries in various cities and asked them to hand it over to the members. Even the makers of Masala started their publicity campaign in Nagpur in an innovative way and it worked. So if you publicize your film innovatively, people will surely watch.
Another important thing is that people in a city like Mumbai are more interested in Hindi films. Even my friends in Yavatmal will compulsorily watch Salman Khan's films. But what is surprising is that good Marathi films don't even release in Yavatmal! Apart from Kaksparsh, no other good Marathi film has released there since last year despite it being a city. Even own film wasn't released there! In such scenario, how will people develop interest in Marathi films?
What is your dream role?
Whichever character I will play next will be my dream role. Acting in films and theatre gives me immense pleasure and I feel charged up. So every character I play, no matter big or small, is a dream role.
What next after Shree Partner?
I am in talks with few makers and I have read few scripts but nothing is decided officially. So I can't speak anything now. Even during Shree Partner, I didn't reveal anything while I was shooting for it. Until and unless a movie is dubbed and released you can't say anything about Marathi films. It can be scrapped at any moment, not necessarily due to financial reasons. Recently I read a survey that out of all films made in India, only 20% see a release! But I would like to say I am doing a Marathi play based on The Lover by the late Herold Pinter. I will act as well as direct it.
Director: Abhishek Kapoor
Producers: UTV Spot Boy
Writers: Chetan Bhagat, Abhishek Kapoor, Pubali Chaudhuri and Supratik Sen
Cast: Sushant Singh Rajput, Amit Sadh, Raj Kumar Yadav, Amrita Puri
Music: Amit Trivedi
Genre: Drama
Rating: * * ½
Plot: In their early twenties, Ishaan (Sushant Singh Rajput), Govind (Raj Kumar Yadav) and Omi (Amit Sadh) are the best of friends living in Ahmedabad in the early 2000s. After a lot of struggle, they succeed in starting a sports equipment shop and a cricket academy. The film tells the story of their dreams and how their friendship is affected by the Gujarat earthquake and riots.
Review: There have been numerous successful Hindi films about male bonding between three friends. Films like Dil Chahta Hai, Rock On! and 3 Idiots are the names that come to our minds instantly when we think of the subject. But despite these many films made on the same genre, Abhishek Kapoor's Kai Po Che has a unique freshness born out of the simplicity of the characters and the narrative style. But unfortunately, a not-so-perfect second half and disappointing climax makes sure the film falls into just an average category.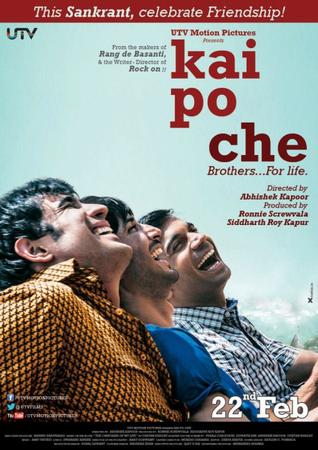 The first few minutes of the film are enough to make you realize that any common man from India would be able to relate with the characters and the story. The life of three friends and their dreams might be ordinary but it is this ordinariness that is captured and written so beautifully that it makes you root for them instantly when they desperately try to start a business or when they try to improve an adolescent's. Kapoor has proved that even normal, everyday scenes can be amusing. This is only the analysis of the first half though.
The events and incidents in the second half do keep you engrossed but there is no proper focus in the story. But what provides a big disappointment is the final culmination which is unacceptable and, in pure terms, just laughable (not revealing anything to avoid spoilers). This could have worked in a book but not quite in a movie. Even the title appears questionable after the climax. Kai Po Che is generally a triumphant expression but looking at the final outcome, it just turns out to be a joke!
Composer Amit Trivedi has once again complemented the subject well. His tracks 'Shubharamh' and 'Manja' are impressive. Anay Goswami has wonderfully managed to capture simple, everyday scenes artistically. The background music (Hitesh Sonik) and editing (Deepa Bhatia) also suit the simple subject.
Sushant Singh makes a remarkable debut. He displays perfect acting skills with confidence. Surely an actor to look out for! This performance will add infuse plenty of new life into Amit Sadh's career. He had the difficult task of playing two different characters but he manages both with perfection. After doing very well in Ragini MMS, Shaitan and Gangs Of Wasseypur, Raj Kumar Yadav pulls off a brilliant act this time.
The kid playing the role of Ali deserves plenty of appreciation too. He doesn't get to mouth a lot of lines and hence he does the challenging task of speaking through expressions. Amrita Puri is not bad while the rest of the supporting actors play their parts very well.
Overall, Kai Po Che is a decent effort which falls short of being superlative, mostly due to the final moments. It has had a good opening which, coupled with the hype, will fetch good numbers for the producers.
Director: Abhishek Kapoor
Producers: UTV Spot Boy
Writers: Chetan Bhagat, Abhishek Kapoor, Pubali Chaudhuri and Supratik Sen
Cast: Sushant Singh Rajput, Amit Sadh, Raj Kumar Yadav, Amrita Puri
Music: Amit Trivedi
Genre: Drama
Release Date: February 22, 2013
Analysis:
Star Value: With a debutant Sushant Singh Rajput as the main lead and lesser known actors like Amit Sadh and Raj Kumar Yadav completing the main cast, the star value for Kai Po Che is obviously low. However, the fact that the film is based on Chetan Bhagat's widely popular novel 3 Mistakes Of My Life adds star value to the film.  
Hype: The promos of the movie have managed to impress and created a lot of excitement. The simplicity and bonding between the friends has mainly made that possible apart from Bhagat's stamp.
Music: The song 'Shubharambh' and 'Manja' have gained popularity. They might become super famous if the film does well.
Prediction:
Kai Po Che will get a positive opening at the box office. Due to the genre, the film has a better chance in the multiplexes of the metros. But the business will surely be sky high in the state of Gujarat in both single screens and multiplexes since the story is based over there. One should note that this is not the type of film that tries to cash in on the first three days of the release. It will keep climbing the ladder of success slowly and will stay in theatres for a long duration, providing it manages to impress.

Director: Avdhoot Gupte
Producers: Ekvira Productions, A Square Entertainment and Black Gold Films
Writer: Avdhoot Gupte
Cast: Abhijeet Khandkekar, Prarthana Behere, Vikram Gokhale
Music: Avdhoot Gupte
Genre: Romance
Rating: * * ½
Story Outline: In order to prove to someone that a Marathi person can be a successful businessman outside Maharashtra and Maharashtrian food can impress even non-Maharashtrians, Sayaji Nimbalkar (Abhijeet Khandkekar) starts a dhaba in Bhatinda (Punjab) named Jai Maharashtra Dhaba, Bhatinda.
Within a year, his dhaba crosses great levels of success as the Maharashtrian cuisine makes the local Punjabis go crazy. In the meantime, Sayaji also falls for a Punjabi girl Jaspinder Kaur (Prarthana Behere). But is the couple destined to be together?
(For more reviews, news and information on Marathi Cinema, click HERE.) (To follow us on FACEBOOK, click HERE.)
Review: Avdhoot Gupte's unique idea of mixing Maharashtrian and Punjabi culture with the use of food in Jai Maharashtra Dhaba, Bhatinda should be lauded for it gives rise to a number of smile-producing moments. But the overall satisfaction derived from the dish isn't as mouth-watering as expected due to a not-so-perfect writing among other things.
From the positives, the film hits bulls-eye right at the start in mixing the two cultures with the song 'Bolato Jithe Chaughada'. Likewise, the rest of the songs are also a very intelligent blend of Marathi and Punjabi music which is a remarkable achievement by Nilesh Moharir. Narration-wise, the first half makes for a decent watch, mostly due to some scenes between the lead pair and Sayaji's warm relationship with the locals of Bhatinda. The short length of this part works well too.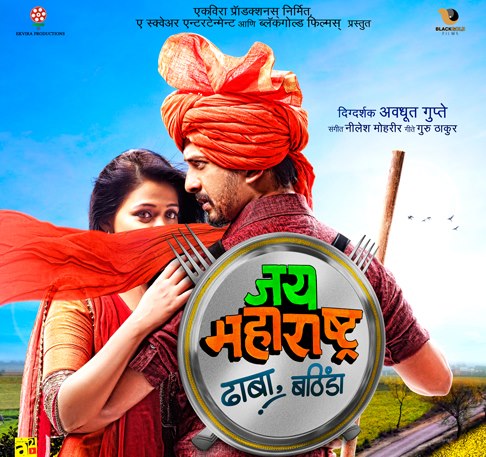 Now, onto some flipsides. The very vital moment of the protagonist seeing the leading lady for the first time and falling in love doesn't appeal much since he behaves more like a flirt than a lover boy. There is also a lack of proper aim or focus in the second half due to few sub-plots, including the forceful humorous track of Sayaji's sardar friend. The pro-Marathi heroic dialogues don't produce the kind of impact that was needed. Lastly, the all-important twist, although unpredictable and heart-warming, doesn't convince entirely.
The film also doesn't appear like a love story between a Mahrashtrian and a Punjabi because firstly, Behere doesn't look like a Punjabi. And since we have seen her in Marathi serials and the fact that in the movie she is shown as someone speaking Marathi flawlessly also doesn't help.
As mentioned above, the fusion music is one of the biggest strong points with all songs making a mark. The technical areas (cinematography, background score and editing) are praiseworthy too.
The performances of the debutant lead pair add to the plus points. Abhijeet Khandkekar succeeds in the difficult task of playing a tough guy and a lover boy simultaneously in his first film. Prarthana Behere also displays the acting skills and cuteness needed by her character. But there is still scope for improvement for both.
Although the sardar actor playing Abhijeet's friend provides some laughter, he is over-the-top on a number of occasions. Veteran actor Vikram Gokhale plays his part well but he doesn't get much scope. The rest of the supporting actors are adequate.
Overall, Jai Maharashtra Dhaba, Bhatinda can be seen only because of the fusion of Marathi and Punjabi culture. It requires some rapid word-of-mouth to succeed at the box office.
Director: Neeraj Pandey
Producers: Wide Frame Films, Viacom 18 Motion Pictures and A Friday Filmworks
Writer: Neeraj Pandey
Cast: Akshay Kumar, Anupam Kher, Manoj Bajpayee, Jimmy Shergill, Kishore Kadam, Rajesh Singh, Divya Dutta, Kajal Agarwal
Music: M M Kreem and Himesh Reshammiya
Genre: Thriller
Release Date: February 8, 2013
Analysis:
Star Value: Akshay Kumar is one of the biggest superstars ever in Hindi cinema. This fact, coupled with the presence of class performers like Anupam Kher and Manoj Bajpayee ensures that the star value for Special 26 is high.
Hype: The promos of the movie have created good excitement and eagerness to see the film. The issue about real versus fake CBI officers has gone down well with the audience along with the fact that the film is based on an unreported crime of the 1987 era. And since this is Neeraj Pandey's first film after the classic A Wednesday has added on to the hype.
Music: There is no scope for music in such genre of films. 'Dhar Pakad' is the only song that is somewhat known.
Prediction:
Special 26 will get a good opening at the box office. However, unlike most Akshay starrers of recent years, this film won't get a rocket start at the ticket window due to the genre. Hence, it won't rely on the collections of the first weekend. This is one of those content based films which slowly climb up the box office ladder due to positive word of mouth. Of course, this would happen only if it manages to impress with the content in the initial days. Its chances rely both in single screens and multiplexes.

The fact that Swami Vivekananda's 150th Birth Anniversary is one of the most important occasions for the country can be seen from the numerous celebrations and enlightenment programs taking place not only all over India but world over. However, when every state in India celebrated the historic event, government of Maharashtra gave a cold shoulder to it citing lack of funds!
As shocking and shameful as it sounds, the incident was revealed by Swami Sarvalokananda (Adhyaksha, Ramkrishna Math Mumbai) during the 151st Janma Tithi celebrations of Swami Vivekananda at Ramkrishna Math and Mission Mumbai on Sunday. "I personally approached Maharashtra Government. They asked us to prepare a budget for it. We did the hard work of preparing it and submitted it to them. But for six months we didn't hear anything from them," he said.
He further says that he again approached them but they just received fake assurances for several months. "Then I was told that the Chief Minister and Deputy Chief Minister have rejected the proposal citing shortage of funds," he says. Naturally, the people gathered at the venue started exclaiming "Shame, shame."
According to him, along with several others, this is a matter of shame when governments from several states in India have celebrated the event and spread the message of Swami Vivekananda. This is more ironical when we take into account that the great patriot monk had visited Mumbai (then Bombay) thrice in his lifetime. "The city is blessed thrice by Swamiji. In fact, he left for the historic Parliament of Religions in Chicago from Mumbai's naval port," said Swami Sarvalokananda.
Leader of opposition Vinod Tawde, who was the chief guest at the event, revealed how he too tried in vain to persuade the government in doing something for the event. "I called the Chief Minister regarding this but he always kept delaying it," said Tawde during his electrifying and enlightening address to the people gathered in large numbers.
Earlier in the day, Tawde, Swami Sarvalokananda and other prominent personalities unveiled the opening of Swami Vivekananda Chowk, just outside the lane of the Math. The day was also celebrated in various ways at the Mumbai Math and all over India.