By: Keyur Seta
The deaths and casualties in the Nepal Earthquake are continuing to go high. According to latest reports, the death toll has now surpassed 4000 with many thousands injured. So, naturally, the help needed should be directly proportional to the magnanimity of the tragedy.
The Indian Army and a whole lot of social groups and independent volunteers are selflessly fighting day in and day out to repair the damage and help out those who are injured and stranded. The Government of India too is taking special care to make sure all the help is provided during Nepal's hour of crisis.
But when the intensity of the crisis is so high, no help is enough. Hence, it becomes our moral responsibility to make whatever little effort to restore the situation in Nepal. If we can't visit the affected areas personally, we can surely be there in spirit by donating as much amount as we can.
You can make a contribution to Nepal Earthquake Relief Fund in the following ways:-
The headquarters of Ramakrishna Mission at Belur Math in West Bengal are collecting funds for the Nepal Earthquake.
Phone: (91-33-) 2654-1144/1180/5391/8494/9581/9681
Email: mail@belurmath.org
Save The Children, an NGO, is providing help to the many children affected by the earthquake.
Phone: (Toll Free) 1.800.728.3843 (8:00am-5:00pm EST, M-F)
Online Donation: Click HERE
International Association for Human Values (IAHV) is also collecting funds for the tragedy.
Online Donation: http://www.iahv.org/in-en/nepal-earthquake-relief/
Friends Service Council Nepal is an organization situated in Kathmandu, Nepal which is working with respect to the tragedy.
Contact Online: http://www.fscnepal.org/contact-us/
Phone: +977-1-5201497
Email: fsc@wlink.com.np
Goonj, an Indian NGO, too is working for the rehabilitation of the victims.
Contact online: http://goonj.org/
Phone: 011 – 41611244 & 9810032527
Facebook is also doing its bit in collection fund for the tragedy.
Visit FB's Nepal tragedy page here - https://www.facebook.com/nepalearthquakesupport
But what about the long run?
But an ideal way to help in the long run will be by making sure such devastating tragedies never take place ever. This might sound outrageous to some but I feel it is futile to blame Mother Nature for this because such tragedies are an outcome of our own greed. We have destroyed forest after forest and many other aspects of nature in the name of development and progress. Towers after towers are created without paying heed to nature.
Any development at the cost of nature or ecology is not development. It is downright destruction or violence. And since every action has a reaction, incidents like Nepal earthquake, Kashmir and Uttarakhand floods and other such incidents keep happening and, unfortunately, will continue so, if we don't do anything in this regard.
But, you might ask, what can we do? Well, there is plenty we can do to, at least, make sure the condition of our planet isn't worsened further.
Here are some ideas:
- Plant trees or saplings anywhere and everywhere you can.
- Avoid Firecrackers as they violently pollute the environment at an enormous level. Parents themselves should sensitize their kids about it.
- Minimize the use of cars. If you are young and fit, use as much of public transport as possible. Many of you might label me crazy but there is no other alternative to reduce traffic and pollution or to, at least, make sure it doesn't increase further. The traffic and pollution has already crossed insane levels. Use carpooling to the maximum. Metro Rail is a major boon in this regard.
- But the above option is possible only if our government and authorities improve the condition and efficiency of our public transport systems. There should be more local trains with more bogies. Some years ago, a very lengthy B.E.S.T bus used to run on Mumbai roads. But they have stopped it for reasons best known to them. Such buses will prove to be a major boost.
- Ban deforestation or cutting trees completely. We have destroyed forests and trees enough. We should follow the policy of not a single tree being allowed to cut down.
- Make laws to minimize creation of new industries. Preserving nature is more important than making new products and inventions.
- Make sure the industrial waste is properly decomposed and not dumped carelessly into the sea or rivers.
- Ban polluting or littering into rivers even at a micro level.
Only resorting to the above and many other options will help in sustaining Mother Nature. If we ignore these measures, we should be ready for more massive earthquakes, floods, etc. The equation is simple – If we destroy nature, we can't expect nature to bear it lying down. This is Nature's Law and not the man-made judicial laws, so it can't be tweaked as per our whims and fancies.
I recently read on Facebook – Nature doesn't need us. We need nature.
Author: Shubha Vilas
Rating: * * * *
Review By: Keyur Seta
Shattered Dreams is the second book in the six part series Ramayana: The Game Of Life by author Shubha Vilas. The first book, Rise Of The Sun Prince, succeeded in narrating the early childhood of Lord Rama in an enchanting manner (read its review HERE). The author has continued the good work in the second book. This time, Vilas has also overcome the challenge of presenting sad and serious turn of events with so much optimism and pleasantness.
The story commences when Rama is 25 years old. He is married to Sita while Laxmana is married to Urmila. Ayodhya is going through its happiest period until King Dasharata, Rama's father, starts seeing disturbing dreams. Worried and anxious, Dasharata hurriedly organizes Rama's coronation as the new king of Ayodhya.
However, Dasharata's dream is shattered after Rama, Sita and Laxmana are forced to go into exile due to the trick played by the evil Kaikeyi, who dreams of seeing his son Bharata on the throne of Ayodhya. Will Dasharata be able to bear separation from his beloved Rama? Will Bharata accept the throne presented to him through treachery?
Rama's exile is looked upon as a sad incident and rightly so. But the author has presented the episode and its consequences in a positive and hopeful light. Of course, the reader does feel sad by the turn of events but Vilas' idea of looking at the positives even in a super tragic situation moves your heart.
The character traits and wisdom of Rama, Sita and Laxmana largely help in this. But in the end, you are most awestruck by the wisdom and humility of Bharata. Normally, Ramayana is more about the greatness of the divine couple and their servant. But after reading Shattered Dreams, the youth, its target audience, will consider Bharata equally great. His love, respect and devotion for Rama will overwhelm you long after finishing the book.
Talking about the language, Vilas has continued from where he left in the first book. It is a smart example of rich language that resorts to utter simplicity. This ensures that the book will be an easy read for English literature lovers as well as for those not much into English reading. Except for few dragged portions before the exile, the pace is fast throughout. The gripping drama peppered on every situation makes sure you are always glued.
Now, some minor issues. Going by the story and events focused, the book shouldn't have been 387 pages long. The theory that a woman should worship her husband and should always be dependent on him shouldn't have been glorified. The series is written for today's youth, so such regressive, patriarchal ideas should at least have been limited. The words of wisdom at the end of the page are inspiring and enlightening. However, on few occasions, that portion is too long.
Overall: Shattered Dreams is a must read for mythological lovers, especially if you have read the first book in the series. It provokes anticipation for the remaining parts.
Details:
Publishers: Jaico Books
Genre: Mythology
Pages: 387
Price: Rs 350 (available at discount on Flipkart)
By: Keyur Seta
The support for Net Neutrality is slowly but surely spreading far and wide around the country. This isn't surprising because it will be absolutely terrible and capitalistic if TRAI and service providers have their way. However, there are still a large number of netizens who are unaware about the whole issue and the reason for such an uproar against it.
So, here is a simple explanation of the same for them:-
How did everything begin?
Telecom Regulatory Authority of India (TRAI) presented a document on March 27, which proposed that telecom companies would be given a chance to make extra money out of 21 apps like Skype, Facebook Messenger, Whats App, Viber, etc. Basically, this contains all apps through which we chat, buy products and send photos, videos and audio.
The reason for such a proposal, according to TRAI, is that mobile companies are facing huge losses due to these aforementioned apps as people are able to talk, chat and send and receive data for free. For example, using Whats App has cut down on revenue earned through SMS and profit earned through ISD calls has cut down due to Skype and so on.
What will happen if this proposal is passed?
- Telecom operators will categorize internet into different segments. You will have to pay for every segment, apart from paying your normal internet service charge.
- If your telecom operator fixes a deal with an online retailer company X, you would be able to access the website of company X with good speed without any issues. However, this will also mean that the website of another retailer company Y might load slowly since it doesn't have a deal with your telecom operator. Hence, as the website of company Y will open slowly or maybe won't open, you will be forced to shop from company X.
- If a new emerging player joins the market, it will be next to impossible for him/her to run business successfully since big players will crush him/her due to their deal with the telecom operator.
- Airtel had recently come up with Airtel Zero service through which it tied up with FlipKart. Through this deal, the public won't have to pay for the internet. Airtel will receive money from FlipKart. But if you try to use other services like Amazon or SnapDeal, you will have to pay. But due to the huge public outrage, FlipKart has backed out of Airtel Zero plan.
What is Net Neutrality?
Net Neutrality is the freedom to go to any website or use any online service without any restrictions whatsoever. It is a freedom that is provided to netizens and it should remain with them come what may!
What you can do to keep Net Neutrality alive?
- TRAI has put this matter up on their website and has asked for people's responses. However, it is a barbaric 118 pages long document that is hidden in small font on their home page and that too with a title as 'Consultancy Paper for Regulatory Framework for OTT (Over the top) Services'. Now, how would a user know that this Sanjay Leela Bhansali-like lengthy title is asking for your response on Net Neutrality? Even if s/he realizes it, do you expect that person to read 118 pages of technical stuff?
- But there are some truly kind souls who have made things terribly easy for us. They have come together and created the website - http://www.savetheinternet.in/. Just visit the site and click on the tab 'Respond to TRAI now' and you can send a mail to TRAI demanding Net Neutrality. It takes hardly a minute! Seriously, may God bless them!
- Keep spreading the word about Net Neutrality on social media, blogs, mass mailers, general discussions, etc. So go ahead please, soon!
Rating: * * * *
By: Keyur Seta
Courts have had a long relationship with Indian films. But mostly the court proceedings shown in our movie are no way near to reality. It is only since recent times that films like No One Killed Jessica (2011), Jolly LLB (2013) and Shahid (2013) have depicted court scenes as close to reality as possible.
But director Chaitanya Tamhane's Marathi movie Court depicts the judicial process with never-seen-before reality. However, at the same time, the film stays far away from being a documentary or docu-drama. It focuses more on the dark humorous side while raising several serious questions about our judiciary and law and order procedure.
The film revolves around Narayan Kamble (Vira Sathidar), a senior citizen from Mumbai working as a tution teacher. As a passion, he also writes and performs folk songs that depict the sorry tale of laborers and menial workers. Once, while performing, he is arrested for allegedly writing and performing a song that instigated a menial worker to commit suicide. Lawyer Vinay Vora (Vivek Gomber) fights Kamble's case. Is Kamble Guilty?
Court is not a film in conventional sense. It is an honest presentation of a court case in an actual form. The arguments inside the courtroom, the casual conversations and the everyday, routine scenes appear right out of reality. There is also no background music whatsoever while the camerawork goes with the realistic genre.
However, this doesn't make for a tedious watch as there is continuous dark humor. In fact, the film proves that you don't need any melodrama to make court proceedings interesting. As I have witnessed court proceedings, I too agree that the real courtroom scenes have plenty of potential for entertainment, especially if it is Sessions Court, which is the case in the film.
But amidst the humor, the film completely succeeds in its motto of presenting the sorry and, at times, disturbing realities of our judiciary system. It also hints at the removal of Victorian laws that are completely irrelevant in today's era.
Court has a questionable aspect though. There is too much footage given to the personal lives of both lawyers and the judge. Although these parts are also entertaining and meaningful in a way, few moments appear unnecessary, especially the way the film is dragged in the last few minutes. Thankfully, this point doesn't lower your satisfaction much.
The performances fully complement the subject. It is difficult to believe that Narayam Kamble is not a real person and is just a fictional character. This is simply because of Vira Sathidar's excellently realistic performance. Vivek Gomber isn't behind though. He too perfectly gets into the skin of a Gujarati defense lawyer. Pradeep Joshi, as the judge, and Geetanjali Kulkarni, as the Public Prosecutor, render brilliant acts too. Shirish Pawar shines in a supporting role.
Overall: Court is a daringly realistic saga that is also high on entertainment. The film has received the National Award for Best Feature Film and a number of other international awards and rightly so. It deserves positive word-of-mouth to make a good impact at the box office.
Director: Chaitanya Tamhane
Producer: Vivek Gomber
Writer: Chaitanya Tamhane
Actors: Vira Sathidar, Vivek Gomber, Pradeep Joshi, Geetanjali Kulkarni
By: Keyur Seta
Despite the continuous crooked efforts by the enemies and a section of the media, the Aam Aadmi Party (AAP) managed to win 67 out of the 70 seats in the Delhi Elections, which is an unthinkable feat. Hence, they became politically invincible. But when you are unbreakable, it only means you can't be broken by an external force. No matter how strong you are, you can't escape an internal collapse.
This, unfortunately, has come true for AAP. The party's ugly internal war between Yogendra Yadav-Prashant Bhushan and Arvind Kejriwal & Company has thrown the party off from the high moral ground it had created for itself. It has shown that AAP hasn't taken time in becoming like any other political party, something it has always tried to prove otherwise.
It is always difficult to take sides in such tussles. But the events that led to this fight and Kejriwal's reactions to it compel me to support Yadav and Bhushan. They might be blamed for making the fight public by going directly to the media. But the points raised by them are absolutely logical and give serious indications of the throwing away of principles by AAP High Command (Kejriwal).
I have explained myself through the following points:-
Questionable Candidates: Yadav and Bhushan's leaked emails show the list of people with dubious past record being included in AAP without any issue. They had even provided details of their past, which showed they indulged in hooliganism, communalism and some other criminal activities. Most of these people are ex-members of other parties.
I have checked the records of the people in the list (listed HERE) and I can say with certainty that Yadav and Bhushan's concerns surely make sense. This obviously means that the party threw away its basic principles just to get people that can earn votes even if they have a criminal or dubious record. Haven't Kejriwal and other prominent AAP members time and again criticized other parties for resorting to this very practice?
Sting Affair: Kejriwal's sting operation where he is speaking of breaking Congress gave further indications. One can argue that he isn't heard given money, ministerial posts or any kind of favors, which is true. But he is clearly urging his party member to break (todo) Congress' tally of MLAs so that they can support AAP in forming the government in Delhi.
Plus, Kumar Vishwas' cunningly reacted to the issue on a news debate. He defended AK saying he isn't horse-trading but at the same time he maintained that he doesn't consider the tape to be genuine. So, what exactly is your stand? Later AAP issued a statement that it was 'political realignment'. But you don't need to be an expert in politics to understand that such talks about breaking a party's MLAs can never be termed as 'realignment'.
Listen to the sting conversation:
AK's 'Under the Carpet' Response: Kejriwal's response and reaction to the whole issue made it very clear that AAP is just like any other party as far as internal democracy is concerned. Initially, he Tweeted that he doesn't want to get involved. This was just a drama to show how clean he is despite the fact that the issue concerns him the most. After he returned from his Vipassana treatment, he released a video message on YouTube regarding the issue.
Considering him to be a man of integrity and principles, his supporters felt he will honestly speak his heart out. However, the only thing he said in the video was that 'some people' are trying to break the party! That's it! Isn't this the response of a typical double-faced politician who buries the issue under the carpet while doing a fake show of 'All Is Well'? Doesn't this make him one of those against whom he has waged a war?
See his message:
So-Called NC Meeting: If this wasn't enough, the video recording of the National Council Meeting some days back became the final nail in the coffin. Kejriwal tried playing a victim by blaming Yadav and Bhushan for all. He didn't allow the duo and their supporters inside. He saved his best (read: worst) drama for the end where he emotionally blackmailed everyone in choosing either him or 'them'. This made the meeting into a scripted shoddy reality show. The video is also a smartly edited version.
Watch it yourself below:-
So, the question that is lurking in everyone's minds is what will happen to AAP now? I also ask myself whether I will continue to be an AAP sympathizer. No, I won't. Will I vote for them? Yes, I will (provided Yogendra Yadav doesn't form his own party). But this has only to do with the fact that the other big political parties have become highly criminalized, so I am left with no other option. In front of their terrible misdeeds, AAP's issue is negligible. The party's performance in Delhi has so far been satisfactory, so it might be saved from completely falling apart.
But considering the ghastly events mentioned above, did we support the party for it being the lesser evil or for the honest and clean politics it always advocated?
Did people support AAP for bringing in new brand of politics or for playing politics differently?
Latest Update: Yogendra Yadav and Prashant Bhushan have been sacked/removed/expelled from AAP. I guess the only option Yadav and Bhushan have is that they start their own new political party.
Rating: * * ½
By: Keyur Seta
The current lot of youngsters are suffering from generation gap when it comes to marriage. While they don't consider concepts like 'marriageable age', their parents think otherwise. This conflict is explored in director Prakash Kunte's Coffee Ani Barach Kahi through a love story that youngsters of today's era will relate to. However, this doesn't ensure a quality product since the film falters in the writing department.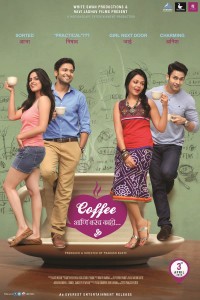 Jai (Prarthana Behre) is a girl-next-door who believes in fairytale romances. She has recently fallen in love with her senior at work, Nishad (Vaibhav Tatyawadi). He too has similar feelings for her. One evening, Nidhad calls Jai at a coffee shop as he has finally decided to propose to her. However, just as Jai is about to leave, her father informs her that his friend's son (Bhushan Pradhan) will be coming to see her for marriage. What will she do now?
Coffee Ani Barach Kahi scores well while presenting a realistic situation of a young girl mildly forced to meet a prospective groom while she is in love with someone else. Although this idea isn't novel by any means, it is presented in a new-age manner, which also makes sure that the parents don't turn out to be atyacharis, thankfully. The same modern presentation is also seen in the office romance. The real subtle humor too makes the proceedings viewer-friendly in the first half, despite not much story progression.
After defining the basic plot in the first half, you naturally expect the story to move forward. Unfortunately, that doesn't happen as the audience is presented with pretty much the same thing that they were served in the first half. The writers tell us the story we already know and present us with the age-old filmi climax. In a bid to make the film simple, they end up making it bland.
The film is blessed by the magical romantic track 'Rang He Nave Nave'. Its violin tune, which is also used in the background, deserves to be saved in your mobile phone. The cinematography and editing turn out to be decent.
Prarthana Behre is does justice to the character of Jai, in which she fits perfectly. Vaibhav Tatwawadi is also natural. You easily feel for him. Bhushan Pradhan does well as the mature guy who comes to see Jai. After Samhita and Ajoba, Neha Mahajan continues her good work. Ashwini Ekbote, Vidyadhar Joshi, Ila Bhate and Suyash Tilak offer good support. Dilip Prabhavalkar is memorable in a cameo.
Overall: Coffee Ani Barach Kahi is an average romantic film. The film will have a tough time at the box office due to biggies like Detective Byomkesh Bakshy and Fast & Furious 7 releasing on the same day.
Rating: * * * ½
By: Keyur Seta
The prerequisites of a good independent film are not limited to a low or shoestring budget and lack of known actors. It needs a powerful content that can entertain on its unknown without depending on anything else. Director Sandeep Mohan's Hola Venky is one such independent film in real sense. It is a bold and entertaining take on cultural differences and dilemmas.
The film revolves around Vyenkatesh aka Venky (Roger Narayan), who is a typical south Indian techie living in the south Indian dominated area of Mumbai, Matunga east. He is a divorcee in his 30s who is all set to marry again with an emotionally cold Damini. Venky is forced to postpone his marriage as he is sent to the US for a leadership program. During a crazy night out with his friends, Venky lands in the weirdest trouble possible. The incident also brings the beautiful Inez (Sonia Balcazar) in his life.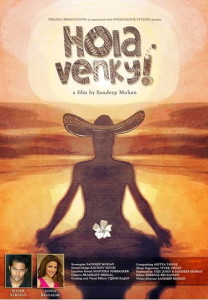 Hola Venky works largely because of its witty, quirky and sometimes adult humor, which is presented in a gently subtle manner. Such new-age aspects are also seen in the manner in which scenes are connected and the tale is taken forward. The length of just 88 minutes adds to the goodness. The climax too plays a big role in providing delight.
But the biggest test for the director was to present few important twists that are very bold in nature. The end result turns out to be so favorable since he manages to pass this hurdle in a mature manner. This was very vital because had the presentation deviated even a little bit, the proceedings would have appeared cheap or vulgar.
The film does have its share of minor negative points, which include a couple of situational flaws during the climax. At least one of the two could have been avoided.
People of India would be enlightened with Mexican Mariachi music after watching this film. The tracks are enjoyable and they go with the situations. Despite a tiny budget, some good editing is visible, especially during the meditation scenes. The camerawork too falls on the positive side.
Coming to the performances, Roger Narayan is a perfect find for the role of Venky. He impresses by being thoroughly realistic. Sonia Balcazar enters the scene late but leaves a solid impact by getting the nuances of her character right. The girl playing Damini and the actors playing Venky's friends (including Mohan himself) are believable.
Overall: Hola Venky is a realistically entertaining saga that deserves to be seen by those always craving to watch something different.
(Hola Venky has released online today. The film can be seen on Vimeo by clicking HERE. The director has been organizing screenings of the film in India and abroad since a year through his Travelling Cinema initiative.)
Director: Sandeep Mohan
Producer: Sanjay Gulati
Writer: Sandeep Mohan
Cast: Roger Narayan, Sonia Balcazar