Rating: * * ½
By: Keyur Seta
The current lot of youngsters are suffering from generation gap when it comes to marriage. While they don't consider concepts like 'marriageable age', their parents think otherwise. This conflict is explored in director Prakash Kunte's Coffee Ani Barach Kahi through a love story that youngsters of today's era will relate to. However, this doesn't ensure a quality product since the film falters in the writing department.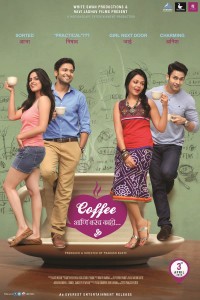 Jai (Prarthana Behre) is a girl-next-door who believes in fairytale romances. She has recently fallen in love with her senior at work, Nishad (Vaibhav Tatyawadi). He too has similar feelings for her. One evening, Nidhad calls Jai at a coffee shop as he has finally decided to propose to her. However, just as Jai is about to leave, her father informs her that his friend's son (Bhushan Pradhan) will be coming to see her for marriage. What will she do now?
Coffee Ani Barach Kahi scores well while presenting a realistic situation of a young girl mildly forced to meet a prospective groom while she is in love with someone else. Although this idea isn't novel by any means, it is presented in a new-age manner, which also makes sure that the parents don't turn out to be atyacharis, thankfully. The same modern presentation is also seen in the office romance. The real subtle humor too makes the proceedings viewer-friendly in the first half, despite not much story progression.
After defining the basic plot in the first half, you naturally expect the story to move forward. Unfortunately, that doesn't happen as the audience is presented with pretty much the same thing that they were served in the first half. The writers tell us the story we already know and present us with the age-old filmi climax. In a bid to make the film simple, they end up making it bland.
The film is blessed by the magical romantic track 'Rang He Nave Nave'. Its violin tune, which is also used in the background, deserves to be saved in your mobile phone. The cinematography and editing turn out to be decent.
Prarthana Behre is does justice to the character of Jai, in which she fits perfectly. Vaibhav Tatwawadi is also natural. You easily feel for him. Bhushan Pradhan does well as the mature guy who comes to see Jai. After Samhita and Ajoba, Neha Mahajan continues her good work. Ashwini Ekbote, Vidyadhar Joshi, Ila Bhate and Suyash Tilak offer good support. Dilip Prabhavalkar is memorable in a cameo.
Overall: Coffee Ani Barach Kahi is an average romantic film. The film will have a tough time at the box office due to biggies like Detective Byomkesh Bakshy and Fast & Furious 7 releasing on the same day.