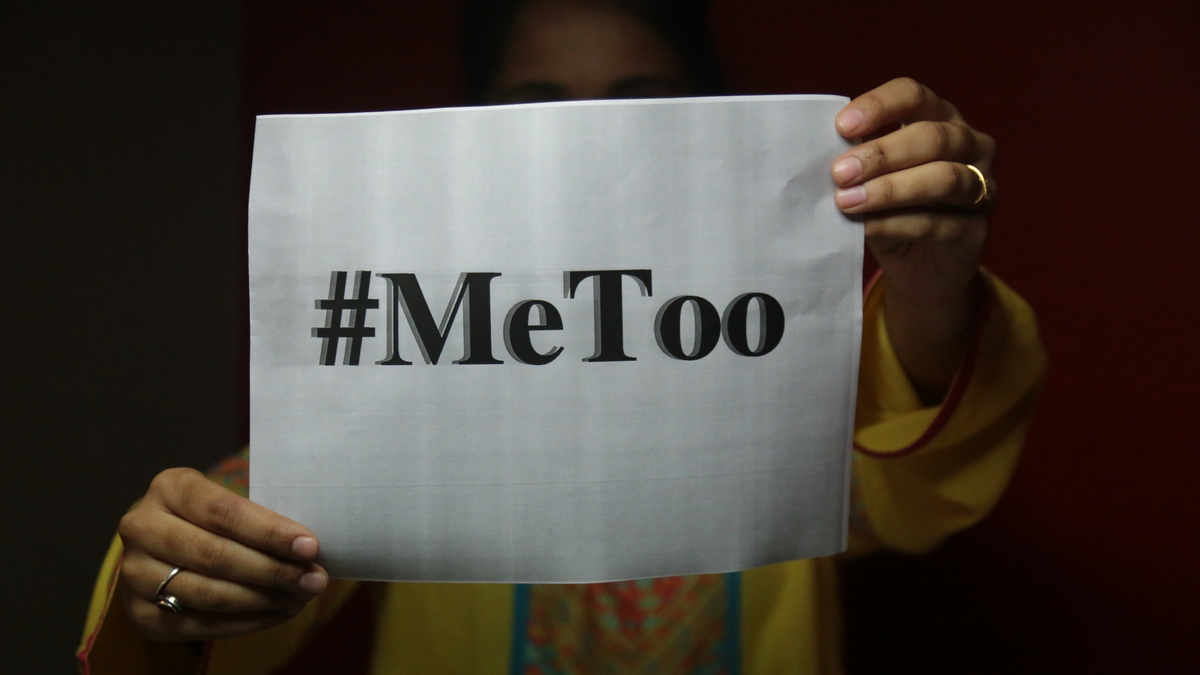 Tanushree Dutta's sexual misconduct allegations against Nana Patekar last month made headlines for days and continue to do so. But we didn't expect it to be the starting point of a major MeToo movement across India that would empower women to speak up against sexual harassment or rape they were subjected to by people in power.
It is, obviously, not logical to take sides in the Tanushree and Patekar case because we were not present at the spot where the incident allegedly took place. But we can't deny that this allegation is solely responsible for starting the #MeToo movement.
Nothing is proved in the Tanushree's case but there have been a number of instances since more than a week where the culprits have accepted their guilt and apologized. There are a couple of major recent cases where neither the allegations are proven nor the accused have accepted their guilt. But going by the inside information I have received, it is not possible to be neutral against them. However, that's a different story.
It is astonishing how regularly allegations are coming up these days. In fact, in the last week we were on high alert as multiple allegations were popping up after, literally, every few hours.
The effect of the victims speaking up has been so strong that director Sajid Khan and Patekar had to step down from their ambitious project Housefull 4. It also compelled one of the biggest stars of India, Akshay Kumar, to take a stand and cancel the shoot of the film. In a latest update, Khan has been removed from the film and replaced by Farhad Samji.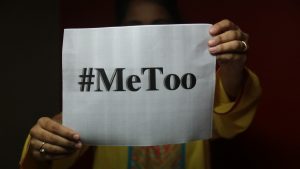 This is the extent to which the #MeToo has sent shockwaves across the film industry. This means that the predators would now think 10 or more times before committing any such acts. Who knows when their screenshots, pictures or videos would be out and their reputation tarnished.
The victims were able to speak up because of the effect of social media. Going by this and the fact that the victims have finally found the courage to speak up, it is not going to stop them from naming and shaming the perpetrators from here on. Social media also provides an option of exposing someone by being anonymous, as we have seen in recent cases. Hence, if the naming and shaming continues, it might change the scenario drastically.
#MeToo can also be used in incidents like casting couch. Asking sexual favours in return for a role is also sexual exploitation. A friend of mine, who was once a struggling actress in regional cinema, was told by a director on chat, "I can give you the role if you become my girlfriend for some time." If the victims in such cases start sharing screenshots of such chats, it might well create fear in the minds of those who indulge in casting couch.
God forbid if the moment dies down in the coming weeks, there will always be this danger for the perpetrators of someone exposing their misdeeds any time in the future. After all, social media is here to stay.
The word 'me' is gender neutral. So, it can be used by men too who often get harassed or exploited. Also, it is not at all necessary for the movement to be restricted to the film industry alone. Harassment happens across industries and is not just limited to sexual. A boss targeting his subordinate by making him/ her work extra hours or verbally abusing him/ her also comes under harassment.
There is a lot that can come under #MeToo.
However, like many other things in the world, this initiative also has a flipside. One thing that can severely damage the movement is fake accusations; either to take some sort of a revenge or for any other reason. Fake claims can destroy whatever good the movement has done so far.
The last thing we need is political stooges using #MeToo to gain brownie points over their political opponents.
By: Keyur Seta
Director Debjani Bandopadhyay's short film Terra (which translates to 'Land') takes place in the mountainous regions of Purulia in West Bengal. It tells the story of an officer (Anindyo Banerjee) who works for a company that is slowly snatching away the land and natural resources of the region for monetary gains. He has a troubled relationship with his wife Bibha (Tanushree Sarkar), who is of the opposite ideology.
The narrative takes its own pace but this works well as it slowly sucks you into this intense world where the greed of few people has made life hell for many others. The peaceful location being the opposite of the conditions of the victims is established creatively. Two parallel tracks about main issue and the personal conflict of Bibha are smartly woven.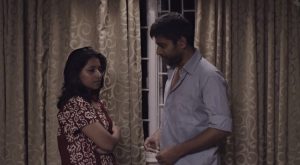 Terra tilts towards the victims but it doesn't preach anything. It just presents the whole scenario as it is. But at the same time it steers clear from being a docu drama.
Despite the writing and direction departments being impressive, the technical department doesn't cease to impress you throughout. The camerawork (Subal KR), background score and editing (Golam Mustafa Prokash) are applaud worthy.
But it's the sound designing (Siba Sankar Das) that stands out and how. The minutest sounds of nature appear realistic even when seen on a mobile phone.
The only minus point is an incident which brings some amount of confusion. It, thankfully, doesn't affect you much.
Acotr Tanushree Sarkar, Surojit Sen, Anindyo Banerjee and child actor Sourav Mura have come up with natural performances that play a large role in adding reality.
Overall: Terra is a finely crafted short film. It won't be an overstatement that the director is ready to take a plunge in feature films.
Rating: 4 out of 5
Review by: Keyur Seta
The very first scene of Andhadhun is about a rabbit trying to save his life from a hunter. The film then moves onto the main story while you wonder about the relevance of the first shot. It is brought in later during a crucial moment. This scene and several others are enough to guess that this is a Sriram Raghavan movie.
Andhadhun takes place in Pune where Akash (Ayushmann Khurrana) lives a simple life as a blind piano player. He 'accidentally' meets a bubbly young girl Sophie (Radhika Apte). They become close and she gets him employed at a bar as a musician-cum-singer. The place is owned by retired actor Pramod Sinha (Anil Dhawan), who was a star during his heydays.
Sinha requests Akash to do a private concert at his residence for him and his wife Simi (Tabu). Akash's single visit at Sinha's residence changes his life forever.
Mainstream Hindi cinema is guilty of using loud background sounds to provide thrill. This largely happens when the script lacks thrill. But like most of his films, Raghavan just lets the subtle unfolding of the story provide natural thrill. The background score, which is smart over here, is only a by-product.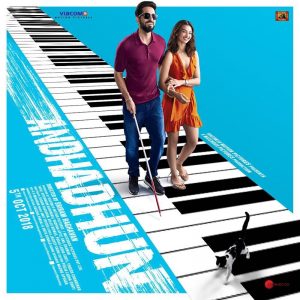 The first half of Andhadhun is full of mysterious moments. The twists and turns stun as well as provide laughter. Although the humour is dark, it never gets into the depressing zone. It is not often that the proceedings bring out different emotions at the same time. For example, the situation of Akash is helpless but it provides thrill as well as humour at the same time.
Andhadhun is also one rare film which could be understood even by those who don't know Hindi. Very few Hindi films let the visuals narrate the story in such an effective manner.
After such an exciting first half, one would, naturally, expect the same experience later. However, the thriller quotient reduces a bit post-interval and a couple of events appear questionable. Thankfully, the climax makes up for it. The very last shot is a masterstroke.
I personally feel all of Raghavan's films fall in the James Hadley Chase zone, excluding Agent Vinod (2012), in terms of the story, narrative and characters. Andhadhun also lies right there.
The technical aspects are top notch. K U Mohanan's edgy camerawork adds to the thrill. A lot of the background music is piano sounds as it goes with the subject. The scene where a serious crime is taking place while soft piano sounds are played in the background brings back memories of how the romantic song 'Kuchh Toh Hai Tujhse Raabta' is played out during a shootout scene in Agent Vinod.
The songs are decent you don't really care about the music in such films. The promotional title song is impressive and catchy but it isn't used in the film and rightly so. It wouldn't have suited the end credits.
The actors have lived up to what was expected of them. Ayushmann Khurrana is thoroughly believable as a mysterious artist. This wasn't an easy performance by any means but he is up to the task. Radhika Apte is effective as a fiery young girl.
Tabu has a much bigger role, which required her expertise. Her act will be talked about for long. Anil Dhawan, who makes a comeback, leaves behind a terrific impact despite the short length of his role. He provides unintentional laughter too, which was intentional. Manav Vij lives his evil character and speaks through expressions.
Other supporting actors like Zakir Hussain and Chhaya Kadam also chip in with mature performances.
Overall: Andhadhun is an exciting thriller that has a stamp of Sriram Raghavan's genius all over. The film hasn't opened to a good number at the box office. But its collections should rise in the days to come.
Rating: 4 out of 5
Review by: Keyur Seta
Director: Sriram Raghavan
Producers: Viacom 18 Motion Pictures and Matchbox Pictures
Writers: Sriram Raghavan, Arijit Biswas, Pooja Ladha Surti, Yogesh Chandekar and Hemant Rao
Cast: Ayushmann Khurrana, Radhika Apte, Tabu, Anil Dhawan, Manav Vij
Music: Amit Trivedi, Raftaar and Girish Nakod
Genre: Thriller
Runtime: 138 minutes
Hrishikesh Joshi's Marathi movie Home Sweet Home portrays a conflict between an aged couple Shyamal (Reema Lagoo) and Vidyadhar Mahajan (Mohan Joshi). They stay in Dadar, the central hub of Mumbai, where real estate prices have surged higher than the city's iconic Rajabai Tower.
Shyamal is eager to sell off their house for a colossal amount of over Rs 3 crore and migrate to a place further. The price of the new flat is much lesser than Rs 3 crore, which meant that they would also get to lay their hands on a big sum. Vidyadhar, however, is against the idea. He is emotionally attached to not only the house but also the locality.
The two characters appeared like many others I have witnessed all my life while staying in the same area. There are a lot of Shyamals religiously visiting the famous Swami Samartha math. At the same time, you can spot innumerable Vidyadhars doing early morning Yoga unconvincingly. Their everyday sarcastic conflicts are replicas of what was shown between the couple.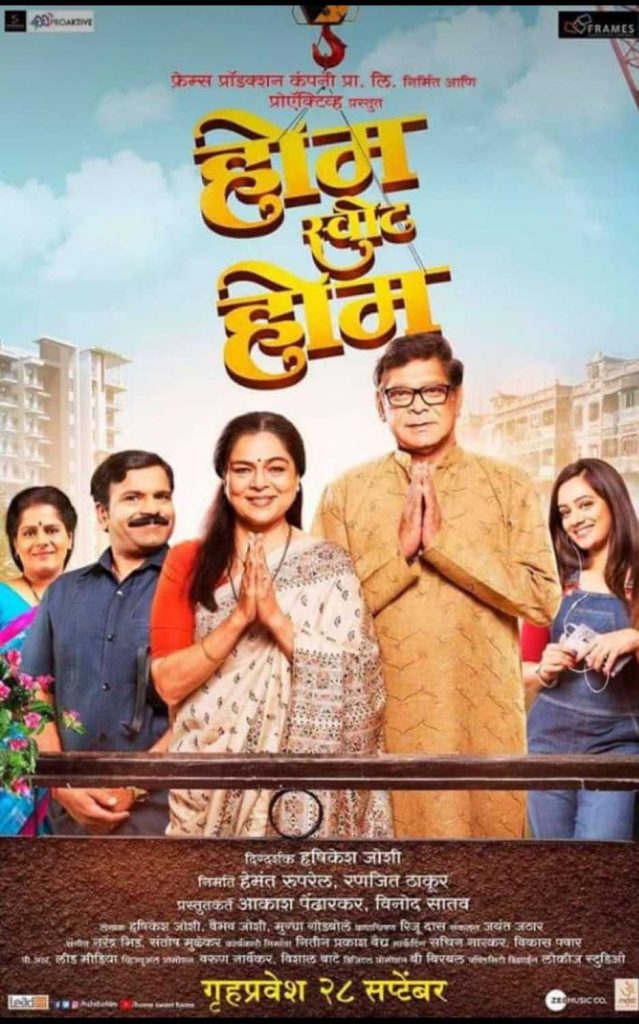 The character of the estate agent, which is played by Joshi himself, reminded me of my grandmother's conversations with her fellow estate agent friends. I have grown up witnessing the practice of a 'party' inspecting a prospective flat and the nervous undertones of the situation.
Home Sweet Home, obviously, seems like a personal story between two individuals. But it goes much deeper. The film actually portrays the current state of Mumbai where people residing in prime areas like Dadar are compelled to move to suburbs for 'better' standards of living.
Shyamal and Vidyadhar symbolize the two sides of the city right now. While some areas have rapidly built skyscrapers where every service available at your fingertips, there are still others that have retained the old Bombay charm.
The thought process of the two individuals represents two types of Mumbaikars currently. One wanting to be practical and move on with development, while the other clinging onto traditions and roots. In other words, it's a conflict between Mumbai and Bombay. The proverb, 'Mumbai is a name, Bombay is an emotion,' which is viral on social media, is felt here throughout.
Before Home Sweet Home, Mahesh Bhatt's Saaransh (1984) provided such local appeal on celluloid. In fact, the characters of Home Sweet Home remind you of characters of the Anupam Kher and Rohini Hattangadi starrer.
Also read: Manto released in the week when freedom of expression succumbed to a new low
Saaransh was about an aged couple staying alone and both having conflicting views. They had a female paying guest whose modern ways bothered them. The story also took place in the same locality. [Not implying that both films are similar in any way]
Coming back to the dilemma, I have seen a lot of families either choosing the mind or heart when faced with such a situation. My family was faced with the same dilemma for years. The choice was finally made this year. We did some adjustments in the house and went with the heart.
By: Keyur Seta