Tanushree Dutta's sexual misconduct allegations against Nana Patekar last month made headlines for days and continue to do so. But we didn't expect it to be the starting point of a major MeToo movement across India that would empower women to speak up against sexual harassment or rape they were subjected to by people in power.
It is, obviously, not logical to take sides in the Tanushree and Patekar case because we were not present at the spot where the incident allegedly took place. But we can't deny that this allegation is solely responsible for starting the #MeToo movement.
Nothing is proved in the Tanushree's case but there have been a number of instances since more than a week where the culprits have accepted their guilt and apologized. There are a couple of major recent cases where neither the allegations are proven nor the accused have accepted their guilt. But going by the inside information I have received, it is not possible to be neutral against them. However, that's a different story.
It is astonishing how regularly allegations are coming up these days. In fact, in the last week we were on high alert as multiple allegations were popping up after, literally, every few hours.
The effect of the victims speaking up has been so strong that director Sajid Khan and Patekar had to step down from their ambitious project Housefull 4. It also compelled one of the biggest stars of India, Akshay Kumar, to take a stand and cancel the shoot of the film. In a latest update, Khan has been removed from the film and replaced by Farhad Samji.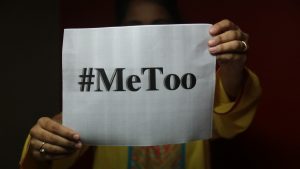 This is the extent to which the #MeToo has sent shockwaves across the film industry. This means that the predators would now think 10 or more times before committing any such acts. Who knows when their screenshots, pictures or videos would be out and their reputation tarnished.
The victims were able to speak up because of the effect of social media. Going by this and the fact that the victims have finally found the courage to speak up, it is not going to stop them from naming and shaming the perpetrators from here on. Social media also provides an option of exposing someone by being anonymous, as we have seen in recent cases. Hence, if the naming and shaming continues, it might change the scenario drastically.
#MeToo can also be used in incidents like casting couch. Asking sexual favours in return for a role is also sexual exploitation. A friend of mine, who was once a struggling actress in regional cinema, was told by a director on chat, "I can give you the role if you become my girlfriend for some time." If the victims in such cases start sharing screenshots of such chats, it might well create fear in the minds of those who indulge in casting couch.
God forbid if the moment dies down in the coming weeks, there will always be this danger for the perpetrators of someone exposing their misdeeds any time in the future. After all, social media is here to stay.
The word 'me' is gender neutral. So, it can be used by men too who often get harassed or exploited. Also, it is not at all necessary for the movement to be restricted to the film industry alone. Harassment happens across industries and is not just limited to sexual. A boss targeting his subordinate by making him/ her work extra hours or verbally abusing him/ her also comes under harassment.
There is a lot that can come under #MeToo.
However, like many other things in the world, this initiative also has a flipside. One thing that can severely damage the movement is fake accusations; either to take some sort of a revenge or for any other reason. Fake claims can destroy whatever good the movement has done so far.
The last thing we need is political stooges using #MeToo to gain brownie points over their political opponents.
By: Keyur Seta