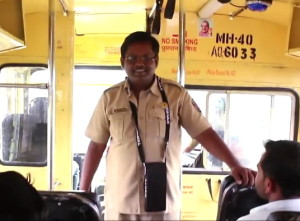 In India, the word 'job' is generally referred to as 'service'. But practically speaking, there is a vast difference between the two. Doing a job means carrying the work assigned to you. It doesn't necessarily include any emotions.
But when we say a person is engaged in a service, it means he is serving someone. The act of serving is born out of compassion and isn't limited to the material benefit one derives after its completion.
A one bus conductor named Sopan Bhagwan Javane in Mirajgaon, Maharashtra has taken the meaning of 'serving' to another level altogether, all by himself.
Working on an MSRTC bus, he takes care of his passengers in a way they could have never imagined from a bus conductor. He indirectly also cheers them up and provides a profound heartwarming feeling. Javane, in all sense, is an unsung hero of India.
Watch him and his special antics in the documentary below titled Ekla Chalo Re, conceived, written and directed by Swapnil Rajshekhar:-

Director: Rohit Shetty
Producers: Rohit Shetty Productions and Red Chillies Entertainment
Writers: Yunus Sajawal and Sajid-Farhad
Cast: Shah Rukh Khan, Kajol, Varun Dhawan, Kriti Sanon
Music: Pritam
Genre: (??)
Rating: * *
Review By: Keyur Seta
In today's era, earning Rs 100 or 200 crore has become a result of a single formula – sign big stars, include larger-than-life elements like colorful romance, crazy humor and powerful action, market your film like desperados and, most importantly, book 20 or more shows in a single multiplex. Do this dedicatedly and you will get your blockbuster. Too hell with content! Rohit Shetty's Dilwale is a product of such a formula.
The film tries to tell the story of Raj (Shah Rukh Khan) and his younger brother Veer (Varun Dhawan). They are running a garage in Goa and leading a simple life. Veer comes across a young girl, Ishita (Kriti Sanon) and instantly falls for her. Raj has had a dark past, about which neither Veer nor the people staying in the vicinity are aware of. Meera (Kajol) is an integral part of his past. All of a sudden, Raj's dark past enters his present in a strange manner.
Here are 7 reasons why the film doesn't work (no spoilers here):-
- The basic storyline is illogical and unconvincing. In fact, some serious twists and story development induce unintentional laughter. Of course, one shouldn't look for logic in such films. But when the root premise is so silly, it becomes difficult to accept. Plus, once the story is established, you can predict the entire film.
- There is no flow as the screenplay is all over the place. It seems the writers have mixed commercial elements haphazardly.
- As surprising as it may sound, gangsters form an important part of the tale. But that's not the problem. The problem is that this is the most unconvincing portrayal of gangsters ever in a mainstream Hindi film.
- Rohit Shetty's obsession for car stunts has reached an annoying level. Seriously, there isn't much difference in the screentime given to humans and cars.
- You just don't feel anything for Kajol's character because of her acts. Other characters too face behavioral issues.
- There is blatant sexism related to the character of Sidhu's (Varun Sharma) girlfriend.
- Now, the most important point. The love angle between SRK and Kajol's characters lacks soul. We are just made to assume that they are deeply in love just because they are the most loved pair. Naturally, you don't gain sympathy for their love story either.

The few good things include some mild entertainment and few jokes here and there. The scene about 'Ramlal aur Pogo' is the only paisa vasool element. The music isn't up-to-the-mark either. The background score has a single theme music played throughout the entire duration. The camerawork is decent while the editing is average.
Coming to the performances, Shah Rukh Khan carries the film on his shoulders through a mature act. Kajol too displays her acting prowess. It is always good to see them together. However, as pointed above, the content and treatment ensures you don't feel for the couple. Varun Dhawan once again proves his mettle. Kriti Sanon, Mukesh Tiwari, Pankaj Tripathi and Johnny Lever provide good support. Boman Irani is wasted.
Overall: Dilwale proves that having Shah Rukh and Kajol together isn't enough to satisfy audiences. This won't hurt the producers though as the film is on its way to becoming a blockbuster at the box office through some high collections despite the presence of Bajirao Mastani.
Director: Sanjay Leela Bhansali
Producers: Eros International and SLB Films
Writers: N S Inamdar (novel) Sanjay Leela Bhansali, Mallika Dutt Gharde and Prakash Kapadia
Cast: Ranveer Singh, Deepika Padukone, Priyanka Chopra
Music: Sanjay Leela Bhansali
Genre: Drama
Rating: * * *
Review By: Keyur Seta
Sanjay Leela Bhansali's Bajirao Mastani has been in the news for good and bad reasons. While the trailers have received tremendous applause, the film is also being panned for distorting history, based on the promos. But the most relevant question is whether it lives up to the expectations. The answer is a yes but not a resounding one.
The story takes place in Pune in the early 1700s. Peshwa Bajirao (Ranveer Singh) is installed as the new Maratha emperor after the death of his father. He strikes gold immediately by winning various territories of India. Now, his aim is to rule over the entire country. Bajirao has a loving wife, Kashibai (Priyanka Chopra).
Once while his troop is matching towards a town, he is approached by Mastani (Deepika Padukone), daughter of the emperor of Bundelkhand. She asks Bajirao to help her army fight against an enemy as they are about to lose. Bajirao agrees and he and Mastani emerge victorious. At the same time, an unusual bond develops between Bajirao and Mastani.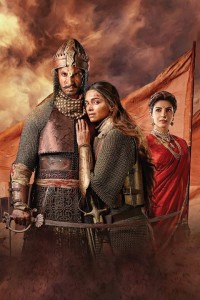 On most occasions, period biopics with a length of more than 2 hours 30 minutes tend to lose pace somewhere. Despite a runtime of158 minutes, however, Bajirao Mastani passes off in a jiffy due to a fast paced screenplay and some moving poetic dialogues. But what is equally responsible is Bhansali's creative presentation. Almost every frame is a visual treat. He has inserted visual poetry even in the simplest of sequences.
Taking creative liberties in a feature is fine. Over here, the makers state at the start that the film has fictional elements and is not a representation of actual history. But on numerous occasions, Bhansali overdoes in taking that liberty. Among various scenes, it is seen in songs 'Pinga' and 'Malhari'. The second one is truly insane. You can't justify Bajirao dancing in the most tapori-est manner with phrases like 'Vaat laagli.
Another major drawback is the romance part. The film is a love account of Bajirao and Mastani. But the manner in which love blossoms between them is half-baked. So, you don't feel much for them. This also affects the climax, which also suffers for being self-indulgent and over-creative.
The songs add to the plusses. But 'Pinga' and 'Malhari' should have been avoided for reasons mentioned above. The artistic and skillful camerawork has its big share in making the film a visual treat. The background score generates effect while the editing too is up-to-the-mark.
Bhansali always manages to extract great performances from his actors and this film is no exception. With this amazingly dedicated performance, Ranveer Singh has now emerged as a fine artist, rather than just a star. This will be considered one of his best performances when he ends his career. Deepika Padukone continues her winning ways with another powerful act.
Priyanka Chopra deserves equal praise. She convincingly plays a woman who is going through an inner turmoil but doesn't show on her face. The rest of the actors too play their parts with dedication.
Overall: Bajirao Mastani is a creative visual treat that can be seen once. The film will rake in good numbers at the box office despite the clash with Rohit Shetty's Dilwale.
By: Keyur Seta
"This is utterly shameful," said Ashok with a disgusted look on his face. The 55-year-old bank employee was sitting with his gang of like-minded friends at their usual hangout place at Shivaji Park. Located in the Dadar locality of Mumbai, the place is thronged by people of all ages.
While teenagers and the ones in the 20s are either seen playing some sport or jogging, the elderly ones like Ashok and company usually, after a leisurely walk, gather around at their habitual spot to discuss and debate on various topics, mostly cricket or politics.
Today was the turn of politics. The reason for Ashok's anger was a statement by an MLA from the opposition party in Uttar Pradesh. The state elections were due and the wily politician smartly played the caste card to woo voters belonging to his 'caste'. Even in 2015, vote bank politics, especially with regards to religion and caste, was still prevalent in India.
"There are already various forces that are dividing the country on the basis of religion," continued Ashok, "If this wasn't enough, morons like him are stooping even lower by using something as shameful as casteism, even in 2015. How further backwards are we going? Only God knows when our late freedom fighters' dream of a united India would come true."
Normally, the gang would debate and, at times, argue like panelists on a news debate show. Over the last few years, people, who generally hated politics, have strong political opinions, so much so that any disagreement makes them aggressive. But as far as Ashok and gang are concerned, their debates or arguments always automatically ended with the rise of darkness as all disperse to their respective homes.
But today, that was not the case. The statement by the MLA found no takers. Agreeing with him would mean defending the indefensible. So, this time, each went to his respective home in a calm state. But Ashok was not only calm but also excited for what he had planned before dinner.
Swati, his 25-year-old daughter, was of marriageable age, he thought. Like every parent, he wanted her to have a life-partner, who would shower her with happiness and care. Ashok's excitement knew no bounds as he braced himself to prepare a matrimonial advertisement for her. It took him 40 years back in time. The feeling was similar when he was filling his college admission form after passing 10th standard.
Despite the digital age, people from Ashok's generation still couldn't do without the morning newspaper. Daily he used to eagerly wait for the newspaper guy. But today, the excitement was uncontrollable. Unlike other days, Ashok didn't even glance at the important front page news. He quickly turned to the matrimonial page. He couldn't stop smiling as his eyes fell on Swati's matrimonial ad that appeared under the section of their 'caste'.
Director: Mangesh Kadam
Producers: Suyog Productions
Writer: Shekhar Dhavalikar
Cast: Vikram Gokhale, Reema Lagoo, Jayant Sawarkar and Bageshree Joshirao
Rating: * * * ½
Review By: Keyur Seta
An age old topic ceases to be one if treated in a fresh manner. There isn't anything novel in a tussle between married couple. It has been explored in every storytelling medium – films, plays and TV – since decades.
But writer Shekhar Dhavalikar and director Mangesh Kadam have provided a contemporary touch to the subject in the Marathi play Ke Dil Abhi Bhara Nahin. It's a hilarious saga despite the fact that it deals with an emotional theme.
The story revolves around an aged married couple, Arun (Vikram Gokhale) and Vandana (Reema Lagoo). They share a bittersweet relationship. Their daughter (Bageshree Joshirao) is married in the same city. But their son has migrated to Singapore with his wife and kid for a better opportunity. The daughter is very caring towards them whereas their son doesn't care for them at all.
Vandana isn't happy to stay home alone. So, Arun takes retirement to give her company and help her run the house. He decides to surprise her with the news. Instead, Vandana gives him a surprise by declaring that she has passed a priesthood course and will now be visiting people's houses to carry out priestly services. This incident changes the equation between the couple.
The script is a smart mixture of emotionalism and humor. Although the writer has induced humor throughout the duration, he has made sure the sensitivity isn't affected, even a bit. This is very difficult. The play wouldn't have turned out to be so moving if there was some fault in this aspect. The climax is anybody's guess in such stories. But you are taken by surprise by the creative manner of driving home the point.
The writing coupled with some intelligent direction results in a treat. There are numerous unsaid nuances and antics brought in by the director that play a major role in the end result.
The set designing is simple and realistic but at the same time, rich. With such content, a compromise on this area wouldn't have affected the overall result much. But there is no stone left unturned. As far as lights go, there could have been more creativity or experimentation. The background score is as per the need.
Watching two stalwarts like Vikram Gokhale and Reema Lagoo perform in front of you is a complete treat. It gets even better when they are at their best, which is the case here. Their complementation is terrific too. They score high not only during emotional scenes but also while doing comedy. Not many would have seen Gokhale do it. Seeing them together brings back memories of their pleasing act in the Marathi movie, Anumati.
Jayant Sawarkar, as Arun's friend, provides a lovable act while Bageshree Joshirao is decent.
But among so many positives, there is a downslide too. The play drags a bit in the second half. Probably, the length should have been shorter.
Overall: Ke Dil Abhi Bhara Nahin is an entertaining take on the relationship of an aged couple. With the content and the big names attached with it, it is sure to run for a long time.
The terrible floods in Tamil Nadu, especially Chennai, have taken everyone by a rude surprise. The floods were expected in the region but nobody thought they would be so devastating. So far, close to 300 people are head and lakhs are homeless or stranded.
While there is no harm in praying for the victims and dedicating numerous social media posts to them, what they practically need it help... and lots of it!
So this is how you can help them:
1) Spiritual leader Sadhguru's Isha Foundation has organized a donation drive. To donate in kind or doctors who can support the disaster relief work can contact: +918300011111, +918300051000, +918300052000
Helpline for donation via bank transfers: +919442139000
Online donations: http://www.ishafoundation.org/Donate
2) Donate via APP:
Click HERE to download an app to donate clothes, food and other items.
3) Check available shelter:
To know about places where shelter is available, click HERE.
4) Donate via AISC Flood Relief by clicking HERE.
5) People form 60 NGOs have come together to help Chennai flood victims. Those willing to contribute contact Prasanna: 96777-00081 or Ganesh 99442-77721.
6) Willing to accomodate?
If you are in Chennai and willing to accommodate people who are stranded, click HERE.
7) To donate food items, see the image below (click to enlarge):-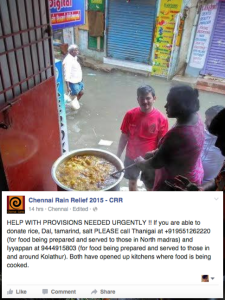 8) Chennai flood relief HELPLINE numbers: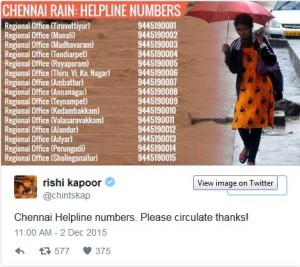 OTHER IMPORTANT INFORMATION:
People who are stuck near Valasaravakkam, Megamart area, pls contact Vignesh Mailappan at +918122829693.
People who are stuck near Camp Road areas can contact Bala- +918056096733.
People who are stuck near Keezhkattalai area can contact Santha- +919042122271.
People who are stuck near Tambaram area can contact
Prasanna - 9994816896
People who are stuck near Mogapair areas can contact aswin - 7299518047
People who are stuck near Pallikaranai, Narayanapuram areas can contact Gayathri - 8220738092
Message from a kind-hearted person:
Anyone stuck in Annanagar, Arumbakkam, Aminjikarai, MMDA Colony, Choolaimadu or any other area are welcome to my house, please be my guest. Can pick up people from nungambakkan station, arumbakkam metro station or anna arch. No restriction on no as i have lots of Mats to sleep, power for essential and enough food, brijesh - 9962400760
SRM University is accommodating people in their buildings. Whoever stranded in GST, please go there.