Director: Sanjay Leela Bhansali
Producers: Eros International and SLB Films
Writers: N S Inamdar (novel) Sanjay Leela Bhansali, Mallika Dutt Gharde and Prakash Kapadia
Cast: Ranveer Singh, Deepika Padukone, Priyanka Chopra
Music: Sanjay Leela Bhansali
Genre: Drama
Rating: * * *
Review By: Keyur Seta
Sanjay Leela Bhansali's Bajirao Mastani has been in the news for good and bad reasons. While the trailers have received tremendous applause, the film is also being panned for distorting history, based on the promos. But the most relevant question is whether it lives up to the expectations. The answer is a yes but not a resounding one.
The story takes place in Pune in the early 1700s. Peshwa Bajirao (Ranveer Singh) is installed as the new Maratha emperor after the death of his father. He strikes gold immediately by winning various territories of India. Now, his aim is to rule over the entire country. Bajirao has a loving wife, Kashibai (Priyanka Chopra).
Once while his troop is matching towards a town, he is approached by Mastani (Deepika Padukone), daughter of the emperor of Bundelkhand. She asks Bajirao to help her army fight against an enemy as they are about to lose. Bajirao agrees and he and Mastani emerge victorious. At the same time, an unusual bond develops between Bajirao and Mastani.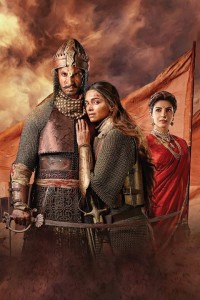 On most occasions, period biopics with a length of more than 2 hours 30 minutes tend to lose pace somewhere. Despite a runtime of158 minutes, however, Bajirao Mastani passes off in a jiffy due to a fast paced screenplay and some moving poetic dialogues. But what is equally responsible is Bhansali's creative presentation. Almost every frame is a visual treat. He has inserted visual poetry even in the simplest of sequences.
Taking creative liberties in a feature is fine. Over here, the makers state at the start that the film has fictional elements and is not a representation of actual history. But on numerous occasions, Bhansali overdoes in taking that liberty. Among various scenes, it is seen in songs 'Pinga' and 'Malhari'. The second one is truly insane. You can't justify Bajirao dancing in the most tapori-est manner with phrases like 'Vaat laagli.
Another major drawback is the romance part. The film is a love account of Bajirao and Mastani. But the manner in which love blossoms between them is half-baked. So, you don't feel much for them. This also affects the climax, which also suffers for being self-indulgent and over-creative.
The songs add to the plusses. But 'Pinga' and 'Malhari' should have been avoided for reasons mentioned above. The artistic and skillful camerawork has its big share in making the film a visual treat. The background score generates effect while the editing too is up-to-the-mark.
Bhansali always manages to extract great performances from his actors and this film is no exception. With this amazingly dedicated performance, Ranveer Singh has now emerged as a fine artist, rather than just a star. This will be considered one of his best performances when he ends his career. Deepika Padukone continues her winning ways with another powerful act.
Priyanka Chopra deserves equal praise. She convincingly plays a woman who is going through an inner turmoil but doesn't show on her face. The rest of the actors too play their parts with dedication.
Overall: Bajirao Mastani is a creative visual treat that can be seen once. The film will rake in good numbers at the box office despite the clash with Rohit Shetty's Dilwale.