Director: Gajendra Ahire
Producers: Smita Vinay Ganu and Prashant Gokhale
Writer: Gajendra Ahire
Cast: Girish Kulkarni, Sai Tamhankar, Dilip Prabhavalkar, Kishore Kadam, Vibhavari Deshpande, Radhika Apte, Subodh Bhave
Music: Gandhaar Sangoram
Genre: Drama
Rating: * * *
By: Keyur Seta
Review: A postman is considered a messiah when he brings delightful news. But he also has to bear the brunt of being labeled as inauspicious if the letter consist a tragic update. Ahire's exploration of such interesting and unusual experiences of a postman in Postcard is not one of his best efforts but definitely worth watching for being visually stunning and heartwarming.
The three experiences of the central character of the postman are presented in three different stories. They are analyzed as under:
Ever since the age of 10-12, Bhikaji (Dilip Prabhavalkar) has been working as woodcutting laborer at the same place. Now, in his 80s, he wishes to join his family staying in a nearby village and spend the rest of his days with them. But he is unable to leave as he faces severe exploitation from his boss. Bhikaji develops a bond with the postman (Kulkarni), who reads the good news of his newly born grandson.

This is the best of the three stories simply because of a solid storyline. The happy and sad turn of events and the final emotional twist is enough to win your hearts. But it is Prabhavalkar's brilliant act that plays a large role in the overall effect. It is incredible to see him carry out such a physical demanding role in this age with ease.

The postman is transferred to a scenic hill station. While entering a school to deliver a letter, he is stopped by a soldier Kamble (Kishore Kadam). He hands over a letter to the postman and pleads him to deliver it to her daughter studying in the school. He finally agrees but the task lands him in some mysterious trouble.

What starts as a funny tale turns into something unusually emotional. The intriguing narrative and an unexpected culmination are the strong points here. But it is strange to see some vital questions left unanswered. Also, the postman's reaction to a shocking revelation is highly surprising. As expected, Kadam provides an aptly moving performance. In a limited screen time, Vibhavari Deshpande leaves behind a solid and memorable impact!

The postman's next destination is a village with some barren land. Here he comes across a young girl Gulzar (Radhika Apte), who is a courtesan. She entertains numerous guests but longs for her lover (Subodh Bhave). She waits for hours for the postman to receive a letter from her beau, who has promised to marry her.

This story is beautifully shot and it also contains an earnest performance from Apte. She deserves to be seen much more. But this part tests your patience after a point of time as there is not much in terms of story development. Hence, it appears dragged most of the times. A surprising step taking by the postman also serves no purpose. Subodh Bhave provides a decent act.
Coming to the technicalities, cinematographer Yogesh Rajguru has presented a visual treat while capturing the beautiful locales, especially the hill station. There is not much scope for music (Gandhaar Sangoram) but the Mujra song featuring Apte is soulful.
Present throughout the film, Girish Kulkarni realistically gets into the skin of the character of a postman and gives a brilliant performance. Sai Tamhankar, as his wife, too plays a part well; she plays a rural character for a change.
Overall: Postman deserves a watch for being a realistically amusing tale of a postman. But it will have a tough time at the box office due to a low hype and the fact that three other Marathi films and three Hindi films have released simultaneously.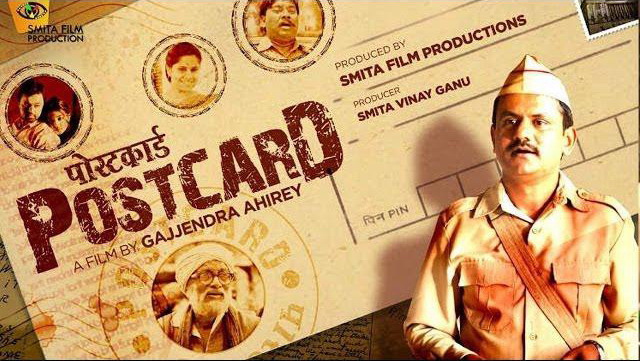 Compiled By: Keyur Seta
Writer Milap Milan Zaveri's crazy and whacky one-liners have played a large role in making David Dhawan's Main Tera Hero a truly hilarious affair. So here's revisiting some of the humorous lines from the Varun Dhawan starrer:
Ehsan toh mujhpe Shankar aur Loy ne kiya tha.
Yeh humein degree ke naam pe third degree dega.
Yeh tujhe bohat mahanga padega… No problem, waise bhi sasti cheezon mein main interest nahin rakhta.
Jab main Pampers mein thi tab se mere dad mujhe pamper karte aa rahen hain.
Jaise har Coke Coca-Cola nahin hota, jaise har chana chhola nahin hota usi tarah har shareef dikhne wala aadmi bhola nahin hota.
Ab pata chala, jab Veeru paji Basanti ko bandook chalana sikha rahe the tab Basanti ko kaisa feel hua hoga.
Arunoday Singh: Srinath Prasad (Varun's character) kahan hai? Rajpal Yadav: Arre who toh kab ka retire ho gaye. Aajkal commentary dete hain.
Main tum logon ko aise dhounga jaise Sachin aur Sehwag ne 2003 World Cup mein Pakistan ke bowling attack ko dhoya tha.
Tumhare dil mein mere liye ghanti nahin baji, toh kya ghanta tumhe mujhse pyaar hua?
Yeh toh chumme ka sequel ban gaya. Krrish 2 ke baad Kiss 2… Krrish 3 ke baad Kiss 3.
Purani Haveli ke paas Chikni Chameli ko dekh ke toh kisi se bhi galti hogi.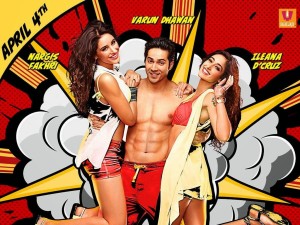 Director: David Dhawan
Producers: Balaji Motion Pictures
Writer: Tushar Hiranandani and Milap Milan Zaveri
Cast: Varun Dhawan, Ileana D'Cruz, Nargis Fakhri, Arunoday Singh, Saurabh Shukla, Rajpal Yadav, Anupam Kher, Manoj Pahwa
Music: Sajid-Wajid
Genre: Comedy
Rating: * * * ½
By: Keyur Seta
Story Outline: Staying in Cunnoor, Srinath Prasad aka Seenu (Varun Dhawan) is a nuisance in college. He also has to face wrath from his professor and parents for his poor academic performances. In order to prove a point to his parents, he goes to Bengaluru for further studies. His eyes fall on a fellow student Sunaina (Ileana D'Cruz) and he instantly falls for her.
However, Sunaina has been blackmailed into being the girlfriend and future wife of the evil and hot-tempered cop Angad (Arunoday Singh). Despite Angad's strength and power, Seenu decides to fight against him to win Sunaina's heart. But things go ugly for Seenu when Ayesha (Nargis Fakhri) forcefully enters his life.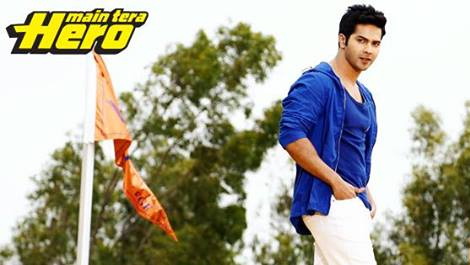 Review: So far in Hindi cinema, only experienced actors or superstars have successfully managed to pull off hero-centric roles in hardcore masala entertainers. But Varun Dhawan, in his father David Dhawan's Main Tera Hero, has managed to do that just in his second film and how! With his lovable heroic antics, he just doesn't cease to impress you, regardless of your gender. His act coupled with Milap Milan Zaveri's writing results in a non-stop laugh riot. After last year's successful Chashme Baddoor, David Dhawan continues his winning streak.
It is common sense to keep logic and reasoning away in such genre of films. But to enjoy Main Tera Hero, you need to keep both the entities miles away and be ready to accept some madcap, crazy humor. If you can't do that, don't even think of watching it. But if you can, be ready for a laughter dose lasting for little over two hours.
What is most impressive about Zaveri's writing is that he has managed to include punch lines and PJs after almost every few seconds. Despite being silly most of the times, Tushar Hiranandani's screenplay should also be lauded for the way he has connected various crazy situations, without giving you any time to think.
On few occasions, however, the craziness crosses the limits. You can forgive such points for the laugher provided in return but this will affect a section of the audience. What also goes against the film is some amount of vulgarity. It is absolutely fine for such things to be included in an adult comedy but not in a film targeted for family audiences. Apart from this, the situation in the second half is similar to Sajid Khan's Houseful 2.
Sajid-Wajid's music adds to the entertainment with every song – 'Tera Dhyan Kidhar Hai', 'Galat Baat Hai, 'Besharmi Ki Height' and 'Shanivar Rati' – turning out to be enjoyable.
As mentioned above, Varun Dhawan is simply outstanding, be it comedy, action or dance! His father has made him do stuff that Govinda does in his films. But Varun has managed to do it so early in his career, which is a remarkable achievement. He surely should continue it! Ileana D'Cruz plays her part well. Nargis Fakhri's bad acting skills are visible here too. Thankfully, it doesn't trouble you much due to the overall entertainment.
Arunoday Singh is the surprise package. He not only scores with his villainous antics but also with the unusual comedy he had to do. Rajpal Yadav is brilliant at what he does best. Saurabh Shukla and Anupam Kher once again display their talents. Manoj Pahwa and Supriya Shukla, as Seenu's parents, are decent. Evelyn Sharma is wasted. Shakti Kapoor is hilarious in a cameo.
Overall: Through Main Tera Hero David Dhawan once again delivers what he always promises: lots of entertainment!  The film should do well at the box office due to its mass appeal and Varun Dhawan's act.
Director: Mahesh Limaye
Producers: Riteish Deshmukh and Uttung Hitendra Thakur
Writers: Kshitij Hitendra Thakur, Ambar Hadap and Ganesh Pandit
Cast: Gauri Gadgil, Mrinal Kulkarni, Upendra Limaye, Rishikesh Joshi, Manoj Joshi, Aishwarya Narkar, Usha Nadkarni
Music: Kaushal Inamdar
Genre: Drama
Rating: * * * * ½
By: Keyur Seta
Story Outline: The film revolves around Gauri (Gauri Gadgil), who is a special child for having Down's Syndrome. Despite her condition, her mother (Mrinal Kulkarni) is hopeful of Gauri succeeding in life. But at the same time she is tensed and anxious about her future. Gauri's father, however, is ashamed of her. After he rudely rejects her, Gauri's mother breaks-up with him and relocates to her brother's (Hrishikesh Joshi) place forever. Later on, Gauri's life starts changing after she joins a 'special' school and slowly develops an interest towards swimming.
Review: A film revolving around a patient suffering from Down's Syndrome obviously sounds depressing or, at least, too serious. But it takes director Manish Limaye's just first effort Yellow to prove that even a film dealing with such a subject can be told through continuous flow of delightful and humorous moments. But having said this, it also does complete justice to the subject by being an inspiration for its sufferers and their parents.
To talk about the plus points, they are aplenty. In fact, Yellow is one of the rarest films to score brownie points in every department. Talking about the writing, Kshitij Hitendra Thakur, Ambar Hadap and Ganesh Pandit have achieved brilliance. To narrate a story of a child suffering with such condition in such a light-hearted manner while making sure the focus isn't shifted even a bit is something special. The conflict aspect later on too is interesting.
But the subject is such that it requires some skillful and mature handling by the captain of the ship and that is exactly what Manish Limaye does. And to see him carry out such a task in his very first film as a director is a remarkable achievement. Although it is difficult to list down few memorable moments, Gauri's scenes with her uncle and coach (Upendra Limaye) deserve special mention.
It is very difficult to find a flaw from Yellow. You can only point out that the tragedy fallen upon a cameo character should've been avoided as that sub-plot gets no place later on. Also, the film could have been told in a shorter duration.
The song 'Special', sung by Apeksha Dandekar and composed by Kaushal Inamdar, is soulful and it perfectly suits the subject. Inamdar's background score too invokes the right effect. Manish Limaye has shown his skills as a cinematographer too, especially during the swimming competition scenes.
The film rides high on performances. Gauri Gadgil is outstandingly heartwarming! She had a very difficult task but she carries it out effortlessly. The girl playing the younger Gauri too is excellent. Upendra Limaye displays his acting prowess in a first-rate performance. It is also good to see him play a non-rural character for a change. Mrinal Kulkarni gives a performance that moves you.
Hrishikesh Joshi is just lovable due to the comic timing he brings in even during serious moments. Manoj Joshi brings in the right emotions while playing Gauri's father. Aishwarya Narkar too plays her part well. Usha Nadkarni is excellent in a cameo.
Overall: Yellow is simply a must-watch. It has the potential of being a box office winner. With the makers providing English subtitles, the non-Marathi crowd too will chip in once the word spreads.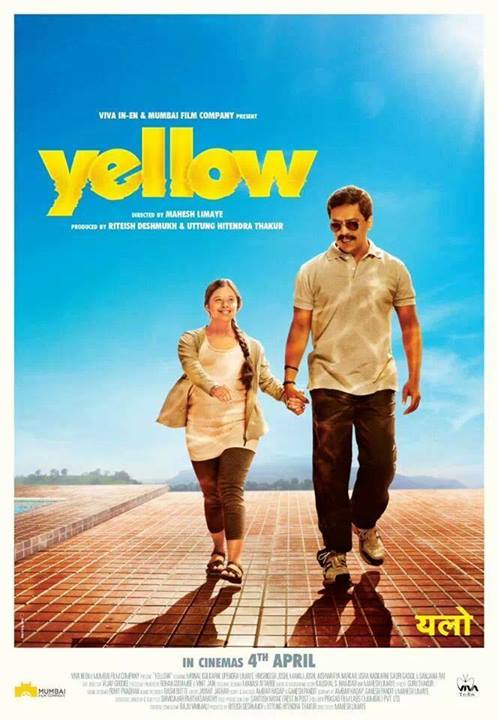 Director: Syed Ahmad Afzal
Producers: Pooja Entertainment and MSM Motion Pictures
Writers: Syed Ahmad Afzal, Ramiz Ilham Khan and Maitrey Bajpai
Cast: Jackky Bhagnani, Neha Sharma, Farooq Sheikh, Prakash Belawadi, Deepankar De, Triveni Sangam Bahuguna
Music: Jeet Ganguly, Shreya Khanwalkar, Shiraz Uppal and Shree-Ishq
Genre: Political Drama
Rating: * * * 1/2
By: Keyur Seta
Story Outline: Twenty-eight year old Abhimanyu Kaul (Jackky Bhagnani) is the son of India's Prime Minister Dashrath Kaul (Boman Irani). Working as a gaming specialist in Japan, he is living a dream life with his girlfriend Anvita (Neha Sharma) and a close friend (Kayoze Irani). But his life takes a major twist when he has to return to India after his father succumbs to cancer. Circumstances force Abhimanyu to become the interim PM much to the opposition of Anvita. But will an utterly inexperienced Abhimanyu be able to run the world's biggest democracy?
Review: Can you digest the fact that a completely inexperienced 28-year-old can become India's Prime Minister? If you can, you would be impressed by debutant Syed Ahmal Afzal's Youngistaan for its intentions and the message it puts forth in a positive way. Despite its flaws and other issues, the film manages to provide a heartwarming effect since it has its heart at the right place.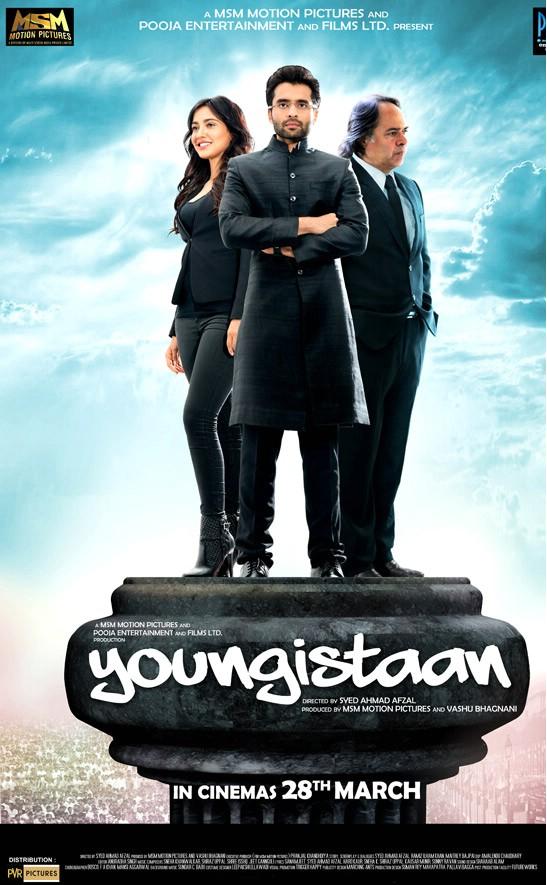 From being a wild party film, the proceedings suddenly shift gears after the death of the PM. But this transformation should have been smoother and natural rather than sudden. Nevertheless, the crucial phase of Abhimanyu becoming the PM is handled with care and a sense of believability. Unlike other political dramas, the love track over here is a concrete part of the story, realistic and not thrown in just for the heck of it. Therefore, there is no question of the narration shifting to the love track since it is always moving ahead with the basic plot.
The most impressive aspect of Youngistaan is surely the motivational message it gives after Abhimanyu gains control of the situation. His speech at the United Nations and various rallies, his method of connecting with the masses and the climax are the winning moments that will leave you delighted. Without being preachy, the film also highlights that politicians are bad, politics isn't. But despite giving such a serious message, the film never shies away from the light-hearted mode, which adds more mass appeal to it.
As hinted before, there are obvious flaws. Considering the basic storyline, it doesn't come as a surprise either. I can't list them to avoid spoilers. At the most, they could have lessened them. One point that can be mentioned is that Abhimanyu and Anvita could have easily got married. Plus, after a point in the second half, the narrative does suffer from some complications that could have been avoided. But due to various other plusses, you tend to make peace with the fallacies.
From the music, the title track and 'Sangemarmar' are impressive. 'Tanki Monkey' is weird! The technical aspects (cinematography, background score and editing) are as per the requirement.
The film wouldn't have created this much effect without Jackky Bhagnani's mature performance. In fact, the actor dishes out a major surprise with an act that is powerful and moving. He has now proved he is not just a star son. Despite his act, you can't help but be amazed by Farooq Sheikh. He yet again shows he is a storehouse of talent that cannot be replaced.
Neha Sharma too plays her part very well. Like Jackky, even she will be recognized as a serious actor after this act. Prakash Belawadi is excellent as Murli. Deepankar De and Triveni Sangam Bahuguna too aren't far behind. Boman Irani, Kayoze Irani and Meeta Vashisht are likable too although their roles are limited. The film has decent performances from a series of supporting actors.
Overall: Youngistaan deserves a watch for the message it gives. With elections just around the corner, the film has the capacity to encourage the youth to vote, especially the first-time voters.