Director: David Dhawan
Producers: Balaji Motion Pictures
Writer: Tushar Hiranandani and Milap Milan Zaveri
Cast: Varun Dhawan, Ileana D'Cruz, Nargis Fakhri, Arunoday Singh, Saurabh Shukla, Rajpal Yadav, Anupam Kher, Manoj Pahwa
Music: Sajid-Wajid
Genre: Comedy
Rating: * * * ½
By: Keyur Seta
Story Outline: Staying in Cunnoor, Srinath Prasad aka Seenu (Varun Dhawan) is a nuisance in college. He also has to face wrath from his professor and parents for his poor academic performances. In order to prove a point to his parents, he goes to Bengaluru for further studies. His eyes fall on a fellow student Sunaina (Ileana D'Cruz) and he instantly falls for her.
However, Sunaina has been blackmailed into being the girlfriend and future wife of the evil and hot-tempered cop Angad (Arunoday Singh). Despite Angad's strength and power, Seenu decides to fight against him to win Sunaina's heart. But things go ugly for Seenu when Ayesha (Nargis Fakhri) forcefully enters his life.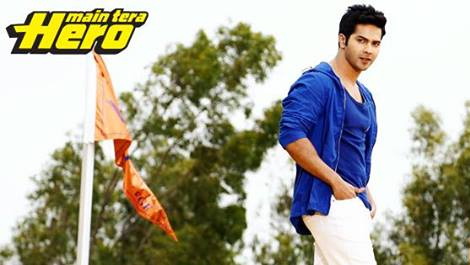 Review: So far in Hindi cinema, only experienced actors or superstars have successfully managed to pull off hero-centric roles in hardcore masala entertainers. But Varun Dhawan, in his father David Dhawan's Main Tera Hero, has managed to do that just in his second film and how! With his lovable heroic antics, he just doesn't cease to impress you, regardless of your gender. His act coupled with Milap Milan Zaveri's writing results in a non-stop laugh riot. After last year's successful Chashme Baddoor, David Dhawan continues his winning streak.
It is common sense to keep logic and reasoning away in such genre of films. But to enjoy Main Tera Hero, you need to keep both the entities miles away and be ready to accept some madcap, crazy humor. If you can't do that, don't even think of watching it. But if you can, be ready for a laughter dose lasting for little over two hours.
What is most impressive about Zaveri's writing is that he has managed to include punch lines and PJs after almost every few seconds. Despite being silly most of the times, Tushar Hiranandani's screenplay should also be lauded for the way he has connected various crazy situations, without giving you any time to think.
On few occasions, however, the craziness crosses the limits. You can forgive such points for the laugher provided in return but this will affect a section of the audience. What also goes against the film is some amount of vulgarity. It is absolutely fine for such things to be included in an adult comedy but not in a film targeted for family audiences. Apart from this, the situation in the second half is similar to Sajid Khan's Houseful 2.
Sajid-Wajid's music adds to the entertainment with every song – 'Tera Dhyan Kidhar Hai', 'Galat Baat Hai, 'Besharmi Ki Height' and 'Shanivar Rati' – turning out to be enjoyable.
As mentioned above, Varun Dhawan is simply outstanding, be it comedy, action or dance! His father has made him do stuff that Govinda does in his films. But Varun has managed to do it so early in his career, which is a remarkable achievement. He surely should continue it! Ileana D'Cruz plays her part well. Nargis Fakhri's bad acting skills are visible here too. Thankfully, it doesn't trouble you much due to the overall entertainment.
Arunoday Singh is the surprise package. He not only scores with his villainous antics but also with the unusual comedy he had to do. Rajpal Yadav is brilliant at what he does best. Saurabh Shukla and Anupam Kher once again display their talents. Manoj Pahwa and Supriya Shukla, as Seenu's parents, are decent. Evelyn Sharma is wasted. Shakti Kapoor is hilarious in a cameo.
Overall: Through Main Tera Hero David Dhawan once again delivers what he always promises: lots of entertainment!  The film should do well at the box office due to its mass appeal and Varun Dhawan's act.