Srijit Mukherjee's Begum Jaan has an interesting and intriguing storyline with a lot of scope for drama. But a good concept requires convincing execution in order to provide overall satisfaction. Mukherjee, as writer and director, manages this only to some extent. This results in an engaging film that lacks complete appeal.
The film is the official remake of the Bengali film Rajkahini (2015) by the same director. Begum Jaan (Vidya Balan) proudly runs a brothel in Punjab in 1947. She has a group of girls working under her. Being a tough individual, she doesn't feel ashamed of their profession.
Their life comes to a halt when India gets partitioned and the border is supposed to go through their brothel. Hence, they are told to vacate the house. But Begum and her girls would never budge. What will the authorities do now?
Rajkahini was 160 minutes long. The Hindi version is reduced to 135 minutes. This works for the film as it makes sure that the proceedings are gripping. Some dialogues at times too are praiseworthy. For example, 'Mahina ginna humein achchhe se aata hai sahab. Sala har baar laal karke jata hai.' The underlying message against patriarchy and the hypocrisy of the so-called elite class is also well stated.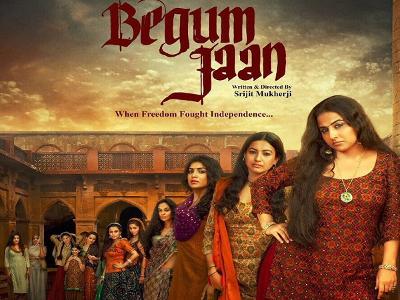 But Begum Jaan has a major issue. You don't feel much for the characters and their plight. This is simply because the execution lags behind in the very basic task of establishing the characters and their life story before they landed in Begum's brothel. Even the back story of Begum is shown in a hurry. When you don't know much about the characters, it becomes very difficult to have sympathy for them when their lives are in danger.
Furthermore, in trying to create drama, the director has resorted to too much of loudness. There are high screams by the characters and a jarring background score too. Surprisingly, there are hardly any scenes taking place outside the locality of the brothel. This coupled by its location doesn't give a feel of Punjab, where the story is based.
Cinematographer Gopi Bhagat, however, has succeeded in artistically capturing the flick. The symbolic method of showing only the half faces of Vidyarthi and Kapur on a couple of occasions is too praiseworthy. The musical tracks are as per the need. 'Woh Subah Humi Se Aayegi' plays a big role in the climax.
Vidya Balan has once again succeeded in giving a powerful act. She has displayed both ruthlessness and softheartedness with ease. Unfortunately, her act becomes a victim of loudness on few occasions. Pallavi Sharda not only looks ravishing but also scores high on performance. Ila Arun is brilliant as the eldest member of Begum Jaan's family.
Chunky Pandey comes late but leaves a resounding impact. Here is an actor who deserves more meaty roles than comical ones. Ashish Vidyarthi and Rajit Kapur provide fine acts. Vivek Mushran, known for his debut Saudagar (1991), is the surprise factor. As expected from someone like Naseeruddin Shah, he is fully believable. Pitobash Tripathy once again shows his supreme talent.
Gauahar Khan proves she is not behind when it comes to acting talent. Priyanka Setia, Ridheema Tiwary, Flora Saini, Mishti, Raviza Chauhan, Poonam Rajput and other girls of the brothel are alright. Rajesh Sharma and Sumit Nijhavan, as Salim, provide perfect support.
Overall: Begum Jaan is an average drama that deserved better execution. The film will have a tough journey at the box office. It is not expected to generate good collections.
Rating: 2.5/5
Review by: Keyur Seta
Director: Srijit Mukherjee
Producers: Vishesh Films
Writer: Srijit Mukherjee
Cast: Vidya Balan, Pallavi Sharda, Gauahar Khan, Ila Arun, Ashish Vidyarthi, Rajit Kapur, Rajesh Sharma, Naseeruddin Shah
Music: Anu Malik and Khayyam (for the recreation of 'Woh Subah Kabhi Toh Aayegi)
Genre: Period drama
Runtime: 135 minutes
Even in 2017, a person suffering from a psychological illness continues to face stigma from the society. This holds true even in the most urban city like Mumbai. Author Susmita Bagchi's Beneath A Rougher Sea is a fine encouragement in speaking out about mental issues. But instead of being preachy, it puts forth its point while telling a compelling story.
The novel revolves around an experienced psychiatrist, Aditya. He has been practicing out of Bangalore since years. He treats all types of mental disorders; from simple depression to something as complex as schizophrenia. His wife, Prachi is a general doctor working in a hospital. Something new happens in Aditya's routine life when he bumps into his old friend, Prakash.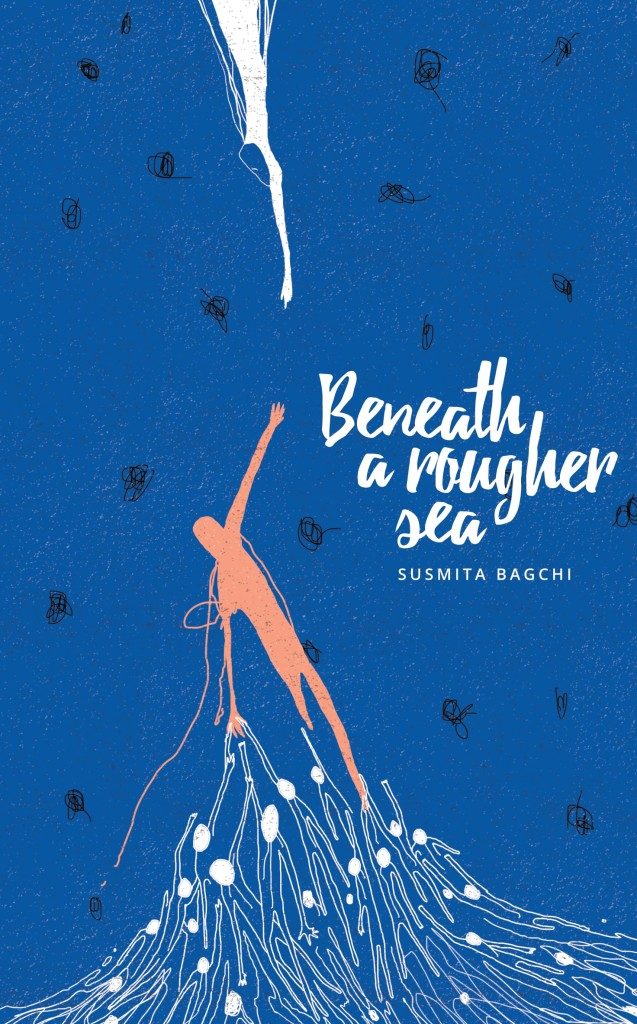 The two of them had met during their medical college days. After getting irritated by Prakash initially, Aditya became his best friend in no time. But later on, they went out of touch as both got busy with their respective lives. But the real twist comes in Aditya's life when Deepa, his first love, resurfaces after 22 years.
As is evident from the above synopsis, Beneath A Rougher Sea has an interesting, dramatic storyline. But Bagchi has smartly weaved the issue of psychological illness into it. To provide awareness on mental disorders in such an emotional personal story is no easy task whatsoever.
But the biggest challenge was to present and explain the condition of individuals suffering from psychological disorders. And the author has succeeded here too. Thankfully, she has steered clear of making it sound technical. In other words, a layman or someone with no knowledge of the psychological world would find it easy to grasp.
The conversation between the psychiatrist and the patients was the means to it. The dialogue with every patient is interesting and insightful. And having witnessed the working of psychiatrists from close quarters, I can vouch that it is realistic too. The reality is seen in the numerous characters too. There is a good amount of relativity with them.
Moreover, the pace is crisp. The book is a fast read throughout. As far as the writing is concerned, it's simple yet appealing. The author has maintained the balance between rich and easy language.
There are few issues that stop the book from being much more. There comes a period where the story doesn't move much and a lot of footage is given to the discussion with patients. Tragedy with one of the characters should have at least been reduced. This is because the purpose of the character and its story was already achieved.
Overall: Beneath A Rougher Sea is an insightful and interesting novel. It carries out the much needed task of removing stigma from patients suffering from psychological problems.
Rating: 3.5/5
Reviewed by: Keyur Seta
Pages: 279
Publisher: Leadstart Publishing
Price: Rs 299
Cover: A sketch on blue perfectly depicting the storyline