There was a time when I was just not able to hear anything against Shah Rukh Khan. Apart from his acting talent, I was highly impressed by his non-starry and humble attitude. But after his recent behavioral antics, even I have started losing respect for him. The latest being today where he shocked everyone by slapping filmmaker Shirish Kunder, who is the husband of SRK's once best buddy Farah Khan.
It all started when the actor expressed pain just after the July 13 Mumbai blasts by saying he is eager to come to the city to be there for the people. However, he soon landed in the city only to throw a success bash for the movie Zindagi Na Milegi Dobara.
Then came his dream project Ra.One. The way he became over-desperate to promote his film by appearing in almost every popular show and tying up with almost every famous product made me and others wince. Apart from his, all his interviews oozed with self pride where his main focus was to prove that he is the King Khan.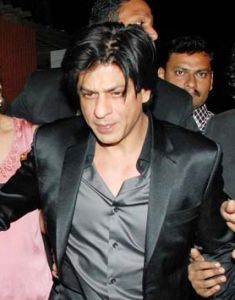 Even after the film was rejected by the majority of audience, SRK refused to accept the fact sportingly by continuing to boast its terrific opening. His self-boasting interviews continued.
Soon after that, his naughty kissing extravaganza with Priyanka Chopra made heads turned. A married man who is a father of two grown up kids doing such things it in full view of the cameras made me feel ashamed.
His flirty and cheap behavior reached another level at the recently concluded Colors Screen Awards where he was literally behaving tharki on stage with popular actresses, especially Madhuri Dixit. What shocked me the most was that he was showing desire of getting physical with Madhuri, and that too in presence of her husband Dr Nene. In fact, SRK even announced that Nene won't mind him flirting with his wife!
I was still not able to get out of this incident when I got to know today that Shah Rukh openly slapped Kunder. I was horrified to hear this considering the way SRK preaches kindness and tolerance. Even if Kunder was at fault, it is just not justifiable to indulge in such violence by someone who is almost worshipped by the masses!
People might think this isn't an issue of national importance. Well, I think it is since over the years, SRK has been the brand ambassador of India in various countries. There are places where India is famous because of SRK. So, such national brand ambassador slapping away his popularity is a matter of concern.