Direction: Karan Malhotra
Production: Dharma Productions (Karan Johar)
Cast: Hrithik Roshan, Sanjay Dutt, Rishi Kapoor, Priyanka Chopra, Zarina Wahab
Music: Ajay-Atul
Rating: * * ½
Plot: Kancha Cheena (Sanjay Dutt) dreams of running a drug kingdom, in the guise of salt business, in Mandwa and for that he wants to take the village on lease. However, Master (teacher) Dinanath Chauhan (Sunil Chauhan) urges the villagers against falling in Kancha's trap. In order to get his way, Kancha mercilessly kills Dinanath. The film follows the story of how Dinanath's son Vijay (Hrithik Roshan) tries to avenge his father's death.
Review: Although the original Agneepath (1990) is known for Amitabh Bachchan's greatness, the film suffered courtesy a weak script which became a reason for its downfall at the ticket window. Karan Malhotra's remake of the same has a slightly better writing and offers a different take on the same plot. However, this doesn't ensure a flawless product which is also due to the casting of Hrithik Roshan as Vijay Dinanath Chauhan.
Malhotra's version sees lots of changes in the sub-plots and incidents from the 1990 movie. Even the character of Vijay is completely novel in terms of mannerisms, temperament as well as age. Hence, it won't be proper to compare the remade version with the original one.
After the cruel initial moments, things brighten up after Hrithik and Priyanka Chopra's entry. Pace does drops down few times, mostly due to the inclusion of songs and some emotional scenes. During the 'Hun Hun Huna' number you realize such jazzy birthday celebrations, including the disco effect, can take place in a chawl only in a Karan Johar flick. But the subsequent twists end the first half on an exciting note.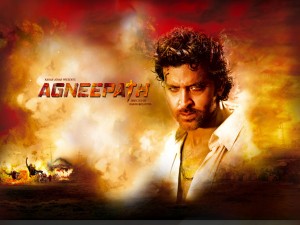 Things continue to be interesting in the second half too. However, brakes are applied again in the proceedings in the form of some over-emotional scenes (very K Jo-ish indeed!). Fuel is added once again with some paisa vasool moments and mostly during the Ganapati Visarjan part ('Deva Shree Ganesha' song) only to disappoint in a non-believable and over-filmi climax.
Debutant director Karan Malhotra leaves a mark in a number of sequences. He surely has a future in Bollywood.
'Deva Shree Ganesha' is the track of the movie. The rest of Ajay-Atul's creations are not bad. Ravi K. Chandran and Kiran Deohans deserve brownie points for their camerawork. The same can be said for Abbas Ali Moghul's action although it gets too violent at times for a UA certificate film.
Hrithik Roshan lacks the manliness needed for the character. This is largely felt by his non-mardana voice. Due to this, he lacks the personality needed for a bhai or dada. But despite these limitations, the actor carries off his act with dedication.
Sanjay Dutt is the one who leaves the biggest impact! He brings a new dimension to the cult character of Kancha Cheena with his outstanding villainous acts. You just love to hate him. Rishi Kapoor is remarkable too as Rauf Lala. Priyanka Chopra is average. She doesn't appear like a Maharashtrian mulgi although she tries a lot.
Zarina Wahab isn't bad as Vijay'r mother while the girl playing his sister is likable. Inaamulhaq presents a commendable act as Shiva.
Overall, Agneepath has its share of good as well as bad moments which finally tilt more towards the latter. Its box-office opening has been tremendous which will make sure it breaks quite a few records.