The Demonetisation of Rs 500 and Rs 1000 notes and the introduction of Rs 2000 notes are garnering mixed reactions among the people of India. So, I and a couple of my friends - Padmanabh Subramanian and Ankit Tripathi - came up with this spoof on how the Common Man of Neeraj Pandey's A Wednesday would think of Demonetisation if he is facing problems due to it.
This is it:-

Here are the words of it:
Main woh hoon jo aaj do hazaar ki note se darta hai. Main woh hoon jo ATM jata hai toh uski biwi ko lagta hai jung pe ja raha hai. Pata nahin bachega ya nahin. Har 2 ghante ke baad phone karti hai ki paise mile ki nahin, number aaya ki nahin. Darasal woh yeh jaan na chahti hai ki main zinda hoon ya nahin. Main woh hoon jo chunavi vaadon mein phasta hai. Kabhi jumlo mein.
Kala dhan kisi ka bhi ho, bewajah marta main hi hoon. Bheed toh dekhi hogi na aapne? Bheed mein se koi ek shakal chun lijiye, main woh hoon. I am just a stupid tax payer, wanting to jump ATM queues.
- By: Keyur Seta
No, I am not giving an opinion on whether the Demonetization of Rs 500 and Rs 1000 notes and introduction of Rs 2000 notes is a good move. I have zero understanding of matters related to Money, Finance or Economics. After going through some expert opinions, I am assuming it's a good move.
This write-up only looks at the situation from a logical and humanitarian point of view. The main aim or reason behind the demonetization exercise is to control the flow of Black Money in the country and to punish those who indulge in keeping undisclosed amount. Apart from this, it is also aimed at stopping the supply of counterfeit notes.
There is a saying, "It is fine if 100 criminals go unpunished, but it is not fine even if a single innocent gets punished." The scenes taking place in the country since yesterday have made sure that this saying is continuously playing inside my head.
It is completely understandable that one has to face some inconvenience during such operations. I, along with many others, have no problems with it. There is dearth of Rs 100 notes while Rs 500 and Rs 1000 notes are finding no takers. It is okay for us because we have numerous options like online purchase, ATMs, net banking, etc.
However, we seem to have forgotten that a large chunk of Indian population doesn't have bank accounts, leave alone net banking facility. How do you expect them to survive? As is seen from videos posted on the net, people have broken down as they have no cash for basic necessities. Just have a look at the insanely long queue outside a bank in Surat (below video). Have you ever seen such row of people ever? Are you assuming all of them are corrupt Black Money holders?
Such scenes clearly show that there was no planning whatsoever for an operation as massive as this one. But who is suffering the most due to their blunder? The Common Man, who pays his tax duly and has no black money like many of those millionaires. Know about the plight in detail by clicking HERE.
But I still wouldn't have written this piece if I hadn't seen Narendra Modi, the Prime Minister of India, joking and mocking about the scenario during his speech in Japan yesterday. It was a mixture of shock and disgust to see him poke fun at the situation by citing few examples of helpless people. If this isn't sadistic, what is? (Watch the video below)
That too coming from the PM of a country and that too after knowing about few deaths that took place due to the chaotic process! I guess he realized his folly, so he came up with an emotional speech today. Well played!
If this wasn't enough, people are comparing the plight of the Common Man with that of our soldiers on the border. These are the same people who are ready to label anyone 'Anti-national' at the drop of a hat. So, isn't using the Indian Army to hide your blunder an anti-national act?
After making innocent taxpayers suffer to this extent (including death), they better make life hell for the corrupt Black Money holders soon. I am sure you know the names. Let's see when they go to jail.
"It is fine if 100 criminals go unpunished, but it is not fine even if a single innocent gets punished."
- By: Keyur Seta
By: Keyur Seta
Hospital scenes in movies usually evoke worry and fright. At times, miracle and hope also find their place but only after a few sequences of tension. But Rajesh Mapuskar's Marathi movie, Ventilator is a huge exception. It is a heartwarming, light-hearted affair despite the fact that it revolves around a patient who is in coma.
Ventilator revolves around Gajanan kaka, a senior citizen who is admitted in the I.C.U due to brain hemorrhage. His nephew Raja (Ashutosh Gowariker), a filmmaker, aborts an important event to be there for him. Gajanan's son, Prasanna (Jitendra Joshi) is a member of a political party. He has a grudge against his father. Raja too isn't happy with his dad (Satish Alekar). As the news of Gajanan's health spreads, his relatives from within and outside city gather in the hospital. What will happen to Gajanan?
In his debut Hindi film, Ferrari Ki Sawari (2012), Mapuskar showed that he is a true protégé of Rajkumar Hirani. He proves it further with Ventilator. The film falls in the same slice-of-life genre that brings laughter with few doses of emotions. However, neither the 2012 film nor this one bears any resemblance with any of Hirani's films.
Ventilator owes most of its goodness to the writing. To weave sub-plots related to such large number of characters with the basic story while giving proper screen time to each one can is a mammoth achievement. On top of that, the flow is maintained throughout. Apart from the coin episode, none of the incidents seem out of place.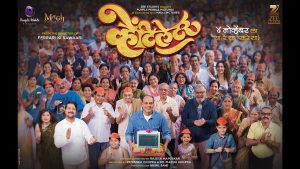 Along with providing entertainment, a lot of underlying questions are brought to the forefront. But instead of speaking them out, the narrative uses subtle techniques of putting forth the points. Although there is plenty of scope for melodrama, Mapuskar had stayed miles away from making it a daily soap affair. The very last frame of the film deserves special mention for its creativity.
But despite these plus points, Ventilator falls short of being much more. The biggest problem here is the length. For a story that revolves only around one setting, 130 minutes is too long. The runtime is felt the most during the pre-climax moments.
As almost the entire film takes place indoors (in a hospital), there wasn't much scope for the cinematographer, Savita Singh. But she still manages to display her creativity. Coming to Rohan-Rohan's music, the Ganpati song, 'Ya Re Ya Sare Ya' is heartwarming while 'Baba' is profound.
The film has a huge line-up of actors. The last time this happened in a Marathi movie might be in Amol Palekar's We Are On – Houn Jaun Dya (2013). [No, I am not indulging in the criminal activity of comparing both the films.] Ashutosh Gowariker suits his character. But his character sketch is very similar to his real self. I didn't have a problem with that though.
Jitendra Joshi is by far the best of the lot. He brings out various emotions flawlessly. Satish Alekar, as Gowariker's father, also puts his right foot forward. There is a long list of actors that offer sincere support – Sukanya Kulkarni Mone, Usha Nadkarni, Nikhil Ratnaparkhi, Sulbha Arya, Viju Khote, Achyut Potdar, etc.
Namrata Awate Sambherao gets more than noticed for her excellent portrayal of a cunning lady. Boman Irani is super impactful in a cameo while Priyanka Chopra is decent. The actor who plays an octogenarian is truly adorable!
Overall: Ventilator is a heartwarming, light-hearted family film. It stands a good chance of earning good to decent collections at the box-office.
Rating: * * * ½
Director: Rajesh Mapuskar
Producers: Priyanka Chopra and Madhu Chopra
Writer: Rajesh Mapuskar
Cast: Ashutosh Gowariker, Jitendra Joshi, Satish Alekar, Sukanya Kulkarni Mone, Sulbha Arya, Usha Nadkarni
Music: Rohan-Rohan
Genre: Drama
Release date: November 4, 2016
Runtime: 130 minutes