There was keen anticipation and excitement for Raj Thackeray's Gudi Padawa speech last evening at the historic Shivaji Park maidan. Going by his recent, well-thought attacks on the Modi led BJP [Bharatiya Janata Party] government and his promise of delivering something big on the Gudi Padawa speech raised hopes of this being his fiercest attack on the current regime.
Raj Thackeray lived up to the expectations and carried out, what can be described as, by far the most stupendous attack on the Modi government ever. In his recent speeches against the regime, he has been resorting to slamming the government on specific and logical points instead of purely ranting. As expected, this was the case yesterday as well.
He slammed the centre on demonetization and its after effects, GST [Goods and Services Tax], clean Ganga drive, curtailment of freedom of expression and press, labelling people who share a different political view as 'anti-nationals' and various other issues. Like his last speech at Rangasharda auditorium, he used screens or monitors to show previous speeches of Modi to make his point clearer.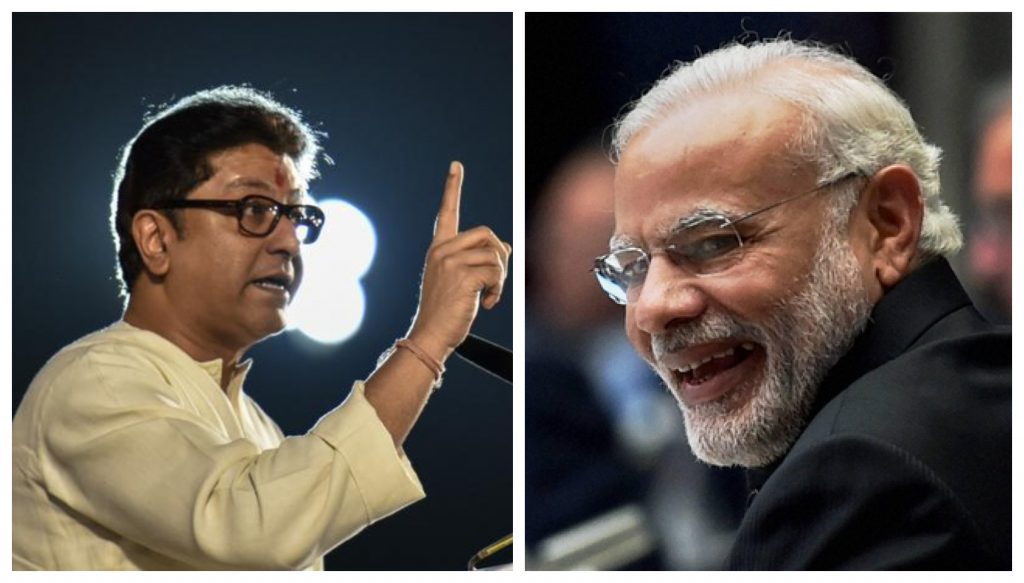 But there were two things that came unexpected. While slamming the Right Wing and BJP for lynching people on mere suspicion of carrying beef and supporting beef ban, Raj Thackeray unearthed an old video of Modi where he has clearly supported selling of beef and revealed that some of his Jain friends are also in the beef business. Now, even the media and the anti Modi pages on social media haven't been able to get hold of this video.
Similarly, Raj Thackeray brought to the notice the alleged scam of Mudra Loan scheme where people applying for loans under the scheme are required to pay Rs1000 odd to a private firm. This issue is also not explored by the mainstream media or social media.
Overall, he urged people to vote out the BJP in the Lok Sabha polls so that Modi and Shah have no role to play at the centre. He made it clear that even if his appeal makes Congress-NCP [Nationalist Congress Party] victorious, so be it.
However, the major question here is whether Raj Thackeray's numerous ferocious attacks on BJP and the appeal to vote them out will have any effect on the outcome of the Lok Sabha elections.
The chances are bleak at least in my opinion due to the following reasons:
1. Raj Thackeray's MNS is a regional party based in Maharashtra. So, obviously, his supporters and fans are present only in the state.
2. His appeal is for the entire nation but his speeches are in Marathi, a language that is not understood outside Maharashtra. Hence, the national Hindi and English channels hardly give any coverage to his rallies.
There's a big example of how a strong and controversial statement given in the regional language last year could hardly get viral in the entire country. Union Minister Nitin Gadkari said in Nana Patekar's Marathi talk show as to how they made false promises to the voters in Maharashtra because they never expected to win the elections.
Now, this is a shockingly honest confession by a sitting union minister. However, as it was in Marathi, it didn't get viral in the entire country.
3. A good amount of the local Marathi speaking population are supporters of Shiv Sena, the party which Raj Thackeray left in 2006. Shiv Sena, despite their severe attacks on BJP, have still aligned with the BJP. Hence, voting Shiv Sena will mean voting for Modi.
4. Raj Thackeray may have softened his stand on migrants from Uttar Pradesh [UP] and Bihar in Maharashtra but his anti-north India image is still strong. People likely to vote for BJP are from the Hindi belt from where Thackeray's past is still not wiped out.
5. Lastly, Raj Thackeray said that choosing Rahul Gandhi over Modi can be tried. However, going by people's views, very few are ready to accept Rahul over Modi, including the haters of the latter.
Raj Thackeray will be taking around 10 more rallies running up to the Lok Sabha elections. Let's wait and watch whether his appeal widens in the coming days.
By: Keyur Seta