By: Keyur Seta
The sad demise of Dr APJ Abdul Kalam, India's ex-President, brought the nation to a standstill. Facebook newsfeed and Twitter timeline started flooding with condolences posts in no time. In fact, it has been more than 18 hours, but the scene is the same on both social networking sites. People are still continuing to post tributary messages and share articles about him.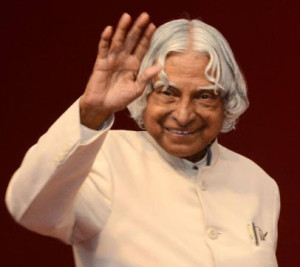 Any regular FB and Twitter used would agree that such scenes are never-seen-before. This only shows the unthinkable amount of love and respect Kalam shares among his fellow countrymen.
This makes me wonder whether there has been any other well-known Indian in the post-independence era to enjoy such massive respect. Not just this. After digging deep into history, we realize that Kalam is the only Indian in the modern era without any enemies or haters. Seriously, ask yourself, can you recall any one person speaking against Kalam or opposing him?
Kalam, whose full name is Avul Pakir Jainulabdeen "APJ" Abdul Kalam, was a renowned scientist, teacher, and, lastly, the most successful and respected President of India. Among other achievements, he played a major role in launching Pokhran – II nuclear test and making Indian Space Research Organization (ISRO) self-sufficient. This rightfully earned him the title 'Missile Man'.
But these are not the only achievements that made him what he was. Academic and professional credentials are not enough to be so greatly loved. Dr Kalam achieved God-like status because he possesses all good qualities one would wish to find in a person. The most significant one is his humility. Despite being such super achiever, he lived and behaved like any other Common Man. This is what made him 'The' Abdul Kalam.
May his soul Rest In peace because he deserves so. But an ideal tribute to him would be to live life according to the principles laid down by him.
Here are 10 motivational and inspiring quotes from Dr APJ Abdul Kalam:
If a country is to be corruption free and become a nation of beautiful minds, I strongly feel there are three key societal members who can make a difference. They are the father, the mother and the teacher.
You have to dream before your dreams can come true.
We will be remembered only if we give to our younger generation a prosperous and safe India, resulting out of economic prosperity coupled with civilizational heritage.
Man needs his difficulties because they are necessary to enjoy success.My message, especially to young people is to have courage to think differently, courage to invent, to travel the unexplored path, courage to discover the impossible and to conquer the problems and succeed. These are great qualities that they must work towards. This is my message to the young people.
If you want to shine like a sun. First burn like a sun.
It is very easy to defeat someone, but it is very hard to win someone.
Be more dedicated to making solid achievements than in running after swift but synthetic happiness.
For great men, religion is a way of making friends; small people make religion a fighting tool.
One of the very important characteristics of students is to question. Let the students ask questions.
I am not a handsome guy, but I can give my hand to someone who needs help. Beauty is in the heart, not in the face.