By: Keyur Seta
The most interesting feature about the ongoing World T20 2016 or the T20 World Cup is that it is extremely difficult to predict a winner. Especially after New Zealand's victory over India and Australia and England's near-miracle chase of 230 against South Africa, it looks like anybody's tournament.
However, I would still like to go ahead and offer a prediction. I strongly feel that South Africa is the strong favorite to win this World Cup. I know some of you might give daily soap reactions to this after their defeat against England, not-so-convincing win against Afghanistan and their history of being 'chokers'. Some ultra-nationalists might even label me 'anti-national'.
But do have a look at the reasons below:-
Batting line-up: South Africa might have lost yesterday's match but we can't ignore the fact that they scored as many as 229 runs in 20 overs. This was possible due to their long and dangerous batting line-up that fired in a key match. When you have Hashim Amla, Quinton de Kock, AB De Villiers, Faf du Plessis and David Miller as your top five and that too in good form, the opposition is set to experience a nightmare. Although ABD didn't score well yesterday, his greatness needs no proof.
Bowling line-up: Things can go terribly wrong in a high-scoring T20 match on a flat wicket and I feel that is exactly what happened with South Africa against England and, to some extent, Afghanistan. I don't expect an impressive bowling line-up of Dale Steyn, Kagiso Rabada and Kyle Abott to falter regularly. But the trump card for the Proteas, especially on Indian pitches, is Imran Tahir. The leg-spinner's outstanding bowling figures of 4-0-28-1 went unnoticed with the focus being on England's victory. Plus, they have the likes of Duminy as well who can be more than useful in Indian conditions.
Experience in India: This is a big reason for me considering SA as the favorite. Players with experience in Indian conditions and on Indian pitches always have an upper hand in such world tournaments. In the case of the Proteas, almost every player from their team has played regularly in India, either during tours or the Indian Premier League (IPL).
Venue Factor: We shouldn't forget that SA has played both its matches on a super flat Wankhede wicket, which is not going to be the case with the rest of their matches. If there is some assistance for either pacers or spinners, this team will look dangerous. This might well be case of them striking when it matters the most.
Other favorites:
New Zealand: The Kiwis have proved in their first two matches that they are strong contenders to win the World T20. Beating teams like India and Australia is a mammoth achievement indeed. But when it comes to winning big crunch matches, they have mostly faltered in the past; not to forget their abysmal performance in the 2015 World Cup Final.
Australia: Despite losing their very first match in the World T20, the Aussies, in my opinion, are still the top three favorites to lift the trophy. Their team is full of T20 specialists, who can turn the match on their day. It's just that their recent lack of form (losing 3-0 against India in their backyard) that can keep them away from final glory. Just today, they had a tough time even against Bangladesh. But if they do manage to reach the semi-finals, it would be difficult to stop them from laying their hands on the coveted trophy.
What about India?
The top three favorites (as mentioned above) can prove to be too much for Team India. Although they have made amends for their humiliating defeat against New Zealand by beating Pakistan handsomely, I still don't feel they are good enough to be the world champions. Their chances depend a lot on how they perform against Australia on March 27 at Mohali.
P.S:– Needless to say, I would love to be proved wrong.
Director: Sujay Sunil Dahake
Producers: Krishna Lulla
Writer: Sujay Sunil Dahake
Cast: Madan Deodhar, Ketaki Mategaonkar, Shivraj Waikar, Shivani Rangole, Ruturaj Shinde
Music: Hrishikesh – Saurabh – Jasraj
Genre: Sci-fi
Rating: * * *
Review By: Keyur Seta
Director Sujay Sunil Dahake's debut, Shala was about adolescent romance. His next, Ajoba, gave a strong statement against environmental degradation through the story of a leopard. Phuntroo, his newly-released film, falls in the science-fiction genre.
If you can deal with three hugely diverse topics in your first three films and that too with conviction, there is no doubt about your talent. However, when it comes to overall satisfaction, Phuntroo falls short of expectations. But that doesn't take away its achievement of opening Marathi cinema's account in the modern sci-fi genre.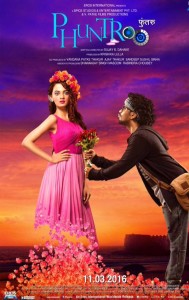 Phuntroo takes place in an engineering college. The story revolves around Vira (Madan Deodhar), a geek obsessed with scientific innovations. He is smitten by his collage mate Anaya (Ketaki Mategaonkar), but doesn't have the guts to pour out his feelings. Circumstances ensure that Vira lays his hands on an incomplete Artificial Intelligence experiment. As he gets involved in the project, his life starts changing.
It takes time for the viewer to adapt to Vira's world due to the complexities of his character and the setting. Slowly but surely when you do get accustomed, the experience starts becoming pleasant. It is now that you realize Dahake's mature handling of the subject, akin to his previous works.
The use of some subtle quirky humor is also praiseworthy. The Atheist Tea Stall, Hindutva Canteen, mention of real-life politicians and the FTII Chairman, are few things that make you laugh out loud effortlessly.
While it might be argued that the proceedings take time to get fully into the sci-fi mode, it works out well for it creates excitement and anticipation from the second half. However, it is in the latter part of the post-interval period that the film starts going downhill due to various reasons.
The creative liberty taken by Dahake is too much to ignore, with some important moments also lacking logic. What is also unforgivable is that Vira's emotional dilemma isn't explored much. Lastly, the climax doesn't provide the kind of kick you expect from such a subject.
It would be unfair not to consider the technical department as a major plus point. The work of the VFX team is triumphant to say the least. The film wouldn't have appealed without their contribution. But Archana Borhade's artistic camerawork and Saket Kanetkar's powerful background score aren't behind either.
Like his previous two films, the filmmaker once again extracts convincing performances from his actors. Madan Deodhar is excellent as Vira. To play such a complex and difficult character is no mean task. Ketaki Mategaonkar puts forth her best act till date. She is effective as the robot Phuntroo too. Shivani Rangole, Shivraj Waikar and few others too chip in with good acts.
Overall: Phuntroo is an above-average saga that doesn't live up to the expectations. It is more of an experiment. The film is given half a star extra for its technicalities. With good hype and famous faces in the lead, it is expected to score well at the box-office in the first week. But its chances don't appear positive in the long run.
By: Keyur Seta
Despite suffering terrible loses in the Delhi and Bihar Elections, the Bharatiya Janta Party (BJP) doesn't seem to have learnt any lessons. Their latest mistake occured in the ongoing Jawaharlal Nehru University (JNU) saga. By labeling charges of sedition on the students, including the JNU students' union leader Kanhaiya Kumar, they have highlighted their desperation.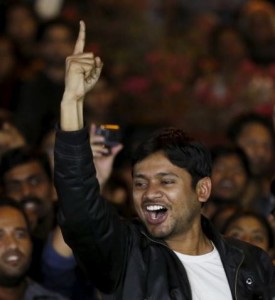 In my opinion, it is blasphemous to support terrorists like Afzal Guru and Maqbool Bhat, which the JNU students did, as is evident from the posters of their 'event'. But charges of sedition are applicable only when a person incites a mob to indulge in violence. Exactly due to this, the Delhi Police recently faced embarrassment from the Delhi High Court when the bench asked, "Do you even know the meaning of sedition?" (Read more about the meaning of sedition HERE.)
But what has hurt the government the most its own action of doctoring videos of JNU students' protest, which quite a few news channels played without checking its authenticity. A senior member of a news channel also resigned after knowing about the tampering of videos, which his channel played. (Know more about the videos HERE). This clearly amounts to villainous tactics to defeat someone. In simple terms, it's disgraceful.
However, this has given rise to a confusing situation in India. Kanhaiya is been hailed as the true hero of the nation after getting bailed. In opposing BJP and the Right Wing's actions, people are even hailing Kanhaiya as the only savior of India, just on the basis of a speech.
Democracy allows us to support or oppose anyone. Personally, I am impressed to see someone fearlessly opposing and challenging the negative tactics of the Right Wing. But it is also advisable to look deeper and not get carried away by someone's oratory skills. In today's day and age, when we have been fooled often by those heroic speeches, the least we should do is delve deeper and look beyond those fiery words and punch-lines.
The following is my personal opinion on Kanhaiya's speech:-
- Kanhaiya did raise important issues. But that doesn't change the fact that he and his fellow students supported Afzal Guru and Maqbool Bhat. In fact, if you try remembering, this entire saga started off when the JNU students union decided to hold an event in support of Afzal and Maqbool in, what they called, a 'cultural' program. It's clearly mentioned in the posters. Seriously, how justifiable it is to support people sympathetic towards convicted terrorists?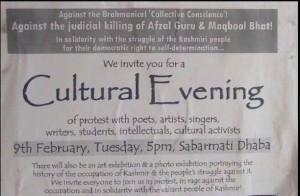 - Kanhaiya and his supporters are clearly advocating leftist propaganda. This is evident from slogans like "Lal Salaam" and "Red Salute", which they shout during every interaction. For the uninitiated, Leftist ideology can also be dangerous. So, if you are against the Right Wing but ready to support someone advocating Leftist ideology, you need to do some serious research. Plus, in India the Left has gone through a downfall. They hardly have any ground left currently.
- For your information, Kanhaiya is the leader of the All India Students' Federation (AISF), which is the students' wing of the Communist Party of India (CPI).
- Lastly, it clearly seemed that Kanhaiya was putting on a show, just like numerous other politicians. The points he raised, his manner of making fun of his opponents, his peculiar tone and gestures clearly made him look like a wannabe politician. It didn't appear spontaneous even a bit. For the uninitiated, he has already been approached to campaign for the CPI in the upcoming elections this year.
The intention behind this post is not to force anyone to change his or her opinion. It is just an advice to know the whole picture before hailing someone as a National Hero, which is a very precious title.
WATCH the entire Kanhaiya Azadi speech: