Director: Sujay Sunil Dahake
Producers: Krishna Lulla
Writer: Sujay Sunil Dahake
Cast: Madan Deodhar, Ketaki Mategaonkar, Shivraj Waikar, Shivani Rangole, Ruturaj Shinde
Music: Hrishikesh – Saurabh – Jasraj
Genre: Sci-fi
Rating: * * *
Review By: Keyur Seta
Director Sujay Sunil Dahake's debut, Shala was about adolescent romance. His next, Ajoba, gave a strong statement against environmental degradation through the story of a leopard. Phuntroo, his newly-released film, falls in the science-fiction genre.
If you can deal with three hugely diverse topics in your first three films and that too with conviction, there is no doubt about your talent. However, when it comes to overall satisfaction, Phuntroo falls short of expectations. But that doesn't take away its achievement of opening Marathi cinema's account in the modern sci-fi genre.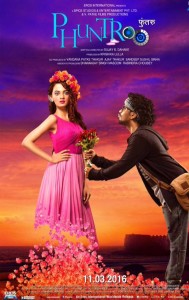 Phuntroo takes place in an engineering college. The story revolves around Vira (Madan Deodhar), a geek obsessed with scientific innovations. He is smitten by his collage mate Anaya (Ketaki Mategaonkar), but doesn't have the guts to pour out his feelings. Circumstances ensure that Vira lays his hands on an incomplete Artificial Intelligence experiment. As he gets involved in the project, his life starts changing.
It takes time for the viewer to adapt to Vira's world due to the complexities of his character and the setting. Slowly but surely when you do get accustomed, the experience starts becoming pleasant. It is now that you realize Dahake's mature handling of the subject, akin to his previous works.
The use of some subtle quirky humor is also praiseworthy. The Atheist Tea Stall, Hindutva Canteen, mention of real-life politicians and the FTII Chairman, are few things that make you laugh out loud effortlessly.
While it might be argued that the proceedings take time to get fully into the sci-fi mode, it works out well for it creates excitement and anticipation from the second half. However, it is in the latter part of the post-interval period that the film starts going downhill due to various reasons.
The creative liberty taken by Dahake is too much to ignore, with some important moments also lacking logic. What is also unforgivable is that Vira's emotional dilemma isn't explored much. Lastly, the climax doesn't provide the kind of kick you expect from such a subject.
It would be unfair not to consider the technical department as a major plus point. The work of the VFX team is triumphant to say the least. The film wouldn't have appealed without their contribution. But Archana Borhade's artistic camerawork and Saket Kanetkar's powerful background score aren't behind either.
Like his previous two films, the filmmaker once again extracts convincing performances from his actors. Madan Deodhar is excellent as Vira. To play such a complex and difficult character is no mean task. Ketaki Mategaonkar puts forth her best act till date. She is effective as the robot Phuntroo too. Shivani Rangole, Shivraj Waikar and few others too chip in with good acts.
Overall: Phuntroo is an above-average saga that doesn't live up to the expectations. It is more of an experiment. The film is given half a star extra for its technicalities. With good hype and famous faces in the lead, it is expected to score well at the box-office in the first week. But its chances don't appear positive in the long run.