By: Keyur Seta
Earthen pots turn out to be the finest only when they are made from wet clay. Pots from semi-wet clay don't turn out to be that perfect as it is difficult to shape them.
Similarly, the right time to nurture any talent in an individual is during his or her raw childhood. This task was carried out by the singing contest iGenius Maxlife Young Singing Stars. The contest provided training in singing for children passionate in the art and also a platform to showcase their talent in a city like Mumbai. It was wholly organized by Max Life Insurance.
The final phase took place on December 17 in the city with the first phases being round up some time back. The children were divided in two categories – junior and senior – according to their age. Hence, winners were declared from each group. They winners were declared by the jury, which consisted of well-known Hindi film composer and singer Salim Merchant (from the duo Salim-Sulaiman) and singer Shraddha Sharma.
The 10 kids selected for the final round received mentoring from both the judges. The work carried out on them by the jury was visible through their impressive performances. Almost all performances oozed high level of confidence and dedication. It was a pleasant surprise to see few of these kids recite songs from the classic black and white era. Naturally, this made the task of the judges that more difficult, but, naturally, they didn't mind it.
Finally, after a lot of discussions and debates, two winners were declared from both the groups in the form of Shraddha Shreya, from the senior group, and Shivam Ahuja, from the junior. In this way, the two young singers bagged a lucrative album contract from Universal Music Group much to the delight of their parents and those present at the venue at Taj Lands End.
The event took place just a day after the disturbing tragedy that took place in Peshawar, Pakistan. As the world was still to come out of the grief, Salim Merchant said he wasn't willing to perform at the event, as per the plan. But he carried on and presented a pleasing rendition of 'Ali Maula' from Kurbaan, among a couple of other tracks, and dedicated it to the victims and their families. Before the commencement of the contest, a minute's silence was held to pay tribute to the victims.
Music is something which is considered sacred or divine, especially in the context of Indian culture. Judging by the kind of effect music has on our minds, it can be said that listening to music is a spiritual activity. Needless to say that due to this, like all art forms, music should also be respected. So, when this sacred art form is reduced to a medium of hurling abuses, it becomes disturbing. Very disturbing!
Although songs like 'Ishq Kameena' (Shakti – The Power) erupted long time back, there wasn't really a threat of such songs becoming a fad. Even the abuses used in it weren't eyebrow-raising.
But the recent development in the abusive genre of songs has left me wondering as to where the hell are we heading! Last year, there came 'D K Bose' where the lyricist smartly got away saying that it is just a name! But even a half-intelligent individual can easily guess from the way the name is repeated that the intention was to repeat a foul word again and again. But still, I thought such instances won't happen regularly.
However, just a couple of days back, a friend of mine gave me a link of the 'Hunter' song from Gangs Of Wasseypur. The high level of double meaning behind the lyrics raised a doubt in my mind as to how our so-called Censor Board allowed the song to pass! But there was more shock in store.
I had barely finished thinking about the 'Hunter' song when the makers of the movie Jeena Hai Toh Thok Daal released the promotional song of their movie called… hold your breath… 'Mooh Mein Le'!!! Not just that; the lyrics of the whole song are violently sexist! Now, I started wondering whether there is any Censor Board?
Unable to react much after listening to it, the only question that popped in my mind was how further low these filmmakers can stoop to get their film noticed by polluting music with foul language! Is there any level left? Well, your response and reaction to it will determine that. If the audience continues to welcome such songs like they welcomed 'D K Bose', be ready for further pollution of music!
Listen to the songs 'Mooh Mein Le' and 'Hunter':
Like most Twitter users, I too have a habit of glancing at the 'trending' list as soon as I sign in. Last week when my eyes fell on it, I was highly surprised to see Baba Sehgal's name in the list. As people start trending even for all kinds of antics (slapgates being the latest), my first concern was to see the reason behind the trend. Fortunately, it was for a good reason. Baba's latest single 'Praji Kunjam Kunjam Control' had become the talking point among Twitteraties.
This took me down memory lane – back to the early nineties when Baba was the talking point (only in real world as there was no virtual world back then). I clearly remember during that time, after returning home from school; my daily winding up task included listening to the whole cassette (CDs were unheard of) of Thanda Thanda Paani (Baba's first album). It had become a daily activity, apart from watching the same songs on TV.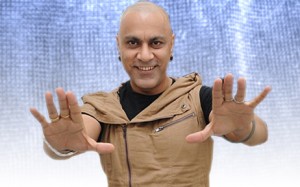 Coming back to his latest single, it can be said it's a typical rap song which can be easily associated with Baba. However, despite that, it has something which is never found before in a Baba number: it deals with the social issue of killing the girl child.
There have been numerous documentaries and short films urging the society against killing the girl child. Unfortunately, they have not created the desired impact on the youth, who term them as boring. But the message coming from a rap song will certainly make heads turn.
The credit mostly goes to the lyrics for putting forth the message in a clear, straightforward manner. But in doing that, Baba hasn't compromised on the rap factor. Example – 'The Jhoola Is Jhooling, But She No More Living, Hey Butcher Stop Your Fun, Please Let Her See The Sun'. Of course, there are some vague lyrics in between but that is how Baba's rap songs have always been. From the video, Baba showing affection towards an old lady deserves mention.
Just hope this doesn't turn out to be just one off incident of an Indipop artist trending. If it doesn't, one day Indipop itself will trend!
See the song here -