By: Keyur Seta
Irani Restaurants or Hotels enjoy an iconic status in Mumbai. Their special tea, Bun Muska and other snack items are a delight for your taste buds. But along with food, its ambience provides a feeling that cannot be described in words. It gives the old world charm of the old uncomplicated and simple Bombay.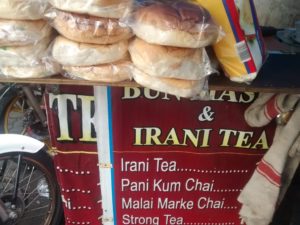 Unfortunately, a large population of the city is bereft of this experience because there aren't many Irani Restaurants. Mumbai is so large that it is also practically impossible to open such cafes all over the city.
But it seems this problem will slowly cease to exist, at least for some part of the population. Irani Restaurants have recently started a roadside stall at Andheri. In all these years, this is the first time that I came across a roadside branch of Irani Cafes. Along with their most loved items like tea and Bun Muska, they also serve snacks like Omelet and Maggi.
Now, to answer your most obvious question, the taste of the tea is the same as the one served in their restaurants and that too for a price as low as Rs 10. Plus, there is no difference in the cups as well.
But still to be doubly sure, I confirmed with the person handling the stall that it is indeed a branch of Irani Restaurants. It's located exactly opposite Cinepolis Cinemas (Fun Republic earlier), which is in the lane opposite Laxmi Industrial Estate at Andheri Link Road.
It won't be surprising if they come up with more such stalls. But apart from letting more Mumbaikars relish the Irani experience, it can also be a case of them being forced to do that since it is a sad reality that old iconic eateries of Mumbai are slowly closing down due to financial issues.
The latest victim is the very famous and iconic Mani's Café at Matunga.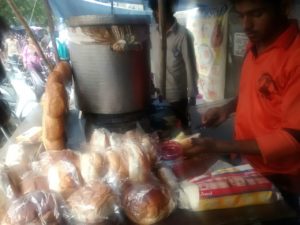 By: Keyur Seta
The controversy regarding the presence of high amount of lead and Monosodium Glutamate (MSG) in India's loved snack Maggi Noodles and its subsequent ban in various states (Tamil Nadu, Gujarat, Uttarakhand, Uttar Pradesh, Jammu & Kashmir and Assam soon all over India) has come as a rude shock to many, including me, for two reasons.
Let's face it, there are many around us who not just love Maggi but are also dependent on it. I know a lot of people (mostly men) who can cook just one dish – Maggi. The snack is also a messiah for people living in remote areas of Himalayas. Secondly, the controversy is completely out of the blue. Seriously, how many of us had expected something of this magnitude to happen with Maggi? None, actually!
As things stand out, we can't ignore the serious health hazards posed by the snack due to the enormous level of lead and MSG being found in it; lead is around 17 times more than permissible limit. And when the risk is as high as being attacked by Cancer, you really can't ignore it. Hence, ban on Maggi is the only way to deal with the situation, no matter how painful it is for many of us.
But the issue doesn't end here, at least for me. In fact, it starts here. The whole controversy surrounding Maggi has opened a can of worms as it has given rise to some very serious questions or pointers:-
1) Was FDA sleeping?: The presence of such high amounts of lead was found unknowingly or randomly by a person who got the noodles tested for something else. If he hadn't tested, we wouldn't have realized this incredibly serious issue with the snack. So, this completely exposes the functioning of Food & Drug Administration (FDA) with regards to clearing foodstuffs.
How did they allow such a big scam to ever take place right under their nose? What is the point of having FDA if they are unable to detect such enormously dangerous substances in a snack that is consumed by all, including children? Is their responsibility only limited to testing an item during license renewal that happens just once in 6 months or more?
Therefore, if there is anyone in the firing line due to the controversy it is the FDA. With the presence of lead in such high amounts in Maggi, their failure is proved, which calls for some stringent action against the officers responsible.
2) Celebrities' Responsibility: Celebrities (Amitabh Bachchan, Madhuri Dixit and Preity Zinta) endorsing Maggi shouldn't be held responsible for promoting such a product. All they need to do is check whether the product is legal and has approval from FDA or any such government body. You can't expect them to check the ingredients themselves in a laboratory when our authorities themselves have easily cleared the product.
However, this doesn't give a Clean Chit to our celebrities, at least from me, as they are still guilty of promoting lies in return for crores of rupees. For example, the packet of Maggi says it is high on Vitamins and Proteins. This is a blatant lie as it is junk food. This whole issue should be a wake-up call for our celebs when it comes to endorsing any product and everything that the makers claim.
3) What about other products?: Most importantly, this makes me doubt as to how safe are the thousands of other products that the masses are consuming, right from the time they wake up. As mentioned above, the entire Maggi fiasco came to the surface by fluke after a man got it tested for something else. Who knows? We might be consuming such or similar seriously hazardous products unknowingly.
The need of the hour for our authorities is to check as many products as possible for such dangerous contents and follow it up with regular surprise checks to ensure their safety. Considering the enormous number of products we consume, there is no doubt that this is an almost impossible task. But nothing is more important than the well-being of the citizens.
I am going to #BlogToFeedAChild with Akshaya Patra and BlogAdda. This post is for the same.
By: Keyur Seta
Mumbai's Versova locality is a residence for the rich and the super-rich of the city. As the price of a single apartment is easily over Rs 2 crore, it is impossible for the middle-class to reside in this suburban vicinity. This is solely the reason for the area to be home for a large number of film and television artists. Hence, owning a big apartment in this part of the city is proof enough of a family or a person's healthy financial condition.
The same is the case with Dubey's, who lived on the 10th floor of a typical posh Versova tower, overlooking a famous multiplex. With Mr Dubey striking gold in his garment business since more than a decade, his house is blessed with all the luxuries Mrs Dubey could ask for. So it doesn't come as a surprise that the family has maids and servants for every household chore. This ensures that Mrs Dubey can spend her day mostly watching television and socializing while their only child, Rajiv, juggles between school and coaching classes.
On one morning at around 11 am, Devi, their maid, returned with a stock of vegetables for the family. Like her normal routine, she stored them in the fridge. It was like an age old exercise except for the fact that the plastic bag carrying potatoes was torn, which the maid didn't notice before storing. So the main bag, in which Devi carried all vegetables, had few potatoes left.
Around three hours later, Mrs Dubey ventured into the kitchen for her post-lunch fruit session when she noticed few potatoes lying in the bag. Cursing the maid, she decided to put them with the main stock.
Not so far away from Versova falls the locality called Oshivara. There isn't much difference between Versova and Oshivara but for the presence of some shanties in the latter. In one such namesake of a home stayed Shanta with her seven-year-old son Ramesh. Her husband and Ramesh's father passed away few years back after falling prey to alcoholism. Considering their situation and the place they call home, it is needless to say that they literally lived from hand-to-mouth. Plus, Shanta's self-respect doesn't allow her to ask or beg for food from anyone.
Shanta, off late, has been in a dilemma as to whether she should continue sending Ramesh to the government school as her income as a sweeper and through some odd jobs is clearly not sufficient to support the two in today's price-rise era. She is toying with the idea of getting Ramesh employed as a worker in a nearby plywood store. Her idea has created a bad blood between the mother and son as the latter wishes to study.
The tussle between the two reached a new level today. There were literally no vegetables left and there was still time before she got her next payment. On top of that, the vegetable vendor had plainly refused credit any more. This was enough for Shanta to force Ramesh in giving up studies so that he can earn. Although deep inside she didn't like this at all, the thought of starving was too scary for her to ignore.
After a lot of conflict, Shanta announced, "Okay. If we get some food by today evening through some miracle, I will let you continue your school. If God really wants you to study, he will arrange something for our stomach by evening. If not, you should join that store from tomorrow."
Meanwhile, while feasting her eyes on the sunset at Versova beach from Dubey's apartment and at the same time speaking with someone over the phone, the chief maid was waiting for the woman who brings groceries for the family from the market. When the woman arrived, the chief maid signaled her to take the main bag and the money kept in the kitchen, which was the normal practice since months.
When Shanta picked up the main bag, she felt some heaviness. When she peered in she realized there were a few potatoes. She was highly surprised. But soon a wide smile emerged on her face. She recalled how Mrs Dubey had long back handed over few extra vegetables to her. She was sure she had done the same again. Now, she didn't need to drop Ramesh from school.
"God wants Ramesh to continue studying," she happily thought while leaving the house. How would she know that a phone ring had stopped Mrs Dubey for storing those potatoes after which she forgot about it? Few potatoes were no big deal for Mrs Dubey. But for Shanta, they were not only a big deal but a new lease of life.
When an unintentional distribution of food can bring more than a ray of hope, just imagine the positive effect of a small amount of intentional donation by those with surplus wealth. Considering India has 100 billionaires (out of the 2325 worldwide) and many rich and super-rich, it is surely not a big deal for them.
By: Keyur Seta
I am going to #BlogToFeedAChild with Akshaya Patra and BlogAdda.
According to Business Standard, 100 of the 2325 billionaires are from India. In this way, our country ranks sixth in the list of most number of billionaires in a country. This sounds as an achievement, doesn't it? Not for me though because daily millions of people in India face starvation; of which many are children.
Hence, I have no qualms in saying that there is nothing delightful in the fact that India has 100 billionaires when millions of kids are struggling to overcome a necessity as basic as food. As per 2014, India ranks 55th in Global Hunger Index.
So obviously, these kids are forced to skip education in order to make ways to feed their stomachs. Looking at such a tragic scenario, the question that lurks in our hearts is whether it is possible for these kids to get proper education and at the same time feed their stomachs at least two square meals per day. The answer to this, according to me, is a big YES!
In fact, I am sure that India has enough wealth to completely wipe out poverty. This might sound too fairytale-ish. But this is possible if all the rich, super-rich and few above them contribute few percentage of their income towards eliminating poverty. Considering the number of such people we have, this contribution will count to a humongous amount. In this way, I am also trying to indicate that poverty is just a consequence of unequal distribution of national income.
When eliminating poverty is a reality, making sure that every child in India gets access to both education and food isn't a big deal. There are various ways to achieve this goal. These are few of them:-
Government: Both State and Central Governments have enough funds to make sure no child needs to skip education to feed himself. They can start various schemes or plans for the same. The best idea is to start a free canteen in government run schools that would enable kids to have a proper lunch. Of course, getting them to do something so useful is very difficult. So it is necessary for various NGOs and social organizations to keep pressurizing them.
Surplus: This idea is inspired from Amole Gupte's movie Stanley Ka Dabba. There are hundreds of buffet restaurants in all Indian cities. Naturally, they face a situation of surplus food almost daily. Most of the times, this food is simply wasted. Instead, this food can easily be used to feed a large number of underprivileged kids. The same can be done by normal restaurants and wedding venues. The latter always has a large amount of surplus. Last year, some social organization had started a similar campaign from the surplus food from tiffins supplied by Mumbai's dabbawalas.
Special Caterers: Government or NGOs can start a catering service with the sole motto of feeding underprivileged kids. People like us can sponsor meal or foodstuffs online or by visiting them. This is how it works – You visit their website and select the number of meals you wish to sponsor with one meal costing as low as Rs 20. So even if we sponsor one or two meals daily, it will help feed lakhs of children.
Recently, The Mind Unleashed shared a message on Facebook – Small acts, when multiplied by millions of people, can transform the world. Let us all believe in it.
This post is a part of the #ZestUpYourLife activity in association with TATA Zest and BlogAdda.com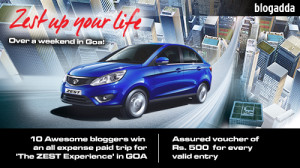 By: Keyur Seta
There is a huge difference between living life and merely surviving through it. So in the midst of a hectic professional life, it is necessary to have people, things and situations that add Zest to your life by making it worth living. I am fortunate to have many sources of Zest in my life.
Here's listing five of them:-
Nature: Whenever you are stressed out, disturbed, tensed or angry over something, just surrender yourself to nature – be it mountains, shade of a huge tree, landscape, river, lake or sea – and see the difference within minutes. I can say this from many personal experiences. I can stay in the company of nature for hours alone as if I am having a conversation with the surroundings. Needless to say, something that provides you with immense peace has to be labeled as a Zest! It can also be described as 'Nature Therapy'.
Roadside food: If I am given a choice between a luxurious five star restaurant and a roadside rekdi, I will choose the latter 10 out of 10 times. I personally feel that the taste of roadside food (be it any cuisine) is unmatchable to any of those big sophisticated restaurants. Just think about it – Can you ever compare the experience of eating a spicy Vada Pav during heavy rains to that of eating mannerly in those luxurious air-conditioned restaurants?
Cinema: This is the biggest passion in my life. Although I watch many films, each of my movie experience is special as it takes me to a different world altogether thereby making it more like a spiritual activity, irrespective of its quality or genre. Hence, I address it as 'cinema' instead of just 'movies'. Over the years, I have realized there is a big difference between both. The term 'movies' refers to those who watch films just for fun while munching tubs of popcorn. On the other hand, 'cinema' refers to people like me who just don't need anything as we are completely focused on our spiritual exercise.
Company of a cinema buff: When I am in the company of someone who considers watching films a spiritual exercise, I can literally speak with him or her for hours without a moment's pause. Hence, such a cinema buff is also a Zest for me. And speaking about films doesn't necessarily mean a serious discussion on great films. It also includes making fun of a lot of bad films and the various ham scenes in it. If you are lucky, you might even witness me acting out some ham scenes.
Company of a Common Man: Just like the company of a cinema buff, having a down-to-earth chat with a simple Common Man (ideally with a cutting chai) provides me with immense peace, irrespective on what topic the discussion is, ranging from movies, politics, cricket to even laughing at a silly PJ. Through my personal experience, I have wholeheartedly started believing that simple joys of life are the most pleasurable and long lasting.
By: Keyur Seta
(This is my entry for #MasterChefIndia2 contest)
I have been blogging for almost two and half years but I have never written on food. This is my very first attempt. It took a memorable Indiblogger meet last month to inspire me to do so. MasterChef judges and chefs Ajay Chopra, Kunal Kapoor and Vikas Khanna deserve special mention for influencing me for it. And when Indiblogger announced the MasterChefIndia2 contest, I thought the time is right to take the plunge.
Surprisingly, the most unique dish I have ever had is at my home. My mom made it. It is called Rice Omelette. I know you must be thinking - How the hell can anyone make an omelette from rice? But let me tell you, it tastes super good!
To know what Rice Omelette is and how it is made, let's take a look at its recipe: -
Ingredients: A bowl of cooked rice, half a bowl of buttermilk (chhaas), 1 big spoon chana dal flour (chane ka atta), 4 big spoons of wheat flour, green chillies, turmeric powder coriander leaves and salt.
Procedure: Mix rice, buttermilk, wheat flour and chana dal flour in a vessel. Add green chilies, turmeric powder and salt to it.
Heat a frying pan. Sprinkle a small spoon of oil on it. Pour some amount of the dough on the pan and make a circle out of it. As soon as the dough is well cooked, scoop it and turn it upside down very carefully so that the other side of the dough can be cooked. Soon, the other side will be cooked and your omelette will be ready. Lift it carefully from the pan and land it on a plate.
Tastes Best With: Tomato Ketchup and Green Chutney
Serves: 5-6
Rice Omelette is unusual no doubt but, I say again, it tastes wonderful.  It suits well for breakfast since it is fulfilling.