By: Keyur Seta
Irani Restaurants or Hotels enjoy an iconic status in Mumbai. Their special tea, Bun Muska and other snack items are a delight for your taste buds. But along with food, its ambience provides a feeling that cannot be described in words. It gives the old world charm of the old uncomplicated and simple Bombay.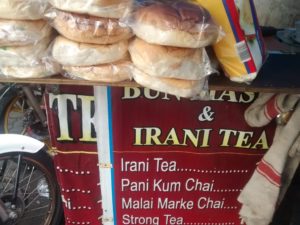 Unfortunately, a large population of the city is bereft of this experience because there aren't many Irani Restaurants. Mumbai is so large that it is also practically impossible to open such cafes all over the city.
But it seems this problem will slowly cease to exist, at least for some part of the population. Irani Restaurants have recently started a roadside stall at Andheri. In all these years, this is the first time that I came across a roadside branch of Irani Cafes. Along with their most loved items like tea and Bun Muska, they also serve snacks like Omelet and Maggi.
Now, to answer your most obvious question, the taste of the tea is the same as the one served in their restaurants and that too for a price as low as Rs 10. Plus, there is no difference in the cups as well.
But still to be doubly sure, I confirmed with the person handling the stall that it is indeed a branch of Irani Restaurants. It's located exactly opposite Cinepolis Cinemas (Fun Republic earlier), which is in the lane opposite Laxmi Industrial Estate at Andheri Link Road.
It won't be surprising if they come up with more such stalls. But apart from letting more Mumbaikars relish the Irani experience, it can also be a case of them being forced to do that since it is a sad reality that old iconic eateries of Mumbai are slowly closing down due to financial issues.
The latest victim is the very famous and iconic Mani's Café at Matunga.