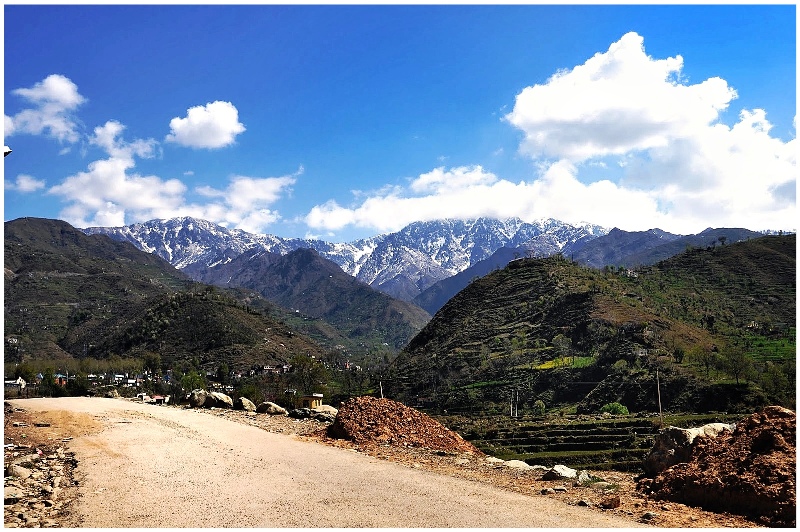 The road going through the picturesque valley of Rajouri in Kashmir suddenly came alive with the arrival of a herd of sheep walking through with discipline. Their white colour went well with the blue sky above. When the herd ended, the 10-year-old Sanjukta slowly emerged like a fresh flower just blossomed from the early sun rays.
She appeared carefree in her school uniform covered with a thick sweater and her hair tied like always. She walked as if she was swaying to the tune of nature all around her. With a smile on her face, she enjoyed passing through the herd of sheep. Although she had experienced it many times before, since she was born and brought up here, it still made her joyous.
There was another reason for her joy while going to school. Generally, most of the students are always on the lookout for a reason to bunk school. But Sanjukta surely wasn't one of them. The reason for this was Damini, her class teacher, with whom she had become friends recently.
Damini ma'am, as she was always addressed, was somewhere in her mid-20s. Dressed in her simple usual salwar kameez, she had a peaceful expression on her face, which didn't need much reason to break into a smile. Her appearance went perfectly with her nature. The long red purse with flowery designs always accompanied her.
Damini was kind and understanding and went out of the way to help and comfort her students. Attending her class was like therapy for Sanjukta. In fact, her presence itself was enough to bring positive vibes around.
As Sanjukta entered the main town, her mind was recalling the times when Damini put in special efforts to teach her and few others who were struggling to master a topic. It was so nice of her to go out of her way, she thought. But Damini's kindness was not limited to teaching. She showed special affection and care when a student falls ill or gets injured.
Sanjukta still remembered the day she had hurt herself while playing. Damini provided her with first aid and consoled her. The two always shared a good bond but this incident brought them closer. The comfort she felt with her after that incident was the same one provided by a steaming hot cup of Kawah in her chilly town.
Sanjukta entered her classroom with these thoughts and her trademark smile. After the formal 'Good morning teacher' Damini gave a smile to Sanjukta and few others and started teaching. The little girl was quick to realize that her smile had something missing today. She didn't think much about it and busied herself in the teaching.
The reason for the missing spark in her smile came after the period got over. It struck Sanjukta like a thunderbolt when Damini announced that she will be quitting the school as her family has shifted to the outskirts of Rajouri. She had to take the decision since traveling to and fro daily would be a toll on her. This semester, which will be ending after two weeks, will be her last.
Sanjukta stood numb fighting her tears. Obviously, her body language was alien as she walked back home. The usual chirpiness and delight was nowhere to be seen. Her condition was opposite the lively and enchanting greenery of Rajouri. She finally broke down after reaching home. Her mother comforted her while she kept asking as to why Damini ma'am can't travel a long distance for work like few of her classmates.
Sanjukta did well in the half yearly exams. This was followed by the vacations. Needless to say, it didn't bring much joy to her, like it did every year. She did speak with Damini few times during the exams while trying to appear normal. It broke Damini's heart as she could easily make out the efforts she was putting in to be strong.
Just like her last few vacations, Sanjukta went to the outskirts of her town with her family for an outing. She bumped into her school friend Nazia. During the course of the conversation, Nazia revealed that Damini ma'am has shifted just near her place. After soaking in the news, an idea stuck Sanjukta.
On the first day after the school re-opened Sanjukta hurriedly passed on a white paper to Nazia after the final bell. The next day, Sanjukta was happy to know that Nazia delivered her letter to Damini ma'am. Her joy doubled when her friend instantly gave a verbal reply from Damini's side.
This became a regular routine for Sanjukta. She kept writing letters to Damini who would reply verbally through Nazia. The letters were written in broken English with lots of mistakes. But despite being a teacher, Damini ignored the errors automatically. She could only see the innocence of a lovable 10-year-old girl.
The give-and-take continued for six months as her fifth standard came to an end. The regular conversation was enough for Sanjukta to return to her swaying steps while going to school and vice-versa. She once again started appearing as delightful as Rajouri.
The summer vacations meant not meeting Nazia to hand over her letters as she, like Damini, stayed at the outskirts. When the school finally re-opened, Sanjukta was excited to resume the process of sending letters.
She was trying to think about the contents of the letter as she passed through the staff room. Something caught her eye and she went back a few steps and peered in. On the handle of a chair in the staff room hung the long red purse with flowery design.
By: Keyur Seta
Inspired from a real story of a sweet and innocent little girl in Rajouri.
I am going to #BlogToFeedAChild with Akshaya Patra and BlogAdda. This post is for the same.
By: Keyur Seta
Mumbai's Versova locality is a residence for the rich and the super-rich of the city. As the price of a single apartment is easily over Rs 2 crore, it is impossible for the middle-class to reside in this suburban vicinity. This is solely the reason for the area to be home for a large number of film and television artists. Hence, owning a big apartment in this part of the city is proof enough of a family or a person's healthy financial condition.
The same is the case with Dubey's, who lived on the 10th floor of a typical posh Versova tower, overlooking a famous multiplex. With Mr Dubey striking gold in his garment business since more than a decade, his house is blessed with all the luxuries Mrs Dubey could ask for. So it doesn't come as a surprise that the family has maids and servants for every household chore. This ensures that Mrs Dubey can spend her day mostly watching television and socializing while their only child, Rajiv, juggles between school and coaching classes.
On one morning at around 11 am, Devi, their maid, returned with a stock of vegetables for the family. Like her normal routine, she stored them in the fridge. It was like an age old exercise except for the fact that the plastic bag carrying potatoes was torn, which the maid didn't notice before storing. So the main bag, in which Devi carried all vegetables, had few potatoes left.
Around three hours later, Mrs Dubey ventured into the kitchen for her post-lunch fruit session when she noticed few potatoes lying in the bag. Cursing the maid, she decided to put them with the main stock.
Not so far away from Versova falls the locality called Oshivara. There isn't much difference between Versova and Oshivara but for the presence of some shanties in the latter. In one such namesake of a home stayed Shanta with her seven-year-old son Ramesh. Her husband and Ramesh's father passed away few years back after falling prey to alcoholism. Considering their situation and the place they call home, it is needless to say that they literally lived from hand-to-mouth. Plus, Shanta's self-respect doesn't allow her to ask or beg for food from anyone.
Shanta, off late, has been in a dilemma as to whether she should continue sending Ramesh to the government school as her income as a sweeper and through some odd jobs is clearly not sufficient to support the two in today's price-rise era. She is toying with the idea of getting Ramesh employed as a worker in a nearby plywood store. Her idea has created a bad blood between the mother and son as the latter wishes to study.
The tussle between the two reached a new level today. There were literally no vegetables left and there was still time before she got her next payment. On top of that, the vegetable vendor had plainly refused credit any more. This was enough for Shanta to force Ramesh in giving up studies so that he can earn. Although deep inside she didn't like this at all, the thought of starving was too scary for her to ignore.
After a lot of conflict, Shanta announced, "Okay. If we get some food by today evening through some miracle, I will let you continue your school. If God really wants you to study, he will arrange something for our stomach by evening. If not, you should join that store from tomorrow."
Meanwhile, while feasting her eyes on the sunset at Versova beach from Dubey's apartment and at the same time speaking with someone over the phone, the chief maid was waiting for the woman who brings groceries for the family from the market. When the woman arrived, the chief maid signaled her to take the main bag and the money kept in the kitchen, which was the normal practice since months.
When Shanta picked up the main bag, she felt some heaviness. When she peered in she realized there were a few potatoes. She was highly surprised. But soon a wide smile emerged on her face. She recalled how Mrs Dubey had long back handed over few extra vegetables to her. She was sure she had done the same again. Now, she didn't need to drop Ramesh from school.
"God wants Ramesh to continue studying," she happily thought while leaving the house. How would she know that a phone ring had stopped Mrs Dubey for storing those potatoes after which she forgot about it? Few potatoes were no big deal for Mrs Dubey. But for Shanta, they were not only a big deal but a new lease of life.
When an unintentional distribution of food can bring more than a ray of hope, just imagine the positive effect of a small amount of intentional donation by those with surplus wealth. Considering India has 100 billionaires (out of the 2325 worldwide) and many rich and super-rich, it is surely not a big deal for them.