Direction: Ram Gopal Varma
Production: Ram Gopal Varma Productions, Viacom 18 Motion Pictures, Uberoi Line Productions
Writer: Nilesh Girkar (Story, Screenplay and Dialogues)
Cast: Amitabh Bachchcan, Sanjay Dutt, Rana Daggubati, Abhimanyu Shekhar Singh, Madhu Shalini, Vijay Raaz, Laxmi Manchu, Deepak Tijori
Music: Dharam Sandeep, Bappi Lahiri, Vikram Nagi
Rating: * ½
Plot: The increasing underworld activities and gang wars forces the Home Minister of Maharashtra to start a secret organization called Department, headed by encounter specialist Mahadev Bhosle (Sanjay Dutt). The aim of the Department is to finish off the underworld members one by one. Bhosle includes suspended encounter specialist Shivnarayan (Rana Daggubati) in his squad.
Shivnarayan and Bhosle share a brother-like bond. But their relationship starts becoming shaky once the gangster-turned-politician Sarjerao Gaikwad (Amitabh Bachchan) enters the scene.
Review: Underworld movies are done to death in Bollywood. Still, if a filmmaker wishes to make a film on the subject, he needs to be doubly sure that the story which he has selected to narrate has something novel. Ram Gopal Varma's Department not only lacks the novel factor but also suffers from a weak script which also goes haywire in the second half.
Forming of the secret department was supposed to be the main point that takes the story forward. But that hardly happens as the two characters continue to do the same thing which they used to do before it was formed – killing criminals. Some tried and tested encounters between the police and the underworld fail to either amuse or entertain, especially the forced Yerwada encounter.
(Review continued after picture.)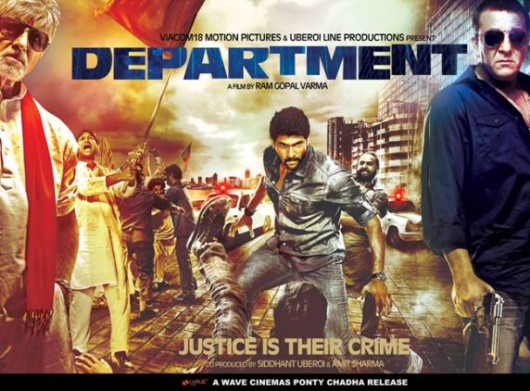 Situation is further aggravated by the inclusion of some dance numbers. From these, Nathalia Kaur's item song turns out to be an exhibition of private parts and her horrible expressions. There was also no need to give too much footage to the dreary conversation between Vijay Raaz, Abhimanyu Shekhar Singh and Madhu Shalini's characters. But the proceedings do become a bit interesting after the arrival of Amitabh Bachchan, who makes sure the first half ends in a watchable manner.
The post-interval part is peppered with twists and turns. The writer makes a juvenile use of them by including a series of lengthy trigger-happy scenes. Due to this, you desperately wait for something different to happen. However, when it does, you are left confused as you wonder who's on whose side? After going through such ordeal, it doesn't come as a surprise that the climax turns out to be an illogical and unconvincing one!
If the script wasn't enough, the audience also has to deal and adjust themselves to RGV's over-creative and mostly weird camera angles, which trigger irritation!
As hinted earlier, the songs (Bappa Lahiri, Dharam Sandeep and Vikram Nagi) are forced into the narrative. 'Thodi Si Jo Pi Lee' is the only bearable track. The background score is average while the editing needed to be sharper.
Although not very impressive, Amitabh Bachchan manages to put forth a decent act, mostly while showing his comic side. Sanjay Dutt doesn't rise to the expectations and is strictly average. He is out-performed by Rana Daggubati, who is impressive as an honest cop. Abhimanyu Shekhar Singh does well although he is capable of much more. But the writing is to be blamed for his character not being much powerful.
Mostly over the top, Vijay Raaz turns out to be just average. Madhu Shalini is the surprise package! She is terrific as a lady gang member with lots of attitude. A sure lookout for the future! Anjana Sukhani and Laxmi Manchu provide good support. Deepak Tijori is hardly there!
Overall, Department is a major disappointment. The film has no chance at the box-office!