By: Keyur Seta
Karan Johar's Ae Dil Hai Mushkil is finally in theaters after facing a lot of mushkils. Without wasting any time, let's explore the most important question – Does the film live up to the expectations? Well, from the point of view of entertainment, the answer manages to fall in the affirmative. But as far as romance is concerned, it doesn't. Unfortunately, it is the latter that matters more in such films.
The story takes place in London in today's era. Ayan (Ranbir Kapoor), an aspiring MBA and a singer at heart, meets the carefree and bold Alize (Anushka Sharma) in a club. An instant bond is developed between them despite there being a huge emotional gap between them. Ayan is in a relationship that is going nowhere while Alize has broken-up with her boyfriend. Sudden twists ensure in their lives, which brings Saba (Aishwarya Rai Bachchan) in the picture.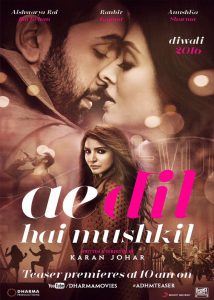 Ae Dil Hai Mushkil is an engaging fare with a good amount of entertainment factors. The conversations, both serious and light-hearted, keep your interest alive and provide continuous giggles, especially the references of iconic Hindi films. Of course, the typical larger-than-life K Jo elements make the film visually pleasing. So, except few moments in the second half, the duration of 157 minutes isn't felt much.
The music, by composer Pritam, also works in its favour. The title song, 'Bulleya,' and 'Channa Mereya' are enjoyable tracks. He has also smartly used the tunes of the songs in the background score. As expected from a pro veteran like Anil Mehta, the camerawork boasts of impressive visuals.
But entertainment is not the most important factor in such genre of films. It is extremely important for the romance part to work well and this is where ADHM lags behind.
See the following points to know more:
- To put it frankly, the film appears more like a lust story than a love story. The process of falling in love, which is crucial for every romantic film, is clearly missing here. Such superficial romance defeats the very purpose of the film, which is the move the audience.
- You don't feel sympathy for the character of Ranbir, despite his constant sobs. The same goes for Anushka due to her constant confusion and Aishwarya for her questionable antics.
- A week ago at MAMI's Movie Mela, Johar categorically stated that the film has no kissing and making out scenes and is fit to watch with the family. But this has turned out to be a blatant lie. There is a lusty kissing scene and a couple of making out scenes as well.
Ranbir Kapoor is the biggest plus point here. The actor is back to his winning ways and how! He adds life to the character of Ayan while portraying every emotion with utmost sincerity. His characterisation should also be lauded. His weakness and vulnerability makes him more real and breaks the usual male stereotyping in commercial Hindi films.
Anushka Sharma isn't behind though. She provides a remarkable act as the bindaas Alize and wins you over time and again. Surprisingly, Aishwarya Rai Bachchan only plays a cameo. She is alright. In another cameo, Fawad Khan impresses with his acting abilities. Shah Rukh Khan too brings in a smile with his special appearance.
Overall: Ae Dil Hai Mushkil is an average fare that could have been much more. The film will earn well in the first long weekend. But it won't earn the tag of a box-office blockbuster as it doesn't have mass appeal. The content caters to the urban audience mostly.
Rating: * * 1/2
Director: Karan Johar
Producers: Dharma Productions and Fox Star Studios
Writers: Karan Johar and Niranjan Iyengar
Cast: Ranbir Kapoor, Anushka Sharma, Aishwarya Rai Bachchan, Fawad Khan
Music: Pritam
Genre: Romance
Runtime: 157 minutes
By: Keyur Seta
The Uri attacks in Jammu and Kashmir by Pakistan-based terrorists, which saw 19 Indian soldiers achieving martyrdom, saddened the nation. It also united the people of India above religion, region, caste and what not. However, the incident has also given rise to some intense hatred that is only making things worse.
The biggest example of this is the ban on Karan Johar's Ae Dil Hai Mushkil by Cinema Owners and Exhibitors Association of India (COWAI) just because it stars Pakistani actor Fawad Khan. This means that the film won't release in single screens and few multiplexes in India.
Here are 5 reasons why hatred towards the film is senseless:-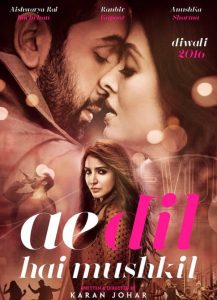 1. Ae Dil Hai Mushkil was shot much before the Uri attacks. In fact, the film had even completed its post-production by then. Fawad worked in the film through legal means and was given proper work visa by us. Films with Pakistani actors that released before the Uri attacks didn't face any issue. Happy Bhag Jayegi, which released on August 26, saw Pakistani actress Momal Sheikh playing one of the important characters. There was no uproar and the film was appreciated. So, will you punish ADHM for its release date? Is it Rocket Science to understand that it takes months for a film to release after the completion of shoot?
When I spoke with Nitin Datar, president of COWAI, and asked as to why ADHM should suffer because of its release date, he had no clear answer to it. Read the news HERE.
2. Last year, Narendra Modi, the Prime Minister of India, gave a birthday surprise to Pakistan Prime Minister, Nawaz Sharif, in order to develop friendly ties between both countries. This was also the time when Johar was shooting ADHM with Fawad. If you feel what the filmmaker did was wrong, what do they have to say about our PM's gesture? You can be friendly with their PM but can't work with their artists? I personally have nothing against Modi's act. I found it worth appreciating. But this is clear double standard by those portraying Johar as a villain for signing Fawad in his film.
3. Ajay Devgn had signed Pakistani actor Ali Kazmi for Shivaay, which is releasing alongside ADHM on October 28 (read the news HERE). But things didn't work out due to date issues. Nobody is having any problems with Devgn. After all, he too signed one. It is only Kazmi's refusal that has turned Devgn into a hero.
4. A section of people and few political parties are justifying the ban since Fawad didn't condemn the Uri attacks. Even if we assume it was wrong on his part, why make Johar suffer huge loses because of it? Fawad has already received his fee by the way.
5. For those who believe paying Pakistani actors amounts to funding terrorists, the same logic should apply to the money we pay to Pakistan through trade. Why nobody is speaking against banning trade between India and Pakistan? Why art and sports are made scapegoats always?
The issue is not just limited to a film. If Ae Dil Hai Mushkil is indeed banned, it will become an example of senselessness being given more importance than logic and the law of the land.
By: Keyur Seta
Vidya's final year in college was about to end. She was studying in Commerce in Symbiosis College in Pune for the last five years. Their tenure was supposed to end with the annual day function. Vidya was keenly looking forward to the day as she was supposed to enact a one-act play.
Her performance was met with a standing ovation. The play slammed the practice of forceful marriage of girls and that to at a tender age of early 20s. The subject and Vidya's passion towards it deeply struck a chord with the audience. Not many from the audience knew that even in her personal life, she is like a silent rebel.
The act made Vidya's final moments in college deeply memorable, along with loads of bagful of memories from five years. As she was on her way to her home in Mumbai, she had mixed feelings. While she was sad to see her college life ending, there was a sense of joy to reunite with her family – mother, father, elder brother and sister-in-law. While alighting from the train, she had a wide smile reading a text on her mobile phone.
It was joy indeed for her to be back home. She spent the first few days relaxing. There was a sense of contentment she experienced in Aamchi Mumbai, despite the late September heat and all other issues the city suffered from. After she realized she had enough of those restful days, she decided to hunt for a job.
Vidya's father, Ramanlal, entered her room while she was busy doing something on her laptop. A single peep on her screen made him realize that she was surfing a job site. He gently sat down in front of her with a smile. Vidya adjusted herself as she became conscious of his presence. She had no idea that his father's casual visit to her room will change her life forever.
Ramanlal calmly told her that there is no point in searching for a job. Vidya, obviously, was surprised. He elaborated himself saying that her marriage is fixed. Vidya got the shock of her life. As she showed signs of contempt, Ramamlal raised his voice and said that this is their family tradition; a girl is married off when she reaches her early 20s.
Ramamlal further said that the guy is from a good family and the son of their family friend. More importantly, he is from the same community, caste and sub-caste. And being a father, he cared for their status in their biraadri or samaaj. A teary-eyed Vidya explained that she plans to do MBA right now. Marriage can happen later.
But Ramanlal pointed out that girls from their community aren't allowed to work. She will have to be a wife and her only concern should be to look after her husband. Despite being shocked, she tried protesting saying that she doesn't even know the guy. But his father cut her short stating that the guy is from a rich family and runs a profitable business. What else does a girl need?
Ramamlal left the room in a hush and ordered his wife, who was witnessing the scene near the door, to make sure she gets ready for marriage. With tears flowing down her cheeks, she asked her mother why did they send her to college then. Her mother said without emotion, "A well-educated girl gets a good husband." Vidya further asked frustratingly, "But what about my dreams?" Her mother replied coldly, "Your only dream should be to be a good wife and mother."
Vidya was hell shocked! She just couldn't believe what happened to her. In the days to come, her parents' behavior changed towards her drastically. Vidya was numb. She couldn't believe these are her own parents. She felt as if someone else is impersonating them. She came to know from her cousin that the same thing happened with her. She too experienced the same change in her parents' behavior when she had refused marrying so early.
This made Vidya recall the disturbing conversation between her parents and brother when he refused to marry so early. Being just 16 during that time, she hadn't thought much about that incident up till now.
Vidya was insulted by her parents and relatives even if she slightly protested against the marriage. She was trapped. There was just no way out. Finally, she had to give in. Yes, she extinguished all her dreams for, what her parents described as, a heavenly bond.
The engagement was fixed on the day after Dusshera. It was one day away. Vidya was sitting by her window overlooking the rapidly developing area of Kandivali east. Her phone beeped. Instantly she replied to the message with, "Yes, all set."
The day arrived. On one hand, all the preparations were made for the engagement. At the same time, the city was gearing up to celebrate Dusshera. Various Ram Leela pandals were all set to ignite effigies of Ranava. The act symbolizes the victory of good over evil.
It was just an hour to go for her engagement. Vidya was seated comfortably by the window. She recalled the time when she read Vicky's text while getting down to Mumbai from Pune. The message said that his parents had agreed for their marriage. She was then reminded of the traumatic times that followed. Her flashback ended when she had replied to his text with, "Yes, all set."
Vidya took her eyes off from the window, turned towards her right and smiled. Vicky smiled back and they held each other's hands warmly. Soon, the flight attended instructed the passengers to fasten their seat belts.
As the plane took off, Vidya's eyes fell on the effigy of Ravana that was being burnt much below her. She had witnessed this sight numerous times before. But it was only during that moment that she truly understood the meaning of the phrase 'victory of good over evil.'
By: Keyur Seta
M S Dhoni – The Untold Story is a biopic on India's legendary cricketer and the most successful captain, Mahendra Singh Dhoni. The film portrays his journey from his birth till the time he wins the 2011 World Cup for India.
In his three films so far, Neeraj Pandey has proved himself to be a terrific storyteller. He shows his class here in the first half. Even if you are unaware about Dhoni, you can easily predict such sports biopics.But this won't affect you in this portion whatsoever due to some high quality narration filled with winning moments that are real and entertaining.
The story of a small town boy and his struggle to make it big against all odds moves you. You feel the pain of the protagonist and start rooting for him. Chances are that you feel cheering for him when he starts off playing at local and domestic levels.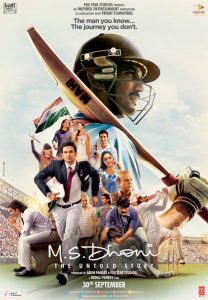 Unfortunately, M S Dhoni goes downhill in the second half. The following are 5 points that stop the film from being a must watch.
-- A film so unconventional in the first half suddenly starts treading on the filmi path post-interval. If both romantic tracks aren't tedious enough, the use of songs make it worse and gives a typical Bollywood feel.
-- Conflict plays an important role in any story but that's completely lacking here. This point affects more here since, as mentioned before, the film is predictable.
-- But what hurts the film the most is the decision of not including some very important incidents and achievements from Dhoni's career. So, you feel good in the climax only because it brings back memories of the 2011 World Cup. The film hardly has any emotional impact though.
-- Strangely, Dhoni's relation and rapport with fellow cricketers is also absent. His rivalry with Yuvraj Singh (Harry Tangri) is built interestingly in the first half. But there is just no mention of Yuvi later on. This is indeed strange as both players played a key role in India's World Cup triumph.
-- To see Sushant's face placed on Dhoni's body through VFX is silly and unintentionally hilarious. It is understandable in the first half when Dhoni is a school kid. But later on, it becomes too much. The director just makes the audience revisit moments from team India's past matches, which cricket fans must have seen umpteen number of times.




M S Dhoni is high on technicalities (cinematography, background score and editing). The songs are a disappointment though. Plus, they seem unwanted in a film of this nature.
Some performances become turning points in an actor's career. For Sushant Singh Rajput, it is his act as Mahendra Singh Dhoni over here. He not only gets Dhoni's traits and mannerisms right but also delivers a mature performance by portraying various emotions effortlessly. However, Sushant's voice and style of speaking is nowhere similar to Dhoni's.
The rest of the actors get to play supporting parts. Out of these, Anupam Kher, Rajesh Sharma and Kumud Mishra are laudable while Disha Patani, Kiara Advani and Bhumika Chawla fall in the decent category. The actor who plays Dhoni's boss during his railway job and the ones who play his friends deserve special mention. Herry Tangri (who plays Yuvraj Singh) doesn't say a word but leaves behind a terrific impact. He is a lookalike of the cricketer.
Overall, M S Dhoni – The Untold Story has an excellent first half but the film drops post-interval. With the hype and Dhoni's popularity, it stands a chance to earn well at the box-office in the first weekend. Whether or not it will sustain in the long run and earn above Rs 100 crore will depend on how it performs in the weekdays. Going by the content, there isn't much chance of that happening.
Rating: * * *
Director: Neeraj Pandey
Writers: Neeraj Pandey and Dilip Jha
Producers: Fox Star Studios and Friday Filmworks
Cast: Sushant Singh Rajput, Anupam Kher, Bhumika Chawla, Disha Patani, Kiara Advani, Rajesh Sharma
Music: Amal Mallik and Rochak Kohli
Genre: Biopic/ Drama
Runtime: 190 minutes