By: Keyur Seta
Karan Johar's Ae Dil Hai Mushkil is finally in theaters after facing a lot of mushkils. Without wasting any time, let's explore the most important question – Does the film live up to the expectations? Well, from the point of view of entertainment, the answer manages to fall in the affirmative. But as far as romance is concerned, it doesn't. Unfortunately, it is the latter that matters more in such films.
The story takes place in London in today's era. Ayan (Ranbir Kapoor), an aspiring MBA and a singer at heart, meets the carefree and bold Alize (Anushka Sharma) in a club. An instant bond is developed between them despite there being a huge emotional gap between them. Ayan is in a relationship that is going nowhere while Alize has broken-up with her boyfriend. Sudden twists ensure in their lives, which brings Saba (Aishwarya Rai Bachchan) in the picture.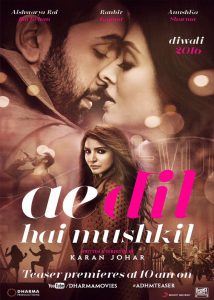 Ae Dil Hai Mushkil is an engaging fare with a good amount of entertainment factors. The conversations, both serious and light-hearted, keep your interest alive and provide continuous giggles, especially the references of iconic Hindi films. Of course, the typical larger-than-life K Jo elements make the film visually pleasing. So, except few moments in the second half, the duration of 157 minutes isn't felt much.
The music, by composer Pritam, also works in its favour. The title song, 'Bulleya,' and 'Channa Mereya' are enjoyable tracks. He has also smartly used the tunes of the songs in the background score. As expected from a pro veteran like Anil Mehta, the camerawork boasts of impressive visuals.
But entertainment is not the most important factor in such genre of films. It is extremely important for the romance part to work well and this is where ADHM lags behind.
See the following points to know more:
– To put it frankly, the film appears more like a lust story than a love story. The process of falling in love, which is crucial for every romantic film, is clearly missing here. Such superficial romance defeats the very purpose of the film, which is the move the audience.
– You don't feel sympathy for the character of Ranbir, despite his constant sobs. The same goes for Anushka due to her constant confusion and Aishwarya for her questionable antics.
– A week ago at MAMI's Movie Mela, Johar categorically stated that the film has no kissing and making out scenes and is fit to watch with the family. But this has turned out to be a blatant lie. There is a lusty kissing scene and a couple of making out scenes as well.
Ranbir Kapoor is the biggest plus point here. The actor is back to his winning ways and how! He adds life to the character of Ayan while portraying every emotion with utmost sincerity. His characterisation should also be lauded. His weakness and vulnerability makes him more real and breaks the usual male stereotyping in commercial Hindi films.
Anushka Sharma isn't behind though. She provides a remarkable act as the bindaas Alize and wins you over time and again. Surprisingly, Aishwarya Rai Bachchan only plays a cameo. She is alright. In another cameo, Fawad Khan impresses with his acting abilities. Shah Rukh Khan too brings in a smile with his special appearance.
Overall: Ae Dil Hai Mushkil is an average fare that could have been much more. The film will earn well in the first long weekend. But it won't earn the tag of a box-office blockbuster as it doesn't have mass appeal. The content caters to the urban audience mostly.
Rating: * * 1/2
Director: Karan Johar
Producers: Dharma Productions and Fox Star Studios
Writers: Karan Johar and Niranjan Iyengar
Cast: Ranbir Kapoor, Anushka Sharma, Aishwarya Rai Bachchan, Fawad Khan
Music: Pritam
Genre: Romance
Runtime: 157 minutes